Independent Country Programme Evaluation: Lebanon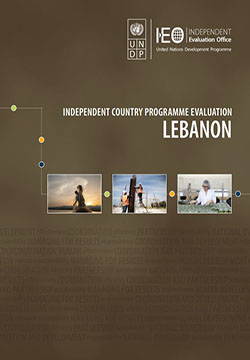 Evaluation Plan:

Evaluation Type:

ICPE/ADR

Planned End Date:

12/2019

Completion Date:

12/2019

Status:

Completed

Management Response:

No

Evaluation Budget(US $):

50,000
Title
Independent Country Programme Evaluation: Lebanon
Atlas Project Number:
Evaluation Plan:
2018-2021, Independent Evaluation Office
Evaluation Type:
ICPE/ADR
Status:
Completed
Completion Date:
12/2019
Planned End Date:

12/2019

Management Response:
No

UNDP Signature Solution

:

1. Poverty
2. Governance
3. Sustainable
4. Energy
5. Gender

Corporate Outcome and Output (UNDP Strategic Plan 2018-2021)

1. Output 1.4.1 Solutions scaled up for sustainable management of natural resources, including sustainable commodities and green and inclusive value chains
2. Output 1.6.1 Country-led measures accelerated to advance gender equality and women's empowerment
3. Output 2.2.2 Constitution-making, electoral and parliamentary processes and institutions strengthened to promote inclusion, transparency and accountability
4. Output 2.5.1 Solutions developed, financed and applied at scale for energy efficiency and transformation to clean energy and zero-carbon development, for poverty eradication and structural transformation
5. Output 3.1.1 Core government functions and inclusive basic services4 restored post-crisis for stabilisation, durable solutions to displacement and return to sustainable development pathways within the framework of national policies and priorities
6. Output 3.2.1 National capacities strengthened for reintegration, reconciliation, peaceful management of conflict and prevention of violent extremism in response to national policies and priorities
7. Output 3.2.2 National and local systems enabled and communities empowered to ensure the restoration of justice institutions, redress mechanisms and community security

Evaluation Budget(US $):

50,000

Source of Funding:
Evaluation Expenditure(US $):

50,000

Joint Programme:
No
Joint Evaluation:

No

Evaluation Team members:

| Name | Title | Email | Nationality |
| --- | --- | --- | --- |
| Vijayalakshmi Vadivelu | Evaluation Advisor | | |
| Elizabeth Wojnar | Research Consultant | | |
| Imad Salamey | Evaluation Consultant | | |
| Camille Bann | Evaluation Consultant | | |

GEF Evaluation:

No

Key Stakeholders:
Countries:

LEBANON
Lessons
Findings
1.

Finding 1. Development and humanitarian support to Lebanon for several decades, work at the municipal level, and trust of the national counterparts places UNDP in an advantageous position. UNDP's contribution to LCRP coordination and resource mobilization jointly with UNHCR are significant.




Tag: Challenges Effectiveness Resource mobilization Partnership Strategic Positioning UN Agencies Humanitarian development nexus Refugees Coordination Technical Support Data and Statistics

2.

Finding 2. UNDP established strong partnerships with national and sub-national government entities, international organisations and UN agencies. UNDP demonstrated proactiveness and flexibility to build programme partnerships to leverage the comparative strengths of different agencies.




Tag: Coherence Effectiveness Impact Women's Empowerment Harmonization Partnership International Financial Institutions Private Sector UN Agencies Social Protection Coordination

3.

Finding 3. The country programme emphasizes the strategic importance of a development perspective to addressing the Syrian crisis, but UNDP has faced difficulty in putting this principle to practice.




Tag: Effectiveness Efficiency Relevance Anti-corruption Conflict Humanitarian development nexus Refugees Resilience Jobs and Livelihoods

4.

Finding 4. UNDP's support at the local level is highly relevant and efforts to strengthen municipalities assume importance given the capacity and resource challenges.




Tag: Vulnerable Effectiveness Relevance Sustainability Private Sector Financing Local Governance Public administration reform Donor relations Integration Partnership Programme Synergy Refugees Capacity Building

5.

Finding 5. The Syrian refugee response in Lebanon demonstrates commitment and flexibility of the government/ national entities and the people in responding to the unprecedented crisis and sharing the responsibility for hosting 1.5 million Syrian refugees. The LCRP platform played a vital role in the Syrian refugee response in a complex operating environment. UNDP's contribution jointly with UNHCR has been important. There however remain challenges in enabling humanitarian and development synergies important in the context of Lebanon with a disconnect between the concept of LCRP and its actual manifestation. Currently, development and resilience dimensions of the refugee responses are pigeonholed as host community support, which includes both host and refugee communities, and does not reflect the nexus approach needed in the largest humanitarian response. The UN system had limitations in enabling a long-term approach to the protracted crisis, addressing underpinning development constraints of Lebanon which are critical for comprehensive and conflict-sensitive refugee response.




Tag: Challenges Effectiveness Resource mobilization Ownership Programme Synergy Theory of Change UN Agencies Conflict Humanitarian development nexus Refugees Resilience Coordination

6.

2.3. SOCIAL AND LOCAL DEVELOPMENT

Implemented within the context of Syrian refugee response, key areas of UNDP's support to social and local development included strengthening productive sectors for improved employment, livelihood and basic services. In addition to dedicated employment and local development initiatives as part of Outcome 3 (See Table 1), there are employment and income generation support under the Palestinian Gatherings, peacebuilding projects as part of outcome 1, as well as infrastructure rehabilitation efforts under environmental governance support (outcomes 4). Measures to address drivers of conflict and regional inequality were intersecting areas covered in local development. This section analyses all these initiatives. The overall programme expenditure for employment and livelihoods is $83 million for 2017-2018 ($49 million under inclusive growth and development; $18 million under environment, $15 million under conflict prevention and peacebuilding and $1 million under governance). The portfolio comprises 12 projects, and except for 1 project, the rest were carried over from the previous country programme.

Given the importance of job creation with the Syrian refugee response, UNDP aimed to establish linkages between immediate recovery response to medium/long-term sustainable growth, strategic partnerships, and upstream policy support. UNDP aimed to improve the livelihoods and economic opportunities for 260000 Lebanese and 125000 Syrians. The LHSP interventions were designed to generate short-term jobs in community infrastructure, agriculture and the environment.; and in the medium to longterm, the focus is expected to be on SMEs, value chains and employability. UNDP support also included strengthening institutional capacities in the business support and employment services sectors and assist in establishing new service provision centres. Under the LCRP, UNDP leads the coordination of livelihoods, and social stability sector and is also responsible for solid waste-related issues.

Integrated local development plans that respond to priority community needs, including those within the Palestinian gatherings, is an area that received support. UNDP aimed to strengthen the capacity of emerging institutions, such as Social Development Centers of the Ministry of Social Affairs (MoSA) at the subnational level, and enable them to assume a stronger role in the coordination and implementation of municipalities activities, and help them make connections to relevant national bodies.

Finding 6. A strength of UNDP response in Lebanon is its strong programme engagement at the local level. Building on its previous initiatives, UNDP has made significant contributions at the local level to respond quickly to the crisis. LHSP has contributed to immediate basic services which were under pressure due to Syrian refugee influx.




Tag: Agriculture Vulnerable Relevance Local Governance Partnership Peace Building Refugees Inclusive economic growth Jobs and Livelihoods Social Protection Technical Support

7.

Finding 7. The LHSP livelihood and municipal services initiatives were for only one year, given that the source of funding is humanitarian. This short-term modality was unsuitable to promote medium to long term income generation models. As shown by various studies and the tensions monitor in Lebanon, lack of jobs are consistently the top cause for conflict. With the economy in decline, there is high unemployment and competition for work, requiring more concerted strategies. However, sustainable livelihoods is not a well-funded sector as it is not a high priority for humanitarian donors. Micro examples of success demonstrated by LHSP are not sufficient to address the employment and livelihood challenges of host communities as well as Syrian refugees.




Tag: Agriculture co-operatives Efficiency Sustainability Donor relations Partnership UN Agencies Jobs and Livelihoods

8.

Finding 8. Cash for work initiatives contributed to quick and temporary income generation. While such initiatives are essential in the initial stages of the crisis, a protracted Syrian refugee response needed more durable employment generation solutions.




Tag: Sustainability Conflict Refugees Capacity Building Cash Transfers Jobs and Livelihoods

9.

Finding 9. Although not exclusive to UNDP, one-off and fragmented initiatives in strengthening municipal services did not address the capacity challenges of the municipalities.




Tag: Relevance Sustainability Capacity Building Coordination

10.

Finding 10. Despite the impact of economic challenges and intermittent political deadlock, the private sector in Lebanon is holding ground, although not as robust as it was a decade ago. While UNDP recognizes the importance of new and alternative instruments for facilitating development financing, a concerted effort to create an enabling policy environment to facilitate and de-risk private sector investment in development was lacking. Engagement with the private sector is evolving, largely confined to CSR.




Tag: Effectiveness Sustainability Private Sector Financing Operational Efficiency

11.

2.4. SDG MAINSTREAMING

Finding 11. UNDP efforts to promote and strengthen SDG mainstreaming in national policies and practices are highly relevant and need continued and more substantive engagement. UNDP support to strengthening CAS is important for strengthening statistics, as Lebanon moves forward with the SDG mainstreaming agenda.




Tag: Climate change governance Relevance Sustainability Local Governance Parliament Integration Monitoring and Evaluation Results-Based Management Theory of Change Civil Societies and NGOs Country Government Private Sector Capacity Building Agenda 2030 Data and Statistics SDG Integration Voluntary National Review

12.

2.5. ENVIRONMENT AND ENERGY

The initiatives in the environment and energy portfolio aim to contribute to environmental governance by halting the environmental degradation that has been exacerbated by the crisis. The portfolio comprises two areas of support. The first area includes climate resilience related interventions, which included support to building a low carbon economy by increasing access to climate financing, promoting and raising awareness of renewable energy technologies, and improving coordination of climate change response in the agriculture, water and land management sectors. The second area is environmental management, which supports integrated and sustainable management and protection of natural resources by focusing on biodiversity, forest and land management, and water ecosystems and reducing industrial and other pollutants. Building the capacity of the private sector to engage in environmental governance and improving government capacity of at the central and local levels to enforce environmental legislation are addressed across areas of support.

The portfolio comprises 36 projects, of which 19 projects included several phases, and 10 are closed. There are nine projects in a hard pipeline which are likely to be initiated during this country programme period. A large number of projects respond to diverse and significant environmental needs and challengesfacing Lebanon, the scope and scale of the initiatives remain small. For the energy and environment portfolio, the budget allocation for the period 2017-2019 is US$ 47.7 million, while the expenditure for the period 2017-2018 is US$ 26.7 million.

Finding 12. UNDP is the key actor in a resource challenged environment and energy sector and its contributions are well considered by the government. While it is widely acknowledged that UNDP and other international support has been critical in addressing environmental concerns in Lebanon, government commitment and allocation of resources are vital for scaling initiatives.




Tag: Climate change governance Biodiversity Energy Environment Policy Waste management Water resources Effectiveness Relevance Government Cost-sharing Gender Equality Gender Mainstreaming Local Governance Monitoring and Evaluation Policy Advisory SDG Integration

13.

Finding 13. While efforts were made to engage the private sector in renewable energy, there is considerable scope for demonstrating renewable energy models, informing policies, and sustaining the interest of the private sector.




Tag: Energy Sustainability Private Sector Financing Jobs and Livelihoods

14.

Finding 14. Community-level initiatives provided practical options in alternate energy, SLM, and solid waste management and were anchored in municipal level processes. Lack of linkages to national policy processes and insufficient efforts to access alternative financing other than government sources undermined the potential of such initiatives.




Tag: Energy Waste management Coherence Efficiency Local Governance Humanitarian development nexus

15.

Finding 15. UNDP has significantly contributed to setting Lebanon's targets and climate agenda in terms of the Nationally Determined Contributions (NDC) in addition to prioritizing the negotiations within the UNFCCC.




Tag: Climate Change Adaptation Climate change governance Effectiveness Private Sector Financing

16.

Finding 16. Despite a range of activities, both at the municipal level and technical support at the national level, the core issues related to solid waste management are yet to be addressed. UNDP had limited success in enabling a comprehensive and sustainable solid waste management solutions.




Tag: Waste management Local Governance Public administration reform Programme Synergy Civil Societies and NGOs

17.

2.6. DEMOCRATIC GOVERNANCE AND INSTITUTIONAL DEVELOPMENT

UNDP's support for democratic governance and institutional development aimed at addressing a range of governance challenges at national and sub-national levels. Broadly governance portfolio can be categorized into two areas: support to strengthening institutional processes, and advisory services and higher-level policy support. The former includes support to transparent elections, inclusive and participatory policies, and accountable and functioning institutions, and enhancing community security. The latter comprises facilitation of technical, advisory and support staff positions in various government institutions to enable core government functions. This support, which UNDP continuously provided since 1997, is aimed to contribute to government functionality. The portfolio comprises 15 projects of which 8 projects pertain to advisory services. Approximate expenditure for 2017-19 is $24 M of which democratic governance activities comprise US$ 9.5 million and the remaining is the spending on advisory services.

Strengthening institutional processes

Finding 17. UNDP support to strengthening institutional processes assumes importance in the context of political slowness to reform and intensified governance challenges in Lebanese institutions. UNDP's programme responded to national efforts in key governance areas, but the scope of such engagement remains limited. While there were contributions to governance processes, tangible outcomes in terms of promoting institutional reform processes or scalability of the initiatives are lacking.




Tag: Gender Equality Gender Parity Women's Empowerment Anti-corruption Civic Engagement Election Human rights Local Governance Public administration reform Rule of law Oversight Risk Management Strategic Positioning Security Capacity Building Policy Advisory Technical Support Data and Statistics SDG Integration

18.

Finding 18. UNDP's approach to the prevention and management of natural disasters and conflict-related situations is in the early stages.




Tag: Disaster risk management Disaster Risk Reduction Knowledge management Monitoring and Evaluation Crisis prevention Refugees Security

19.

Advisory and support staff facilitation

For over two decades UNDP supported staffing of various government institutions in Lebanon. During the program period 2015-2019, UNDP recruited 145 personnel, all Lebanese nationals, who are positioned in the Office of the President of the Council of Ministers; the Ministries of Finance, Economic Policy and Trade, Education and Higher Education, and Environment; Office of the Minister of State for Administrative Reform (OMSAR); Office of the Minister of State for Women's Affairs (OMSWA); Investment Development Authority of Lebanon (IDAL); and Railway and Public Transport Authority (RPTA). These staff often operated as units located in different offices of the ministries, referred by UNDP as Policy Support and Advisory Units. The government of Lebanon fully funded the staff positions entirely through a cost-sharing mechanism, approval by the Council of Ministers and UNDP manages the recruitment and staffing of the Policy and Support Units. The profile of the advisory and support staff UNDP facilitated is presented in Table 2, and it accounted for approximately US$9 million annually.

Finding 19. The confessional system of power-sharing and public decision-making pose constraints to the creation and recruitment of government staff positions affecting the functionality of ministries and government institutions in Lebanon. UNDP support to human resource facilitation, of the technical and support staff, for over two decades should be seen in this context.




Tag: Challenges Efficiency Sustainability Human and Financial resources

20.

Finding 20. The advisory and support staff facilitation had varied outcomes for the respective institutions. While this support enabled core functions in some government entities or was able to complement ongoing activities to varying levels, there were others in which contributions were minimal. While human resource facilitation in Lebanon is in line with UNDP's support to development services provided in MIC and upper MIC contexts, considering such support as core governance strengthening can be problematic.




Tag: Challenges Effectiveness Sustainability Human and Financial resources

21.

2.7. PROMOTING PEACE

UNDP supported mechanisms to promote peace and prevent, mitigate, and manage conflict at the national policy and community levels through 12 projects. Except for the tension monitoring project (which is analysed in section 2.7) the remaining initiatives of this area of support are analysed in this section. Support to Lebanese Palestinian Dialogue Committee (LPDC) and the Palestinian Gatherings and community peacebuilding efforts are key areas of UNDP support with an emphasis on humanitarian-stabilization– development linkages. For the period 2017-2018, the total expenditure was US$ 19.1 million.

Finding 21. Given the high strategic importance of social cohesion and peace for Lebanon's development, UNDP is well-positioned to provide this support both at the local and national level. UNDP has contributed to positioning social cohesion and stability agenda at the centre of the Syrian crisis response. At the micro-level, there are several examples of contributions to promoting social cohesion. Comprehensive responses are needed within an empowered national policy framework for meaningfully enabling drivers of peace. The outcomes for social cohesion can be enhanced if stronger synergies between different programmes are established.




Tag: Effectiveness Sustainability Gender Equality Gender-Based Violence Local Governance Rule of law Donor relations Ownership Partnership Programme Synergy Civil Societies and NGOs Country Government UN Agencies Conflict Peace Building Social cohesion Youth Policy Advisory Technical Support

22.

Finding 22. UNDP support to the Palestinian gathering is a sole initiative and therefore assumes importance. Of the estimated 154 gatherings, the project supports the 54 most vulnerable gatherings. UNDP's iterative support to improving the capacity of national and local institutions to respond to Palestinian refugee needs an integrated and coordinated way assumes importance given the significant challenges faced by Palestinian Gatherings.




Tag: Sanitation Waste management Local Governance Country Government UN Agencies Promotion of dialogue Social cohesion Capacity Building Jobs and Livelihoods

23.

Finding 23. Pilot initiatives to strengthen community security in the municipalities with Syrian refugee presence is a much-needed initiative. Continued efforts are needed to formalise such efforts and link it to national security sector efforts.




Tag: Vulnerable Human rights Justice system Local Governance Conflict Humanitarian development nexus Peace Building Refugees Security Capacity Building

24.

Finding 24. UNDP support to Mine Action Centre and mine action strategy is important in the progress Lebanon made in addressing both the security and humanitarian aspects of demining.




Tag: Mine Action Vulnerable Effectiveness Sustainability Strategic Positioning Humanitarian development nexus Security Capacity Building

25.

2.8. MEASUREMENT TOOLS: NEEDS AND SOCIAL STABILITY ASSESSMENT

Finding 25. Notwithstanding the potential of the various instruments that were developed by UNDP to assess the basic service needs or to mainstream conflict sensitivity, there remain challenges in their institutionalization and potential to enable streamlined municipal level responses. Lack of consolidation of several municipal needs assessment instruments by various agencies, including the UN agencies, remains an issue.




Tag: Sustainability Local Governance Integration Ownership Results-Based Management Risk Management Service delivery UN Agencies

26.

Finding 26. There is considerable momentum to strengthen data and statistics. Jointly with UNFPA, UNDP's technical assistance to CAS institutional and data capacity assessment, 3-year strategy, and support to the constitution of SDG National Committee are important measures in the strengthening of CAS.




Tag: UN Agencies Data and Statistics SDG Integration SDG monitoring and reporting

27.

Finding 27. UNDP developed a tension mapping system for identifying, reporting and addressing host-refugee tensions. This system has the potential for informing government and international agency actions to defuse drivers of potential conflicts. A reluctant political environment prevented the institutionalization of tension mapping and response processes to address the drivers of tension.




Tag: Effectiveness Sustainability Donor relations Knowledge management Results-Based Management Civil Societies and NGOs UN Agencies Humanitarian development nexus Refugees Security Data and Statistics

28.

2.9. PROMOTING GENDER EQUALITY

Finding 28. UNDP had more success in its women-specific initiatives promoting income generation and enterprise skills. Opportunities for gender-informed programme designs and implementation remain underutilized.




Tag: Gender Equality Gender Mainstreaming Women's Empowerment Programme/Project Design Peace Building Social cohesion Inclusive economic growth Jobs and Livelihoods
Recommendations
1

Recommendation 1. Building on UNDP's mandates globally, the country programme should give further emphasis on core development support. Capital Investment Plan and National Development Plan provide opportunities for engaging in key development issues.

With the adoption of the Capital Investment Plan and subsequent national plans and strategies, the policy change processes are gaining momentum in Lebanon. UNDP should pivot its current and forthcoming initiatives towards a sustainable development centred programming with propositions that would address structural challenges undermining development and governance in Lebanon. UNDP should refocus on organisations core areas of expertise with a stronger focus on promoting well-tested programme models on inclusive growth and employment generation and service delivery.

UNDP should promote solutions that would enable a development approach to the Syrian refugee response. In a protracted Syrian refugee crisis humanitarian dividends are closely linked to addressing development and institutional capacity issues and reducing development disparities at the subnational level. A more strategic nexus approach is needed to enable structural accelerators of development.

2

Recommendation 2. Consolidate municipal level initiatives to provide viable long term, programme models. Consider promoting integrated municipal development solutions to strengthen services, improve sustainable livelihoods, and bridge refugee response and local development initiatives. There should be substantive engagement in areas UNDP chooses to support, as against one-off micro initiatives; efforts to linking successful models being developed at the municipal level to national policies and implementation.

Leverage on UNDPs engagement and strong partnerships in over 200 municipalities to demonstrate comprehensive programme models that are replicable and can inform policies. UNDP should promote integrated municipal development solutions on select development issues that can engage key actors including the government and the private sector in providing more holistic responses. Integrated municipal development models have the potential to provide necessary strategies to access diverse funding for municipal development as well as strengthening local governance. A deliberate approach to service sectors such as solid waste management, water management, and energy efficiency should be pursued for strategic engagement.

Promote solutions that are fit for the Lebanon context and enable sustainable solutions. Revisit the approach of LHSP to develop it into a sustainable local development model. Consolidation of programme activities will strengthen UNDPs response and enhance its programme contribution. Rather than isolated initiatives, peacebuilding and social cohesion should be integrated across programmes at the municipality. Similarly UNDP should consolidate sustainable livelihoods and local economic development efforts across programme areas,. Strengthen the documentation of municipal models and incorporate these into training programmes and guidelines.

Reconsider engaging in initiatives such as labour-intensive CfW infrastructure initiatives given the possible quality risks as well as their limitations in addressing unemployment issues. Instead, pursue inclusive growth and employment models that have the potential for replication and inform public policies.

3

Recommendation 3. Solid waste management is a critical issue and long term solutions are needed to avert recurring crises. UNDP should consider support to sustainable solid waste management solutions, beyond temporary fixes.

Environmental related tensions such as solid waste, pollution of Litani river are evident which with the risk of escalation. Going beyond short-term solutions such as landfills, UNDP should consider the role it can play in providing sustainable solutions for solid waste management for the effective implementation of the national solid waste management strategy. In addition to ensuring compliance with all environmental standards for the landfills UNDP supported, UNDP should support measures should be taken to address ad hoc dumping/landfills that reached capacity.

4

Recommendation 4. Leverage UNDPs standing and partnership with government institutions to engage in core governance initiatives.

Recent public protests on corruption only reinforce the need for public sector reforms and addressing issues of accountability and transparency in governance. The administrative reforms required under CEDRE provides avenues for engaging in reform agenda. UNDP should identify areas for more substantive engagement in strengthening governance and institutional processes. Anticorruption is a high priority for Lebanon and critical for citizen's trust in government. Rather than a more generic engagement, UNDP should support specific measures such as e-governance in service sectors that would have a more tangible impact on corruption. The global compact with the World Bank should be strategically used to support anti-corruption measures in key sectors.

5

Recommendation 5. Considering the reputational risk for UNDP and its mandate, clarify assistance to human resource and technical staff facilitation.

The evaluation recognizes UNDP is committed to providing development support services to the government and national institutions upon their request. UNDP should distinguish between support services to Lebanese institutions that whil important are operational and should be cautious not to generalize them as institutional strengthening.

UNDP support to the advisory, technical and support staff positions in the ministries and government institutions remains a contentious issue, despite continued expectations for this support. Jointly with government entities, UNDP should proactively outline an exit plan that would enable government agencies to put in place formal recruitment processes or make alternate arrangements. Projectisation of advisory and support staff services with a specific supervisory role for UNDP does not reflect the realities and can have negative accountability implications for UNDP. While broader issues are addressed, consider defining advisory and support staff services as human resource services with appropriate mechanisms to manage it, clarifying UNDPs role and responsibilities. This is essential to respond to negative perceptions of UNDP support and will also free programme staff to focus on core development work.

6

Recommendation 6. Prioritize work on the SDGs. For SDG sector integration, identify accelerators for the facilitation of policy and prioritization of targets, localisation, and data coordination. UNDP should continue its support to data, and statistics for evidence-based public policy as well as monitoring SDG progress. Support efforts to improve conflict sensitivity in humanitarian and development efforts and institutionalise municipal level assessments.

UNDP should continue its support for strengthening CAS capacities in producing quality and timely statistics critical for public policy and monitoring SDG progress. More structured support to CAS, including collaboration in areas where UNDP as a UN agency can bring credibility will be critical. UNDP should consider support to harmonisation and strengthening administrative records to meet short-term needs as well as be a credible source of data. Collaborations and coordination of UN agencies support to data and statistics will be critical and UNDP should proactively enable this. Clarify UNDPs SDG integrator role and propositions UNDP can bring to the UN and other actors in Lebanon.

MRS needs improvements in quality, institutionalisation, and wider use which need to be addressed. Building on the MRS assessment UNDP should invest in enabling a framework for comprehensive municipal level development assessments. Periodic assessments are critical for informing coordinated development and humanitarian support, developing strategic solutions, and for private sector engagement.

UNDP made a timely investment in tension mapping and sharing it with government and international agencies. Considering the importance of conflict sensitivity for development, peace, and humanitarian interventions, support streamlining tension analysis to establish appropriate institutional linkages that would enable necessary action.

7

Recommendation 7. Given the importance of financing for progress on SDGs, UNDP should increase the pace and thrust of its private sector engagement.

UNDP should revisit its private sector strategy to identify appropriate tools and areas for systematically pursuing private sector engagement and development. Private sector engagement at the municipal and union of municipalities level should be prioritised to develop local level strategies for investment and financing modalities to attract the right profile of partners and capital. Promote integrated municipal development model, using integrator approach, that would enable municipalities to better access private sector financing in priority areas. Flexible tools that are fit for purpose and can maximize the impacts of partnership at the municipal level should be developed. Instead of leaving it open-ended, UNDP should be more targeted in private sector development support, focusing on specific gaps in inclusive growth and employment and services.

8

Recommendation 8. Ongoing efforts to promote gender equality in UNDP programmes should be pursued across interventions.

UNDP should take specific measures to integrate gender equality across programme activities and prioritise efforts to enhance UNDP's contribution to gender-equal development outcomes. Adequate resource investments should be made to ensure gender equality is addressed in programme design and implementation.

9

Recommendation 9. Partnerships between development and humanitarian agencies demonstrated in Syrian refugee response through instruments such as LCRP and 3RP is an important step in the right direction. For such collaborations to have development and peace dividend in Lebanon, address the constraints in pursuing a nexus approach. UNDP as the lead agency for enabling resilience approach should be proactive in enabling adequate thrust on long-term approaches. Revisit UNDPs programme positioning in LCRP and restrategize based on UNDPs strengths.

For a protracted crisis such as the Syrian refugee response, it is fundamental to addressed development needs underpinning refugee crisis in the host country, which the LCRP was less successful in enabling. Linkages between Syrian refugee response and development of Lebanon cannot be more underscored at this juncture and international agencies/ donors need to recognize this given the rising tensions. Protracted refugee crisis needs a development focus. UNDP played an important role in LCRP coordination, bringing a stabilisation perspective into predominantly humanitarian response. It is time UNDP restrategize its recovery support to enable humanitarian and development linkages. This is also critical for getting the buy-in of the government.

Moving forward LCRP should establish stronger linkages with the national policy processes and development at the municipal level and related reform processes to address the challenges that underpin and effective Syrian refugee response. LCRP should manage expectations and take measures to avoid becoming counterproductive undermining development and peacebuilding discourse in Lebanon. Donor agencies should recognise the importance of funding nexus issues although Lebanon is a MIC, particularly support medium- to long-term funding window.