Independent Country Programme Evaluation: Malaysia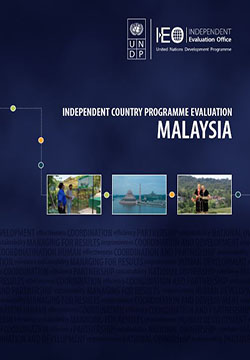 Evaluation Plan:

Evaluation Type:

ICPE/ADR

Planned End Date:

12/2019

Completion Date:

12/2019

Status:

Completed

Management Response:

Yes

Evaluation Budget(US $):

50,000
Title
Independent Country Programme Evaluation: Malaysia
Atlas Project Number:
Evaluation Plan:
2018-2021, Independent Evaluation Office
Evaluation Type:
ICPE/ADR
Status:
Completed
Completion Date:
12/2019
Planned End Date:

12/2019

Management Response:
Yes

Focus Area

:

1. Poverty
2. Resilience
3. Sustainable
4. Gender
5. Others

Corporate Outcome and Output (UNDP Strategic Plan 2018-2021)

1. Output 1.1.2 Marginalised groups, particularly the poor, women, people with disabilities and displaced are empowered to gain universal access to basic services and financial and non-financial assets to build productive capacities and benefit from sustainable livelihoods and jobs
2. Output 1.6.1 Country-led measures accelerated to advance gender equality and women's empowerment
3. Output 2.1.1 Low emission and climate resilient objectives addressed in national, sub-national and sectoral development plans and policies to promote economic diversification and green growth
4. Output 2.3.1 Data and risk-informed development policies, plans, systems and financing incorporate integrated and gender-responsive solutions to reduce disaster risks, enable climate change adaptation and mitigation, and prevent risk of conflict
5. Output 2.4.1 Gender-responsive legal and regulatory frameworks, policies and institutions strengthened, and solutions adopted, to address conservation, sustainable use and equitable benefit sharing of natural resources, in line with international conventions and national legislation

Evaluation Budget(US $):

50,000

Source of Funding:
Evaluation Expenditure(US $):

50,000

Joint Programme:
No
Joint Evaluation:

No

Evaluation Team members:

| Name | Title | Nationality |
| --- | --- | --- |
| John A. Carter | Evaluation Consultant | |
| Arunaselam Rasappan | Evaluation Consultant | |
| Deqa Musa | Evaluation Specialist | |
| Landry Fanou | Research Consultant | |
| Genta Konci | Evaluation Specialist | |
| Eduardo Gomez Rivero | Research Consultant | |

GEF Evaluation:

No

Key Stakeholders:
Countries:

MALAYSIA
Lessons
Findings
1.

2.1 Effectiveness of the country programme

2.1.1. Inclusive development and growth programme

Overview of the specific context

Malaysia has had one of the fastest long-term rates of poverty reduction in the world. This success was due to poverty eradication policies and programmes which formed an integral part of successive national development plans. Nevertheless, pockets of poverty remain, which show up as group and geographic disparities. Policies designed to reduce group inequalities have, in some cases, increased differentials within groups. The Government remains committed to addressing inequalities, and the policy mandate across all initiatives undertaken by the Government under the current medium-term development plan is focused on equitable growth and development under the "Leave No One Behind" national strategy. The first pillar of the 11MP was on "enhancing inclusiveness towards an equitable society."29 The midterm review of the 11MP in 2018 showed moderate progress towards the inclusion of marginalized groups and the reduction of overall socioeconomic and spatial inequality in Malaysia. Five focus areas were set under the first pillar: (1) uplifting the B40 towards a middle-class society; (2) empowering communities for a productive and prosperous society; (3) transforming rural areas to uplift the well-being of rural communities; (4) accelerating regional growth for better geographic balance; and (5) enhancing Bumiputera Economic Community30 opportunities to increase wealth ownership.

Given the moderate progress observed under this pillar, the 2018 midterm review of the 11MP maintained the focus on "enhancing inclusive development and well-being" for the period 2018-2020. This pillar (which has now become pillar II) will continue to focus on increasing the well-being of B40 households through the implementation of income-generating programmes and the provision of basic needs. Programmes will also focus on enhancing the capacity and capability of B40 households for better employability and productivity and the promotion of entrepreneurship. The midterm review also introduced a new pillar on "pursuing balanced regional development." This will accelerate the reduction of development imbalances among regions (namely Northern, Eastern, Central, Southern, Sabah and Sarawak), spur development in less developed areas within states and regions and reduce disparities between urban and rural areas.

The UNDP inclusive development and growth portfolio, responding to these priorities, encompasses three subcomponents at the output level, aiming to strengthen capacities of federal and state institutions in: (1) targeting of programme beneficiaries; (2) gender analysis and mainstreaming in sectoral programmes; and (3) programme planning. The geographic focus of the portfolio is East Malaysia (Sabah and Sarawak) and lagging states in Peninsular Malaysia.32 Total expenditures to date (September 2019) under the portfolio stand at $2.3 million of $7.5 million that the country office has mobilized. The total programme budget envisaged at the design of the country programme was $19.3 million. Several projects in the pipeline are expected to bridge the gap between planned and actual budget (about 60 percent).

Finding 1. Through pilot initiatives and research and analytical work, the UNDP inclusive growth and development portfolio continues to generate relevant inputs to national policy and programmes. These initiatives also contribute to institutional capacities. Potential to scale up these pilots and new methodologies will require stronger linkages with government macro and sector initiatives.




Tag: Effectiveness Relevance Sustainability Gender Mainstreaming Local Governance Public administration reform Country Government Inclusive economic growth Agenda 2030 SDG Integration

2.

2.1.3. Sustainable and resilient development programme

Overview of the specific context

Much of Malaysia's recent economic advancement has involved technologies and resources that are somewhat in tension with improved environmental quality and maintenance of the natural resource base. Further, the 11MP has clearly recognized the challenges posed by climate change and the risk of disasters. It was noted that agricultural productivity growth had been curtailed by adverse weather in recent times; flooding and coastal erosion continue to be significant issues; live coral cover is still diminishing, reflecting pollution, inappropriate fishing techniques and possibly climate change. The World Bank estimates that 75 percent of Malaysians will be living in cities by 2020, which brings additional environmental issues related to densification, such as continued use of private vehicles instead of public transportation. Thus, the current situation and expected trajectory for growth in Malaysia continue to be in conflict with the maintenance of the natural resource base and environmental quality.

On the other hand, Malaysia recognizes this development/environment tension and has made serious efforts to develop and implement environmental planning and management (through the environmental impact assessment process, which is, however, still constrained), and has increased its efforts in developing policies, plans, regulations and programmes pertaining to habitat and biodiversity conservation. Given the significant forest cover in Malaysia, its importance for biodiversity and issues related to lack of enforcement, inadequate long-term planning and lack of cost recovery in conservation efforts, development assistance over the last seven to eight years has focused on these issues.

The Government has established the National Disaster Management Agency. Financing mechanisms were strengthened to support the uptake of green initiatives, including green government procurement (which has doubled in recent years) and green building construction (some of this with UNDP support, discussed below). Environmental economic accounting and demand-side management in the transport, electrical and energy sectors are recent developments (some of this with UNDP support). The commitments associated with the Paris Agreement (reduction of greenhouse gas emissions) are drivers for several government programmes.

The fifth pillar of the 11MP, focusing on "enhancing environmental sustainability through green growth," embodies the equivalent UNDP programme for sustainable and resilient development. The three priorities within this pillar include strengthening governance (with a focus on policies and capacitybuilding and on raising public awareness); addressing climate change and disaster risks; and conserving natural resources (this element intended to have traction with local communities, for example, ecotourism opportunities). Responding to these priorities, the UNDP sustainable and resilient development programme encompasses three interrelated subcomponents at output level: (1) climate change and energy efficiency; (2) natural resource management; and (3) sustainable management of chemicals and waste (according to the country programme design there are two separate outputs for climate change and energy).

Total expenditures to date (September 2019) under the portfolio are above $20 million of $32.8 million that the country office has mobilized. The total programme budget envisaged at country programme design was $32 million.

Finding 2. The UNDP sustainable and resilient development programme has been highly relevant and properly structured for higher-level outcomes that will support change on the ground (in most cases).




Tag: Energy Efficiency Sustainability Resilience

3.

Climate change

The country programme is supporting the Government in tackling climate change and reducing disaster risk with an emphasis on climate change mitigation, as well as assisting with related international commitments. Global Environment Facility (GEF) climate change projects dominated the programme, and these were split between developing energy efficiency options and meeting international obligations regarding the United Nations Framework Convention on Climate Change (UNFCCC) and Paris Agreement. The UNDP role under GEF projects is technical support for project formulation, due diligence, mobilization of required co-financing, project implementation support, including procurement and oversight and quality assurance of results.

The Green Technology Application for the Development of Low-Carbon Cities (LCC) project is the largest project under this component, aiming to support at least five major cities to implement and adopt integrated low-carbon urban development plans/programmes. The LCC has had a lengthy starting phase, and there are still substantial activities to be completed (and most of the project budget of over $4.3 million to be spent) over the next 18 months; however, low-carbon development plans are evident in some cities and others have various studies and planning initiatives under way. Public transport is a particular focus, but there is also a wide scattering of initiatives that are just taking hold as supportive policy and economic approaches get sorted out.

Under the Building Sector Energy Efficiency project (BSEEP), which ended in December 2017, an Energy Management and Information System was designed, completed and transferred to the Energy Commission for full uptake in the building sector. Related standards and institutional authorities were defined and captured in a new act. There was a wide dissemination of energy efficiency concepts with the appropriate practitioners and also some public awareness initiatives. A financing mechanism was set up but is still only "poised" for use by the building sector. Demonstration of energy efficiency approaches was implemented in a few government buildings.

There has been a lot of engagement and training related to energy demand under the Preliminary Study on Demand-Side Management Study (DSM) project, which produced a detailed and useful report addressing energy demand in the thermal, transport and electrical sectors.

In addition, the climate change portfolio contains three other projects that supported the Government to develop and submit all required reports to the UNFCCC (third national communication report; second biennial update report; developing a road map for the intended nationally determined contributions).

Finding 3. With UNDP programme support, understanding of climate change issues (specifically mitigation options and their practicalities) is much more firmly embedded within the relevant government agencies.




Tag: Climate Change Adaptation Climate change governance Effectiveness Relevance Country Government Data and Statistics

4.

Finding 4. Energy-related practitioners have started to take up energy efficiency but in a limited manner.




Tag: Energy Effectiveness Impact Relevance Business Model Country Government

5.

Natural resources management

The country programme aimed to support natural capital valuation, reduction of environmental impacts and enhanced access to quality ecosystem services for effective mainstreaming of biodiversity into development and growth policies. Efforts under this component sought to strengthen institutional capacity for improved natural resources management benefiting communities and low-income households. UNDP support has been focused on policy change, related institutional structures and processes and actual implementation of challenging innovations in forest/habitat conservation and associated financial cost recovery. Forest conservation projects (GEF-supported) and related initiatives such as benefit-sharing have dominated the UNDP programme over the last four years. These are large projects, with a very broad range of partners and beneficiaries spread over Peninsular Malaysia and Sabah.

The Biodiversity Conservation in Multiple-Use Forest Landscapes project in Sabah aims to develop and pilot multiple-use forest landscape planning and management systems. While the project has struggled with the implementation of a financing model (payment for ecosystem services, explored but not yet implemented), and land-use planning has been complicated due to many stakeholders with different agendas, there has been important convergence on the various approaches to forest conservation (100- year leases based on the Sustainable Forest Management Licence Agreement, replanting initiatives, etc.), and there is an operational agreement in place with forest users in the project area. Policy discussions regarding the "no net loss" concept have progressed, and the 2018 Forest Policy, which replaced the 1954 policy, is in place. There have been many training events but not necessarily connected coherently to one theme. Project staff noted that some of the academic research has been considered a distraction and not linked functionally to management requirements. Importantly, forest connectivity in the area has apparently improved (designations of forest conservation areas have been upgraded for more protection). However, there are still significant problems with encroachment and poaching. It is likely that the payment for ecosystem services concept and a 10-year integrated landscape management plan will not be implemented before the end of the project.

The Enhancing Effectiveness and Financial Sustainability of Protected Areas project focuses mostly on protected areas in Peninsular Malaysia. Concepts related to protected area financing have been clarified (a performance-based system) but not yet implemented. There has been good engagement with the appropriate stakeholders, with a focus on harmonization of approaches. The Protected Areas Master List and associated database have set the stage for implementation of the system and its measurement. The project also supported gap analysis on protected area legislation at the relevant state and national levels, and will be supporting the Perak state authority in reviewing its state park enactment. A mechanism to transfer funds (Ecological Fiscal Transfer is under planning at the moment). Management and business development plans for each of the three parks in the project have been developed. A training course has been developed and there has been institutional capacity-building for the Institute of Biodiversity. There is some evidence of improved park financing, but ongoing discussion of park fees is slowing down full implementation. There is some evidence of improved park enforcement. There has been a wide range of training initiatives including a series of conferences for managers of protected areas, exchange visits with other protected area authorities and training abroad (responding to identified project participant needs). There has been limited engagement with local communities. The Ministry of Water, Land and Natural Resources, as the executing agency for the protected area financing project, noted that economic valuation or natural resource accounting concepts had been discussed in the project, but the actual implementation of specific natural resource accounting initiatives within the project has not occurred. However, according to the implementing agency, the Department of Wild Life and National Parks, the work on the economics of ecosystems and biodiversity study has started.

The National Access and Benefit-Sharing Framework (ABS) project aims to strengthen the regulatory and institutional framework for sharing the benefits of genetic resources, in line with the Convention on Biological Diversity. The Access to Biological Resources and Benefit-Sharing Act was passed in 2017 and consultations with states regarding implementation are ongoing. Competent state authorities for ABS have been defined, as well as checkpoints, mostly universities. There has been significant relevant training. There are also efforts to support indigenous and local communities in engaging with the ABS process through various initiatives, documentation of traditional knowledge and empowerment of communities by training them in preparing biocultural community protocols. The financial transfer mechanism for ABS has been confirmed. Two benefit-sharing agreements have been drafted and there have been efforts to develop and market local products from rural/forest areas. The main expected beneficiaries of the ABS project are local communities and research institutions.

The Improving Connectivity in the Central Forest Spine Landscape (CFS) project planned to strengthen federal and state government capacities to implement the CFS Master Plan. However, the project struggled and has been under a moratorium for a few years due to a review and the resulting need to adjust the project structure and expected outcomes. There is reference to an increase in forest reserve area in Peninsular Malaysia, but the link to the project is tenuous. There is mention of initiatives related to revenue collection and biodiversity data, and there have been many training events but they appear to be a bit random. Standard operating procedures have been under development. There has been only limited NGO engagement since the project design phase and minimal traction with local communities in and adjacent to the park areas.

Finding 5. UNDP-supported forest conservation initiatives have created an increased understanding of cost-recovery needs and options among a wide spectrum of forest users and government agencies, paving the way for the implementation of financing mechanisms which is imminent.




Tag: Forestry Biodiversity Effectiveness Efficiency Sustainability Global Environment Facility fund Government Cost-sharing Partnership Country Government

6.

Finding 6. Forest conservation policy development and related land-use planning concepts are having a positive impact on forest conservation.




Tag: Forestry Effectiveness Impact SDG Integration

7.

Finding 7. With UNDP support, there has been significant increased attention to, and engagement with, forest users and local community beneficiaries in Malaysia.




Tag: Forestry Effectiveness Sustainability Local Governance Civil Societies and NGOs

8.

Management of chemicals and waste

Chemical management (ozone-depleting substances (ODS), under the Montreal Protocol, and mercury, under the Minamata Convention) made up the subcomponent. Projects have spanned the development spectrum from awareness-raising to development of policies and institutional structures, and actual implementation of measures. These projects have had a very targeted set of partnerships, mostly government agencies and academic centres, due to their quite specific technical aspects.

Phase-out of hydrochlorofluorocarbons (HCFC): phase 1 of the project is complete and phase 2 runs for another 18 months. The projects have been supporting Malaysia with its commitments under the Montreal Protocol to reduce/eliminate ODS. There has been extensive engagement and training with stakeholders, and the required technology conversions have been sorted out and are being implemented. Relevant books and guidelines have been prepared. There has been a significant investment in equipment, which has been installed in the larger operator facilities. Uptake of these technologies by smaller operators is still challenging. The concept of a centre of excellence is developing.

The Minamata Convention assessment project is nearing completion. The policy assessment has been done and the mercury profile for the country has been completed, with some residual data collection/organization challenges which are now being effectively addressed, as has been the case with phase 1 of the HCFC project. The final Minamata Initial Assessment report has been completed, with 14 proposed actions to help Malaysia ratify the Convention.

Finding 8. Institutional structures and processes for management of chemicals are well defined and becoming operational, but awareness by the public and small businesses of issues and workable solutions is still low.




Tag: Waste management Effectiveness Relevance

9.

2.1.4 Gender equality and women's empowerment

Finding 9. The current country programme integrated gender equality more prominently as a key result area of the programme and identified it as a strategy to enhance inclusive growth and sustainable development. Gender mainstreaming is increasingly gaining traction with stakeholders, despite uneven results across programmes, communities and policymaking.




Tag: Coherence Effectiveness Impact Sustainability Gender Equality Gender Mainstreaming Gender-Based Violence Women's Empowerment Human rights Rule of law Integration Country Government International Financial Institutions UN Agencies UNDP Management Inclusive economic growth

10.

2.2 UNDP strategic positioning and other factors in the programme's performance

Finding 10. The long-standing presence and engagement of UNDP in Malaysia is considered an asset. UNDP has demonstrated added value through its policy advice and capacity development support in the focus areas of the country programme. It has high institutional buy-in, enabling and leveraging partnerships and can effectively convene stakeholders. But there are practical challenges that affect the strategic positioning of UNDP.




Tag: Challenges Efficiency Impact Relevance Sustainability Innovation Partnership Strategic Positioning Capacity Building Technology Policy Advisory SDG accelerators SDG Integration

11.

Finding 11. UNDP leveraged substantial vertical funding support for climate change mitigation and environmental management, which is helping to mainstream environmental concerns and commitments in public policy. Funding for the inclusive growth programme was constrained, however, and it remained a small component as a result. The future role of UNDP in Malaysia will be shaped by resources mobilized, and the country office is exploring innovative financing modalities, including private sector partnerships and Islamic financing.




Tag: Climate Change Adaptation Climate change governance Efficiency Private Sector Financing Resource mobilization Vertical Trust Funds Inclusive economic growth SDG Integration

12.

Finding 12. The country programme design balanced upstream policy focus and downstream pilot initiatives, but linkages between the two could be further strengthened. There is also scope to enhance programme coherence and synergies, which are affected by strategic and operational factors.




Tag: Climate change governance Energy Coherence Effectiveness Impact Change Management Delinking - RR/RC Harmonization Integration Monitoring and Evaluation Programme Synergy Results-Based Management Theory of Change SDG Integration

13.

Finding 13. Some of the country programme interventions displayed evidence of sustainability over the medium term. However, with no clear evidence of strategic planning or programming links to demonstrate inbuilt sustainability strategies, the UNDP-supported interventions will have limited potential for integration into client ministries' programming.




Tag: Sustainability Ownership Results-Based Management Agenda 2030 SDG Integration
Recommendations
1

Recommendation 1. UNDP should enhance its strategic focus and redefine its value proposition in terms of impact.

More strategic engagement of UNDP is possible given that the Government has the capacity to finance its own development priorities. The strength of UNDP is its international presence, reach, access to a wide range of success stories and global knowledge and expertise. In the uppermiddle-income context of Malaysia, the value of UNDP is in its ability to tap into the latter. UNDP must enhance its in-house expertise to be able to engage substantively and fully in high-level policy discussions. Both the Government and UNDP are open to exploring alternative delivery arrangements to strengthen the effectiveness and impact of UNDP, including reimbursable advisory services. Further, given Malaysia's upper-middle-income status and its own limited resources, UNDP is increasingly required to deliver in partnership. UNDP should enhance in-house capacities to be able to leverage the resources of other development actors (financial and technical/knowledge) for SDG financing. This requires support from regional and corporate levels.

2

Recommendation 2. UNDP should enhance its engagement in subnational institutional capacity development.

Malaysia has high-level human capital development with a highly literate and well qualified civil service driving the development agendas of the Government. However, there is a recognition that there are programmatic deficiencies in pockets of the Government's development agenda at subnational levels. This has implications for the presence, strategies and support provided by UNDP. UNDP is well positioned to contribute to strengthened programme implementation capacities at subnational level, drawing on its experiences from other middle-income countries.

3

Recommendation 3. UNDP should review its value proposition in the area of inclusive growth.

The value of UNDP analytical and research work in the area of inclusive growth is recognized. However, the Government is looking to UNDP for the provision of highly tailored technical support and policy advice to support reduction of inequalities, as well as sharing of experiences from elsewhere. In a country that has general budget adequacy and macro development strategies using medium- and long-term strategic development planning frameworks, the inputs and contributions of UNDP must be couched strategically to ensure appropriate value addition to the country's development and policy priorities. UNDP should focus on its areas of strength where it can add value to the existing programmes of client ministries and outcomes. This requires a higher degree of selectivity and a move away from microprojects.

While the UNDP projects do reflect elements of inclusive growth, there is scope to enhance broader policy engagement at national and subnational levels. The strategic linkages with the Government's macro and sector levels can also be strengthened and UNDP needs to take stock of this issue, especially the implications for sustainability. UNDP should ensure clear and tangible rationale and clarity on the strategic linkages of the project proposals and the stated macro priority areas in inclusive growth. UNDP should ensure that proposed projects have clear sustainability strategies which are time-bound and linked to the country's medium-term programming. UNDP-supported interventions should have built-in impact assessments to ensure that they are sustainable and impact-oriented as opposed to output- and immediate outcome-oriented. This is a key aspect of sustainability, i.e., showing evidence of impact from the projects. There must be support for post-project impact assessments to ensure sustainability of the projects. Pilot projects should have the additional requirement of integrating "proof of concept" strategies from the outset.

4

Recommendation 4. Planning and management related to climate change should be harmonized.

The Government of Malaysia (and UNDP) should give serious consideration to the development of a new entity, the National Climate Change Centre, as a physical entity (rather than virtual), with appropriate staff seconded from relevant ministries and agencies. This will help with the harmonization of all planning and management related to climate change, which would support the outcomes of all climate change projects to date, as well as the post-2020 green growth plan and the implementation of the full DSM study. Further, there should be increased attention given to climate change adaptation needs and approaches and strengthening the institutional and governance arrangements for climate change. These initiatives would all contribute to more effective climate change governance in Malaysia. Since there is a recognition that there are still poverty issues in marginalized communities throughout Malaysia, it is evident that the programme needs to look at opportunities (and rights) that suit these communities in areas where there are still substantial natural resources; there is also a need to ensure that environmental quality in the areas of marginalized communities is not compromised for the sake of development that might benefit others (this requires more state-level engagement). The Government of Malaysia and UNDP should strategize how to improve engagement in marine habitat management as well as the environmental impact assessment process, integrated water resource management and more effective waste management.