Independent Country Programme Evaluation: Mozambique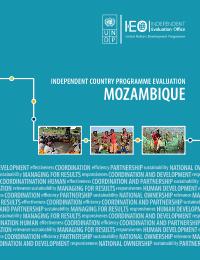 Evaluation Plan:

Evaluation Type:

ICPE/ADR

Planned End Date:

12/2019

Completion Date:

12/2019

Status:

Completed

Management Response:

No

Evaluation Budget(US $):

73,000
Title
Independent Country Programme Evaluation: Mozambique
Atlas Project Number:
Evaluation Plan:
2018-2021, Independent Evaluation Office
Evaluation Type:
ICPE/ADR
Status:
Completed
Completion Date:
12/2019
Planned End Date:

12/2019

Management Response:
Yes

Focus Area

:

1. Poverty
2. Governance
3. Resilience
4. Sustainable
5. Others

Corporate Outcome and Output (UNDP Strategic Plan 2018-2021)

1. Output 1.1.1 Capacities developed across the whole of government to integrate the 2030 Agenda, the Paris Agreement and other international agreements in development plans and budgets, and to analyse progress towards the SDGs, using innovative and data-driven solutions
2. Output 1.1.2 Marginalised groups, particularly the poor, women, people with disabilities and displaced are empowered to gain universal access to basic services and financial and non-financial assets to build productive capacities and benefit from sustainable livelihoods and jobs
3. Output 1.2.1 Capacities at national and sub-national levels strengthened to promote inclusive local economic development and deliver basic services including HIV and related services
4. Output 1.3.1 National capacities and evidence-based assessment and planning tools enable gender-responsive and risk-informed development investments, including for response to and recovery from crisis
5. Output 1.4.1 Solutions scaled up for sustainable management of natural resources, including sustainable commodities and green and inclusive value chains
6. Output 2.2.3 Capacities, functions and financing of rule of law and national human rights institutions and systems strengthened to expand access to justice and combat discrimination, with a focus on women and other marginalised groups
7. Output 2.3.1 Data and risk-informed development policies, plans, systems and financing incorporate integrated and gender-responsive solutions to reduce disaster risks, enable climate change adaptation and mitigation, and prevent risk of conflict
8. Output 2.4.1 Gender-responsive legal and regulatory frameworks, policies and institutions strengthened, and solutions adopted, to address conservation, sustainable use and equitable benefit sharing of natural resources, in line with international conventions and national legislation

Evaluation Budget(US $):

73,000

Source of Funding:
Evaluation Expenditure(US $):

59,268

Joint Programme:
No
Joint Evaluation:

No

Evaluation Team members:

| Name | Title | Nationality |
| --- | --- | --- |
| Ana Rosa Soares | Team Leader | BRAZIL |
| Mar Guinot Aguado | Associate Team Leader | |
| Carl de Faria | Evaluation consultants | |
| Almeida Sitoe | Evaluation consultants | |

GEF Evaluation:

No

Key Stakeholders:
Countries:

MOZAMBIQUE
Lessons
Findings
1.

Finding 1. Programme, Results-Based Management (RBM) and Partnerships – UNDP support and contributions to Mozambique have been consistently decreasing since 2012 with a more drastic reduction highlighted in the last two years as a result of management and financial constraints. Overall, programme contributions have been mostly fragmented, with resources thinly spread across a multitude of small projects, designed and implemented in silos, with weak transformative effects, low implementation rates and limited results and sustainability.




Tag: Human and Financial resources Operational Efficiency Partnership Results-Based Management Challenges Sustainability Technical Support

2.

Finding 2. Funding and Resource Mobilization – UNDP Mozambique has received regular core resource allocations, above global and regional averages, that have not been used effectively to leverage additional funds and attract donor contributions, challenging the financial sustainability of the CO. Faced with leadership and management issues, when official development assistance (ODA) flow was redirected after the withdrawal of direct budget support, UNDP was unprepared to show its value added, to strategically position itself and to leverage the new funding opportunities.




Tag: Operational Efficiency Resource mobilization Challenges Effectiveness Donor Technical Support

3.

Finding 3. Change management, restructuring and transformation plan – The delayed change management and prolonged restructuring of the office has severely disrupted programme implementation, and failed to equip staff with stronger capacities. It has adversely affected staff morale and motivation, further negatively impacting UNDP's positioning in the country. UNDP has been concentrated on cutting costs and restructuring human resources in the CO but the planned actions for programmatic transformation from the agreed transformation plan have not advanced. There were gaps in CO leadership and delayed regional oversight with regards to the timely conclusion of the change management process and stabilization of CO leadership.




Tag: Change Management Human and Financial resources Oversight Challenges Coherence Efficiency UNDP Management Operational Services

4.

Finding 4. Gender – UNDP's commitment, including financial, to gender equality and women's empowerment, has been low and mostly focused on counting the number of men and women involved in initiatives, not on promoting transformation and addressing the root causes of inequality.




Tag: Gender Equality Women's Empowerment Operational Efficiency Effectiveness Technical Support

5.

Finding 5. Economic Transformation – Progress has not been evident regarding inclusive economic transformation and poverty reduction. UNDP's focus has been in supporting districts' budget control, prioritization and agenda setting with a bottom-up community participation approach. However, as prioritized by communities, attention was directed more at the provision of basic services and not economic transformation and poverty reduction. UNDP support has drastically scaled down in this programme cycle and UNDP's support lacked a coherent strategy to ensure effectiveness and sustainability of capacities strengthened to concretely contribute to economic transformation.




Tag: Inclusive economic growth Poverty Reduction Local Governance Sustainability Effectiveness Efficiency Technical Support

6.

Finding 6. Employment creation – UNDP support was not adequately designed to significantly contribute to enhancing the environment for competitiveness and public and private employment creation and had no impact on sustainable and inclusive economic transformation. The small enterprises and business and services centres supported by UNDP in the Nampula region since the previous cycle demonstrated limited evidence of effectiveness and sustainability.




Tag: Inclusive economic growth Jobs and Livelihoods Operational Efficiency Challenges Coherence Relevance Technical Support

7.

Finding 7. SDGs Agendas – The Government of Mozambique is committed to the SDGs, donors are interested in investing and UNDP is in the process of approving a project to help finance SDGs acceleration in the country. Nevertheless, opportunities are being missed waiting for the country office to reposition while regionally and globally UNDP has enough knowledge and capacity to advance on demands and opportunities.




Tag: Agenda 2030 Strategic Positioning Coherence Relevance Technical Support

8.

Finding 8. Natural resources management and economic development – UNDP's upstream interventions on natural resources management, DRR, climate change and environment contributed to increasing government attention to those issues. Downstream efforts have modestly promoted sustainable community management of natural resources in two regions (Gorongosa and Niassa). Initiatives were designed with insufficient attention to risks mitigation and sustainability, inadequately planning for complete value chains at scale so as to significantly benefit the most vulnerable. Better engagement with the extractive sector, a booming area in the country, could have helped to secure a more strategic positioning of UNDP in the country's development agenda.




Tag: Climate Change Adaptation Disaster Risk Reduction Natural Resouce management Effectiveness Efficiency Technical Support

9.

Finding 9. Disaster risk reduction and climate change adaptation and resilience – UNDP's work of the previous programme cycle helping to develop the national disaster risk indicators framework and the disaster reduction management Master Plan 2017-2030, helped to increase national attention and budget allocation for it. However, downstream, UNDP has made only modest contributions to make communities more resilient to the impact of climate change and disasters and only in the Gaza region. There was insufficient investment in livelihoods and economic development initiatives and poor coordination with local partners, UN agencies and interested donors.




Tag: Climate Change Adaptation Disaster Risk Reduction Resilience building Effectiveness Technical Support

10.

Finding 10. Culture of peace and dialogue – Despite its importance at the national level and interest from donors, UNDP did not work on strengthening the capacities of democratic institutions to promote a culture of peace and dialogue as initially intended. This was due both to political sensitivities and because the topic was not confirmed as a government priority to work with UNDP until after CPD approval. Therefore, UNDP gave only limited attention to strengthen frameworks for engagement of civil society.




Tag: Capacity Building Social cohesion Peace Building Promotion of dialogue Coherence Efficiency Technical Support

11.

Finding 11. Electoral functions – UNDP's support to awareness-raising efforts on elections through civic education and institutional strengthening of the Technical Secretariat for Elections Administration (STAE) have contributed to the increase in voters' participation and to STAE being better able to perform its core functions.




Tag: Election Effectiveness Advocacy

12.

Finding 12. Decentralization and local governance – UNDP played an influential role in decentralization and local governance in previous programme cycles, laying important foundations for participatory local planning development processes. However, in this programme cycle, UNDP missed opportunities to contribute to policy discussions and reforms on decentralization. UNDP support has been declining and given the high turnover and lack of resources, civil society engagement has been limited and councils have been unable to put in motion effective and sustainable economic development initiatives as planned.




Tag: Local Governance Effectiveness Technical Support

13.

Finding 13. Equitable service delivery HIV/AIDS – In terms of ensuring equitable service delivery, UNDP's upstream work on HIV/AIDS from the previous programme cycle was relevant but lacked sufficient attention downstream to ensure improved and guaranteed services delivery. The work in the current cycle remains insufficient, mainly focused on construction of buildings so far.




Tag: HIV / AIDS Operational Efficiency Challenges Relevance Technical Support

14.

Finding 14. Justice, human rights and access to services delivery – UNDP's capacity development support provided to justice and human rights institutions had limited effectiveness in ensuring equitable access to services. Awareness- raising strategies were not effective in reaching the population and the quality of legal aid and justice services in the districts remains insufficient and poorly coordinated. UNDP lacked a coherent capacity-development strategy and adequate monitoring to ensure quality, coordination and sustainability of results.




Tag: Capacity Building Human rights Justice system Effectiveness Technical Support
Recommendations
1

Support for Transformation – The RBA should prioritize understanding and supporting the CO's needs and particularities by ensuring it has the effective, inspiring and culturally sensitive leadership and staff it needs to implement what was already recommended in the committed transformation plan.

Mozambique is a country facing many development challenges. It has recently been severely affected by two devastating cyclones in rapid succession. On the other hand, the country has a relatively favourable donor environment, and a Government interested to partner with UNDP if the organization can strategically reposition itself and show comparative advantages and new value added to accelerate development with more effective solutions. The RBA must help the CO cope in the short to medium term with its reduced capacity and needs for proper programme coordination and integration – prioritizing the delivery of fewer but more effective, strategic and transformative initiatives. As a continuum from the change management process, the RBA should renew its operational, programme and policy support to the CO and help the office develop integrated programmatic strategies that can strengthen UNDP's strategic positioning in the country and ensure adequate attention to sustainability. In addition to the new Resident Representative, the office will need, at least temporarily, someone on detail assignment to ensure coordination of a more holistic approach to the programme, allowing for adequate integration of areas and projects that currently work in silos. Without timely and adequate RBA oversight and support, there is a significant risk that the CO will not be able to effectively deliver on the transformation plan and will not be able to mobilize resources and reposition itself strategically.

2

Prioritizing transformation – UNDP should accelerate the operationalization of the new CO structure and the ways of working that are recommended in the transformation plan, prioritizing work areas and core resources where the CO is able to deliver more effective solutions to complex development problems.


The CO needs to consolidate its fragmented interventions into more focused areas where national ownership, commitment and systemic approaches can be guaranteed to ensure the sustainability of results. A clear theory of change needs to underpin each programme area in integration with other areas, before mobilizing additional resources and expanding the programme in order to avoid linear interventions with no depth and integration. With declining resources, UNDP cannot address complex challenges while at the same time trying to respond to the needs of all partners. This is what led to the programme fragmentation and limited scale, scope and sustainability of current capacity development initiatives (repetitive workshops, seminars, study tours) and construction of buildings that cannot be maintained. A shift to comprehensive capacity development strategies is required to ensure the enabling environment, institutional and individual capabilities are targeted over time for sustainability.

3

Vision – UNDP should focus on fewer key issues affecting the country and develop a coherent programmatic vision targeted at helping the country reduce poverty through economic transformation, mainstreaming climate and disaster resilience. This will require ensuring greater integration of these themes, leveraging UNDP's global network for policy advice for SDG acceleration solutions.


With half of Mozambique's population under the poverty line and millions facing climate vulnerability, UNDP needs to put poverty reduction and resilience building at the centre of its agenda and integrate them across all initiatives. UNDP cannot be expected to change national poverty indicators alone or over one programme cycle, but it can more effectively guide policy and provide technical advice, leveraging its global network for transfer of knowledge. UNDP can more sustainably contribute to change downstream when able to join other partners to achieve scale and ensure the necessary systems-thinking in value chains needed for sustainable impact. It could be more strategic in investing in innovation, with a focused portfolio of projects to identify solutions for SDG acceleration; and with what proves to work, invest in partnerships that can take it to scale.

4

Partnership/resource mobilization – UNDP needs to operationalize a new and more effective communication and partnership/ resource mobilization approach to ensure a more deliberately planned (not opportunistic) pipeline of projects are identified by developing incentives and empowering all staff in a coordinated manner to more proactively and strategically engage partners in joint resource mobilization and to ensure timely follow-up with potential donors.


CO staff should be trained to dedicate a percentage of their time to resource mobilization, which should be recognized in their performance assessment and with capacity development incentives, encouraging collaboration with non-traditional partners and innovative financing mechanisms. These efforts should be coordinated and informed by clear priorities for investments, including how additional resources can influence the theory change and even staff expansions, so there is additional and clear incentive to mobilize resources.

5

SDGs and leaving no one behind – Building upon the openness of Government and interest of donors to work on the SDGs, UNDP should further promote leaving no one behind to better address gender equality and human rights issues, including for conflict-sensitive programming and especially for SDG acceleration.


Through the lenses of gender equality and human rights, UNDP can work on sensitive and challenging issues such as social cohesion and resilience, fundamental to accelerate the SDGs and change social determinants to address structural causes of gender inequality, human rights violations and slow human development and poverty reduction.