Independent Country Programme Evaluation: Eswatini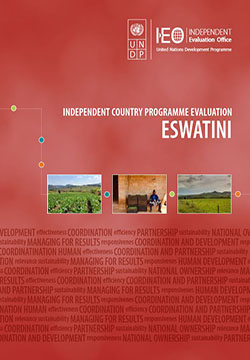 Evaluation Plan:

Evaluation Type:

ICPE/ADR

Planned End Date:

12/2019

Completion Date:

12/2019

Status:

Completed

Management Response:

No

Evaluation Budget(US $):

50,000
Title
Independent Country Programme Evaluation: Eswatini
Atlas Project Number:
Evaluation Plan:
2018-2021, Independent Evaluation Office
Evaluation Type:
ICPE/ADR
Status:
Completed
Completion Date:
12/2019
Planned End Date:

12/2019

Management Response:
No

UNDP Signature Solution

:

1. Poverty
2. Governance
3. Sustainable

Corporate Outcome and Output (UNDP Strategic Plan 2018-2021)

1. Output 1.1.1 Capacities developed across the whole of government to integrate the 2030 Agenda, the Paris Agreement and other international agreements in development plans and budgets, and to analyse progress towards the SDGs, using innovative and data-driven solutions
2. Output 1.1.2 Marginalised groups, particularly the poor, women, people with disabilities and displaced are empowered to gain universal access to basic services and financial and non-financial assets to build productive capacities and benefit from sustainable livelihoods and jobs
3. Output 2.2.2 Constitution-making, electoral and parliamentary processes and institutions strengthened to promote inclusion, transparency and accountability
4. Output 2.4.1 Gender-responsive legal and regulatory frameworks, policies and institutions strengthened, and solutions adopted, to address conservation, sustainable use and equitable benefit sharing of natural resources, in line with international conventions and national legislation

Evaluation Budget(US $):

50,000

Source of Funding:
Evaluation Expenditure(US $):

50,000

Joint Programme:
No
Joint Evaluation:

No

Evaluation Team members:

| Name | Title | Email | Nationality |
| --- | --- | --- | --- |
| Richard Jones | Evaluation Advisor | | |
| Youri Bless | Evaluation Specialist | | |
| Nicki Mokhtari | Research Consultant | | |

GEF Evaluation:

No

Key Stakeholders:
Countries:

ESWATINI
Lessons
Findings
1.

2.1 Programme objectives for 2016-2020

Finding 1: The UNDP CPD for the Kingdom of Eswatini (2016-2020) identified three of the country's main development challenges and the required responses to their causes. However, UNDP's interventions during the programme implementation period were more often driven by partners' demands than by a cohesive or strategic programmatic approach. This gap between the CPD's identified outcomes, priorities and actual implementation is particularly evident in the areas of inclusive economic growth and good governance and puts the full achievement of UNDP's contribution at risk.




Tag: Effectiveness Relevance Anti-corruption Civic Engagement Local Governance Parliament Knowledge management Programme Synergy Results-Based Management Theory of Change UN Country Team Inclusive economic growth SDG Integration

2.

Finding 2: UNDP's yearly programme is guided by AWPs, which combine all three outcomes and include a detailed list of planned activities for all projects. AWPs mostly comprise long lists of smallscale activities involving a high number of partners which, with its current staff and budget constraints, the country office has struggled to fully implement. Additionally, the multiplicity of smallscale activities has led to increased programme management costs and programme staff engagement, while often resulting in equally small-scale outputs. The AWPs further illustrate the fact that programme implementation revolves around a collection of interventions that lack depth, a strategic focus, coordination and connection within and across outcomes, as well as across years.




Tag: Human and Financial resources Knowledge management Partnership Results-Based Management Theory of Change Country Government Efficiency Gender Equality Gender-Based Violence Women's Empowerment Human rights Parliament

3.

Finding 3. The current structure of the UNDP country office, its human and financial resources, and capacity are not adequate for the current or planned levels of programme implementation. The Development Advisory Team (DAT) structure was introduced in 2017 to make the allocation of staff across the project portfolio more efficient and effective, as well as integrate activities within the programme. However, this has not been effective and has created some confusion and misallocation of human resources.




Tag: Effectiveness Efficiency Business Model Change Management Country Support Platform Human and Financial resources Policies & Procedures

4.

Finding 4. UNDP's portfolio includes four new or upcoming initiatives that illustrate innovative attempts to address funding challenges for the country office and seek to increase the project portfolio and programmatic funding. These new initiatives, although relevant to the programme's objectives, represent a notable change from the current UNDP programme and project portfolio. The country office does not appear to have a clear plan to address challenges that may arise due to this refocusing of its programme portfolio and the shift in its approach, which will require different human resource skills and levels, while still requiring ongoing support for current activities.




Tag: Climate Change Adaptation Climate change governance Energy Green Climate Green Economy Waste management Efficiency Business Model Country Support Platform Human and Financial resources Capacity Building Inclusive economic growth Jobs and Livelihoods Poverty Reduction SDG Integration

5.

Finding 5. Despite the identified challenges for gender equality and the need for a focused response to achieve gender transformative results, UNDP did not manage to set the conditions for effective engagement leading to significant changes in that area. While some projects have helped strengthen the country's knowledge on gender issues, a comprehensive response is still lacking and is highly needed.




Tag: Drinking water supply Protected Areas Challenges Effectiveness Gender Equality Gender-Based Violence Women's Empowerment Human rights Justice system Parliament Health Sector Human and Financial resources Knowledge management Monitoring and Evaluation Project and Programme management Quality Assurance Education Youth

6.

Finding 6. UNDP operates as a 'Delivery as One' country office in Eswatini, but the collaboration among UN agencies in Eswatini remains limited. There were very few joint activities, even though the opportunities for stronger cooperation in all UNDP outcome areas existed.




Tag: Agriculture co-operatives Climate Change Adaptation Joint UN Programme Partnership UN Agencies Capacity Building

7.

2.2 Contributions to the programme objectives

Outcome 1 – Inclusive economic growth and sustainable development UNDP's main outputs in this area included the production of research papers on fiscal consolidation, innovation and competition in the private sector, policy research and analysis through the country's second Participatory Poverty Assessment, macro-economic forecasting, and the development of composite indicators. Output-level results also included support to the planning and monitoring of national development plans, for example through the development of an SDG-based national M&E system.

Some of UNDP's activities in the area of climate change adaptation and sustainable management of natural resources have also included results that directly contributed to UNDP's poverty reduction objectives. For example, the Climate-Smart Agriculture Project targeted the livelihoods of farmers and aimed to develop sustainable value chains in agricultural production. The waste management project in Matsapha Town Council also included support to income-generating activities for waste reclaimers.

In the SNPAS project, opportunities for increased livelihood benefits (through eco-tourism or incomegenerating activities) targeting people living within the protected areas were factored into the project design but either faced challenges during implementation or could not be fully measured at this stage in the project's life.

Finding 7. UNDP's approach in some inclusive growth and sustainable development projects has the opportunity to strengthen links between upstream policy support and downstream community livelihood interventions. While upstream and downstream support can be self-reinforcing it is unclear whether downstream work has fully informed and supported any upstream policy support work. Equally, it is unlikely that it has so far contributed to two of the main outcome-level goals of poverty reduction and economic diversification.




Tag: Agriculture Rural development Green Climate Green Economy Protected Areas Water resources Monitoring and Evaluation Programme Synergy Results-Based Management Capacity Building Inclusive economic growth Jobs and Livelihoods Poverty Reduction

8.

Finding 8. At the upstream level, many efforts have been made to improve the country's capacity to develop and monitor new policy instruments. UNDP has been receptive to many government requests for support in this area, and as a result has overstretched itself in supplying technical support. This responsiveness led to support across more than 40 different policies, strategies and development monitoring instruments in all outcome areas, which hindered progress in all of them, with none being completed or fully adopted in the Eswatini planning or policy system.




Tag: Water resources Effectiveness Sustainability Human and Financial resources Monitoring and Evaluation Policies & Procedures Programme Synergy Results-Based Management Theory of Change Country Government International Financial Institutions Capacity Building Inclusive economic growth Poverty Reduction Policy Advisory Technical Support Data and Statistics SDG Integration SDG monitoring and reporting

9.

Finding 9. The office had mixed success implementing its largest project, the GEF-funded SNPAS. Financially this is the biggest project in the country office's portfolio, on average accounting for more than half of all expenditure annually, and its implementation has been key to ensuring lower management cost ratios. Its mid-term review in 2018 brought to light a number of known and unknown issues, which subsequently led to a hold on implementation of the project (and expenditure) and a considerable restructuring and refocus of the project. This is of major concern to the office, as the project is the largest in its portfolio and may also impact future resource mobilization through GEF.




Tag: Biodiversity Environment Policy Natural Resouce management Protected Areas Effectiveness Efficiency Global Environment Facility fund Resource mobilization Donor relations Knowledge management Monitoring and Evaluation Operational Efficiency Oversight Project and Programme management Results-Based Management Technical Support Data and Statistics

10.

Finding 10. UNDP took up a strong coordination role following the impact of El Nino in 2015- 2016, which caused a significant drought and impacted access to water and food security in Eswatini and Southern Africa. Government and donor support to communities impacted by El Nino, as well as UNDP support, helped strengthen national capacity for DRM and response. DRM plans at both national and local levels are still being developed and have a long way to go to be fully operational. Links between local-level efforts and national plans still need to be established.




Tag: Disaster Recovery Disaster Risk Reduction Drinking water supply Environment Policy Natural Resouce management Water resources Effectiveness Global Environment Facility fund Local Governance Donor relations Procurement Programme Synergy Results-Based Management Country Government Food Security Capacity Building Coordination Technical Support

11.

Outcome 3 – Good governance and efficient service delivery

Finding 11. The UNDP country office has established partnerships with a broad range of government partners across a wide range of governance issues, including continued support for activities that began in the previous programme period. However, under a resource-constrained governance programme (and office in general), the reality means that very few activities are fully supported and support to government agencies is not showing any continuity of focus or strategy, nor is it operating under a clear theory of change for supported interventions




Tag: Climate Change Adaptation Disaster risk management Natural Resouce management Effectiveness Sustainability Government Cost-sharing Human rights Justice system Local Governance Parliament Human and Financial resources Partnership Theory of Change Country Government Capacity Building Inclusive economic growth

12.

Finding 12. The current portfolio of programme activities has very few activities with CSOs, despite them being clearly identified as a necessary partner to enable citizen engagement and participation in policy development, as well as improving service delivery at the local level.





Tag: Gender Equality Women's Empowerment Anti-corruption Civic Engagement Local Governance Programme/Project Design Civil Societies and NGOs Jobs and Livelihoods Youth Advocacy
Recommendations
1

In the next country programme, UNDP must identify clear areas of intervention that form a cohesive response to a definite set of national development challenges and that can be realistically implemented within its limited resource framework. Overall, in the next programme period there will need to be a clear, focused approach, with fewer partners and clear areas and strategies of support.

The development of theories of change in each outcome area will be essential to understanding and better identifying what UNDP's contribution is and where it can be most effective. This can help UNDP reinforce the understanding of what constitutes key activities, both internally and with its partners. With a stronger understanding of what UNDP should do, and for which results, the programme will be less likely to steer away from its objectives. It will also be subject to fewer demands for small-scale support that have led to the scattered and ad-hoc nature of the current programme. In order to ensure that UNDP's key partners agree to its programme, strategy and outcomes, UNDP should increase the participation of its partners in defining the programme's theories of change. Particularly, partners in government should be included in defining the theory of change, while regular involvement with the Government of Eswatini should be encouraged to ensure that interventions align with the agreed approach and objectives.

In framing its intervention for a more focused programme, UNDP must make choices not only about specific areas where it works, but also to identify the most appropriate partners to work with, in order to address Eswatini's development challenges. When responding to additional demands from partners, it must also ensure that those demands align with its existing objectives, and not lose track of the programme's strategy. If new areas of support emerge, UNDP must find ways to ensure that new activities do not impact existing programme implementation negatively.

UNDP should fully review its policy monitoring support to the government, identifying areas that can realistically be developed and incorporated into a long-term strategic vision, supporting the government's reporting needs. It should also identify areas of previous support that can be further leveraged, developed and possibly accelerated.

2

UNDP must critically examine its achievements in the implementation of the current programme, understand where its main contribution lies, and where this contribution has the strongest potential to be sustained and scaled up. This process requires regular follow-up on project activities, improved documentation of UNDP's outputs, and measuring progress on a more regular basis. The monitoring efforts must go beyond data collection and be used as a tool for programme management, learning and reporting. This will help UNDP communicate its contributions, reinforce trust between the organization and its partners, and strengthen its capacity to mobilize resources.

Existing achievements in the poverty and environment outcomes have shown that UNDP can contribute to both objectives when projects target inclusive growth, natural resource management and climate change adaptation together. In these areas in particular, it is critical to produce evidence of project results by establishing a baseline situation and monitoring changes or progress, whether on beneficiaries' incomes, environmental factors or natural resources. UNDP should not implement 'in the dark' and report results without evidence to support them.

UNDP has supported processes that produced evidence for development in Eswatini (through research, censuses and SDG monitoring) but it needs to create links between its interventions for more significant and sustainable results across its portfolio. Stronger evidence and baseline data will support more effective monitoring of project progress, which in turn can better inform policy-making.

3

In implementing a more focused programme with a clear theory of change and objectives, UNDP must follow key project management steps more strictly. Priority activities and deliverables must be identified and followed during implementation. UNDP must increase efforts towards reporting and documenting activities and results for effective follow-up, both during implementation and by partners after project closure. In addition, UNDP needs to redirect its support away from facilitation across numerous activities and give greater and more meaningful support to technical issues.

The implementation of a multiplicity of small-scale activities is not sustainable, especially in the context of limited finances and a small programme team. It is important for UNDP to identify results that can lead to structural changes for the targeted areas or populations. For its upstream work to be effective, support to policy development must be planned across several years, with continuous engagement during distinct phases, including policy design, validation, training, implementation, and learning and feedback from implementation.

The country office should develop a resource mobilization plan that reflects need within the country, as well as available national and regional opportunities, while also considering the current capacity and comparative strengths of the office. Current and future resource attraction should be coupled with a clear human resource development plan that includes additional resources for the implementation of projects, as well as support to existing staff in building their capacity. The regional service centre has a clear role in supporting a small office such as that in Eswatini, which has faced numerous challenges in recent years.

There is a danger that the new portfolio of projects will further inundate the current programme staff. A rationalization of the current project portfolio will be needed to ensure fewer activities and partners, which will reduce implementation pressures and management costs. At the same time a clear human resource development plan needs to be put in place that includes capacity development for existing staff to enable them to manage new projects, trains them in new project areas in the current pipeline, and develops a plan to bring in new human resources to take up some implementation responsibilities.


4

The country office should review the effectiveness of the allocation of programme and operations staff across the DAT structure and find ways to improve the allocation of its limited human resources. A strengthened focus and strategy for programme outcomes will resolve some of the current inefficiencies in implementation.

Instead of introducing a complicated structure to support a scattered programme with limited staff, UNDP can benefit from aligning its existing resources to a more focused programme. If staff members are expected to carry out new roles and responsibilities, the office must also support the process with on-the-job training and technical support if necessary. The country office should also bank on the small size of its team to encourage learning across the team (operational and programmatic), to increase support for programme activities.

A stronger collaboration with other UN agencies can further strengthen UNDP's development offer. In the implementation of its current programme, UNDP's time and resources have been used for the recruitment and management of external experts, for example in support of livelihoods and environment projects, where such expertise can be found within the UN country team. An improved use of available expertise and resources within the UN country team can help UNDP better allocate its own limited resources in line with the objectives of the DAT structure introduced in 2017.
Management response not available