Final Evaluation of Access to Information programme II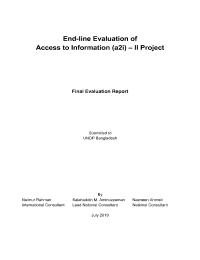 Evaluation Plan:

Evaluation Type:

Final Project

Planned End Date:

09/2019

Completion Date:

09/2019

Status:

Completed

Management Response:

Yes

Evaluation Budget(US $):

50,000
Title
Final Evaluation of Access to Information programme II
Atlas Project Number:

00045483

Evaluation Plan:
2017-2021, Bangladesh
Evaluation Type:
Final Project
Status:
Completed
Completion Date:
09/2019
Planned End Date:

09/2019

Management Response:
Yes

Focus Area

:
Corporate Outcome and Output (UNDP Strategic Plan 2018-2021)

1. Output 1.1.1 Capacities developed across the whole of government to integrate the 2030 Agenda, the Paris Agreement and other international agreements in development plans and budgets, and to analyse progress towards the SDGs, using innovative and data-driven solutions
2. Output 1.1.2 Marginalised groups, particularly the poor, women, people with disabilities and displaced are empowered to gain universal access to basic services and financial and non-financial assets to build productive capacities and benefit from sustainable livelihoods and jobs
3. Output 2.1.2 Capacities developed for progressive expansion of inclusive social protection systems
4. Output 2.2.1 Use of digital technologies and big data enabled for improved public services and other government functions

SDG Goal

Goal 1. End poverty in all its forms everywhere
Goal 4. Ensure inclusive and equitable quality education and promote lifelong learning opportunities for all
Goal 8. Promote sustained, inclusive and sustainable economic growth, full and productive employment and decent work for all

SDG Target

1.3 Implement nationally appropriate social protection systems and measures for all, including floors, and by 2030 achieve substantial coverage of the poor and the vulnerable
4.4 By 2030, substantially increase the number of youth and adults who have relevant skills, including technical and vocational skills, for employment, decent jobs and entrepreneurship
8.10 Strengthen the capacity of domestic financial institutions to encourage and expand access to banking, insurance and financial services for all

Evaluation Budget(US $):

50,000

Source of Funding:
Project budget
Evaluation Expenditure(US $):

28,672

Joint Programme:
No
Joint Evaluation:

No

Evaluation Team members:

| Name | Title | Nationality |
| --- | --- | --- |
| Naimur Rahman | International Consultant | |
| Salahuddin A Aminuazzaman | Senior National Consultant | |
| Nazneem Ahmed | National Consultant | |

GEF Evaluation:

No

Key Stakeholders:
Countries:

BANGLADESH
Lessons
1.

Broadly speaking a2i, in effect, is not only a digitalization but could also be seen as a package of pro-people, pro-poor public administration reform programmes.

It appears that a2i is already in a process of institutionalization. The Government of Bangladesh has by now designated a senior official of the ministries as Chief Innovation Officer/ Innovation Officer, as the "reform champions" to guide and support various innovations and take active initiative towards institutionalization of such innovation culture in the ministries and departments/agencies.

The project has managed to develop and maintain a partnership and cooperation arrangement with media for the dissemination of e-services and create awareness and the demand from below.

a2i has adopted an inclusive, bottom-up approach for the promotion of innovation culture in public service delivery.



Findings
1.

6. Key Findings – Assessment against Evaluation Framework

6.1 Programmatic Relevance and Results

The Access to Information (a2i) - II project aims to ensure that 20 million citizens from underserved communities derive benefit from easy access to simplified and digitized public service, reducing the difficulty, cost and time of obtaining these services. Towards realisation of this objective, the project pursued five inter-related approaches of programmatic interventions:

(1) Strengthening e-service delivery and launching next generation of interoperable, integrated e-government applications; (2) Capacitating public service providers, sensitizing government officials and expanding digital literacy among the general public; (3) Facilitating creation of an enabling environment with strong policy and strategy links with implementation; (4) Promoting innovation; and (5) Establishing public and private partnership and creating awareness among citizens.




Tag: Relevance e-Governance Human rights Communication Results-Based Management Service delivery

2.

6.2 Efficiency and Value-for-money of Project Interventions

The efficiency of the a2i-ii project has been evaluated in terms of results delivered by various components of programmatic interventions in relation to the resources expended for implementing those programmes. The efficiency has also analysed the success of the interventions in to achieve the goals of reducing time, cost and visits for receiving various services.

Value of the Project Outcomes as against resource invested and additional investment leveraged / mobilised: In this section we have presented targeted and actual performance of different activities/ outputs of the main five components of the project. Those are (i) e-Service, (ii) Capacity and Awareness, (iii) Enabling Environment, (iv) Innovation and (v) Creating linkage and awareness among the citizens (including technical assistance). For 2012 to June 2019 period, a total of USD50.28 million was allocated for performing various activities under different components of a2i project. Out of this allocation USD18.6 million came from UNDP and USD31.72 million came from the Government of Bangladesh. Thus 63% of fund for a2i-ii project came from the GOB. Table 3 below presents component specific budget and expenditure since April 2012 to May 2019, reflecting more than 90% utilisation for each of the components. Highest level of budget utilisation is observed for the project interventions related to Enabling Environment (97.82%) and Partnership And Communication (97.93%). This indicates slightly over estimation of budget. Ratio wise GOB's budget has been better utilized compared to the budget executed under UNDP. Table 3: Utilisation of UNDP and GOB funded budget under a2i. As could be seen in Figure 1 below that the components of Technical Assistance and Enabling Environment are the two highest funded components under a2i.

Even though there was less than full utilisation of resources, expected output targets for most of the sub-components under output indicators of a2i have been achieved (Table 4). In many cases, achievements exceeded the target. For example for number of people availing e- services was 3% higher than the target. The number of services simplified was 6% higher than the target. The number of service providers trained / oriented to design and implement e- services was 22% higher than the target. The sub-components for which we observe weak performance include development of land related e-services and service access points; proportion of citizens using rural decentralized banking system; and development of new agency for service delivery innovation with establishment of a sustainable organizational model. Further reflective analysis could be undertaken by the project to better understand the reasons for performance variations of certain project components vis-à- vis the others.

The programmatic efficiency in terms of actual achievements vis-à-vis project targets appears to be satisfactory. Sub-component-wise highest amount of resources were invested towards scaling-up of SIF project by relevant government offices (USD8.01 million accounting for nearly 17% of the spending under a2i project), and it resulted in 95% of the achievement of project target. On the other hand, the investment of USD6.18 million (13.03% of total project spending) towards provisioning of e/m-payment based social safety net services has resulted in 250% achievement against the target of this component. In terms of generating three key results by various activities and associated spending by the a2i project, along with the use of additional funds leveraged by a2i project activities, the following achievements have been made:Table 5: Achievement against Three Key Results: At a glance. As has been noted in the project document a2i works as a catalyst for promoting innovations, simplifying services and service delivery points. The initiatives taken by a2i leveraged additional resources (budgetary allocations / externally aided project funds of other Ministries and Divisions, private sector investments as well as non-monetised resources) from different sources, which actually helped to achieve the outputs mentioned above. The Evaluation team was provided with the details of these leveraged resources for the year 2017 and 2018 (Table 6), which stand at USD 217 million i.e. around 4.5 times of the total project expenditure during Phase-II implementation of a2i.




Tag: Efficiency e-Governance Communication Innovation Operational Efficiency Results-Based Management Service delivery

3.

6.3 Programme Effectiveness

6.3.1 Achievement of Individual Outcomes attributed to the Project

Access to Information (a2i) programme entered its second phase in 2012 to address the deficits of the public administration system and public service delivery in Bangladesh. In Phase II, the focus of the programme has been expanded from mere ensuring access to information to improving public service delivery through ensuring increased transparency, improved governance through innovation and capacity building within the civil service. In broader perspective a2i as a public sector institutional and process reform initiative has been successful to a great extent from at least two broader perspectives: (a) a2i has been able to develop an innovation culture within the public administration system and among the civil servants; (b) a2i has been able to create wider awareness and sensitivity as regards egovernance among the top-ranking policy makers and this has been extended to the line managers at various tiers of Government of Bangladesh. The programme also facilitated some top-ranking public officials to be sensitized about the need for e-services and it has established a network of "reform champions" or a "guiding change coalition" in order to make public sector reform successful.

a2i has also been deeply engaged in promoting an innovation culture among the public officials at various levels, including the senior policy makers. Within the broad policy framework of the government like vision 2021, Seventh Five Year Plan, Digital Bangladesh, the project has been able to adopt and promote an inclusive bottom-up service delivery approach. As a result, opportunities have been created for the field level officials of various ministries to use their experiences to develop innovative approaches of service delivery. This, in turn, triggered the bottom up demand side of quality service delivery. The creation of such demand has also made the civil servants more accountable and responsive to the need of the service seekers.

Empathy training has introduced a new culture of innovation and responsiveness among the civil servants. It has changed the mindset of the civil servants to put the citizen at the centre in initiating any service delivery innovation. The empathy training has put the civil servants on "citizens' shoes" and help them develop a critical eye to question and scrutinize the service delivery system. In effect, this has significantly helped to unfreeze the typical bureaucratic mindset of the civil service in Bangladesh.




Tag: Effectiveness e-Governance Communication Innovation Service delivery Capacity Building Technology Advocacy

4.

6.3 Programme Effectiveness

6.3.1.1 Component based output and outcome (continuation)

Union Digital Centre (UDC)

One of the a2i's flagship initiatives is the Union Digital Centres (UDCs), one-stop service outlets located at Union Parishad with the objective of bringing services closer to the citizens, particularly the underserved communities. In fact, the UDCs are located with about 4 km from the average rural citizen's home; and are designed for operation by two local entrepreneurs: 1 male and 1 female under the overall supervision of the Union Parishad. However, statistics made available to the Evaluation team seem to indicate that an overwhelming (73%) UDC entrepreneurs are male; and this pattern is corroborated in the 2017 study conducted by the Institute of Business Administration, University of Dhaka. The UDCs are delivering 150+ services, both public and private, to more than 36 million citizens at a much lower TCV for obtaining these services than before. UDC is basically an example of government to private/community and also a central to local government partnership model. Leveraging centralised ICT platforms such as Ek-Sheba, Ek-Shop, eChallan, Agent Banking, MFS et. al., the UDCs have been providing both free and fee based public services, like land records, birth and death registration, Citizen Certificate, telemedicine, online submission of application for passport, application to universities; and private services like mobile financial services, electricity bill payments, internet browsing, sending e-mails, photocopying etc. to the rural citizens.




Tag: Technology Data and Statistics Natural Resouce management Challenges Effectiveness Gender Equality e-Governance Partnership Service delivery

5.

6.3 Programme Effectiveness

6.3.1.1 Component based output and outcome (continuation)

G2P (Government to Person) Payment System

In order to make the payment system of the Social Safety Net Program more efficient and beneficiary-friendly, government, for the Digital Financing Services DFS Lab+, a joint initiative of a2i and the Bangladesh Bank launched a pilot project called G2P (Government to Person) Payment System. The new payment system aims to make six major Social Safety Net allowances hassle-free, efficient and being delivered through the UDC instead of the nearest bank – which is almost always far away. The prime purpose of the initiative is to develop a system of financial inclusion of the poor and the un-banked citizens and also increase speed, security, transparency, and cost efficiency of Safety Net Programs.

Coverage and Impact A study commissioned by a2i and the Consultative Group to Assist the Poorest (CGAP) found that beneficiaries save about 58% in time, 30% of the cost and a reduction of 80% in the number of visits to government. The number of bank accounts opened by the rural poor in the project areas has increased significantly to 384,030. Another a2i has piloted National ID enabled digital payment system initiative electronic fund transfer through 115,086 bank accounts where female beneficiaries are larger than the male beneficiaries.

Challenges The demand side of the digitization of social safety net payment is still weak. Most importantly limited number of banks are participating in an agent banking system in rural areas for the payment of safety net allowances.

333 Call Centre Launched in April 2018, in partnership with Robi the private sector telecom operator, more than 2.5 million citizens accessed the 333 Citizen Call Centre to seek on public services as well as information available on the National Portal. Citizens can also use the call-centre channel to solicit remedy / rederssal of their social problems such as child marriage, violence against women, food adulteration, narcotics abuse etc. The figure below depicts the top 10 complaint categories and their resolution status. It is however worthwhile to mention that of the total calls made, 89% of the callers are male reflecting a huge social disparity with regard to information access. This discouraging trend can also be seen in top 10 categories of the complaints made: only 11% complainants are women which seems to indicate that either (i) women fear to make a complaint owing to societal constraints; or (ii) they have limited knowledge of 333 service. a2i might consider conducting a comprehensive socio-ethnic research to better understand this gender related societal inhibition.

Multimedia Classroom (MMC) In order to improve the quality and effectiveness of eduction, a2i introduced the Multimedia Classrooms (MMCs) initiative leveraging ICT at the primary and secondary education. Multimedia Classrooms use a multimedia projector, internet, and other traditional equipment for making the teaching environment more attractive and motivational to students.

Coverage and Impacts Currently, there are over 23,331 multimedia classrooms in secondary schools and an additional 15,000+ at the primary level with more in the pipeline (PMO, 2018)13. Around 9.5 million students are enjoying the benefits of MMC in Bangladesh (Annual review report a2i, 2016). Most importantly, it has helped reduce the digital divide, educational divide, and enhanced the quality of teaching with ICT based skill. The Teachers' Portal (www.teachers.gov.bd) serves as an online platform for teachers across the country to share digital educational materials covering a wide variety of disciplines. 343,254 teachers were registered on Teachers' Portal as on December 201814 .The a2i internal review (a2i Annual Review report, 2016) observed that : teaching quality and skill have improved by 34% and 78% respectively; studnets interest in learning increased by 27%, Class attendance and participation increased by 67% and 57% respectively.

Challenges Poor electricity supply and inadequate infrastructure facilities and lack of interest among a section of the teachers including the head teachers, and management committee tend to discourage the initiative.




Tag: Effectiveness Gender Equality Women's Empowerment e-Governance Communication Innovation Policies & Procedures Country Government Education Technology Private Sector

6.

6.3 Programme Effectiveness (continuation)

6.3.2 Flagship Innovations Initiated and Mainstreamed

a2i has introduced a number of e-services having bearing on the livelihood of the citizens. It has increased transparency, improved governance and quality public services and reduced inefficiencies. In short – a2i has laid the foundation of transparency, accountability and predictability of the public service delivery system. Based on the secondary data, KI interviews, harvesting workshop, document reviews, field observations and experiences, the following component wise observations have been drawn:

Component 1: e-Services Simplified government services have been made available for citizens; and it has resulted in reduced TCV. Average 6.4 million e-services (of 106 types) delivered per month to citizens through 5312 Digital Centers. Total 223.19 million services delivered with an average of 4.5 million beneficiaries per month. However, it is to be noted that some of these services are not necessarily e-Services in real sense. Simplified government services have been made available for citizens; and it has resulted in reduced TCV. Average 6.4 million e-services (of 106 types) delivered per month to citizens through 5312 Digital Centers. Total 223.19 million services delivered with an average of 4.5 million beneficiaries per month. However, it is to be noted that some of these services are not necessarily e-Services in real sense. Land record digitisation has been completed for around 90% of acreage (under a Land Ministry project). This has been leveraged by a2i to enable 4 e-Services (like e-application for remote access of land records, e-Mutation, e-Inheritance management, and electronic registration of land deeds). All such new innovations have significantly changed the overall process and practices of land management system and have made the complicate land management hassle and corruption. However it is now only confined to the pilot project covered areas and yet to be mainstreamed. National Portals are functional and widely used. On an average 1.5 million users are getting e-services with about 90 million hits per-month. Furthermore there are 27,488 web –sites of the public agencies starting from Union Parishads to Ministries. Electronic file processing solution (e-Nothi) has initiated a speedier decisions and responsive office system. As of on December 2018, more than 4300 offices are using e-Nothi with around 56,000 active users. e-Nothi system has been used to dispose off more than 2.5 million files during 2018 serving an estimated 4 million citizens. The services under e-Nothi fulfil the requirements of real e-Service to a significant extent, and GoB should urgently consider mainstreaming the process of issuing digitally signed documents and certificates.




Tag: Effectiveness Impact Anti-corruption Civic Engagement e-Governance Innovation Integration Monitoring and Evaluation Partnership Service delivery Country Government Capacity Building Private Sector

7.

6.3 Programme Effectiveness (continuation)

6.3.3 Contextual, Sectoral and organizational Drivers / Influencers of Success

Bangladesh over the last four decades have set a number of Administration Reform Commissions to bring in "substantive, qualitative and meaningful" reform of the administrative system and process to increase the quality of service delivery and a responsive governance system. Although most all reform commissions broadly emphasized the need for such processes and procedures, but none of the administrative reform programs could make any dent to change the quality and mode of service, especially in the rural areas. a2i emerged as a strong and nationally led and owned project after Awami League assumed power in 2009. Since then a2i started to expand exponentially. From a simple project established to share information with the citizens, a2i has evolved now as a broader public administration reform programme. Although initially a2i didn't have any specific vision as such, in course of its journey, it made efforts to promote its vision clear- "bringing government services closer to citizens". a2i emphasized the need for public service delivery through ICT led innovation. To this end, it was necessary for a2i to put its efforts in service process simplification (SPS) so that service can be provided easily from the supply end and which will also pave the way for accessing the services easily by the stakeholders representing the demand end.

A2i opted for "technology" as an enabler of service delivery and a bottom-up approach was adopted to reach the disadvantaged. A2i strategically chose rural Bangladesh, where most un-served and under-served population of Bangladesh leave. To make the service reachable to the poor a2i opted the introduction of digital technology access points called the Union Information Service Centers (later renamed as Union Digital Centers) as the service access points for the rural people. a2i strategically chose few critical entry points that could enable the installation of new management and service delivery system. At the national level a2i therefore initiated a service process simplification, e-service provisions, training for civil servants for changing their attitudes to ensure improved and better public service delivery. In addition, a2i strongly emphasized the need for improving governance and ensuring accountability and transparency in the process of the delivery of public service, especially to under-served communities. A2i also emphasized the need for reducing inefficiencies in government service delivery in terms of time, cost and visit. a2i emphasized the need for improving the access to public services through electronic means. However, to begin with a2i encountered two prominent challenges: (i) government officials were neither mentally nor technically ready to accept the use of technology in service delivery; (ii) existing rules & regulations were not conducive and supportive to the implementation of the electronic and alternative mode of service delivery system. a2i recognized that capacity building is an essential recipe for being successful. Therefore it developed new approaches to innovate and reengineer service delivery processes with the ultimate objective of making services responsive, transparent and accessible by embedding the culture of innovation within bureaucracy through incentivizing and motivating government officials and forging partnerships to ensure ownership and resource mobilization (UNDP, 2016).

a2i subsequently moved forward to shift its vision further to "innovation for all". Thus, the project has broadened its vision from mere "bringing government services closer to citizens" to "developing public sector capacity to innovate" and most recently, the vision has even broadened further to "innovation for all". a2i Programme has strongly emphasized the need for effectively inculcate an innovation culture within the civil service, which has been a critical prerequisite for transforming government services towards digitized client-centric e-services and building of an innovation culture in all tiers of government. a2i has been focusing on the inculcation of an innovation culture within the civil service. a2i also sensitized top-ranking officials about the need for e-services, creating "champions", To date, there are 1010 Innovation teams in different tiers of government, comprising a network of over 5,000 Innovation Team members.

a2i established a number of partnerships across different government ministries and agencies, multilateral and bilateral development agencies, non-governmental organizations and the private sector and academic and research organizations for achieving its multiple goals and objectives. The objectives of adopting a partnership approach by the programme are to gain buy-in for the programme, mobilize and leveraging resources, strengthening citizen-centric service delivery through capacity development, innovation, research and policy reform. a2i has also earned a widespread reputation and recognition both globally and nationally. The program has received several national and international awards since 2009, for its contribution towards improving public service delivery through the innovative use of ICT. It is important to note that most of these awards are international. Amongst others, winning the world's most prestigious award for excellence in information technology known as the World Summit on Information Society (WSIS) Award by a2i consecutively from 2014 to 2017 is worth noting.




Tag: Effectiveness Sustainability e-Governance Public administration reform Implementation Modality Ownership Partnership Service delivery Poverty Reduction Technology Policy Advisory South-South Cooperation

8.

6.4 Attainment of Gender Specific Goals

The a2i Gender Strategy was adopted in 2015. This document lists key indicators and priority actions for 2015-2016. No priority action has been laid out in the project document for the period of 2017-2019 (June). Therefore, the priority actions for 2015-2016 may be considered to be valid for the whole project period. The end-line evaluation of gender sensitivity of a2i-ii project assesses overall planned outcomes vis-a-vis actual results to the programme's gender specific goals.

The a2i strategy outlines four pillars: • Internalization of the gender strategy among a2i staff • Integration of gender considerations in programmatic interventions • Development of gender-responsive government institutions • Promotion of gender-sensitive partnerships




Tag: Gender Equality Gender Mainstreaming Women's Empowerment e-Governance Innovation Partnership Country Government Technology Capacity Building SDG Integration

9.

6.5 Measurable Impact of the Programme

Measurable Outcomes and Outputs against Key Result Areas

With multitude of accomplishments, the a2i project is well poised to achieve to all its targeted outputs and outcomes. The a2i project has successfully demonstrated that ICT, when leveraged appropriately, can be a powerful tool to improve access and quality of public services; and to effectively reduce cost, time and efforts of accessing important public services. The five pathways (components) of a2i project: e-Service, capacity and awareness, enabling environment, innovation, and public awareness and public-private partnerships, towards realisation of its Theory of Change is expected to contribute to the following results:

1. Underserved people have better and simplified access to public services. 2. Civil services are more effective, faster and inclusive that enables Innovation Ecosystem for building a strong institution 3. Greater financial inclusion for the traditionally excluded citizen achieved through digital social safety net (SSN) and banking services

There are impressive evidences of a2i project attaining substantive results of each of these areas. The project has enabled easier access of public services to an estimated 150 million citizens, many of whom are from underserved communities; and as on December 2018 a total of 39.21 million beneficiaries have availed 150+ e-Services: 69 government services, 80 private services and more than 10 banking and financial services. The average distance of service accessing points i.e. the UDC has also come down to 4 km as against 5.5 km in 2015. However there is a need to invest more effort towards service recipients' satisfaction at UDC. The user survey conducted within the ambit of the study conducted by Transparency International Bangladesh reveals that only around 61% of respondents were satisfied with their service access experience at the UDC. While there has been improvement on user satisfaction levels over the years, the a2i project, with its innovative approaches, should aim at achieving a higher level of user experiences.




Tag: Natural Resouce management Impact Sustainability e-Governance Innovation Results-Based Management Service delivery Theory of Change Technology

10.

6.7 Sustainability of Project Outcome and Practices

The issue sustainability was examined from the perspectives of institutional, financial and policy dimensions. With its inception in the Prime Minister's Office and its continued patronage by the Cabinet Division, a2i has forged strong institutional partnerships with all relevant Ministries, Divisions, other National Agencies and Universities; and has concurrently helped incubate civil society and private sector partnerships with distinct result oriented objectives and agendas. These partnerships and coalitions will certainly be carried forward during the implementation of new a2i programme. Enhanced cooperation between program partners has also helped create decentralized self-driving networks of e-governance promoters; sustenance of these informal networks should also lead to new cooperation initiatives at local level. The obligatory co-funding through local budgetary provisions, which the programme encouraged, is expected to continue to enable continuance of ongoing programme activities on ground. And finally the policy level transformative changes that a2i has helped to usher-in will continue to provide conducive policy and legislative framework for furthering e-governance and innovation objectives that a2i espouses towards realisation of Digital Bangladesh.




Tag: Sustainability Government Cost-sharing e-Governance Innovation Partnership Policies & Procedures Civil Societies and NGOs Country Government Private Sector

11.

6.3 Programme Effectiveness - 6.3.1.1 Component based output and outcome (Continuation from Finding 4)

Challenges In spite of the relevance and potential demand of UDCs, there are certain areas of improvement: improved internet connectivity and speed, uninterrupted electricity supply, upgraded equipment and skilled manpower. Financial sustainability of UDCs also seems to have some challenges. Most important one is the financial viability. The UDCs are now classified into five categories (A-E). Where 'A' category UDCs fall into the highest monthly income range of Tk.20,000, while the 'E' category corresponds to the lowest and unsustainable range of income i.e Tk.1000-5,000 per month. The internal report of a2i reveals that income wise, the majority of the UDCs (around 40%) still fall under 'E' category. Moreover, the quality of service delivery and beneficiary satisfaction as regards the UDCs is a critical and important concern. The 2018 quarterly evaluation report of a2i reveals that on an average 50% of the citizens are satisfied with the UDC services while females are less satisfied (57%) than males (61%). An independent study of a TIB (2017) obsevers that people are least satisfied at the publicity of UDC (27.1%) and disclosure of information on UDC (37.1%). Even with these evident weaknesses, the UDCs, with relevant improvisations, carry the potential of becoming unified channel for delivering digital service (and products) of government as well as private sector at the grassroots. This could possibly be achieved with strengthening (and improvising) the organisational, regulatory and operational management aspects of UDCs.




Tag: Challenges Effectiveness Human rights Communication Project and Programme management Results-Based Management National Institutions

12.

6.3 Programme Effectiveness- 6.3.2 Flagship Innovations Initiated and Mainstreamed (Continuation from Finding 6)

Component 3: Enabling Environment The Evaluation team noted that a2i project was instrumental in framing and/or influencing about 22 laws / policies / guidelines / rules / technical standards related to e-Service delivery and implementation of relevant project initiatives. In addition, the project had made significant contribution in other important polices and legislations such as National e-Service Act 2014 and e-Service Guideline 2016, ICT Policy 2015, Cyber Security Strategy 2014 and Information Security Policy Guidelines 2014 – to name a few. During the period 2016 to 2019, a2i has played a noticeable role in policy influence by facilitating the issuance of policy directive, rules and circulars related to Digital Centres based at UP, Pourashava and other operational areas of e-services. a2i has also provided technical support in drafting the formal gazette notifications on the establishment of the innovation teams at various levels. There appears to be an increasing trend in terms of the number of policies, rules and regulations/ notifications as regards the process and implementation of e-governance – and a2i has played a significant catalyst role in the process. The Evaluation team would like to recommend further research to assess the implications of such policies in mainstreaming e-governance and particularly the role, function and space of engagement of a2i. The team however observed that the G2P remittance payment, especially on Social Safety Net programme has been established, piloted and implemented in 11 Upazilas of 4 districts. This is essentially an excellent pro-poor and inclusive governance strange. Such a G2P payment system needs to be up scaled immediately. Rural and decentralised financial (banking and non-banking) services are still inadequate to provide hard to reach and unserved / underserved areas. Inclusive public services would demand more rural banking and non-banking services. As a whole the receptivity, interest and the demand side of e-services are increasing at a faster speed, but the preparedness of a2i outlets, in particular, the UDCs need serious review and assessment.




Tag: Effectiveness Civic Engagement Communication Innovation Knowledge management Partnership Civil Societies and NGOs Private Sector

13.

Achievements of gender sensitivity of a2i activities (Continues from Finding 8)

The items in the Box below lists out certain achievements of gender sensitive programming within a2i activities: • As part of building Digital Bangladesh, Union Digital Centres provides the opportunity to the rural women to become entrepreneurs. • 32.4 million women also received services from Digital Centres. • More than 95K+ female teachers have completed registration in the Teacher's Portal. • 3,000 underprivileged rural women have been trained and engaged in self- employment under Skill Development program for grassroots women. • Projects of 25 women officers who received Empathy Training have been adopted to ensure the participation of women in ongoing innovation culture. • Some of the initiatives those were chosen from innovation camp and those got supportare as follows:

- Projukti haate Joyeeta: A virtual shop and information portal to develop and facilitate skills and activities of rural and urban female entrepreneurs. - Food at Home: A mobile and web based application where home food manufacturers will be able to sell their prepared items and recipients will get healthy food item. - SMS Based Certification Before Marriage Registration to Stop Child Marriage Project: A mobile phone based M.R. system & a helpline (Dial to a short code 16100 from any MSISDN) has been developed to receive any complaint against child Marriage. Birth Related Information can be collected from the National Server by Using Mobile Phone Network through Push/pull SMS service or through USSD Application. The USSD Application (Dialing *16100# from any mobile phone) will help the Marriage Registrars and the mass people to verify the Birth Registration Certificate which is generally introduced at the time of Marriage Registration. - JOY: An ICT Tool to Fight Violence Against Women and Children: A mobile based app which is designed to prevent violence against women and children. An ICT based solution aligned and connected with MOWCA. - DURGESHNANDINI(a game model): A game model which will help adolescent girls of Bangladesh to learn about reproductive health ,security and other necessary issues through an entertaining way and make them more informed and confident. - The Nanny: A mobile based app that will allow unemployed women to do some income through babysitting. Interested women will register in the app as service provider and will undergo various security verification processes including police verification. - Android based Mobile Application for Comparing and Detecting Offensive Editing in Photos: A mobile based app where a manipulated photo can be compared with a real one by their pixel difference. It will scan the edited photo and will try to find out the difference between body language, expression, unmatched picture shade and shadow. This will help the victim to prove that the edited obnoxious photo is photo-shopped and is a creation of some ill-mannered cyber criminals. - Anytime Women Job: A quick job finding platform for women as per her requirement and eligibility. - Mental Health for Women: A website and mobile based app that helps women to find age-relevant information about different health and lifestyle issues; and guides them through various health oriented problems.




Tag: Effectiveness Gender Equality Gender Mainstreaming Women's Empowerment Civic Engagement Communication Technology Data and Statistics SDG Integration
Recommendations
1

The a2i project has managed to achieve remarkable results over past years across many domains and strategic areas, even beyond their core mandate of ensuring easy access to simplified and digitised public services. While such diversification of efforts is commendable, such spreading out of activities portfolio has impeded in certain ways the managerial oversight that is important for ensuring the quality of project interventions and outcome. This also got reflected in the efforts of a2i team in collating relevant follow-up information that the Evaluation team for carrying out their mandate. It would be helpful for the a2i project team to focus on consolidating the gains towards institutionalisation and mainstreaming of successful high- impact initiatives (such as e-Nothi, e-Mutation and P2G payment system).

2

This should be complemented with nuanced efforts of capacitating a2i partners at all levels: Ministries / Divisions, Districts and sub-District levels, through planned effusion of organisational competences and good practices of a2i to its partners – so that the initiatives ideated and spearheaded by the project could eventually be transferred for mainstreaming by respective Ministries and Divisions. The Evaluation team would also recommend conducting a methodologically robust study to better understand the scale of capacity development requirements of mid-level civil servants and lower bureaucracy over the next five year. The project should also explore the feasibility of building on the accomplishments of change-agents at all levels of government, encouraging them to become the ambassadors of change.

3

The End-line Evaluation did not manage to gather sufficient evidence with regard to programme level emphasis of a2i on gender-specific targets; and there is an urgent need of taking corrective and affirmative measures for achieving different goals of a2i's gender strategy. To begin with, the gender strategy needs internalization and appreciation among a2i staff. The curriculum of training package on gender should be reviewed and new issues related to a2i projects should be included in the orientation and training package. Other three critical areas of interventions could be

Integration of gender considerations in all programmatic interventions of a2i. The Gender Task Force, which was created in 2015 should be made functional. The project should also consider developing gender specific compliance l markers for decisions on any new initiatives under a2i. A framework should be developed for gathering gender disaggregated data; and this should be used by all project interventions under a2i. Affirmative support for scaling up of gender sensitive innovation may also be considered.

Promotion of gender-sensitive partnerships for women's economic empowerment through entrepreneurship development in UDCs. Initiatives like Ek-Shop and Agent Banking should be made more accessible to women with affirmative bias toward women's participation.

a2i should consider augmenting its facilitate development of gender-responsive government institutions.

4

The Evaluation team would strongly recommend employing the expertise of an Organizational Development Specialist to appraise the present ways-of-working of a2i team and present plausible scenarios on next-generation operating model for a2i; and on the basis of these inputs propose appropriate structuring of a more efficient implementation support mechanism for the new Aspire to Innovate (a2i) programme. The OD expert could build on the insights derived from the portfolio sense-making session conducted by UNDP with the a2i team, which recognized the need of articulating core capabilities of a2i in terms of process rather than project-oriented outcomes. The OD appraisal should also include an enterprise wide informational audit, to be followed by appropriate corrective measures to ensure that the programme level data-system of a2i is more robust with strong analytical insight and capabilities.

5

Organisational, operational management and regulatory strengthening of the functioning of Union Digital Centres to become the unified channel for delivering digital service (and products) of government as well as private sector at the grassroots. Studies carried out by Transparency International Bangladesh and Institute of Business Administration, University of Dhaka have a number of relevant suggestions in this regard. The project might consider constituting a task-force / working group comprising of members from both the study teams to holistically look at,

the business model under the 4P (Public-Private-People Partnership) principle for financial viability of Digital Centres as well as to achieve the goals of societal wellbeing and value of money;

appropriate legislative framework and policy guidelines for UDCs to function as one-stop-shop for electronic delivery of all the important public services.

6

a2i has initiated a number of public service innovations and also contributed towards formulating a number of policies, rules and legislative mandates; but the process documentations of such innovations are sketchy and not properly recorded. Going forward the project should definitely lay emphasis on documenting its processes of sparking / supporting innovations and policy reform efforts, as well as its subtle role of advocating within the government. Simultaneously, the a2i team should consider communicating externally – sharing their ideas and learning near real time through blog posts and other social media posts; and undertaking policy oriented longitudinal research that builds upon its rich repository of knowledge on public sector performance and innovation in Bangladesh.