Energy Efficiency Project Final Evaluaiton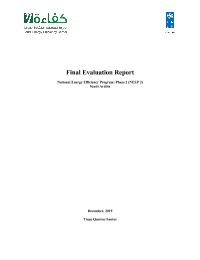 Evaluation Plan:

Evaluation Type:

Final Project

Planned End Date:

12/2019

Completion Date:

12/2019

Status:

Completed

Management Response:

No

Evaluation Budget(US $):

18,100
Title
Energy Efficiency Project Final Evaluaiton
Atlas Project Number:

00063524

Evaluation Plan:
2017-2021, Saudi Arabia
Evaluation Type:
Final Project
Status:
Completed
Completion Date:
12/2019
Planned End Date:

12/2019

Management Response:
Yes
Corporate Outcome and Output (UNDP Strategic Plan 2018-2021)

1. Output 1.5.1 Solutions adopted to achieve universal access to clean, affordable and sustainable energy

Evaluation Budget(US $):

18,100

Source of Funding:
Project budget
Evaluation Expenditure(US $):

18,100

Joint Programme:
No
Joint Evaluation:

No

Evaluation Team members:

| Name | Title | Email | Nationality |
| --- | --- | --- | --- |
| Tiago Santos | Independent Evaluator | tqs@your-savings.pt | |

GEF Evaluation:

No

Key Stakeholders:
Saudi Energy Efficiency Center, Minsitry of Energy, King Abdulaziz City for Science and technology
Countries:

SAUDI ARABIA
Lessons
1.

The fact that many other countries have developed their legislation of EE based on an overarching law, followed by secondary legislation and technical regulations, does not mean that the same or even better results cannot be achieved with a different approach. The KSA has used existing laws and regulations and has set EE standards for energy related products as a way to pragmatically regulate certain markets and ensure certain economy agents abide to minimum energy performance requirements.

SEEC's way of developing the EE Standards and Labelling program, resulted in an overall framework that ensures integrity of the regulated market. It is not only based on specifying minimum energy performance requirements (e.g., for building elements, home-appliances or cars). It also consists on a well-balanced structure that ensures:

the verification of compliance, of the energy related products and market actors, with the rules;
the enforcement of those rules in a way that exemplifies the consequences of not complying, which helps deterring market actors to be informed and comply with the standards.

It was found that there is no standard for thermal comfort in buildings, which results in having the air conditioning systems of the majority of the services and commercial buildings, operating with temperature set-points way below a reasonable temperature. Since EE and energy conservation is giving the first steps in the KSA, a strong effort of changing mentalities and practices should be envisaged. Although it was not quantified there is certainly a high potential for energy and energy cost savings on this particular energy conservation measure, through-out the Kingdom.

The fact that District Cooling is not progressing as desired, may be attributed to a less good choice of placement of the topic within SEEP. Energy efficient district cooling should be seen as a supply of final energy, hence, it should be placed on the Utilities Technical Team instead of on the Urban Planning Technical Team. Furthermore, it was perceived that there is a limited vision of how district cooling can be implemented, i.e., the source of energy that can drive a district cooling plant. The integration of district cooling with the idea (present on Vision 2030) of expanding the utilization of natural gas, e.g., in urban grids, opens the opportunity to the utilization of trigeneration systems as an efficient way of supplying cooling effect, heat and power.



Findings
1.

Throughout the project implementation period, SEEC continued its process of consolidation, as the independent entity managing Energy Efficiency (EE) at national level. The spin-off from King Abdul Aziz City for Science and Technology (KACST) was initiated in 2016. SEEC, with its more than 110 employees, has certain issues to resolve to be completely autonomous.

SEEC has created the Saudi EE Programme (SEEP), a comprehensive national program aiming to rationalize energy consumption and reduce overall economy's energy intensity growth. SEEP is composed of core measures (i.e., sector-specific EE programs) and flanking measures (i.e., measures established to provide the necessary support to ensure effectiveness and sustainability of the core measures). SEEP mobilized more than 150 professionals from more than 30 governmental entities and state-owned enterprises.

The expected outputs of the outcome 1 of NEEP 2 were only partially achieved. From the evaluation, it became evident that SEEC followed a strategy (which implementation resulted on the current SEEP), although this strategy was not made available and is not publicly accessible. It was also clear that SEEC had a methodic way to delineate, approve, revise and continually improve Action Plans. However, the Energy Conservation Law created under phase 1 of NEEP, was not further developed and the legislative process has not progressed during NEEP 2 implementation period.

The outcome 2 was achieved and even surpassed. SEEC made alterations on this outcome to include the capacity building of other target groups (e.g., students of several education level nation-wide). The EE related training and certification schemes chosen, derive from an internationally recognized organization. The choice is considered very good, due to the comprehensives of their curricula and the world-wide recognition that ensures the access of trainees to the global market and vice-versa. There is, however, room for improvement, i.e., more target groups to be addressed (e.g., in-service construction professionals; local financing institutions).

Regarding outcome 3, SEEC followed a different path than that described on the project document. The work done is considered very valid, meaningful and instrumental to operationalize the sector-specific EE programs that compose SEEP. The fact that outputs of outcome 2 are not as defined on the project document is seen as a misalignment of the project document with the mandate and needs of SEEC.

Regarding outcome 4, a remarkable investment has been done. SEEC has been developing communication campaigns for the several standards that are being set by Saudi Standards, Metrology and Quality Organization (SASO). The evaluation could not, however, have access to the tools that were developed to monitor the effectiveness or impact of said campaigns.

The project was responsible for the emerging of the public Energy Services Company (ESCO), Tarshid. Grounded on the knowledge transfer that was used to also develop the private sector market of ESCO's, Tarshid is well established and has already some iconic projects implemented in public buildings, such as, the SASO building, in which estimated energy savings of 30% are being publicized.

The Kingdom's energy intensity [TOE/GDP] had a very significant growth reduction during the implementation period of the NEEP 2. However, it was not possible to infer about the causal effect of NEEP 2 on this notable fact.

SEEC has been gaining importance, vis-à-vis, the management of EE at national level. Its mandate has been increased in 2018 and this will imply an increase in the structure, i.e., more employees to do the additional work. To resolve the lack of autonomy, referred above, there will also be the need to further increase SEEC's structure (i.e., human resources).



Recommendations
1

The top management of SEEC should resolve the issues related with lack of autonomy, increased responsibilities and brain-drain, either through a revised and adequate salary scale or through providing working conditions of excellence (including continual capacity building and exposure to relevant knowledge-transfer programs).

2

Consolidation of the regulations of the several EE programs. In other words, complete the SBC 601 and 602, continue the work of the energy management system associated with industry, develop and set the minimum energy performance requirements for heavy trucks, establish a mechanism to trigger the revision of stringency of the standards for energy related products, etc ….

3

Given the importance of updated and accurate energy and economic related data for national-level energy planning, SEEC should proactively propose to the Ministry responsible for energy the creation of an Energy Observatory, in partnership with the General Authority for Statistics.

4

Initiate a process of utilizing the potential of energy and energy cost savings associated with highly cost-effective energy efficiency measures. Examples of these measures are: i) setting thermal comfort standards and have them integrated on the SBC 602; ii) promote, change mentality and award the choice of small and efficient cars.

5

Revise the placement of District Cooling on the SEEP teams and. District cooling (which is seen as a measure with high EE potential and very relevant to realize a Saudi Vision 2030 measure), should pass from the Urban Planning team to the Utilities team. In addition, under the Utilities Technical Team, carryout a national survey of thermal energy needs (heating or cooling) that could be supplied with efficient Cogeneration or Trigeneration systems, making use of the work done under the Urban Planning team (identification of zones where it is feasible to implement district cooling systems).

6

Initiate the development of a publicly accessible EE Strategy. The strategy should, desirably, be based on sector-specific baseline studies of energy consumption and on socio-economic analysis of the population and of the economy agents. In addition, the disaggregation of socio-economic agents would be done by using the International Standard Industrial Classification of All Economic Activities (ISIC). The strategy would encompass also a wide analysis of possibilities to overcome the commonly existing barrier: financing of energy efficiency.

7

Given the importance of water to the Saudi nation, make use of the existing links and synergies between relevant stakeholders (SEEC, MOMRA, SWECC) to explore more ways of ensuring that the nexus energy-water is considered in the future mandate of SEEC. The range of possibilities is vast: from end-use water efficiency (in all sectors of the economy) to high-efficiency water desalination plants, passing by the well managed water transportation and distribution.

8

Continually improve the qualifications and skills of professionals involved in activities having a direct impact on the energy consumption, energy efficiency and energy conservation