Project Climate Twin Phoenix - Resilience and Preparedness toward Inclusive Development (PCTP-RAPID) Project Terminal Evaluation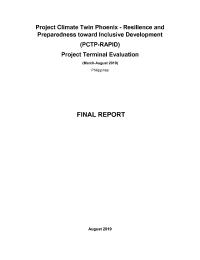 Evaluation Plan:

Evaluation Type:

Final Project

Planned End Date:

07/2019

Completion Date:

08/2019

Status:

Completed

Management Response:

No

Evaluation Budget(US $):

35,653
Title
Project Climate Twin Phoenix - Resilience and Preparedness toward Inclusive Development (PCTP-RAPID) Project Terminal Evaluation
Atlas Project Number:

00065172

Evaluation Plan:
2019-2023, Philippines
Evaluation Type:
Final Project
Status:
Completed
Completion Date:
08/2019
Planned End Date:

07/2019

Management Response:
Yes

Focus Area

:
Corporate Outcome and Output (UNDP Strategic Plan 2018-2021)

1. Output 2.3.1 Data and risk-informed development policies, plans, systems and financing incorporate integrated and gender-responsive solutions to reduce disaster risks, enable climate change adaptation and mitigation, and prevent risk of conflict

SDG Goal

Goal 1. End poverty in all its forms everywhere
Goal 11. Make cities and human settlements inclusive, safe, resilient and sustainable
Goal 13. Take urgent action to combat climate change and its impacts

SDG Target

1.5 By 2030, build the resilience of the poor and those in vulnerable situations and reduce their exposure and vulnerability to climate-related extreme events and other economic, social and environmental shocks and disasters
11.b By 2020, substantially increase the number of cities and human settlements adopting and implementing integrated policies and plans towards inclusion, resource efficiency, mitigation and adaptation to climate change, resilience to disasters, and develop and implement, in line with the Sendai Framework for Disaster Risk Reduction 2015-2030, holistic disaster risk management at all levels

Evaluation Budget(US $):

35,653

Source of Funding:
Project budget
Evaluation Expenditure(US $):

40,051

Joint Programme:
No
Joint Evaluation:

No

Evaluation Team members:

| Name | Title | Nationality |
| --- | --- | --- |
| Johnson Mercader | Evaluation Specialist | |

GEF Evaluation:

No

Key Stakeholders:
Climate Change Commission, Department of Foreign Affairs and Trade Australia
Countries:

PHILIPPINES
Lessons
1.

Partnership and Ownership - Engaging the national agencies in program activities directly related to their mandates not only enhanced their capacities and improved their products and processes but also enhanced their ownership of the outputs/products. Similarly, engaging the LGUs in capacity building on products they have to comply with enhanced not only ownership but also the quality of their outputs that led to improved local policies, plans and regulations. Partnership with the academes in the program area enhanced their capacity and localized technical assistance for LGUs as well as individual clients.



2.

Building on existing initiatives/products - ClimEx.db started with the Exposure Database developed for Metro Manila. Using the exposure database framework, ClimEx.db improved the idea from the Metro Manila database by overlaying climate projections and capture agricultural livelihood at household level. The ClimEx.db is meant to provide LGUs a database that they can own and contribute to in terms of information and use in their planning and programming. The development of the second version of ClimEx.db built on a similar existing system, CBMS, which was developed by the Angelo King Foundation of De La Salle University and being used by DILG, other international organizations and other countries primarily in tracking MDG and SDG performance. CBMS did not have elements related to DRRCC. The program integrated the CimEx.db and the CBMS systems resulting in a more comprehensive database with wider application. The integrated system also allows for wider functionalities and ease of use.



3.

Inclusivity at official level-While the MOAs of the program with LGUs required in particular the active participation of the PDMOs and DRRMOs, some municipal LGUs included the heads of all departments as part of the municipal TWG. This facilitated cooperation and collaboration in the activities of the program. Further, it generated awareness and deeper understanding of DRRCC by officials such as budget officers, treasurers, social development officers, health officials and others whose tasks did not directly cover DRRCC. This inclusive involvement resulted into an informed and capacitated governance.



4.

Engaging retirees- The program engaged the retired regional officers of OCD as technical experts to assist municipal LGUs in formulating the Contingency Plans and BDRRM plans which are mandatory requirements. The use of retirees ensured that the outputs were compliant with OCD requirements. They also facilitated the revitalization and reorganization of BDRRMOs to comply with the requirements of the law and related instructions. The outputs are deemed superior compared to other BDRRM plans.



5.

Getting the message clear and straight- In disseminating information, it is important that the messages are clear, comprehensive and straight forward. In DRRCC information dissemination, although most community members are aware of the dangers and reacted appropriately, some have reportedly developed negative attitude. When storm signal #2 is announced through radio and bandillos (community public voice announcements), most community members rush to the designated evacuation centers for safety. On the other hand, LGU and community leaders noted that some would disregard the announcements and remain at home saying "If we survived super typhoon Yolanda/Sendong/Pablo, we can also withstand these weaker storms"



6.

Multisectoral approach and inclusivity- In conducting IEC at community level, a multi-sectoral approach is more effective and sustainable. The formulation of CBDRRM plans, due to limited resources (training cost was LGU counterpart), the participants (about 30 in each barangay) covered are the barangay officials, barangay volunteers (BNS, BHW and Bgy Midwifes), BDRRMO officers (mostly barangay officials) and leaders of community organizations. A multi-sectoral approach engaging and involving teachers, religious leaders and others could have a wider reach in disseminating information to students and religious members. Further, as the CBDRRM formulation provided training to participants, resources should have been provided for continuing information dissemination to other members of the communities. Barangay population range from 400 to 2,000 and there are more community members who need to know and benefit from DRRCC information.



7.

Commitments of LGUs- The program operated in LGUs and communities which have fresh memories on the ravages of the three typhoons and their enthusiasm, appreciation and commitment to the program are high. In cascading nation-wide, the enhanced outputs of the program, as some LGUs have yet to experience the ravages of disasters and climate change, the commitment of LGU leaders have to be sought. In future programs/projects the commitment of participating LGUs should be covered by council resolutions which also indicate their contributions in cash or in kind. Disaster knows no political or geographic boundaries and LGU officials are elected every three years.



8.

Convergence of DRRCC Agencies- The program provided a platform for convergence of key DRRCC agencies by engaging them in a common ground and concerns on DRRCC. Working together provided an exposure and awareness for the need to synchronize policies, plans and operations related to DRRCC given the fact that the mandates on DRRCC are fragmented across agencies. A case in point is the need to agree on climate and hazard mapping policies and acceptable modelling modalities.



Findings
1.

Program Design
The program design was aligned to the country's two PDPs; the DFAT's Aid Program goal and objectives for the Philippines; UNDP's country program as well as the MDG and SDG of the UN. The focus on areas devastated by typhoons coupled with program interventions that focused on long term solutions to address disaster and CC impacts through capacity building and institutional reforms on policies, regulatory, plans and operations complemented the humanitarian and rehabilitation interventions of several donors that came after the devastations. It addressed the key issues on institutionalization and capacity development on DRRCC issues which have national and even global application. It should be noted that aside from hordes of bilateral, multilateral and international NGOs, DFAT and UNDP were also involved in humanitarian, rescue and recovery efforts in these devastated areas.




Tag: Programme/Project Design Country Government Capacity Building Climate Change Adaptation Disaster risk management Disaster Risk Reduction Natural Disaster Resilience building

2.

Findings on Outputs
Overall, the outputs achieved most of the envisaged objectives and contributed to the achievement of outcomes as presented in succeeding sections and paragraphs.
The LGUs expressed their gratitude to the program donors and felt lucky that they were selected as program area and as recipients or beneficiaries of systematic processes and products on DRRCC by the program. Their engagement in the program broadened their knowledge on disaster and climate risk reduction and honed their skills related to complying with documentations required by laws as well as national agencies such as the enhanced CLUP, CDP and LCCAP, among others.




Tag: Climate Change Adaptation Disaster risk management Disaster Risk Reduction Natural Disaster Resilience building Impact Knowledge management

3.

Natural Resources Assessment
The University of the Philippines Training Center for Applied Geodesy and Photogrammetry (UPTCAGP) under RAPID conducted the Natural Resource Assessment. However, the study was not completed based on the terms of reference of the Memorandum of Agreement (MOA). RAPID commissioned proof readers to convert the data into natural resource inventory. The detailed inventory of selected natural resources covered forest, agricultural, water, coastal and marine resources. The inventory includes the spatial distribution of these resources, how resources are being utilized for various purposes, and in general, the ecosystem goods and services they provide. The results of this inventory enabled the LGUs of RAPID to have baseline information on resources and ecosystem services in their respective areas which they can use to identify issues and threats that the ecosystems in the target areas are faced with. Similar works in Region VIII and other regions of the country had been conducted by the AMIA (Adaptation and Mitigation in Agriculture) program of the Department of Agriculture.




Tag: Disaster Risk assessments Natural Disaster Natural Resouce management

4.

ClimEx.db Based on inventory of existing exposure database, the first iteration of the ClimEx.db in 2013 was developed following the Greater Metro Manila Area Risk Assessment Project (GMMA RA indicators to cover point-based household, building and production areas using mobile devices. This version was used to gather data in selected typhoon Sendong affected areas in Mindanao under PCTP. The second version was developed in 2014 and implemented in typhoon Pablo affected areas. This introduced the use of GPS devices to compensate errors in the coordinates captured by the mobile devices. These proprietary versions were developed by the Diliman Labs. The system developed during PCTP was operational, which allowed it to be used in the program area (Region X and XI), though it had some bugs. The LGUs in PCTP area noted that when they contacted the developer to address the bugs in the system, the developer was unresponsive. Further efforts by the PMU to contact the developer was unsuccessful.




Tag: Disaster Risk assessments Knowledge management Monitoring and Evaluation

5.

iPDANA
iPDNA (IT-based Post Disaster Needs Assessment) is one of the products that were not originally included in the program design. The program together with the UNDP PDNA Global Roll Out Project, conducted a quick review of the PDNA methodology being used by OCD with the PDNA teams of NDRRMC to align it to global standards and introduced the disaster recovery framework as a complementary tool for recovery planning. Based on this, the IT-based PDNA tool was developed to facilitate data collection and costs estimates of losses and needs.
The LGUs were using guidelines issued by various national agencies in assessing post disaster damage and needs. The LGUs, in particular the province of Samar, Tacloban City and the municipalities of Balangiga and Tolosa found the iPDNA tool comprehensive, easy to use and addresses the concerns of national agencies. They requested that this evaluation report recommends the tool to be adopted by NDRRMC and OCD.




Tag: Disaster Risk assessments Environmental impact assessment Monitoring and Evaluation

6.

Early Warning Systems
Early warning system is a MUST information system for everyone, by any means, anytime and anywhere especially in the Philippines to prevent loss of lives and properties. The program introduced this system, largely to municipal and barangay LGU officials. The Community Based and Managed Early Warning System (CBMEWS) was introduced to barangays covered by the program. The system introduction started with information dissemination and training of concerned barangay constituents. Simple gadgets like megaphones, hand held radios and flash lights were provided to 150 barangays in RAPID areas. The system also included drills for various hazards and were participated in by community members.




Tag: Disaster risk management Disaster Risk Reduction Natural Disaster

7.

Evacuation Centers Evacuation Center The multi-purpose building constructed in Brgy. Balocawe, Abuyog, Leyte is a model of permanent and safe evacuation center in one of the RAPID's municipalities. It was constructed in safe location that can withstand multi-hazards informed through the risk assessments, and compliant with the National Building Code as well as DSWD's requirements for evacuation centers. The tsunami drill indicated that the center could be reached by targeted communities in 30minutes of walking. It will primarily serve as temporary dwelling for evacuees in Abuyog and nearby municipalities in times of disaster and calamities and will serve as training center for disaster preparedness for the municipality of Abuyog and nearby municipalities. The specifications of facilities were based on lessons learned and best practices on evacuation centers funded by other funding agencies and OCD regulations.




Tag: Crisis Response Disaster risk management Disaster Risk Reduction

8.

Contingency Plans
All LGUs and communities visited have prepared contingency plans for various hazards. The Contingency Plans guided the LGUs in constructing/designating evacuation centers. The contingency plans in program areas are superior in terms of scope and compliance with OCD regulations as noted by OCD respondent. The same is said of the Community Based Disaster Risk Reduction and Management Plan (CBDRRMP). The discussion on CBDRRMP is in Output 7. In the formulation of Contingency Plans and CBDRRMP, the PMU of RAPID hired some retired OCD directors as technical experts to assist the LGUs and barangays/communities.




Tag: Crisis Response Natural Disaster Resilience building

9.

Other LGU Initiatives
Apart from the above initiatives, some LGUs (New Bataan in Compostela Valley, Lawaan and Balangiga in Eastern Samar) also took further initiatives on solid waste management. The LGU officials noted that their learnings on flood hazard assessment inculcated in them the importance of proper solid waste management which they claimed to be contributory to flood in their areas. It should be noted that the LGUs are required to follow the provisions of the Ecological Solid Waste Management Act, which many LGUs perfunctorily comply with. The flood hazard assessment noted that solid wastes are contributory to floods especially in urban areas.




Tag: Sanitation Waste management Knowledge management Capacity Building

10.

Mainstreaming Enhanced CLUP
Evidences of DRRCC mainstreaming are the approved plans and ordinances as mentioned earlier. The enhanced CLUP is now part of HLURB regulatory framework and is being used beyond the program areas. There was massive demand for technical assistance from HLURB on the use of supplemental guidelines for enhanced CLUP and some LGUs have sought assistance from MSU-IIT and XU which have continued to respond by conducting training on CDRA as well as the provision of GIS maps. HLURB is constrained to respond to LGU requests due to lack of personnel. LGUs in dire need are those in the 4th to 6th classes. LGUs have made use of enhanced CLUP in development plans and have passed ordinances related to land use. In implementing Land Use ordinances, the major issues relate to relocating settlements from hazard-prone areas; and relocating existing LGU and private structures from hazard areas. These issues have financial and legal implications especially for private properties which were issued building permits prior to the ordinances. Retrofitting buildings is an option but still, it requires investment.




Tag: Environment Policy Capacity Building

11.

Bay-wide Coastal Zoning
The program commissioned a study and framework plan formulation for the San Pedro Bay and Leyte Gulf Basin (SPBLGB) covering the 11 municipalities and Tacloban City in RAPID area. The framework plan defined the spatial strategy to guide land and water use decisions to mitigate the impact of climate change. It used the ridge to reef approach and multi-criteria land suitability and use analyses and recommended harmonization of CLUPs as well as guidelines for updating the Provincial Development and Physical Framework Plans of the three provinces (Samar, Eastern Samar and Leyte). The CLUPs, however were completed prior to the adoption and approval of the SPBLGBFP by the Regional Land Use Committee of Region VIII Regional Development Council (RDC) on October 16, 2018 and subsequently by the RDC. However, the LGUs agreed to abide with the recommendations in the Framework Plan.
This was a pioneering innovation as it involved the joint cooperation of multiple municipalities and Tacloban City. Similar endeavor in the past covered just one LGU due to difficulties in securing the commitment of neighboring LGUs. At the time of evaluation, ordinances were passed by LGUs relating to the provisions of the plan, e.g. unified ordinance on enforcement of policy on illegal fishers.




Tag: Environment Policy

12.

Comprehensive Development Plans and Guidelines
The inclusion of CDRA concerns are evident in LGU socio-economic plans and annual investment plans (AIP). This is also reflected in the mainstreaming guidelines developed under the project with DILG, similar to what was done for the CLUP with HLURB during PCTP. The guidelines is now being finalized. At the time of evaluation, 11municipal LGUs (in both PCTP and RAPID areas) noted that they have invested beyond the mandated 5% of their IRA on DRRCC related investments. Records of these investments were promised to be sent by email but none was received. While these are generally small investments (canal clearing or construction, advocacy and related DRRCC works), it is commendable as their IRA are generally small (from PhP 26 to 68 Million in 2019). Following the formulation of their Comprehensive Development Plans and Contingency Plans, the LGUs formulated projects for financing under the CCC Peoples' Survival Fund (PSF) and Municipal Development Fund (MDF) of the Department of Finance (DoF). All have not been successful in accessing these funds. One municipal LGU (Baganga, Davao Oriental) noted that their proposal to PSF was approved but had not received assistance two years after approval (May 2019).




Tag: Disaster risk management Disaster Risk Reduction Environment Policy

13.

PDEM

NEDA was the implementing agency for the development of guidelines for the integration of DRRCC concerns in the Project Development and Evaluation Manual (PDEM) It encountered issues related to consulting arrangements but eventually rectified and addressed the issue through staff diligence and replacement of consultant. The guidelines were completed but mainstreaming the guidelines will involve a series of consultations with national agencies and approval by the ICC. Various processes still need to be conducted prior to adoption prior to approval by the ICC and the NEDA Board.




Tag: Human and Financial resources Implementation Modality

14.

PEIR Study
Consistent with the value-adding objectives of the RAPID Program, a Climate Change and Disaster Risk Reduction Public Expenditure and Institutional Review (CC-DRR PEIR) was also undertaken. The study analyzed the interphase between policies, institutions and public expenditure related to DRRCC. It considered the implications of national and sub-national planning and budgeting processes to sustainable development, disaster resilience and climate change adaptation and mitigation. The study yielded increased understanding and better prioritization of CC and DRR across public investment portfolios; and recommended measures for balancing mitigation/ preparedness and post-disaster expenditures; as well as other policy measures . The results of the study are now being used in the updating of NDRRMP.




Tag: Climate Change Adaptation Disaster Risk Reduction

15.

LCCAP
The LGUs are required by DILG to formulate and submit the Local Climate Change Action Plan (LCCAP). LCCAP is the local version of the National Climate Change Action Plan of the CCC. The Local Government Academy (LGA) had earlier issued the Enhanced Guidelines on LCCAP Formulation (Books 3 and 4) but compliance was low in terms of number and substance. Under RAPID, DILG Region VIII and with guidance from CCC and the Local Government Academy was tasked to formulate a simplified Instruction Manual on LCCAP formulation including a template for LGUs to follow. The manual incorporates location specific CDRA, the strategic actions and policies as well as the plan's monitoring and evaluation. DILG Region VIII further assisted the 12 LGUs in formulating their LCCAPs. With the simplified manual and workshops, the LGUs were able to complete and have their LCCAPs approved by their local councils. Corresponding ordinances were also issued.





Tag: Climate Change Adaptation Environment Policy Resource mobilization National Institutions

16.

Program management
The program management structure had a Program Management Board (PMB) co-chaired by UNDP and CCC with partner national agencies as members. The PMB is the policy-making body of the Program. The Program Management Unit (PMU) headed by a Chief Technical Adviser (CTA)/Coordinator during the NIM era and by a Project Manager under DIM provided day to day management of the program. A national inter-agency Technical Working Group (TWG) was organized to assist the PMB and the PMU on technical issues. As noted in the MTR, the PMB meetings had low frequency and the TWG was not mobilized. This may have contributed to delays in decisions related to program implementation. The TWG was not mobilized ; instead, expert groups were utilized to address specific technical issues.




Tag: Human and Financial resources Project and Programme management

17.

Partnership
The program, given its complex management, administration, organizational and implementation configurations, had similar complexities in partnership arrangements and execution. Despite MOAs and other agreement instruments, violations and transgressions as well as neglect and non-conformances were noted in the conduct of this evaluation.
The partnership between DFAT and UNDP, while generally smooth and productive was marred with miscommunication resulting in misunderstanding some aspects of program operation. Among them are as follows:
a. The expectation on the part of DFAT for continuing operation of PCTP in 2015 and onwards but the PCTP account was closed.
b. The claim that COA audit reports were not submitted although UNDP claimed to have submitted them. In addition, UNDP submitted to DFAT and COA the 2017 Action Plan for Prior Year's Audit Findings.




Tag: Implementation Modality Bilateral partners

18.

Procurement
The program encountered management issues especially during the NIM period. Delays in procurement and subsequently operation were encountered. This was attributed largely to lack of personnel and changes in CCC leadership. At one point, procurement of office space for the PMU was so delayed that the staff had no common office to work in. Remittances to national agencies and partners at local level were more often delayed. One municipal LGU in Davao Oriental did not even bother to collect the 7th tranche of payment for geo-taggers and enumerators. Procurement issues were addressed during DIM period.




Tag: Human and Financial resources Procurement

19.

Financial Performance
As of June 30, 2019, the program had disbursed US$8,862,523.31or 95%of total grant fund for the program equivalent to US$ 9,303,942.91 The balance of US$441,419.60 is programmed for committed/obligated expenditures largely to suppliers of goods and services and PMU overhead costs. The PMU expect full utilization of the fund with the payments for committed /obligated budget.
Of the total grant, US$2,061,273.98 or 22.15% was spent under PCTP. The remaining 77.85% equivalent to US$7,242,668.93 including the balance for committed/obligated budget equivalent to US$441,419.60 is reckoned as expenditures under RAPID.




Tag: Efficiency Oversight

20.

Environment and Climate Change Considerations
The PCTP-RAPID Program is a green program with activities that supported environment protection. The activities of the outputs did not pose possible environmental impact or degradation except the construction of the Abuyog Evacuation Center. Prior to the construction of the center, environmental impact assessment was conducted and it was granted Environmental Clearance Certificate. The use of NRA adopted the ridge-to-reef approach in the assessment of the focus natural resources. Following this approach, the project areas have been expanded to include all watersheds draining along the coast of the project city and municipalities. Results of the NRA (Natural Resource Inventory conducted by UP-TCAGP, supplemented with analysis done in CDRA and BCZLUF to make it a full-blown NRA), as well as in various training given to LGUs emphasized that processes and activities in the upstream environment are shown to affect the processes and activities in the downstream environment, e.g., a decline in forest cover can result in less water supply and more runoff and erosion from the uplands. This can adversely affect the agricultural lands, river and coastal water quality and the coastal habitats such as seagrass and corals
As espoused by RAPID, the ridge-to-reef approach was adopted by LGUs in all their development planning. This is further institutionalized with the adoption of the San Pedro Leyte Gulf Bay-wide Coastal Zoning and Land Use Framework in the RLUP.




Tag: Climate Change Adaptation Environmental impact assessment

21.

Monitoring and Evaluation
The program used the UNDP Monitoring and Evaluation System which potentially can provide evidence-based information for decision making and program performance information. The M&E plan and arrangements for execution was put in place. There was no explicit budget allocation for M&E and this may be due to the absence of explicit Program management component/output. Further, there was no baseline survey conducted for the whole program except for the Natural Resource Assessment which was the baseline study for the physical and ecological characteristics of the 12 RAPID LGUs.




Tag: Impact Monitoring and Evaluation Project and Programme management

22.

Private Sector Engagement The program had limited private sector engagement. Aside from suppliers of goods and services (contractor of evacuation center, equipment suppliers, private consultants and two NGOs), there was no significant efforts at engaging the private sector. In output 7, the agriculture and fishery councils which operate at barangay, municipal, provincial, regional and national levels were not engaged in disseminating DRRCC- resilient agricultural and fishery practices. Other NGOs could have been engaged in social preparation and community organization on matters related to DRRCC.




Tag: Private Sector

23.

Innovations
The program introduced some innovations that are note-worthy for future GPH operations as well as donors' programs and projects in the future. Among them are as follows:
1. Formulation of simplified guidelines (LCCAP, Enhanced CLUP, CBDRRMP, among others) and capacity building which facilitated the compliance of LGUs to national agencies requirements;
2. The hiring of retired officers as technical experts in CBDRRM to ensure compliance with OCD requirements;
3. Bay-wide Framework Plan formulation which effectively engaged several LGUs in land use planning and protection of a shared or common ecological zone;
4. Engaging local universities (MSU-IIT and XU) which localized the source of technical assistance to LGUs; and
5. Conduct of the PEIR study which dissected the interphase of GPH policy, institutions and expenditure patterns; noted the unbalanced divide between mitigation/preparedness and post disaster budget and investments; and recommended measures for rational interphase of the three pillars in GPH operation.




Tag: Innovation

24.

Policies
Most products of the program (Enhanced CLUP, CDP, Contingency Plans, LCCAP and others) are for compliance with existing policies of GPH. The capacity building interventions, risk assessments and formulation of various guidelines for these products, improved the compliance level of the LGUs in the program area.
In terms of program operational policies, GPH has existing policies that govern procurement, financial transactions, auditing and general operation which all projects/programs and all government agencies have to follow. UNDP also has a set of operating policies for its projects and programs. While these policies are in place and being enforced, the program had missteps during program implementation. Among them are in the procurement of consulting services as discussed earlier; the repeated findings in COA audits regarding cash advances, among others; and the breach in policy of engaging an institution instead of the mandated agency to undertake a study (UP-NIGS vs PAGASA).




Tag: Oversight Policies & Procedures Procurement Project and Programme management

25.

(Continuation of finding15)

Output 6. Knowledge management on Disaster Risk Reduction and Management and Climate Change Adaptation developed and implemented.
The knowledge generated by the program are embedded in its numerous products which are archived in LGUs and national agencies. Experiences in developing the products are generally presented in M&E reports as well as the Mid Term Evaluation Report; and to some extent in this report. At the LGU level, some officials noted that the experiences and learnings in the development of the products led to deep appreciation of the importance and power of information.




Tag: Climate Change Adaptation Disaster risk management Disaster Risk Reduction Effectiveness Sustainability Knowledge management

26.


Output 7. Competencies of barangays and communities improved to deal with the disaster risks of multi-hazards, including those from climate change; and general level of awareness and competencies of vulnerable communities and other local stakeholders increased to deal with disaster and climate change risks.
The key intervention related to the output revolved around the Community Based Disaster Risk Reduction and Management (CBDRRM). The CBDRRM as implemented in 150 barangays in 11 municipalities and one city in Region VIII under the RAPID era was a comprehensive package of interventions that included capacity building, planning and coaching and mentoring until the completion of the CBDRRM plan and spot maps. About 30 participants per barangay or a total of 4,500 were involved in the intervention.




Tag: Climate Change Adaptation Disaster risk management Disaster Risk Reduction Effectiveness Capacity Building Vulnerable
Recommendations
1

Recommendations in designing projects and programe:

a. Related activities and interventions should be grouped into components rather than outputs as each component has distinct activities leading to the desired output/s. It is also better to have just few components so as not to clutter the monitoring activities and assign responsibility areas.

b. A management component is recommended with distinct responsibilities and resource allocation including M&E.

c. Costs estimates and resources allocation should be scrutinized well during design stage to avoid re-allocation during implementation. Budget reallocation for funds lodged with a government agency is a time-consuming process due to lengthy approval processes.

d. In designing IEC activities for DRRCC projects, a multi-sectoral approach involving key community leaders would be more sustainable as local officials may change every three years due to scheduled elections.

2

2. On Project/Program Implementation a. Under NIM modality, GOP should ensure and allocate adequate resources (personnel, goods (such as office) and funds to the executing agency to ensure smooth implementation.
b. Consultancy Arrangements- (For GOP agencies and UNDP). Instances of failures in consulting arrangements were noted in the course of program implementation. The first instance was in the hiring of consultant for the development of ClimEx.db system during the PCTP period, in which the consultant did not deliver and disappeared; to the consternation and frustration of LGUs in PCTP areas. This was followed by consultants for the development of DRR guidelines in CDP formulation and the guidelines for inclusion of DRRCC investment planning. While these missteps were rectified through diligence, it contributed to delays in program operation. In procuring consultancy services, clear terms of reference (TOR) and diligence in background check are recommended to ensure the achievement of desired results. Consultant services are expensive and they should be value for money. (This item should also be included as part of Lessons Learned).
c. Branding the program, activities and assets- During the conduct of community consultations and to some extent during LGU interviews, participants were asked on the financier of the program. Most among community members could only recall UNDP while a few municipal interviewees were not aware of DFAT as key program financier. In fairness to the citizens of donor countries whose taxes were used in financing the program, proper branding should be made on assets, in words during program activities and in information materials. It is possible that consultants, national agency and LGU personnel were not aware of program funding arrangements.
d. Coordination of program field activities- The program engaged several agencies and universities and aside from the PMU, had to hold meetings, training and other field activities. Very often, the LGU officials mainly the MPDC and MDRRMC officer were the ones requested to attend or participate. LGUs noted that some activities are simultaneous and they missed attending some activities. Most municipalities have limited personnel to be able to attend simultaneous activities. It is important that these activities are coordinated among national agencies and the PMU.
e. Procurement and Program Fund Replenishment- Delays in procurement and fund replenishment contributed to delays in implementation. As donors have specific procurement and fund replenishment systems and procedures, it is important to conduct training for concerned staff on these aspects under NIM modality. Similarly, GOP should provide adequate and capable procurement and financial staff to avoid delays in implementation.

3

3. On Future Investment For DFAT and UNDP 1. Going deeper into the communities- Apart from capacity building and institutionalization of DRRCC related policies, regulations and plans in the public sector, it is recommended that programs/projects should have more robust interventions and resource allocation for activities that educate/train the general public as ultimately, they are the ones who are affected by disasters and effects of CC and will be the first ones to undertake necessary measures when disasters come. Further, appropriate capital investment should also be included.
2. Mix of soft and capital expenditure items- In financing a project/program similar to PCTP-RAPID, allocation should be made for capital expenditure. Invariably, projects and programs on DRRCC require a modicum of infrastructure such as evacuation centers, rescue facilities, flood control systems and others. If capital expenditure is not within the purview of the donor, projects or programs like this should be co-financed by other donors which provide for capital expenditure. Alternatively, programs focusing on the soft investments should seek commitment from Government to finance the infrastructure/hard investments items. In the Philippines, the PSF , the MDFO, NDRRMF, BUB, PCF, GCF, and the DOF climate change fund at DBP are possible counterpart contribution by the government. Further, LGUs and national agencies should be adequately funded for their mandated functions and requirements.
3. Expanding the realm of disaster and CC resiliency- Other mitigating measures such as reforestation; rain water collection and multi-purpose water impounding systems in farms; solid waste management (especially in urban areas); and others are recommended for inclusion in DRRCC programs/projects. These may help mitigate flood and drought impacts.
4. Coverage of whole provinceIn targeting local project area (province/city/municipalities and barangay), it is recommended that all cities and municipalities within a province are covered and not only those that were severely affected by a disaster. Disaster knows no political or geographic boundaries and practically all LGUs are vulnerable to disaster. This approach would provide a holistic governance perspective on DRRCC; facilitate replication by province and define responsibilities at various level. Covering one or a few municipalities gives undue burden to a province as projects/programs have distinct activities and provinces have their regular activities to contend with. This approach would also support sustainability and institutionalization processes.
5. More explicit inclusivity- In areas which have indigenous people (IPs), projects/programs should have explicit interventions for their participation. Historically, the IPs are known and recognized as the protector of the forests and have a wealth of knowledge on forest conservation, sustainable gathering of forest products and other environmental aspects.