Evaluation Report of Mid-term review of the GEF Address Urgent Coastal Adaptation Needs & Capacity Gaps Angola Project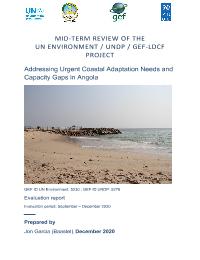 Evaluation Plan:

Evaluation Type:

Mid Term Project

Planned End Date:

11/2020

Completion Date:

12/2020

Status:

Completed

Management Response:

Yes

Evaluation Budget(US $):

30,000
Title
Evaluation Report of Mid-term review of the GEF Address Urgent Coastal Adaptation Needs & Capacity Gaps Angola Project
Atlas Project Number:

00084491

Evaluation Plan:
2020-2023, Angola
Evaluation Type:
Mid Term Project
Status:
Completed
Completion Date:
12/2020
Planned End Date:

11/2020

Management Response:
Yes

Focus Area

:
Corporate Outcome and Output (UNDP Strategic Plan 2018-2021)

1. Output 3.1.1 Core government functions and inclusive basic services4 restored post-crisis for stabilisation, durable solutions to displacement and return to sustainable development pathways within the framework of national policies and priorities

SDG Goal

Goal 1. End poverty in all its forms everywhere
Goal 11. Make cities and human settlements inclusive, safe, resilient and sustainable
Goal 13. Take urgent action to combat climate change and its impacts
Goal 15. Protect, restore and promote sustainable use of terrestrial ecosystems, sustainably manage forests, combat desertification, and halt and reverse land degradation and halt biodiversity loss

SDG Target

1.5 By 2030, build the resilience of the poor and those in vulnerable situations and reduce their exposure and vulnerability to climate-related extreme events and other economic, social and environmental shocks and disasters
11.5 By 2030, significantly reduce the number of deaths and the number of people affected and substantially decrease the direct economic losses relative to global gross domestic product caused by disasters, including water-related disasters, with a focus on protecting the poor and people in vulnerable situations
13.1 Strengthen resilience and adaptive capacity to climate-related hazards and natural disasters in all countries
15.1 By 2020, ensure the conservation, restoration and sustainable use of terrestrial and inland freshwater ecosystems and their services, in particular forests, wetlands, mountains and drylands, in line with obligations under international agreements

Evaluation Budget(US $):

30,000

Source of Funding:
GEF project funds
Evaluation Expenditure(US $):

27,000

Joint Programme:
No
Joint Evaluation:

No

Evaluation Team members:

| Name | Title | Nationality |
| --- | --- | --- |
| Jon Garcia | International Consultant | |
| Jon Garcia | International Consultant | |

GEF Evaluation:

Yes

| | |
| --- | --- |
| GEF Project Title: | GEF Address Urgent Coastal Adaption Needs & Capacity Gaps Angola Project |
| Evaluation Type: | Mid-term Review |
| Focal Area: | Climate Change |
| Project Type: | EA |
| GEF Phase: | GEF-5 |
| GEF Project ID: | Â 5230 |
| PIMS Number: | 5276 |

Key Stakeholders:
UNDP, MINAMB, Provincial Government
Countries:

ANGOLA
Lessons
1.

Findings/Lessons:

1. Related to findings on strategic relevance and project design: An adaptation project should be based on a sound climate risk and vulnerability assessment at national, sectoral and sub-national levels. In this sense, while some project activities may be similar to those in regular development projects, the entry point of the activities of an adaptation project should be that specific assessment. This would ensure that the project activities address the root causes of vulnerability and are aligned with national, sectoral and local adaptation needs and priorities. In this general framework, EbA can be cost-effective to increase the resilience of populations and can provide important co-benefits.

2. Related to findings on strategic relevance, project design, efficiency and sustainability: Project implementation should ensure synergies with complementary projects. Implementation of several adaptation projects by one institution (government or development partner) makes it easier to use lessons from one project in the implementation of another project, although there are other ways to ensure lessons learned are successfully collected, compiled, disseminated and used. Similarly, new projects should build on previous projects, filling in gaps and using their lesson learned.

3. Related to findings on strategic relevance and project design: Adaptation in coastal areas requires working on cross-sectoral planning, including economic and physical/spatial/land-use planning and meteorology services, as well as all sectors: certainly agriculture, fisheries, tourism, water and sanitation, energy and transport, but also housing, health, industry and services. It requires the active involvement of key players in these sectors, and from different perspectives (public, private and social sectors) and scales (national, provincial and municipal).

4. Related to findings on project design: Pilot projects are meant to test practices in different settings, draw lesson and scale up and replicate practices that demonstrate to be adequate. In that spirit, while it is certainly important to test practices across a range of ecological settings, pilot projects should consider both rural and urban areas, particularly when the project focuses on geographical areas (e.g. coastal areas in Angola) where a significant percentage of the population, economic activities and infrastructure assets are located in urban areas[1]. When working in urban areas, projects should consider their specific challenges and opportunities.

5. Related to findings on project design: EbA projects should consider ecosystem links. More specifically, EbA projects in coastal areas should consider the links of coastal ecosystems with marine ecosystems and upstream basins. This is critical for the effectiveness, efficiency and sustainability of EbA projects.

6. Related to findings on project design, effectiveness and efficiency: The institution in charge of project design (i.e. the implementing entity, the indivual or firm subcontracted to design it, or an specialized agency hired by any of these two) should assess in detail the delivery capacity of implementing and executing agencies, including implementation modalities, decision-making, administrative, financial and procurement processes, as well as monitoring, documentation and communication capacity. This assessment should consider risks to the delivery capacity (in this case a dramatic drop in oil prices or government restructuration). This assessment should inform the selection of delivery methods. These methods should be assessed again during the inception phase, as the delivery capacity of implementing and executing agencies may have changed between project design and project inception. Coordination mechanisms should also be assessed. Delivery methods should be adjusted on that basis during the inception phase if needed. Risks to delivery methods during project implementation should be identified and management measures defined during the inception phase. Trade-offs between the short and long term in this regard should also be made explicit.

7. Related to findings on project design and efficiency: UN agencies, such as UN Environment and UNDP, can complement each other very well, as they tend to have different comparative advantages. Often different UN agencies have the expertise to work in similar activities, so the selection of a particular agency is a matter of choice from the government. In joint projects, coordination between UN agencies and with the government is critical.

8. Related to findings on project design and effectiveness: When defining the objectives and outcomes of a project (and their corresponding targets), as well as its timeframe, it is important to consider the level of development of the country where it is going to be implemented (e.g. an LDC) and potential external shocks. It is also important to reflect whether activities or outcomes are considered, and realize that capacity building and ecosystem restoration take long (that capacity building activities and ecosystem restoration activities will not result in increased capacity and restored ecosystems immediately), especially in countries with limited capacities and very degraded ecosystems. It is also important to consider the availability of scientific information. In this sense, 4 years may be too short a timeframe for an EbA project in an LDC with limited capacity and scientific information.

9. Related to findings on project design and efficiency: It is fundamental to develop project's results framework that adequately monitor progress towards achieving the project's objective and outcomes. Indicators need to be SMART, including clear methodologies and means and sources of verification that can be used during project implementation. Baseline assessments need to be conducted early in project implementation, and the results framework needs to be revised on that basis. In EbA projects it is critical that the baseline assessment is very specific on the health of ecosystems and social vulnerability, to be able to demonstrate improvements in the health of ecosystems and show if and how this results in increased social resilience.

10. Related to findings on efficiency: Implementing agencies need to participate in the selection process of the PMU members and provide early, regular and close support to LDC executing agencies in financial management and reporting, ensuring GEF and UN procedures are followed. This includes support in quantifying co-financing.

11. Related to findings on sustainability: Even if the project document includes a sound sustainability strategy, implementing and executing entities need to update the sustainability strategy based on the activities implemented and unexpected changes to the context (e.g. COVID 19 and changes in government arrangements).

---

[1] Note that these criteria are not mutually exclusive. A pilot project can work in rural and urban areas across different ecological settings.



Findings
Recommendations
1

Recommendation 1: UNDP, UN Environment and PMU should continue to use lessons from and exploit synergies with the Cuvelai project, especially but not only in terms of EWS and outreach.

2

Recommendation 2: DNAAC, UNDP, UN Environment and the PMU should engage more systematically the National Directorate of Spatial Planning and Urbanism, as well as the government ministries/agencies/directorates/departments/units in charge of housing, energy, transport, tourism, health, industry and services, at the same time they continue to engage meteorology, agriculture, fisheries and water. DNAAC, UNDP, UN Environment and the PMU should further involve the private sector, in all sectors, and not only in the oil industry. They should also work closely with the municipal level, especially when interventions in the ground take place in denser urban settings and taking into consideration the decentralization process. DNAAC, UN Environment and the PMU should continue to work with the provincial governments. Increased engagement of the all the institutions listed above should include where relevant validation of knowledge and communication products and policies, and approval and support in the implementation of the site-specific intervention plans.

3

Recommendation 3: UN Environment, UNDP, DNAAC and the PMU should assess risks (including COVID-19) to delivery methods for the remaining implementation time and define appropriate management measures. The PSC should meet more frequently (twice a year), especially if implementation speeds up, as it should. GoA should facilitate a more direct interaction between the project and sub-national governments. The PMU should have a more pro-active approach to implementation. UNDP and UN Environment should continue coordination efforts, even after UNDP's work on components 3 and 4 finalizes.

4

Recommendation 4: With this MTR already in place, UNDP and UN Environment should request no cost extensions. One year may be sufficient for UNDP. These extensions are required to ensure significant project results. Given current exceptional circumstances (the high uncertainty created by COVID-19, which has no clear ending), extensions should be considered tentative (depending how COVID-19 evolves, more time may be needed). In this sense, UNDP and UN Environment should request flexibility to LDCF.

5

Recommendation 5: UNDP and UN Environment should revise the projects' results framework, so that indicators are SMART and it becomes an adequate tool to monitor progress towards achieving the project's objective and outcomes. UNDP should explore how the capacity assessment that it plans to undertake can somehow be commensurable with the AMAT methodology, so that the results of the assessment can be compared to a certain degree to the existing baseline. While UN Environment can revise the indicators for outcomes 1 and 2, and UNDP the indicators for outcomes 3 and 4, the revision of the results framework needs to be consistent and include the objective level indicator, so both implementing agencies need to coordinate on this. Both implementing agencies should involve DNAAC, the PMU and other key players (INAMET and INRH for output 1.2; provincial and municipal governments for outcome 2) in this exercise, to ensure ownership.

6

Recommendation 6: Linked to lesson learned no. 2: DNAAC, UNDP, UN Environment and the PMU should try to leverage opportunities to improve progress towards achieving project objective and outcomes. Government restructuration is a good opportunity to update and expand the PSC. The increased visibility of DNAAC is a good opportunity to promote the Angola Coastal Adaptation Plan. DNAAC, UNDP and UN Environment should try that coastal adaptation is adequately reflected in Angola's revised NDC, in order to sustain, scale up and/or replicate the work undertaken by the project.

7

Recommendation 7: UNDP and UN Environment should support the PMU in quantifying actual co-financing.

8

Recommendation 8: Although there are good prospects in terms of sustainability of project results, DNAAC, UNDP, UN Environment and the PMU should update the sustainability strategy included in the project document, based on the activities implemented and taking into account COVID-19's direct and indirect effects. These institutions should then implement the updated strategy. DNAAC, UNDP and PMU should speed up the work on public awareness and communications, assuming it will not be based on results from the ground, and rethink it, given COVID-19 related restrictions, assessing what means of communication are most effective under these circumstances. They should consider additional communication channels. UN Environment should use these communication tools once components 3 and 4 are finalized.