Final Evaluation of Community Infrastructure and Livelihood Recovery Project (CILRP)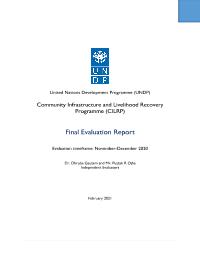 Evaluation Plan:

Evaluation Type:

Final Project

Planned End Date:

02/2021

Completion Date:

02/2021

Status:

Completed

Management Response:

Yes

Evaluation Budget(US $):

10,000
Title
Final Evaluation of Community Infrastructure and Livelihood Recovery Project (CILRP)
Atlas Project Number:

00057322

Evaluation Plan:
2018-2022, Nepal
Evaluation Type:
Final Project
Status:
Completed
Completion Date:
02/2021
Planned End Date:

02/2021

Management Response:
Yes

Focus Area

:
Corporate Outcome and Output (UNDP Strategic Plan 2018-2021)

1. Output 1.1.2 Marginalised groups, particularly the poor, women, people with disabilities and displaced are empowered to gain universal access to basic services and financial and non-financial assets to build productive capacities and benefit from sustainable livelihoods and jobs
2. Output 3.1.1 Core government functions and inclusive basic services4 restored post-crisis for stabilisation, durable solutions to displacement and return to sustainable development pathways within the framework of national policies and priorities

SDG Goal

Goal 1. End poverty in all its forms everywhere
Goal 11. Make cities and human settlements inclusive, safe, resilient and sustainable
Goal 13. Take urgent action to combat climate change and its impacts
Goal 6. Ensure availability and sustainable management of water and sanitation for all
Goal 8. Promote sustained, inclusive and sustainable economic growth, full and productive employment and decent work for all

SDG Target

1.2 By 2030, reduce at least by half the proportion of men, women and children of all ages living in poverty in all its dimensions according to national definitions
1.4 By 2030, ensure that all men and women, in particular the poor and the vulnerable, have equal rights to economic resources, as well as access to basic services, ownership and control over land and other forms of property, inheritance, natural resources, appropriate new technology and financial services, including microfinance
1.5 By 2030, build the resilience of the poor and those in vulnerable situations and reduce their exposure and vulnerability to climate-related extreme events and other economic, social and environmental shocks and disasters
11.b By 2020, substantially increase the number of cities and human settlements adopting and implementing integrated policies and plans towards inclusion, resource efficiency, mitigation and adaptation to climate change, resilience to disasters, and develop and implement, in line with the Sendai Framework for Disaster Risk Reduction 2015-2030, holistic disaster risk management at all levels
13.1 Strengthen resilience and adaptive capacity to climate-related hazards and natural disasters in all countries
6.1 By 2030, achieve universal and equitable access to safe and affordable drinking water for all
6.b Support and strengthen the participation of local communities in improving water and sanitation management
8.3 Promote development-oriented policies that support productive activities, decent job creation, entrepreneurship, creativity and innovation, and encourage the formalization and growth of micro-, small- and medium-sized enterprises, including through access to financial services

Evaluation Budget(US $):

10,000

Source of Funding:
Project Budget
Evaluation Expenditure(US $):

14,500

Joint Programme:
No
Joint Evaluation:

No

Evaluation Team members:

| Name | Title | Nationality |
| --- | --- | --- |
| Dr. Dhruba Gautam | Team Leader | |
| Pustak Raj Ojha | Team member | |

GEF Evaluation:

No

Key Stakeholders:
UNDP, Donors, CSOs, Local Governments etc
Countries:

NEPAL
Recommendations
1

Impart induction, capacity-building and emphasize institutionalization: Design at least one-month "development phase" for induction on the project's details, orientation on contributions required and sustainability planning (O&M funds, etc.), sharing standard criteria for selecting schemes from municipalities, forming or reforming committees, registering those committees, and imparting technical training. Develop and share human resources modalities from the beginning in order to curtail possible disputes. Build local government capacity in implementing an inclusive and rights-based development approach and a deliberative decision-making process. Support to induct and roll out the guidelines to work using the users' committee approach developed by the MoFAGA at the local government level to reduce contradictions between the rules of NGOs and those of UCs in the settlements of expenses. Ensure that at least 5% of total project's cost is allocated to an O&M fund to ensure the sustainability of the schemes during the development phase.

2

Enhance internal and external coherence for synergy: Promote a mechanism to ensure internal and external coherence from the very beginning of the programme by mapping the agencies and actors working in the project areas to promote the idea- and resource-sharing and synergy. While designing livelihood schemes, use the years-long experience of the MEDEP in entrepreneurship development for sustainable and market-led livelihood promotion. Design a flexible approach to selecting enterprises so that they can be either group-based or individual as contexts, needs and interests might differ, and a group approach might not be always feasible. Use the technical expertise of the enterprise development facilitators of the MEDPA in the selection and promotion of enterprises.

3

Synchronize project planning with local government planning: Synchronize project planning with local government planning and the budgeting cycle so that matching funds can be ensured right from the beginning. Synchronization may also reduce political influence in project selection. Inform authorities of the UNDP's programmatic priorities during the municipal planning phase in order to help to align municipal plans with UNDP's priorities and SDGs. Design livelihood schemes to match micro-climate conditions, seasonality, the proven experiences of people, the local resources available, and the guaranteed market infrastructures determined by a thorough assessment. Design livelihood schemes that are compatible with the government's already defined agriculture-and-livestock pocket areas for resource-sharing, synergy and sustainability. A six-month project cycle is too short to (i) manage preliminary work (induction, sensitization, community preparedness, etc.), and (ii) institutional capacity-building. Design a "recovery project" that lasts at least 10 to 12-month duration to ensure systematic service delivery, good-quality work, the institutionalization of communities and UCs and the sustainability of the schemes.

4

Reach previously unreached sections: Take poverty pockets and marginalized and unreached areas as identified by MoLMCPA and reflected in municipal level disaster risk management plan to prioritize projects and to target beneficiaries to ensure inclusive and rights-based development. Conduct vulnerability assessments and barrier analysis to ensure that women and the most vulnerable sections of the society benefit from the programme. Develop a mechanism to link each of the scheme with DRM and CCA plan at local levels.

5

Conduct vulnerability assessment and barrier analysis: Conduct this assessment and analysis to ensure that women and the most vulnerable sections of the society benefit from the program. Coordinate with the National Planning Commission, MoLMCPA and MoALD to explore already prepared poverty mapping and identified pockets of poverty as well as of agriculture and livestock pocket areas to integrate project implementation.

6

Manage resources through public-private partnerships: Many local governments requested the UNDP to increase the budget ceilings of sub-projects so that more households could be covered, and tangible results could be demonstrated in an integrated way. In the future, instead of developing small sub-projects, design a few but very strategic projects with increased unit budgets so that local government resources could be harvested to develop a resilient and inclusive economic recovery model village. This mechanism would also reduce the administrative and management costs of the project. Emphasize the provision of co-funding from the private sector as per the spirit of Nepal government's poverty reduction strategies and the third priority area of the Sendai Framework of DRR (2016-2030).

7

Modify technologies to reap maximum benefits from livelihoods: Encourage women's groups to promote secondary and tertiary products processed from their farm products by providing support for simple processing and post-harvest technologies that add value. Install solar dryers for drying agricultural products like ginger and turmeric because they are a cheap, women-friendly technology that costs little to run (and, with subsidies, to buy) and have many uses and benefits, including the reduction of drudgery.

8

Emphasize the creation of employment and entrepreneurial opportunities for youths: In order to reduce the trend of migration and link the project's short-term and quick-impact livelihood schemes with the government's long-term programs like the Youth Self-Employment Program. In order to encourage women farmers to participate in livelihood schemes, provide fellowship for the best women entrepreneurs so that they will retain their interest in promoting their businesses.

9

Continue some of the good practices while designing future projects: Continue some of the good practices viz. (i) tripartite partnership approach; (ii) provision of matching funds; and (iii) selection of low-cost, labor-intensive and simple technology-based schemes with blend of structural and non-structural activities targeting to women and PwDs while designing the future similar interventions.

10

Emphasis on knowledge management: Strengthen learning and sharing within the programme (from one district to another district and from one partner to another partner), among different programs within the UNDP (e.g. MEDPA, CMDP, VCDP) and beyond. Develop proper guidelines for the selection of livelihood schemes and use the mechanisms and strategies followed by other livelihood programs implemented by development partners within the recovery phase. Carry out detailed documentation of good practices and lessons learned from CILRP as many innovations are already in place and could be replicated in new areas so that other agencies working in recovery through community infrastructures and livelihood interventions could also benefit. Without documentation, practices may erode after sometimes Develop an exit strategy to ensure the sustainability of the project's schemes.

11

Practice safety and the transfer of risk: Safety, security, risk reduction, and risk transfer are a prerequisite for the success of early recovery projects. To achieve these ends, follow the occupational safety and health guidelines (2017) in construction projects and provide at least minimal safety gear (helmets, boots, gloves, reflective jackets, personal protective equipment, etc.) to construction workers and skilled masons to reduce the risk. Provide group insurance for risk transfer in collaboration with the PMEP and insurance companies. At operation level, the local government could develop occupational safety procedure and manage necessary safety gears at its disposal.

12

Develop dedicated log-frame along with outcome and impact level indicators: The quantitative data were not adequately refined using SMART indicators at outcome or impact level. It was because, project specific logical framework and indicator specific baseline value were not available which also limited the comparative analysis of the findings. In the future, while designing the such programme, develop dedicated log-frame strictly along with outcome and impact level indicators in order to gauze the programme results in the periodic basis.

13

Mainstream GESI in the programmatic cycle: The programme addressed gender issues and the issues of marginalized groups from the beginning. But there were several rooms to mainstream GESI from the beginning. In order to distribute the projects benefits to all people irrespective of gender and caste/ethnicity, mainstream GESI in the programmatic cycle i.e. collecting baseline data, designing, implementing and monitoring the project.

14

Mainstream disaster and climate risks in the designs of Community Infrastructure and Livelihood Interventions: Mainstream disaster and climate risk reduction feature in the design as well as the subsequent implementation to ensure the benefits acquired from project-initiated schemes. Ensure that there are safety features in community infrastructures as well as appropriate and cost-effective measures.