Low Emission Climate Resilient Development Project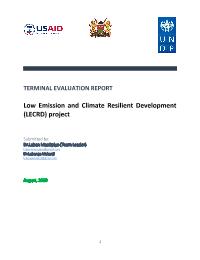 Evaluation Plan:

Evaluation Type:

Final Project

Planned End Date:

07/2020

Completion Date:

08/2020

Status:

Completed

Management Response:

Yes

Evaluation Budget(US $):

60,000
Title
Low Emission Climate Resilient Development Project
Atlas Project Number:

83697

Evaluation Plan:
2018-2022, Kenya
Evaluation Type:
Final Project
Status:
Completed
Completion Date:
08/2020
Planned End Date:

07/2020

Management Response:
Yes

Focus Area

:
Corporate Outcome and Output (UNDP Strategic Plan 2018-2021)

1. Output 1.5.1 Solutions adopted to achieve universal access to clean, affordable and sustainable energy

SDG Goal

Goal 7. Ensure access to affordable, reliable, sustainable and modern energy for all

SDG Target

7.1 By 2030, ensure universal access to affordable, reliable and modern energy services

Evaluation Budget(US $):

60,000

Source of Funding:
Evaluation Expenditure(US $):

45,000

Joint Programme:
No
Joint Evaluation:

No

Evaluation Team members:

| Name | Title | Nationality |
| --- | --- | --- |
| Dr.Laban MacOpiyo | consultant | KENYA |
| Dr. Lubanga Makanji | consultant | KENYA |

GEF Evaluation:

No

Key Stakeholders:
Countries:

KENYA
Recommendations
1

There is need to build on the achievements of LECRD and deepen engagement to upscale and institutionalize the results by strengthening existing partnerships and engaging with other non-traditional partners.

2

There is need to continue investing in critical areas where support was initiated during the project cycle especially in the enhancement of national/county climate change coordination processes and also capacity building that is focused on improving national and county-level decision making on climate change interventions.

3

There is need to continue spearheading initiatives for empowerment of women, the marginalized groups and civil society to take more active role in decision making processes based on lessons learned and results of interventions in the areas achieved thus far by the project

4

UNDP needs to consolidate its country support portfolio of climate change and resilience programming and ensure effective coordination with other UN agencies to ascertain that each agency contributes to its area of strongest comparative advantage in case of any future programming.

5

It is highly recommended that the entire knowledge base and portfolio of resources for communication, training and awareness created by this project, be curated made available online given that it currently very hard to find all the resources from the very many activities of this project. This is where the National Climate Change Resource Centre (NCCRC), University and Institutional partners and Community Education Business and Information Centre (CEBIC) could play a significant role. This should be easy and quick to implement, with limited cost implications and will make a significant contribution to the longevity and wider impact of the project.

This knowledge base should be consolidated as soon as possible in a place that will be accessible for the foreseeable future.

6

It is recommended that the standards, rating tools, fact sheets etc. developed under the project e.g. Green Building Standards for Kenya be piloted immediately and additional funds leveraged for this purpose to ensure they serve their purpose as demonstration projects with aim mainstreaming them into regular programming in the future

7

Aligned with the above, it is further recommended that efforts be made to leverage further funding through the project, and help unlock or crowd in development partners or complementary projects by leveraging the initial gains of the project to support the activities that have been started under various key results areas. This seems to be an area where the project has excelled with seed funding for example already coming into the tune of 350,000 (USD) from France and DFID to support the Kenyan Climate Change Adaptation (KCCAP) Programme.

8

As a priority, provide support for the completion of operationalization of the activities of National Climate Change Council which was envisaged as an output in the Key Result Area 1. The council is at the apex of coordination and guidance in implementation of obligations and functions under the Climate Change Act, 2016. Therefore, its establishment and operationalization is a priority to ensure that it takes charge of the process of legislative implementation and preserve the gains that have already been achieved under LECRD such as the strengthening of the CCD, the secretariat to the council.