Final Evaluation of China South-South Development Center Project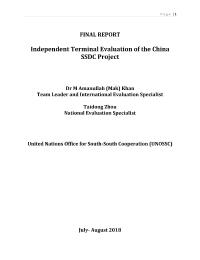 Evaluation Plan:

Evaluation Type:

Final Project

Planned End Date:

08/2018

Completion Date:

12/2018

Status:

Completed

Management Response:

No

Evaluation Budget(US $):

20,000
Title
Final Evaluation of China South-South Development Center Project
Atlas Project Number:
Evaluation Plan:
2018-2021, UN Office for South-South Cooperation
Evaluation Type:
Final Project
Status:
Completed
Completion Date:
12/2018
Planned End Date:

08/2018

Management Response:
Yes
Corporate Outcome and Output (UNDP Strategic Plan 2014-2017)
Evaluation Budget(US $):

20,000

Source of Funding:
Project budget
Evaluation Expenditure(US $):

20,000

Joint Programme:
No
Joint Evaluation:

No

Evaluation Team members:

| Name | Title | Email | Nationality |
| --- | --- | --- | --- |

GEF Evaluation:

No

Key Stakeholders:
CICETE
Countries:

GLOBAL
Recommendations
1

Future design of a possible new phase must be rigorous and comply with UN/UNDP guidelines to the extent appropriate. It should contain a theory of change that establishes clear linkages between the broad outcome/goal of the project and immediate objectives and activities.

2

If a new phase is to be launched, the proven implementation capacity of CICETE, considered an asset in this phase, should continue to be leveraged.

3

Introduction of a Project Management Committee to strengthen monitoring and evaluation and to separate the day-to-day management related advisory role from the Project Steering Committee can be considered, where the latter Committee can focus more on strategic advisory and policy roles.

4

Future project could add the triangular cooperation dimension in line with the Strategic Framework of UNOSSC. This will mean a stronger role of UNOSSC as the facilitating body, and those of other UN entities and Northern partners.

5

SSDC needs to work on the project website, making it more user friendly, with particular emphasis on the English version. The next phase of the project should consider a complete redesign of the website.

6

SSDC needs an integrated approach to knowledge management and organizational learning, combining advocacy, communications and M&E and research as one component of a future project. Future activities should focus on "easy to understand" advocacy and communication materials focused on operational research, case studies, newsletters etc. This will require increased capacity of SSDC. The existing team at UNOSSC together with possible future resources can assist in building this capacity. UNOSSCs global reach is essential to this work.

7

The small grants project has proven to be highly effective but should be more targeted in the next phase and demands and supply determined through a possible mapping exercise. Linked to this is the need to develop an appropriate M&E mechanism to assess impact and outcomes of small grants projects. This would mean improving the M&E capacity of the SSDC Secretariat and SSDC members.

8

The China South-South Cooperation Network (CSSCN), which forms the basis for the network members of the SSDC, can be expanded beyond Chinese institutions.

9

As the current project official ends in December 2018, the remainder of 2018 should focus on completing planned activities as outlined in the Annual Work Plan; designing the next project document; and potentially signing the new project document so that there is no gap between existing and new project.