Final evaluation of the project- 'support Sustainable management of the Mbe River Forested Watershed through the Development of a Payments for Ecosystem Services (PES) Mechanism'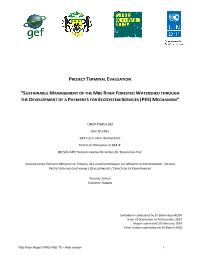 Evaluation Plan:

Evaluation Type:

Final Project

Planned End Date:

03/2018

Completion Date:

03/2018

Status:

Completed

Management Response:

No

Evaluation Budget(US $):

40,000
Title
Final evaluation of the project- 'support Sustainable management of the Mbe River Forested Watershed through the Development of a Payments for Ecosystem Services (PES) Mechanism'
Atlas Project Number:

61912

Evaluation Plan:
2018-2022, Gabon
Evaluation Type:
Final Project
Status:
Completed
Completion Date:
03/2018
Planned End Date:

03/2018

Management Response:
Yes

UNDP Signature Solution

:
Corporate Outcome and Output (UNDP Strategic Plan 2018-2021)

1. Output 1.1.2 Marginalised groups, particularly the poor, women, people with disabilities and displaced are empowered to gain universal access to basic services and financial and non-financial assets to build productive capacities and benefit from sustainable livelihoods and jobs

SDG Target

1.1 By 2030, eradicate extreme poverty for all people everywhere, currently measured as people living on less than $1.25 a day
1.4 By 2030, ensure that all men and women, in particular the poor and the vulnerable, have equal rights to economic resources, as well as access to basic services, ownership and control over land and other forms of property, inheritance, natural resources, appropriate new technology and financial services, including microfinance

Evaluation Budget(US $):

40,000

Source of Funding:
Project budget
Evaluation Expenditure(US $):

40,000

Joint Programme:
No
Joint Evaluation:

No

Evaluation Team members:

| Name | Title | Email | Nationality |
| --- | --- | --- | --- |
| Dominique ROBY | | | |

GEF Evaluation:

Yes

| | |
| --- | --- |
| GEF Project Title: | support Sustainable management of the Mbe River Forested Watershed through the Development of a Payments for Ecosystem Services (PES) Mechanism' |
| Evaluation Type: | Terminal Evaluation |
| Focal Area: | Biodiversity |
| Project Type: | MSP |
| GEF Phase: | GEF-4 |
| GEF Project ID: | GEF ID 361 |
| PIMS Number: | PIMS 4183 |

Key Stakeholders:
Ministry in charge of Forest Economy Local Authorities GEF
Countries:

GABON
Recommendations
1

1. Project design / Coherence of the project document: Ensure coherence of the project document following revisions, namely strategic ones involving significant changes in project outcomes, to ensure expected results, described activities, benefits at global, national and local levels, and indicators are coherent and remain relevant to the project's intervention

2. Project design / Translation of the project document: It is crucial to invest adequate resources to allow the recruitment of qualified translators able to guarantee a high-quality technical translation, and to have the translation validated by a technical expert familiar with the project's field of activity, as well as to have the translated version signed to authenticate its validity as a reference document just like the English version. Poor translations are misleading and can potentially lead to erroneous understanding of the project purpose, inadequate planning, ineffective interventions and inefficient use of resources.

3.Implementation Quality assurance role: Even under the NIM implementation modalities, UNDP at country and regional levels must ensure that project implementation arrangements and expenditures comply with UNDP rules and that funds are used for agreed purposes.

4. Capacity for results-based management:. It is recommended that UNDP, at the national and regional levels, ensures that Project Managers are able to implement results-based management, through requiring previous experience as part of the TORs or at least, by requiring project staff in charge of coordinating the project to attend targeted trainings in the first months of the project implementation, and providing continuous support as needed during implementation.

5. Monitoring and evaluation: M&E /Evaluations and audits: It is recommended that UNDP organizes annual project audits and reviews/evaluations in accordance with the initial M&E plan in the ProDoc. The objectives of a mid-term review include assessing the project's degree of achievement, and making recommendations to improve the project's performance and its chances of achieving the agreed results during the remaining period. Among other aspects, this review would have examined and made recommendations to improve the management arrangements, the implementation strategy, the monitoring and evaluation system, and the risk factors that may affect the sustainability of the results. The recommendations would certainly have addressed many of the issues raised in this evaluation and their implementation would have improved the overall performance of the project.

6.Actions to mitigate potential negative impacts due to the project implementation : It is recommended that UNDP, Government and WCS representatives undertake a short mission within the villages along the road in the Mbé watershed to communicate with local community members whose participation was sought during project implementation, to thank them for their involvement and interest, to inform them of the project closure and that the results showed that their agricultural activities had a limited impact on the hydrological services in the watershed, and to clarify that no financial mechanism was set-up through the project and that they have not been left out of it.