Independent Country Programme Evaluation: Uzbekistan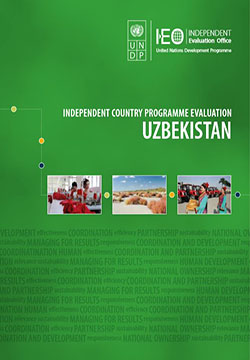 Evaluation Plan:

Evaluation Type:

ICPE/ADR

Planned End Date:

12/2019

Completion Date:

12/2019

Status:

Completed

Management Response:

Yes

Evaluation Budget(US $):

35,000
Title
Independent Country Programme Evaluation: Uzbekistan
Atlas Project Number:
Evaluation Plan:
2018-2021, Independent Evaluation Office
Evaluation Type:
ICPE/ADR
Status:
Completed
Completion Date:
12/2019
Planned End Date:

12/2019

Management Response:
Yes

Focus Area

:

1. Poverty
2. Governance
3. Resilience
4. Sustainable
5. Energy
6. Gender
7. Others

Corporate Outcome and Output (UNDP Strategic Plan 2018-2021)

1. Output 1.1.1 Capacities developed across the whole of government to integrate the 2030 Agenda, the Paris Agreement and other international agreements in development plans and budgets, and to analyse progress towards the SDGs, using innovative and data-driven solutions
2. Output 1.1.2 Marginalised groups, particularly the poor, women, people with disabilities and displaced are empowered to gain universal access to basic services and financial and non-financial assets to build productive capacities and benefit from sustainable livelihoods and jobs
3. Output 1.2.1 Capacities at national and sub-national levels strengthened to promote inclusive local economic development and deliver basic services including HIV and related services
4. Output 1.2.3 Institutions and systems enabled to address awareness, prevention and enforcement of anti-corruption measures to maximize availability of resources for poverty eradication
5. Output 1.3.1 National capacities and evidence-based assessment and planning tools enable gender-responsive and risk-informed development investments, including for response to and recovery from crisis
6. Output 1.4.1 Solutions scaled up for sustainable management of natural resources, including sustainable commodities and green and inclusive value chains
7. Output 1.5.1 Solutions adopted to achieve universal access to clean, affordable and sustainable energy
8. Output 2.1.2 Capacities developed for progressive expansion of inclusive social protection systems
9. Output 2.2.1 Use of digital technologies and big data enabled for improved public services and other government functions
10. Output 2.2.2 Constitution-making, electoral and parliamentary processes and institutions strengthened to promote inclusion, transparency and accountability
11. Output 2.2.3 Capacities, functions and financing of rule of law and national human rights institutions and systems strengthened to expand access to justice and combat discrimination, with a focus on women and other marginalised groups
12. Output 2.4.1 Gender-responsive legal and regulatory frameworks, policies and institutions strengthened, and solutions adopted, to address conservation, sustainable use and equitable benefit sharing of natural resources, in line with international conventions and national legislation
13. Output 2.6.1 Capacities strengthened to raise awareness on and undertake legal, policy and institutional reforms to fight structural barriers to women's empowerment

Evaluation Budget(US $):

35,000

Source of Funding:
Evaluation Expenditure(US $):

35,000

Joint Programme:
No
Joint Evaluation:

No

Evaluation Team members:

| Name | Title | Nationality |
| --- | --- | --- |
| Yogesh Kumar Bhatt | Senior Evaluation Specialist and Lead Evaluator | |
| Zehra Kacapor-Dzihic | Evaluation Consultant | |
| Lilit Melikyan | Evaluation Consultant | |
| Tianhan Gui | Research Consultant | |

GEF Evaluation:

No

Key Stakeholders:
Countries:

UZBEKISTAN
Lessons
Findings
1.

Finding 1. The presidential elections of 2016 brought sweeping changes in the country not only in the Government but also across society with new momentum for reform. UNDP strategically adapted its approach to respond to the emerging demands, thereby maintaining its strategic position and continued relevance as a trusted development partner.




Tag: Coherence Effectiveness Impact Relevance Gender Equality Gender-Based Violence Women's Empowerment Election Human rights Public administration reform Rule of law Strategic Positioning UN Agencies

2.

Finding 2. The frequently changing government priorities and UNDP's consequent demand-driven nature have led to a fragmented and piecemeal programmatic approach, lacking a results focus based on a theory of change, and leading to silos within and between the CO portfolios. This compromises the achievement of outcomes as well as the sustainability of some of the structures and initiatives supported.




Tag: Effectiveness Impact Sustainability Integration Programme Synergy Theory of Change

3.

Finding 3. Results-based management (RBM) is weakened by generally defined objectives and weak indicators across the CPD and projects. Monitoring is conducted as an integral part of the management practices, but mostly at the activities and output level. The country office commissions external evaluations at project and CP outcome levels, but the quality rating of these reports is rather low.




Tag: Effectiveness Impact Relevance Monitoring and Evaluation Results-Based Management Theory of Change

4.

Finding 4. The changing donor landscape, reduction in UNDP core resources and the over-reliance on vertical funds pose a risk to the financial stability of the country office unless UNDP strengthens its value proposition and diversifies its funding base.




Tag: Effectiveness Efficiency Relevance Resource mobilization Donor UN Agencies

5.

Finding 5. UNDP has been successful in working closely with UN agencies and development partners on issues of strategic importance requiring a coordinated response. However, at the project level, implementation happens in silos with each UN agency working on its own portfolio with little synergy across portfolios, making it difficult to reflect on the cumulative results and limiting the catalytic effects of the support.




Tag: Coherence Effectiveness Impact Programme Synergy Theory of Change UN Agencies Coordination

6.

Finding 6. Despite the weak gender marker ratings of projects, the country office has made considerable efforts to promote women's rights and women empowerment which have the potential to bring transformative change in the long term.




Tag: Effectiveness Impact Gender Equality Gender Mainstreaming Women's Empowerment

7.

Finding 7. South-South cooperation facilitated by UNDP to support the exchange of global and regional experience and best practices is highly valued by the stakeholders. However, these exchanges are predominantly one-time events rather than longer term institutional exchanges which would lead to the strengthening of the country's capacities by engaging with other countries. This approach limits their utility and effectiveness.




Tag: Impact Relevance Theory of Change South-South Cooperation

8.

Finding 8. UNDP has made significant contributions towards enhancement of the Government's structures to support sustainable and equitable economic growth. UNDP strengthened the analytical system for the SDGs; contributed to the improvement of the business climate; and most importantly, built the foundations for a coherent response to the Aral Sea disaster. It was partly effective in promoting exports and foreign direct investment, while little progress was made with regard to the rights of labour migrants. A fragmented approach and a lack of consolidation of the portfolio against a coherent theory of change have limited the catalytic effects of interventions and their sustainability.




Tag: Climate Change Adaptation Disaster Risk Reduction Effectiveness Relevance Sustainability Public administration reform Programme Synergy Theory of Change Inclusive economic growth SDG Integration SDG monitoring and reporting

9.

Finding 9. UNDP has laid a strong foundation for the integration of the Agenda 2030 and localization of the SDGs in Uzbekistan. UNDP support resulted in the adoption of a government resolution on the implementation of national SDGs up to 2030 and the integration of the SDGs into the national development agenda, as well as the development of a comprehensive framework for data collection and monitoring. Work still needs to be done to ensure the system for monitoring and analysis of the SDGs is in place and utilized.




Tag: Effectiveness Impact Relevance Sustainability e-Governance Monitoring and Evaluation Civil Societies and NGOs Country Government Private Sector Technology Policy Advisory Agenda 2030 Mainstreaming, Acceleration and Policy Support (MAPS) SDG Integration

10.

Finding 10. In cooperation with other UN agencies, UNDP has made a significant contribution to the establishment of the integrated multisector and multilevel approach to mitigate human security risks for communities affected by the Aral Sea disaster.




Tag: Disaster Risk Reduction Aid Coordination Private Sector Financing Bilateral partners UN Agencies Security

11.

Finding 11. UNDP has promoted public-private partnerships and exports/foreign direct investment within efforts to improve the business climate. However, due to the demand-driven nature of support, these efforts are often ad hoc without a clear strategy and lead to fragile results due to the unpredictability of reform processes and overall business environment. UNDP could have done more to ensure sustainability, particularly through a stronger and more coherent theory of change within the outcome and an elaborated risk assessment across the portfolio.




Tag: Relevance Sustainability Risk Management Theory of Change Trade and Development

12.

Finding 12. UNDP, together with other development partners, has made an important contribution to improving the policy and legislation around the environment and climate change. This is partly due to the refocusing of the government priorities since 2017 that led to reprioritization of UNDP's portfolio, with climate change, DRR and sustainable energy gaining more attention as well as funding. The overall reform needs are, however, larger as in some areas of UNDP's pilot interventions, the needed policy frameworks for upscaling and institutionalization are not yet in place, which limits the effectiveness of UNDP's initiatives both at the national and local levels.




Tag: Disaster Risk Reduction Energy Green Climate Effectiveness Impact Local Governance Public administration reform Country Support Platform

13.

Finding 13. UNDP, together with UNEP and other development partners, has made an important contribution in building capacities of local organizations to better coordinate access to GCF climate finance at the national level. Several funding proposals are ready, and subject to funding could potentially result in tangible environmental benefits.




Tag: Effectiveness Relevance Global Climate Fund Local Governance Partnership UN Agencies

14.

Finding 14. UNDP contributed to climate change mitigation, through (a) promoting energy-efficient construction including through using innovative green mortgage schemes; and (b) facilitating the initial stage of HCFC phase-out in Uzbekistan through improved legislation and capacity-building. However, addressing the growing amounts of unwanted ODS still remains a barrier to the latter case.




Tag: Energy Green Climate Effectiveness Impact

15.

Finding 15. Although still in the early stages, UNDP is making important advancements in biodiversity conservation in high-altitude mountain ecosystems by enhancing conservation and sustainable use of natural resources, and capacity development of the local stakeholders. In particular, UNDP has contributed to improved cooperation and collaboration in the conservation of snow leopards and their ecosystems through integrated planning, stronger cooperative governance and improved institutional capabilities of all partners.




Tag: Biodiversity Coherence Effectiveness Local Governance

16.

Finding 16. UNDP's engagement in DRR has been extremely limited and narrow in scope. While efforts have been made to raise awareness of population and capacities of relevant stakeholders in gender-sensitive preparedness and response to natural and human-induced disasters, the focus has been on disaster response, rather than risk reduction and preparedness.




Tag: Disaster Recovery Disaster Risk Reduction Relevance Gender Mainstreaming Impact

17.

Finding 17. UNDP has made significant contributions to public administration reforms by supporting the evolution of e-government services and improvement of the public services. The pace of public administration reforms is slow with incremental changes affected by factors such as changing priorities and turnover of staff. These factors affect the sustainability of inputs, structures and initiatives supported by UNDP. This is further exacerbated by the fragmentation of interventions due to the demand-driven nature of the UNDP programme and the absence of a long-term structured approach with clear focus and depth.




Tag: Challenges Impact Sustainability e-Governance Human rights Justice system Public administration reform Rule of law Change Management Programme Synergy Results-Based Management Theory of Change

18.

Finding 18. UNDP sought to fill the gap in the provision of services to women victims of violence, the elderly, and PWD through modelling of services, with an aspiration for these to be scaled up by the Government. However, due to factors such as changing government priorities and funding constraints, the future of these services remains questionable.




Tag: Challenges Effectiveness Relevance Sustainability Gender-Based Violence Disabilities

19.

Finding 19. UNDP, with the support from the Global Fund, has made a very significant contribution in addressing HIV/AIDS incidence in Uzbekistan.




Tag: Effectiveness Impact Relevance Global Fund HIV / AIDS

20.

Finding 20. UNDP's contribution to the success of legal and judicial reforms in the country has been effective. The country office supported key justice sector institutions in the reform of the court system, with a particular contribution to the improvement of transparency and efficiency of civic courts. Support to anti-corruption and law-making was relevant and got an additional positive boost in light of political change and related reforms, though with less visible outcome level results as of yet given the incremental nature of changes.




Tag: Effectiveness Efficiency Relevance Sustainability Anti-corruption Justice system Public administration reform

21.

Finding 21. Although fragmented in nature, UNDP's work with human rights institutions has been instrumental in laying the necessary groundwork to further strengthen the human rights work in the country. However, the success and sustainability of its efforts are impeded by the slow reforms in the field of human rights as well as the availability of funds.




Tag: Coherence Effectiveness Sustainability Gender Equality Women's Empowerment Human rights Public administration reform
Recommendations
1

Recommendation 1. UNDP needs to consolidate its portfolio of support. UNDP should invest time and effort to ensure that the country programme is based on a strong theory of change for each consolidated area of intervention and cumulatively at the level of the country programme. This process will provide a strategic focus to the programme and a coherent approach with synergies across projects and thematic portfolios. In doing so, UNDP should focus on substantial upstream engagement to ensure that the Government is receiving adequate support to push the reforms forward, while maintaining its strategic position.

Given the current country context, with a very fast pace of reforms but also anticipated entry of international actors and other 'big' players (donors and their implementing partners, IFIs, international organizations), UNDP needs to reflect on achievements and lessons learned thus far towards identifying and elaborating thematic areas where it has a comparative advantage within the country context. Within this framework, UNDP should ensure upstream engagement, focusing its support to the creation of sector policies by bringing together the Government and its external partners, as well as mobilizing funding sources for policy implementation, and strengthen national capacities to prepare, implement and sustain the initiatives and their results in support of the SDG agenda. UNDP will inevitably remain, at least partly, demand driven due to the nature of its engagement with the Government. However, due care should be given to ensure that the response to demands remains strongly within the theory of change of its country objectives to enable UNDP to bring the desired transformative effects. The desired change within the focus areas should be further elaborated through individual and joint (cross-programme) theories of change which should then be used to guide UNDP's work with the Government and other partners. Specifically, more systematic efforts are needed to ensure synergies across programme interventions within and across portfolios and to ensure transformative effects of UNDP assistance.

2

Recommendation 2. UNDP's country programme should be backed up by a strong M&E framework and a mechanism for systematic reflection on outcome-level results.

UNDP should invest in the improvement of its M&E framework to reflect the theory of change, not only in terms of ensuring the use of better indicators and use of innovative approaches to track the results at the outcome level (e.g. behaviour change measurement, outcome harvesting), but also a reflection on results and their transformative effects at project-portfolio-programme levels, and also in line with the SDGs. As this will require new approaches and skills in integrated outcome monitoring, analysis and reporting on results, UNDP should invest in building capacity of its programme teams and M&E focal points in this area, and consider creating a dedicated M&E specialist position in the country office.

3

Recommendation 3. UNDP should continue to support the justice sector reform process by building on the lessons learned and best practices from its engagement with the civic courts and develop a replicable model that can be adapted and scaled up across the entire court system in Uzbekistan. This support should be ingrained in strong programme theory, to enable adequate tracking of outputs-outcomes-impacts of the assistance for citizens.

Justice sector reform is extremely important for the new Government. Based on results achieved within the sector thus far, UNDP has been strategically positioned as a key partner of the Government in support to the justice sector reform. In the next programme cycle, UNDP should build on best practices and lessons learned from its support to the justice sector reforms, in particular the E-SUD civic court system, to develop a replicable model to be adapted and used across the entire court system. As part of its engagement, UNDP should ensure that a strong monitoring and evaluation framework is in place to ensure learning from the process, but also to use this evidence as an advocacy tool for reforms, particularly for improving access to justice for the most vulnerable groups, particularly women.

4

Recommendation 4. UNDP should use the Government's momentum and readiness to invest in strengthening the human rights framework and mechanisms for ensuring access to and protection of rights of most vulnerable groups, in particular women and PWD.

At the onset of the current country programme, human rights were extremely sensitive and resulting in very limited investments and results in this field. However, political changes brought new momentum and readiness of the Government to further invest in fulfilling its international commitments in the field of human rights. UNDP should continue and deepen its support to the operationalization of Uzbekistan's human rights commitments stemming from UN conventions the country is signatory to, particularly CEDAW, CRPD, and also UPR recommendations. Support should be provided in the form of technical assistance through training, mentoring, advisory and policy advocacy and dialogue on human rights, with particular emphasis of rights of women, PWD and other most disadvantaged and vulnerable groups. Also, support to the Ombudsperson's Office and the NHRC should be continued through long-term structural engagement by UNDP in cooperation with other UN agencies.

5

Recommendation 5. Given the wide scope and appetite of the Government for public administration reforms, UNDP needs to ensure that its support within the sector is well targeted and defined to ensure a clear focus and desired outcomes of assistance in a limited number of areas of UNDP's comparative advantage. UNDP's public administration portfolio needs to be consolidated to ensure that it does not fall into the trap of doing too little of everything.

Public administration reform is extremely wide, all-encompassing notion, with many areas that are exciting from the reform point of view. UNDP needs to carefully analyse the areas and pace of public administration reforms and its related achievements within reform thus far. It should be done from the perspective of what UNDP, as a single actor, can realistically tackle in order to achieve transformative effects. One area that UNDP invested thus far with high-impact opportunity has already been the support to e-governance and e-services. However, with the IFIs entering the country, there is a possibility these may well fall within their mandate as well in the upcoming period. UNDP should consider whether its support to e-governance and e-services is still relevant, particularly from the point of potential interlinkages with support to the justice sector. For wider public administration reform, UNDP should avoid engaging in areas in which it has little substantive expertise. The context of fast-paced reforms and changing priorities require strong expertise and grounding and UNDP can serve better as an adviser within areas of its comparative advantage. In the context of the influx of development partners with similar expertise, the time ahead will be critically important for UNDP to reflect, restrategize and strategically position itself in the country.

6

Recommendation 6. Building on the foundations of its existing work, UNDP should deepen its engagement in the areas tackled under environmental sustainability and risk reduction portfolio, working closely with the Government and in line with the government priorities.

The reprioritization of UNDP's environmental sustainability and risk reduction portfolio has strategically positioned UNDP in addressing the Government's priorities around climate change mitigation and adaptation, and DRR. UNDP should build on the achievements so far on climate change adaptation and mitigation, environmental protection, biodiversity conservation and DRR. In particular, UNDP should continue to work to promote integrated land management approaches and the efficient use of water resources and link this with climate change adaptation. UNDP should continue to promote the deployment of renewable energy sources and systems and lead a participatory policy dialogue, advocating for the scaling-up of energy efficiency initiatives across the country. UNDP should support biodiversity conservation more broadly, including emphasizing its bio-economic value to help Uzbekistan meet its objectives under the international environmental conventions it is party to. And last, but not the least, UNDP should continue to enhance national capacities in DRR through, inter alia, enhancement of the multi-hazard early warning system in the country.

7

Recommendation 7. UNDP should strengthen its value proposition and develop a long-term resource mobilization strategy based on a well-articulated plan of engagement with partners and clear targets to diversify its funding base and pursue it more forcefully.

The changing donor landscape in the country and fast entry of IFIs presents UNDP with an opportunity to develop a long-term resource mobilization strategy based on its value proposition and comparative advantage. In parallel to pursuing funding from the vertical funds (the GEF, Adaptation Fund and the GCF) and traditional bilateral donors and the EU; UNDP should invest more systematic efforts in exploring non-traditional funding models including engagement with the IFIs and the private sector. The strategy should also explore strengthening its partnerships with other UN agencies in pursuit of joint programming towards the SDGs.
Management Response Documents