Independent Country Programme Evaluation: Tajikistan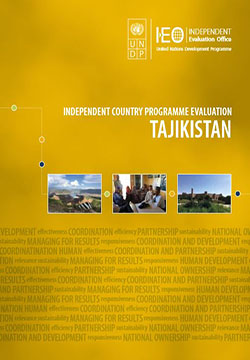 Evaluation Plan:

Evaluation Type:

ICPE/ADR

Planned End Date:

12/2019

Completion Date:

12/2019

Status:

Completed

Management Response:

No

Evaluation Budget(US $):

35,000
Title
Independent Country Programme Evaluation: Tajikistan
Atlas Project Number:
Evaluation Plan:
2018-2021, Independent Evaluation Office
Evaluation Type:
ICPE/ADR
Status:
Completed
Completion Date:
12/2019
Planned End Date:

12/2019

Management Response:
No

UNDP Signature Solution

:

1. Poverty
2. Governance
3. Resilience
4. Sustainable
5. Energy

Corporate Outcome and Output (UNDP Strategic Plan 2018-2021)

1. Output 1.1.1 Capacities developed across the whole of government to integrate the 2030 Agenda, the Paris Agreement and other international agreements in development plans and budgets, and to analyse progress towards the SDGs, using innovative and data-driven solutions
2. Output 1.1.2 Marginalised groups, particularly the poor, women, people with disabilities and displaced are empowered to gain universal access to basic services and financial and non-financial assets to build productive capacities and benefit from sustainable livelihoods and jobs
3. Output 1.2.1 Capacities at national and sub-national levels strengthened to promote inclusive local economic development and deliver basic services including HIV and related services
4. Output 1.4.1 Solutions scaled up for sustainable management of natural resources, including sustainable commodities and green and inclusive value chains
5. Output 1.5.1 Solutions adopted to achieve universal access to clean, affordable and sustainable energy
6. Output 2.2.3 Capacities, functions and financing of rule of law and national human rights institutions and systems strengthened to expand access to justice and combat discrimination, with a focus on women and other marginalised groups
7. Output 2.3.1 Data and risk-informed development policies, plans, systems and financing incorporate integrated and gender-responsive solutions to reduce disaster risks, enable climate change adaptation and mitigation, and prevent risk of conflict
8. Output 2.4.1 Gender-responsive legal and regulatory frameworks, policies and institutions strengthened, and solutions adopted, to address conservation, sustainable use and equitable benefit sharing of natural resources, in line with international conventions and national legislation
9. Output 3.2.1 National capacities strengthened for reintegration, reconciliation, peaceful management of conflict and prevention of violent extremism in response to national policies and priorities

Evaluation Budget(US $):

35,000

Source of Funding:
Evaluation Expenditure(US $):

35,000

Joint Programme:
No
Joint Evaluation:

No

Evaluation Team members:

| Name | Title | Email | Nationality |
| --- | --- | --- | --- |
| Yogesh Kumar Bhatt | Senior Evaluation Specialist and Lead Evaluator | | |
| Zehra Kacapor-Dzihic | Evaluation Consultant | | |
| Lilit Melikyan | Evaluation Consultant | | |
| Tianhan Gui | Research Consultant | | |

GEF Evaluation:

No

Key Stakeholders:
Countries:

TAJIKISTAN
Lessons
Findings
1.

Finding 1. UNDP Country Programme is highly relevant to the national development priorities. UNDP has strategically positioned itself as a trusted and reliable provider of development services supporting the implementation of Tajikistan's National Development Strategy for 2030.




Tag: Effectiveness Gender Equality Women's Empowerment Anti-corruption e-Governance Public administration reform Strategic Positioning Civil Societies and NGOs Country Government Extremism Youth Policy Advisory Technical Support

2.

Finding 2. The quality of Country Programme and project documents' results frameworks are somewhat challenged by lack of fully elaborated underlying theories of change and lack of reliable data for indicators. Yet, the country programme is implemented through an integrated and holistic programmatic approach, crucial to the achievement of coherent results. The M&E and knowledge management systems are appropriate, though weaknesses are visible in outcome level analysis beyond the outputs.




Tag: Vulnerable Coherence Business Model Communication Knowledge management Monitoring and Evaluation Results-Based Management Theory of Change Data and Statistics

3.

Finding 3. UNDP interventions contribute to the environment- governance- livelihoods nexus.




Tag: Climate Change Adaptation Disaster Risk Reduction Water resources Sustainability Civic Engagement Local Governance Health Sector Programme Synergy UN Agencies Poverty Reduction Trade and Development

4.

Finding 4. UNDP has fostered a healthy collaborative relationship with other UN agencies in the country with attention on achieving synergy and integration. Joint initiatives with successful collaboration experiences serve as good examples of how coordination within the UN can be further enhanced.




Tag: Disaster Risk Reduction Mine Action Green Climate Water resources Coherence Gender Equality Gender Mainstreaming Women's Empowerment e-Governance Donor relations Harmonization Partnership UN Agencies Capacity Building Social Protection Coordination

5.

Finding 5. UNDP has utilized the potential of South-South and triangular cooperation within the country programme framework. However, in most cases cooperation is one-off and not systematic to foster and facilitate long-term peer-learning and exchange regionally and beyond.




Tag: Biodiversity Impact Sustainability Knowledge management South-South Cooperation SDG Integration

6.

2.2 The Governance, Rule of Law and Human Rights

Outcome 7. People in Tajikistan have their rights protected and benefit from improved access to justice and quality services delivered by accountable, transparent, and gender-responsive legislative, executive and judicial institutions at all levels.

To support the government to reverse growing inequalities and exclusion, UNDP has been investing in initiatives to support policies and capacities for more effective, transparent, accountable and responsive governance and access to justice. The Governance, Rule of Law and Human Rights portfolio has been an evolving portfolio which started off as a pure security sector support portfolio with strong focus on border management. Within the period preceding current CPD particularly from 2014, the portfolio started to grow, increasingly including rule of law, access to justice and human rights and most recently peacebuilding efforts and prevention of violent extremism.

Within efforts in these sectors, UNDP's starting premise has been that strengthening national and local governance is key to securing more equitable access to services and rights for the poor and excluded. Hence, interventions have targeted policy, legislative and financial frameworks' planning and budget allocation, sustainable public procurement, improved management and monitoring capacities for service delivery across sectors, while testing and scaling up new models of civil society engagement. Interventions also included technical assistance and support to the Ombudsman office to improve its effectiveness, assistance to create an effective, transparent and sustainable legal aid system and improved civil registration services, especially for rural women, victims of domestic violence, and persons with disabilities. The following are main findings relating to the Governance, Rule of Law and Human rights portfolio.

Finding 6. UNDP has strongly positioned itself within the Rule of Law sector and has laid ground for improved access to justice, particularly for most vulnerable groups, such as rural population and women. The contribution is noted in the area of strengthening of the justice system through improvement of legislative base, improvement of Free Legal Aid system and civil case justice more broadly. In these areas, UNDP has been able to create significant depth and strong cooperation with the government, which helps to ensure ownership and support the sustainability of interventions. UNDP has contributed to creating a positive foundation for further democratization of society by building bridges between the government and civil society towards more participatory policy making and provision of services.




Tag: Effectiveness Relevance Sustainability Gender Equality Gender-Based Violence Women's Empowerment Anti-corruption Civic Engagement e-Governance Human rights Justice system Rule of law Strategic Positioning Extremism Peace Building Security

7.

Finding 7. UNDP has a potential to make a significant contribution in enhancing access to rights and services through investment in civil registration reform.




Tag: Relevance Sustainability Civic Engagement e-Governance Human rights Public administration reform Innovation Country Government Technology

8.

Finding 8. UNDP interventions have contributed in creating opportunity for increased cross-border cooperation along the Tajik-Afghan and Kyrgyz-Tajik border to reduce insecurity risks. The results highlight the value of continued holistic support to sectors across longer period of time.




Tag: Effectiveness Gender-Based Violence Rule of law Extremism Security South-South Cooperation

9.

2.3 Inclusive and Sustainable Growth

Outcome 8. People in Tajikistan benefit from equitable and sustainable economic growth through decent and productive employment, stable energy supply, improved access to specialized knowledge and innovation and more favorable business environment especially for entrepreneurs and farmers.

Despite the fact that Tajikistan's government aspires to develop its economy and improve its trade, significant challenges are faced by the private sector due to high taxation and absence of modern technologies and related restrictions which hinder economic development. To respond to the government priorities and contextual challenges, the UNDP CPD envisaged continued support to promotion of private sector development by creating a favorable environment for businesses, trade and direct investments. Besides, UNDP extended its efforts for support to border management to include important cross-border exchange and trade opportunities. Integrating recommendations from evaluations during the previous CPD cycle on support to agriculture, UNDP focused on expanding value chains to enhance the agroprocessing sector. Across all its interventions, UNDP continuously supported local policies and capacities for job creation and improved livelihoods, particularly for women and youth, and sustainable management of natural resources. UNDP worked on development of 'green jobs' through promotion of economic diversification and sustainable technologies at the local level and improved access to irrigation and sustainable and renewable energy resources.

UNDP's approach has been to support the government in its policy making and enhancing institutional capacities across the sector, while directly working with final beneficiaries (producers, entrepreneurs, vulnerable groups) on enhancing their skills and improving livelihoods.

Finding 9. UNDP has made an important contribution in promoting inclusive growth in Tajikistan. UNDP's support has resulted in the strengthening of policy framework on economic development. At the same time, through investment in education, microcredits, trade opportunities and PPP, UNDP has strengthened entrepreneurship potential across the country. However, the sustainability of initiatives and structures supported by UNDP is uncertain.




Tag: Agriculture Energy Green Economy Water resources Effectiveness Sustainability Gender Equality Women's Empowerment Knowledge management Private Sector Extremism Education Inclusive economic growth Jobs and Livelihoods Micro-credit Trade and Development Youth SDG Integration

10.

Finding 10. UNDPs support has led to the inclusion of the SDGs in the national development strategies and plans, but to a lesser extent their localization at the sub-national and sectoral levels. Monitoring of SDGs remains an issue, due to capacity limitations on both UNDP and government sides.




Tag: Effectiveness Sustainability Local Governance Monitoring and Evaluation Results-Based Management Strategic Positioning Private Sector UN Agencies Advocacy Policy Advisory Agenda 2030 Data and Statistics SDG Integration SDG monitoring and reporting

11.

2.4 Basic Services CPD

Outcome 5. Women, youth, children, persons with disabilities and other vulnerable groups are protected from violence and discrimination, have voice that is heard and are respected as equal members of society. UNDPs efforts under this outcome include only one project to strengthen governance mechanisms (primarily) for procurement of medical equipment and drugs for HIV and TB, aimed at improving the provision of basic services. However, the definition of the outcome statement is broad and includes social equity issues related to the empowerment of women, youth, PWD and other vulnerable groups. The evaluation team found interventions spanning all outcomes which address these issues, hence the findings below include an assessment of these contributions from across the Country portfolio and is not limited to the one project under this outcome.

Finding 11. UNDP has made significant contributions in improving the well-being and livelihoods of local population by taking an integrated and holistic approach in its interventions.




Tag: Vulnerable Energy Sanitation Water resources Gender Equality Gender Mainstreaming Gender-Based Violence Women's Empowerment Health Sector HIV / AIDS Procurement Disabilities Inclusive economic growth Jobs and Livelihoods

12.

Finding 12. UNDP has done well in mainstreaming gender, making a notable contribution in promotion of women's rights and women empowerment. There is evidence of transformative effects on women, especially from the rural areas. However, very little effort has been made by CO to collect and analyze the data at the outcome level to measure change on the lives and livelihoods of women.




Tag: Disaster Risk Reduction Effectiveness Impact Sustainability Gender Equality Gender Mainstreaming Gender transformation Women's Empowerment Human rights Monitoring and Evaluation Inclusive economic growth Data and Statistics SDG Integration

13.

Finding 13. UNDP's engagement as principal recipient of the Global Fund has contributed to improvement of basic health services and raised awareness on the challenges posed by stigma related to persons at risk of HIV. However, support to awareness raising and improving lives of persons at risk of or living with HIV are challenged by extremely difficult contextual and operational environment surrounding issues of most vulnerable groups at risk of HIV.




Tag: Vulnerable Sustainability Global Fund Gender Equality Gender-Based Violence Women's Empowerment Human rights Health Sector HIV / AIDS Civil Societies and NGOs Advocacy

14.

Finding 14. UNDP's work on inclusive social protection of the most vulnerable groups has been minimal and fragmented without a clear theory of change, limiting them to one-off activities, with limited or no linkages with more structured programme interventions.




Tag: Vulnerable Relevance Health Sector Theory of Change Social Protection

15.

Finding 15. UNDP has laid the necessary foundation for further work on empowerment of persons with disability (PWD). However significant challenges lay ahead, particularly from the perspective of rooted social norms and unfavorable conditions for social inclusion of PWD.




Tag: Vulnerable Gender Equality Women's Empowerment Human rights Justice system Disabilities Poverty Reduction Social Protection

16.

2.5 Resilience, Environmental Sustainability and Sustainable Energy

Outcome 10: People in Tajikistan are more resilient to natural and man-made disasters resulting from improved policy and operational frameworks for environmental protection and sustainable management of natural resources UNDPs Resilience and Environmental Sustainability programme has evolved as two programmes running in parallel- Disaster Risk Management Programme (Outcome 10) and Energy and Environment Programme (Outcome 8). This section included findings for the entire portfolio covering both outcomes.

Finding 16. UNDP has made contributions towards strengthening Disaster Risk Management (DRM) in Tajikistan by raising awareness, strengthening institutions and supporting improvements in institutional, legislative, and policy frameworks. However, the focus of the work of concerned agencies, until recently, has been on 'response', and the shift to 'risk reduction' is still in its early stages with limited sustainability prospects.




Tag: Disaster Risk Reduction Natural Disaster Resilience building Effectiveness Sustainability Advocacy Technical Support

17.

Finding 17. UNDP-supported National Mine Action center is now a recognized institution and is fully owned by the Government of Tajikistan. Mine Action priorities are recognized at the national level and included in the National Development Strategy 2016-2030 and Mid-Term Development Programme (2016-2020).




Tag: Disaster Risk Reduction Mine Action Sustainability Monitoring and Evaluation Ownership

18.

Finding 18. UNDP's support to climate change adaptation has been minimal, while the needs are large. UNDP support to mobilize funding for building climate resilient communities across Tajikistan, if successful, will open up new avenues to pursue in climate change adaptation.




Tag: Climate Change Adaptation Climate change governance Global Environment Facility fund Global Fund Resource mobilization

19.

Finding 19. UNDP has contributed to the better use and management of water resources by promoting Integrated Water Resources Management and improving the regulatory environment for drinking water supply and wastewater management in decentralized systems. The progress, however, has been very slow because of the delays by the Government in adopting draft legislations supporting water sector reforms.




Tag: Waste management Water resources

20.

Finding 20. Introduction of 'Environmental Information Management and Monitoring System' (EIMMS) and partnerships with think tanks and CSOs has improved national reporting capacities on multilateral environmental agreements, as well as the environmental policy development and decision-making process in the country.




Tag: Environment Policy Effectiveness Partnership Civil Societies and NGOs Technology SDG Integration SDG monitoring and reporting

21.

Finding 21. UNDP contributed to climate change mitigation in various ways, including through improving legislative, policy and regulatory environment for Small Hydropower (SHP) development (and green energy more broadly) and promoting HCFC phase out. More effort is needed in terms of continued technical and financial support schemes for local entrepreneurs involved in SHP and there is a need to incentivize HCFC phase-out especially in the residential sector.




Tag: Climate Change Adaptation Climate change governance Energy

22.

Finding 22. UNDP has made an important contribution to improving the conservation of protected areas in Tajikistan (including Pamir Alay and Tien Shan ecosystems for snow leopard protection) and to the strengthen national capacities in implementation of the Nagoya Protocol on Access and Benefit sharing.




Tag: Forestry Biodiversity Protected Areas Effectiveness Capacity Building
Recommendations
1

Recommendation 1. UNDP should ensure that the next Country programme cycle is founded on well articulated theory of change and supported by a results framework that includes measurable and realistic indicators for measuring change at the outcome level.

UNDP has been implementing a range of important and relevant initiatives across its country programme, which have had transformative effects on local communities and the country as a whole. However, evidence of actual degree of transformation is not readily available even for communities which have benefited from UNDP (and other UN) assistance for prolonged periods of time. It is fundamental that UNDP improves its results framework and M&E systems, to be able to learn about outcomes of its assistance but also to enhance the outreach and visibility of its achievement. As a starting point, the next programme design should include a carefully articulated theory of change for the overall programme and for each outcome area to identify and develop a set of realistic and measurable indicators. Each indicator needs to be assessed from the point of availability of data including baselines. In absence of readily available data, UNDP should define measures (e.g. research and baseline studies, M&E systems, etc.) through which data will be collected and baselines established. At the same time, UNDP should develop approaches to enhance the availability of data through capacity development, and in line with its engagement in integrating the 2030 agenda in national policies and frameworks. These instruments should serve to identify areas where UNDP efforts have triggered long term change processes that could lead to the structural transformations required to support the country in meeting its SDG commitments. A robust M&E framework should also be developed, with clear and realistic approach to capturing and evidencing such outcome level changes. It should further enhance internal oversight, monitoring of progress towards strategic results and capitalization and marketing of experiences and lessons for adequate upscaling and replication by the government. Presence of Field Project Offices should be further utilized for collection and analysis of regional level data, through strengthening their structures with focused M&E expertise wherever possible.

2

Recommendation 2. UNDP should invest in promoting the scaling up and institutionalization of pilots and models it has promoted across the country programme portfolio.

During this country programme cycle, UNDP has invested in and promoted models of critical importance for improving government services across the board (for example civil registry and free legal aid) and promoting environmental sustainability and resilience (for example DRM and IWRM). These models and their related results are fragile and dependent on government commitment and capacity to scale them up. UNDP should follow through to the full scale up and institutionalization of such models by ensuring appropriate legislative basis and funding commitments are in place for their sustainability. This will take a lot of UNDP resources and attention within the next country cycle. UNDP should take a cautious approach and resist the temptation of embarking in new areas where it does not have strong leverage and comparative advantage (for example social protection).

3

Recommendation 3. UNDP should further integrate and consolidate its economic and private sector development portfolio to generate evidence from the models for scaling up and promote a systematic approach to value chains and promotion of trade.

UNDP has piloted innovative models and approaches to enhance agricultural production and marketing across Tajikistan, with some important lessons learned. Its integrative approaches through investment in water supply, energy and social infrastructure in combination with access to micro loans, education and trade opportunities have brought transformative effects on families and communities. However, these approaches are still largely individualized and focused on farmers or clusters of producers in limited number of communities. UNDP should analyze these workable models, generate evidence and draw out lessons and best practices to develop models and systemic solutions, and advocate for their scaling up by the government. UNDP should further consolidate its approach based on these lessons and (a) continue assisting the government to build its institutional and policy solutions, and (b) partner with the private sector to enhance business opportunities.

4

Recommendation 4. UNDP should continue focusing on enabling national and local partners (including private sector) and communities to create more jobs and strengthen livelihood opportunities, with special focus on women and vulnerable groups, promoting cross-sector integration.

UNDP has managed to enhance holistic approach to sectoral interventions during this country programme cycle through integrating different elements of environment- governance- livelihoods nexus across sectors. Investment in integrated approach paid off through transformative effects, particularly in remote and deprived communities. UNDP should ensure continuous cross-sector integration when promoting governance and livelihoods by interlinking investments in these fields with DRM/resilience/climate change adaptation, environmental protection, community empowerment and economic growth programmes – with equity focus in mind.

5

Recommendation 5. UNDP should strengthen its focus and address climate change adaptation in a more integrated manner, linking it to addressing environmental degradation, wastewater management and biodiversity conservation.

While continuing the support for DRM (with a focus on preparedness) and water and sanitation sector policy, UNDP should ensure a stronger focus on climate change adaptation and climate change mainstreaming into different sectors in the next CPD, supporting the Government in developing, adopting and implementing the awaited National Adaptation Plan. Among other measures, this should include efforts to increase the capacity of central and local government and other relevant institutions to generate, analyse, assess, and disseminate climate related information and raise the awareness of critical decision-makers about the importance of adaptation for sustainable development. UNDP should tackle climate change adaptation in a more integrated manner, linking it to addressing environmental degradation (including with improved wastewater management strategy) and biodiversity conservation.

6

Recommendation 6. UNDP should consider merging its 'Disaster Risk Management Programme' and 'Energy and Environment Programme' under one umbrella programme and supplement it with a resultsbased learning and management strategy.

UNDPs Resilience and Environmental Sustainability programme has evolved as two programmes running in parallel (Disaster Risk Management Programme and Energy and Environment Programme). Traditionally, Energy and Environment portfolio has revolved around GEF-funded projects on biodiversity, climate change mitigation, chemicals management, so called GEF Enabling Activities on support to fulfil the national reporting obligations towards multilateral environmental agreements. During CPD 2016- 2020, Energy and Environment portfolio expanded with initiatives funded by other donors (OFID, SDC, Coca Cola, EADB), along with those funded by GEF, focused on water and energy sectors, as well as mainstreaming of environmental issues into "economic development" initiatives. The focus of the Disaster Risk Management Programme has also shifted in the current CPD 2016-2020 from disaster response to risk-reduction and management. It has now evolved into a full-fledge structured portfolio of interventions with a larger scope and diverse range of donors (SDC, Government of Japan, Russian Federation), with interventions tackling different areas of disaster risk reduction and management, moving up from localized interventions to larger policy level support on DRM. In future, Resilience and Environmental Sustainability area will have a stronger focus on climate change adaptation and climate change mainstreaming into different sectors (with funding utilized from GCF and Adaptation Fund). While UNDP is committed to ensuring that more efforts will be made to integrate environmental and climate change issues across different clusters/portfolios/initiatives within UNDP, it is worth considering bringing these two portfolios - its 'Disaster Risk Management Programme' and 'Energy and Environment Programme' under one umbrella. This will allow for more in-depth and operational synergies around climate change response theme. This should be complemented with a results-based learning and management strategy that includes: (a) a system to capture the learning from the pilots to feed into policy and decisions for replication and institutionalisation by the Government; and (b) an enhanced monitoring framework, linked to improved government statistics and SDG monitoring framework.