Independent Country Programme Evaluation: Kosovo (UNSCR 1244)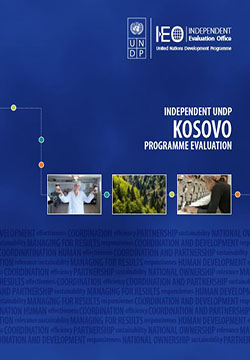 Evaluation Plan:

Evaluation Type:

ICPE/ADR

Planned End Date:

12/2019

Completion Date:

12/2019

Status:

Completed

Management Response:

Yes

Evaluation Budget(US $):

35,000
Title
Independent Country Programme Evaluation: Kosovo (UNSCR 1244)
Atlas Project Number:
Evaluation Plan:
2018-2021, Independent Evaluation Office
Evaluation Type:
ICPE/ADR
Status:
Completed
Completion Date:
12/2019
Planned End Date:

12/2019

Management Response:
Yes

Focus Area

:
Corporate Outcome and Output (UNDP Strategic Plan 2018-2021)

1. Output 1.1.2 Marginalised groups, particularly the poor, women, people with disabilities and displaced are empowered to gain universal access to basic services and financial and non-financial assets to build productive capacities and benefit from sustainable livelihoods and jobs
2. Output 1.2.1 Capacities at national and sub-national levels strengthened to promote inclusive local economic development and deliver basic services including HIV and related services
3. Output 1.2.3 Institutions and systems enabled to address awareness, prevention and enforcement of anti-corruption measures to maximize availability of resources for poverty eradication
4. Output 1.4.1 Solutions scaled up for sustainable management of natural resources, including sustainable commodities and green and inclusive value chains
5. Output 2.1.2 Capacities developed for progressive expansion of inclusive social protection systems
6. Output 2.2.3 Capacities, functions and financing of rule of law and national human rights institutions and systems strengthened to expand access to justice and combat discrimination, with a focus on women and other marginalised groups
7. Output 2.3.1 Data and risk-informed development policies, plans, systems and financing incorporate integrated and gender-responsive solutions to reduce disaster risks, enable climate change adaptation and mitigation, and prevent risk of conflict
8. Output 3.2.2 National and local systems enabled and communities empowered to ensure the restoration of justice institutions, redress mechanisms and community security
9. Output 3.3.1 Evidence-based assessment and planning tools and mechanisms applied to enable implementation of gender-sensitive and risk-informed prevention and preparedness to limit the impact of natural hazards and pandemics and promote peaceful, just and inclusive societies

Evaluation Budget(US $):

35,000

Source of Funding:
Evaluation Expenditure(US $):

35,000

Joint Programme:
No
Joint Evaluation:

No

Evaluation Team members:

| Name | Title | Nationality |
| --- | --- | --- |
| Alan Fox | Chief of Section | |
| Paul Georis | Evaluation Consultant | |
| Daniele Pedretti | Evaluation Consultant | |
| Silvana Rusi | Evaluation Consultant | |
| Tianhan Gui | Research Consultant | |
| Gedeon Djissa | Research Consultant | |

GEF Evaluation:

No

Key Stakeholders:
Countries:

KOSOVO
Lessons
Findings
1.

2.1 Good governance and rule of law

Finding 1. A coherent package of UNDP interventions has strengthened the strategic, legal and institutional anti-corruption framework, significantly contributing to progress made in recent years regarding the reporting and investigation of corruption cases.




Tag: Effectiveness Sustainability Anti-corruption Civic Engagement e-Governance Justice system Local Governance Parliament Rule of law Human and Financial resources Knowledge management Monitoring and Evaluation Ownership Policies & Procedures Policy Advisory Technical Support

2.

Finding 2. UNDP helped establish a framework for addressing domestic violence in Kosovo, through successful joint programming with other UN agencies.




Tag: Coherence Effectiveness Gender Equality Gender-Based Violence Women's Empowerment Civic Engagement Election Human rights Justice system Local Governance Rule of law Health Sector Joint UN Programme Partnership Policies & Procedures UN Agencies Capacity Building Advocacy Policy Advisory Technical Support

3.

Finding 3. UNDP made important contributions to safety and security in Kosovo, with particularly noteworthy progress made on the investigation of gun crimes.




Tag: Effectiveness Relevance Civic Engagement e-Governance Human rights Justice system Rule of law Knowledge management Policies & Procedures Extremism Security Capacity Building

4.

Finding 4. UNDP interventions have contributed to a new approach to the missing persons issue in Kosovo, however progress in resolving the issue has been limited.




Tag: Coherence Effectiveness Civic Engagement Justice system Parliament Public administration reform Rule of law Knowledge management Partnership Civil Societies and NGOs Capacity Building Policy Advisory Technical Support

5.

Finding 5. There was a high level of continuity across the inclusive and sustainable growth area, with new activities usually linking to results achieved under previous programmes. Several interventions were expanded after being successfully piloted.




Tag: Effectiveness Sustainability Gender-Based Violence Anti-corruption Civic Engagement e-Governance Justice system Rule of law Health Sector Joint UN Programme Policies & Procedures Promotion of dialogue Inclusive economic growth

6.

2.2 Inclusive and sustainable growth

Finding 6. UNDP interventions contributed to the objectives of the outcome area and were in line with Kosovo's priorities. Changes in the focus of a principle donor forced a narrowing of planned deliverables.




Tag: Agriculture Effectiveness Relevance Government Cost-sharing Gender Equality Women's Empowerment Local Governance Policies & Procedures Private Sector Inclusive economic growth Jobs and Livelihoods Trade and Development Youth Policy Advisory

7.

Finding 7. UNDP's long-standing support to Kosovo on employment policy continues to produce significant results. However, the capacity of the Employment Agency remains weak and is insufficient to meet the challenges ahead.




Tag: Effectiveness Impact Gender Equality Women's Empowerment e-Governance Donor relations Knowledge management Capacity Building Inclusive economic growth Jobs and Livelihoods Youth Coordination Policy Advisory Technical Support

8.

Finding 8. UNDP interventions have helped create jobs and income opportunities for local communities by strengthening coordination and cooperation among stakeholders.




Tag: Agriculture co-operatives Effectiveness Civic Engagement Local Governance Partnership Capacity Building Inclusive economic growth Jobs and Livelihoods Micro-credit Coordination Technical Support

9.

2.3 Resilience and environmental sustainability

Finding 9. Despite Kosovo suffering from environmental pollution and degradation of natural resources, environment and climate change have not been included among the top priorities of the National Development Strategy, and UNDP has been constrained by the special status of Kosovo in generating external funding for a robust environmental project portfolio.




Tag: Disaster Risk Reduction Emission Reduction Adaptation Fund Energy Environment Policy Natural Resouce management Water resources Effectiveness Relevance Global Climate Fund Global Environment Facility fund Local Governance Parliament Health Crises Resilience

10.

Finding 10. UNDP has taken an inclusive approach to implementing DRR activities in Kosovo, yet project results have been limited and are highly vulnerable due to continued ethnic tensions and political mistrust. DRR and response is further compromised by insufficient funding, and low administrative capacity at central and local government levels.




Tag: Disaster Risk Reduction Natural Disaster Effectiveness Efficiency Sustainability Resource mobilization Civic Engagement Local Governance Human and Financial resources Ownership Promotion of dialogue Social cohesion Advocacy

11.

2.4 Gender mainstreaming

Finding 11. The UNDP Kosovo office achieved good results in mainstreaming gender equality in programme design and implementation, contributing to improving gender equality and women's empowerment.




Tag: Disaster Risk Reduction Environment Policy Effectiveness Impact Relevance Gender Equality Gender Mainstreaming Women's Empowerment Civic Engagement Local Governance Rule of law Policies & Procedures Programme/Project Design Project and Programme management Capacity Building Inclusive economic growth Jobs and Livelihoods

12.

2.5 Results management

Finding 12. While UNDP Kosovo should be credited for developing a comprehensive results framework in line with the UN Strategic Plan 2014-2017, the indicators and targets chosen do not capture the reality of the results achieved with UNDP support, nor are they appropriate for measuring the programme's contribution to achieving the SDGs.




Tag: Relevance Women's Empowerment Justice system Local Governance Monitoring and Evaluation Results-Based Management Theory of Change Jobs and Livelihoods Youth

13.

2.6 Portfolio coherence

Finding 13. While the UNDP programme is well aligned with the priorities of the Kosovo Government and the current UNDAF, some portfolios appear fragmented and unbalanced, reflecting funding difficulties and highlighting over ambitious CPD objectives and targets.




Tag: Coherence Effectiveness Efficiency Donor relations Programme Synergy Results-Based Management Strategic Positioning Theory of Change Technical Support

14.

2.7 Joint programming and inter-agency cooperation

Finding 14. There have been encouraging examples of projects implemented jointly by UN agencies, despite constraints due to Kosovo's status and limited engagement from UN specialist agencies.




Tag: Coherence Effectiveness Gender Equality Gender-Based Violence Women's Empowerment Justice system Health Sector Joint UN Programme Partnership Project and Programme management UN Agencies UN Country Team Youth
Recommendations
1

Recommendation 1. To expand its funding base in response to development needs, UNDP should look to new partnerships and alternative financial sources. While endeavouring to expand cooperation with the European Union, UNDP should redouble its efforts to access alternative sources of funding via the private sector and development banks.

With the decline in bilateral aid to Kosovo, UNDP is increasingly at risk of not being able to achieve the necessary critical mass to deliver meaningful interventions. Existing political obstacles are not likely to change in the short term, so UNDP will need to increase donor support for UNDAF priorities while accessing new funding sources.

Participating in regional projects like the Global Environment Facility funded Drin River Basin Project may present opportunities, and the Regional Bureau for Europe and the Commonwealth of Independent States regional hub should expand its efforts to involve Kosovo in regional activities. Stronger cooperation with other UN agencies could strengthen UNDP's strategic influence and programming opportunities.

While endeavouring to expand cooperation with the EU, UNDP should redouble its efforts to access alternative sources of funding, via the private sector and development banks. It is worth noting that the European Investment Bank signed a Framework Agreement with Kosovo in 2013, and has also signed a memorandum of understanding with UNDP (2017) to boost cooperation between the two institutions. UNDP and the European Investment Bank intend to cooperate to support the SDGs and address global challenges by leveraging the private and philanthropic sectors and utilizing a broad range of financial instruments.

2

Recommendation 2. UNDP should continue to emphasize gender equality and women's empowerment and strive to integrate more gender-sensitive activities across its portfolio of projects. Interventions that specifically target women and challenge the norms, roles and relationships between men and women that perpetuate gender inequalities and discrimination should be scaled up, drawing on innovative models from other UNDP programmes.

Considering the large gender gaps in Kosovo in many areas (education, employment, entrepreneurship, politics), UNDP should continue to vigorously promote gender equality and women's empowerment through the implementation of its programme. Interventions that specifically target women and challenge the norms, roles and relationships between men and women that perpetuate gender inequality and discrimination should be scaled up, drawing on innovative models from other UNDP programmes. Pressure on central level institutions must be maintained to integrate the gender dimension into all major public policies.

3

Recommendation 3. UNDP should continue its efforts to enhance governance at central and local levels, through anti-corruption policies, safety and security, and increased attention to other important rule of law issues. UNDP should consider mobilizing advice and expertise to help develop policy frameworks in other rule of law areas, for instance addressing the informal economy, money laundering, terrorist financing and economic crime.

UNDP is well positioned to work with Kosovo institutions to maintain progress on anti-corruption reforms at all government levels. Further support for law enforcement institutions in the implementation of the Anti-Corruption Strategy and related legislation should be considered. Some of the crucial issues, such as the absence of asset confiscation, could be addressed as a priority before the adoption of the anti-money-laundering strategy. UNDP should seek to cooperate with the EU on monitoring results, as the fight against corruption remains a major priority for the EU, with the 2018 EU progress report raising concerns about the functionality and capacity of anti-corruption institutions. Cooperation with the EU should focus on transparency and accountability in governance, with greater involvement of civil society and citizens in detecting and reporting corruption.

UNDP's experience supporting municipal governments in neighbouring countries, such as Bosnia and Herzegovina and North Macedonia, provide interesting models for promoting accountability and transparency in the design and implementation of local policies, improving local government service delivery and financial management, and improving energy efficiency in public buildings and services.

4

Recommendation 4. While continuing its current support frame for employment institutions, UNDP should consider complementary interventions in the field of vocational education and training and adult education to improve the effectiveness of employment policies. Over the long term, responsibility for implementing employment policies should transfer to national authorities, allowing UNDP to focus more on strategic aspects and design and evaluation activities.

UNDP's long-standing support in the area of employment has yielded valuable results in terms of job creation and income generation, with measures well-targeted towards people from disadvantaged groups. Given the limited capacity of local employment agency branches, it is essential that this support be maintained.

Emphasis should also be placed on improving the quality and relevance of vocational education and training, especially with courses focusing on raising the educational level and employability of young people, women and long-term unemployed.

Although many strategies and instruments developed with UNDP support are now part of the Ministry of Labour and the Employment Agency's toolbox, some management responsibility continues to rest largely with UNDP. Over the long term, responsibility for implementing employment policies should transfer to national authorities, allowing UNDP to focus more on strategic aspects and design and evaluation activities. In the interim, UNDP should continue its capacity-building efforts, particularly at the local level where many employment counsellors of retirement age will need to be replaced. UNDP should commence developing its exit strategy, enabling national structures to develop over time and assume full responsibility.

Finally, as part of the donor coordination dialogue, UNDP should promote better coordination among the various donors that support employment and income generation in Kosovo.

5

Recommendation 5. Employment and livelihood support in rural areas should be pursued and extended to encompass wider territories, with grant support for larger partnership-based projects promoting higher income opportunities in selected value chains.

UNDP is supporting local government efforts to increase and sustain employment and livelihoods in rural and remote areas. These initiatives deserve to be scaled up into a programme that covers a whole region and encourages wider inter-municipal cooperation. Following stakeholder consultations, UNDP expertise should be mobilized to help participating municipalities analyse the potential for local development platforms, with a grant component established to help rural food producers, as well as manufacturers, move up the value chain and access new markets.

6

Recommendation 6. UNDP should promote integrated measures combining education, employment and social welfare to fight poverty and social exclusion, with emphasis on women and youth.

Effective social inclusion and poverty reduction policies require addressing the needs of target groups in a comprehensive manner. Building on the results of the Youth for Kosovo Project, UNDP should encourage cooperation among responsible authorities to design and implement integrated measures in the field of education, employment and social welfare to promote the inclusion of disadvantaged groups, giving priority to women and young people. Given UNDP's track record at the local level, pilot projects should be developed in selected municipalities to test new approaches, while addressing administrative and legal obstacles with central authorities to ensure mainstreaming of successful schemes.

7

Recommendation 7. UNDP has an important role to play in Kosovo in strengthening administrative capacity for environmental policy implementation and disaster risk reduction at central and local level, but this will require much more substantial funding than at present.

UNDP should make efforts to expand its cooperation with local civil society organizations to advocate for raising awareness on the importance of environmental protection. Long-term projections suggest that without policy change, economic growth and development may have serious unintended consequences for natural resources and ecosystems across Kosovo. UNDP should advocate for green growth and an economic model that fosters "economic growth and development, while ensuring that natural assets continue to provide the resources and environmental services on which our well-being relies"

UNDP-supported efforts to prepare local disaster risk plans with local communities need continuity and a strong commitment by central and local institutions to be sustainable. Moreover, the predominantly urban focus of DRR support should widen to encompass more rural municipalities.

It is not expected in the short term that Kosovo will have access to vertical financing mechanisms such as the Global Environment Facility and Green Climate Fund, yet Kosovo can benefit from these funds indirectly through participation in regional transnational programmes. UNDP Kosovo should continue cooperating with sister agencies in neighbouring countries to maintain these opportunities, while approaching other donors and exploring alternative funding mechanisms to significantly increase the budget available for the sector. The UNDP team should examine the current composition of the environment portfolio, analyse what factors hindered the achievement of planned results in the current CPD, and determine the possible resources (core, cost sharing, bilateral/multilateral resources, vertical funds, private sector, etc.) to expand the portfolio.

Given the poor air quality in the capital and its impact on citizens' health, the next CPD should have a strong focus on air pollution. UNDP should work with central and local institutions to develop strategies and implement innovative pilot projects designed to reduce air pollution in Pristina and other cities in Kosovo with air quality issues. As part of a multi-year plan for air pollution abatement, UNDP could assist the government in areas such as ambient air quality monitoring, strengthened emission limits and increased enforcement. Pilot projects could address specific pollutant problems, for instance support to households to replace obsolete coal boilers with cleaner and cheaper heating systems.

8

Recommendation 8. The results framework for UNDP's work in Kosovo should include better defined indicators capturing the real effects of UNDP interventions, with targets better adjusted to the size and scope of the programme portfolio.

More guidance and quality control at all stages are needed to strengthen future results frameworks to better reflect and report on UNDP's achievements in Kosovo and the overall contribution of the programme to the SDGs. Monitoring and evaluation practices should be enhanced at project level, with better links between project and country programme levels. The possibility of adjusting the results framework as the portfolio takes shape should also be considered.