UNDP-GEF Terminal Evaluation associated with projects on management effectiveness of protected areas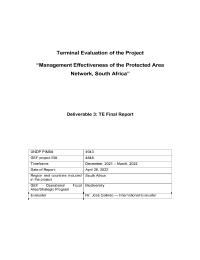 Evaluation Plan:

Evaluation Type:

Final Project

Planned End Date:

02/2022

Completion Date:

05/2022

Status:

Completed

Management Response:

No

Evaluation Budget(US $):

30,000
Title
UNDP-GEF Terminal Evaluation associated with projects on management effectiveness of protected areas
Atlas Project Number:

00079954

Evaluation Plan:
2020-2025, South Africa
Evaluation Type:
Final Project
Status:
Completed
Completion Date:
05/2022
Planned End Date:

02/2022

Management Response:
Yes

Focus Area

:
Corporate Outcome and Output (UNDP Strategic Plan 2018-2021)

1. Output 1.4.1 Solutions scaled up for sustainable management of natural resources, including sustainable commodities and green and inclusive value chains
2. Output 2.4.1 Gender-responsive legal and regulatory frameworks, policies and institutions strengthened, and solutions adopted, to address conservation, sustainable use and equitable benefit sharing of natural resources, in line with international conventions and national legislation

SDG Goal

Goal 13. Take urgent action to combat climate change and its impacts
Goal 15. Protect, restore and promote sustainable use of terrestrial ecosystems, sustainably manage forests, combat desertification, and halt and reverse land degradation and halt biodiversity loss

SDG Target

13.2 Integrate climate change measures into national policies, strategies and planning
15.1 By 2020, ensure the conservation, restoration and sustainable use of terrestrial and inland freshwater ecosystems and their services, in particular forests, wetlands, mountains and drylands, in line with obligations under international agreements

Evaluation Budget(US $):

30,000

Source of Funding:
Project
Evaluation Expenditure(US $):

27,963

Joint Programme:
No
Joint Evaluation:

No

Evaluation Team members:

| Name | Title | Nationality |
| --- | --- | --- |
| José Galindo | Present, Mentefactura | ECUADOR |

GEF Evaluation:

Yes

| | |
| --- | --- |
| GEF Project Title: | Projects on Management Effectiveness of Protected Areas |
| Evaluation Type: | Terminal Evaluation |
| Focal Area: | Biodiversity |
| Project Type: | FSP |
| GEF Phase: | GEF-5 |
| GEF Project ID: | 4848 |
| PIMS Number: | 4943 |

Key Stakeholders:
DEFF, SANParks, SANBI, CSIR, NGOs
Countries:

SOUTH AFRICA
Recommendations
1

Strengthen capacities of decentralized partners to implement GEF projects on issues such as M&E, quality assurance, environmental and social safeguards, financial management and procurement.

2

Future projects should consider a higher-level PSC that meets once a year and provides strategic guidance and political support.

3

Generate a repository of all the information, especially lessons learned generated, and that a way is found to ensure that it can continue to be used and made available after project closure.

4

Organize a closing event with wide stakeholder participation, to share the results achieved, strengthen stakeholders' commitments towards follow up and replication.