Terminal evaluation of the "Environmental Sustainability and Policy" (ESP Phase I) and "Environmentally Sustainable Production Practices in Cocoa Landscapes (ESP Phases II)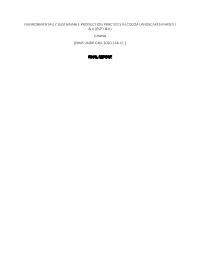 Evaluation Plan:

Evaluation Type:

Final Project

Planned End Date:

02/2021

Completion Date:

07/2021

Status:

Completed

Management Response:

No

Evaluation Budget(US $):

40,000
Title
Terminal evaluation of the "Environmental Sustainability and Policy" (ESP Phase I) and "Environmentally Sustainable Production Practices in Cocoa Landscapes (ESP Phases II)
Atlas Project Number:

00095425

Evaluation Plan:
2018-2022, Ghana
Evaluation Type:
Final Project
Status:
Completed
Completion Date:
07/2021
Planned End Date:

02/2021

Management Response:
Yes

Focus Area

:
Corporate Outcome and Output (UNDP Strategic Plan 2018-2021)

1. Output 1.4.1 Solutions scaled up for sustainable management of natural resources, including sustainable commodities and green and inclusive value chains

SDG Goal

Goal 15. Protect, restore and promote sustainable use of terrestrial ecosystems, sustainably manage forests, combat desertification, and halt and reverse land degradation and halt biodiversity loss

SDG Target

15.1 By 2020, ensure the conservation, restoration and sustainable use of terrestrial and inland freshwater ecosystems and their services, in particular forests, wetlands, mountains and drylands, in line with obligations under international agreements
15.2 By 2020, promote the implementation of sustainable management of all types of forests, halt deforestation, restore degraded forests and substantially increase afforestation and reforestation globally

Evaluation Budget(US $):

40,000

Source of Funding:
Mondelez International
Evaluation Expenditure(US $):

31,700

Joint Programme:
No
Joint Evaluation:

No

Evaluation Team members:

| Name | Title | Nationality |
| --- | --- | --- |
| Mr. James Acworth | International Consultant | |
| Dr Theophilus Adomako | National Consultant | GHANA |

GEF Evaluation:

No

Key Stakeholders:
Ghana Cocoa Board
Countries:

GHANA
Lessons
1.

More scientific rigour in project design and monitoring and evaluation: While the Environmental Baseline Report (UNDP, 2013) drew on a wide range of literature and highlighted some important lessons about sustainable cocoa production, some of these have not been fully translated into project design, or if they were, have been subsequently forgotten about, and presented as new findings - particularly with regard to the importance of land and tree tenure reform and the likely difficulties to achieve it due to the complex political economy of the cocoa and forest sectors. More could have been done during both project design and implementation to learn from the lessons provided by other projects and scientific research and publications, though some of these have been published during the project lifespan. The Evaluators make recommendations for specific research questions that should be addressed in future.

Section 5.4 on Lessons Learned from other initiatives presents some key issues emerging from recent research relating to adaptation of the cocoa sector to climate change, and its potential contribution to mitigation efforts, by optimising production in terms of carbon emissions per kg of cocoa produced. Before any new project is financed, a new, thorough analysis of the body of formal scientific literature, and grey literature from other projects should be reviewed to draw out key lessons for integration into future project design. In any future phase, the project needs to make a more concerted effort to invest in, and follow the findings of research into cocoa production optimisation. The addition of a respected, independent researcher with mastery of current work on climate smart cocoa production to the project team and steering committee is recommended. Researchers from institutions such as the University of Ghana's Institute of Statistical, Social and Economic Research (ISSER) and Institute of African Studies are good candidates for such work, given the former's strong track record of engagement with the COSA initiative and the latter's strong track record on understanding the challenges smallholder farmers face in relation to land tenure and agricultural production.

Actions to strengthen land and tree tenure security must recognise and more firmly address the current lack of commitment to tenure reform by both the government and Ghana and the customary authorities, as reported by the ESP final progress Report (UNDP 2020).




Tag: Sustainability

2.

Further consideration of potential risks of Public Private Partnerships: The ESP is perhaps unusual in the portfolio of UNDP inasmuch as it is financed 100% by the private sector with co-financing and in-kind contributions from COCOBOD in terms of the use of its structures to support project implementation. This puts UNDP in the role of contractor to the private sector and largely responsible for successful delivery of the stated results of the project. Mondelez International, that finances the Cocoa Life program and the ESP under CL, will no doubt be acutely aware of this. UNDP's instantly recognisable brand as global ambassador for sustainable development bolsters the credibility of Mondelez's Cocoa Life program, in the eyes of the less-critical members of the global public and chocolate consumers, regardless of the strengths or weaknesses of program design and implementation. This has incalculable Public Relations (PR) value for Mondelez (on which it capitalizes in its progress reports), that markets the Cocoa Life Brand as evidence of sustainability on every chocolate product it places on increasingly forest-risk sensitive international markets.

The association of UNDP with a program that does not measure or demonstrate its contribution to sustainable development due to a sub-standard M&E framework during phases 1 and 2 puts UNDP's reputation under the spotlight - in particular as national and international observers have begun to repeatedly question the effectiveness and efficacy of public and private efforts to regulate cocoa-driven deforestation in Ghana.

In line with UNDP's own Programme and Operations Policies and Procedures (POPP) on Public Private Partnerships, the UNDP management needs to consider how it can bring its considerable convening power to guide the cocoa sector more purposefully towards long term sustainability on all fronts - social, economic and environmental - while also assessing, managing and monitoring all potential reputational risks for UNDP.

Any future phase of the ESP Programme should be subject to a thorough review against the UNDP Guidelines on Cooperation between the United Nations and the Business Sector and be subject to screening against the UNDP Risk Assessment Tool. This has been a mandatory requirement for any type of partnership between UNDP and a private sector entity since 2013, though it is not clear whether the previous phases of the UNDP partnership with the Mondelez International Cocoa Life Program were subject to such a screening prior to signature of agreements. The screening exercise is likely to elicit a more in-depth evaluation of the range of risks associated with the planned investments and partnership, which, in the view of the Evaluation Team, were not sufficiently identified or monitored during ESP Phases 1 and 2 (see Section 4.6.2).



3.

Reaching agreement on better institutional arrangements for coordination during any third phase of ESP: The cocoa and forest sectors in Ghana are a crowded space, with the Cocoa and Forest Initiative (CFI), Ghana Cocoa Forest REDD+ Program and other ongoing initiatives with many government agencies, private foundations and international donors involved, each with their own programme and governance structures. This is both positive but also problematic if not well coordinated.

UNDP is currently designing the third phase jointly with the Mondelez Cocoa Life Programme to ensure alignment with relevant objectives as aligned with UNDP's CPD and Mondelez's obligations under the CFI.

Before finalising the institutional arrangements for any next phase of ESP, this evaluation recommends a thorough joint review of the current mechanisms for cross-sectoral coordination and scope for further adjustment and alignment of coordination mechanisms with all such initiatives in accordance with the Paris Declaration on Aid Effectiveness (2005) and the subsequent Accra Agenda for Action (AAA, 2008).

There are numerous candidates to facilitate the different components of a national programme on sustainable cocoa and subnational landscape or jurisdictional programmes. Possible candidates to lead facilitation of include Government agencies (Ministry of Lands & Natural Resources; Forestry Commission, COCOBOD); international Private Sector organizations such as the World Cocoa Foundation which has a strong national presence on the ground in Ghana; and NGOs such as IDH, ProForest, national NGOs, etc).




Tag: Sustainability

Findings
1.

The ESP project design made a strategic choice to embed the capacity for delivery of training in environmentally sustainable cocoa production in the national institution responsible for delivery of cocoa extension services – notably the Cocoa Health and Extension Division (CHED) of COCOBOD. This has enabled ESP to integrate environmental sustainability into the heart of the mandated institution, making it easier to scale up promising interventions to other landscapes and non "Cocoa Life Program" farming groups. While some of the environmentally sustainable practises promoted and rolled out by the CL funded ESP, including shade tree planting were already part of the COCOBOD policy and farmer training curriculum, they have been strengthened by the ESP Program interventions, better integrated into the CHED farmer training curriculum and the extension staff have been better trained to deliver the environmental component of the curriculum and not just the agronomic aspects.

Some good progress has been made with training roll out and tree planting, generally meeting planned targets. But the impact of ESP activities is still only being felt by those farmers who are members of the Cocoa Life Farmer Unions in the pilot districts that the project has managed to engage, and not every community member. Scaling up will require engagement of all private sector and donor financed initiatives into coherent and coordinated programs in existing and new Districts and landscapes if efforts to reduce deforestation and degradation and achieve demonstrably sustainable cocoa production is to be achieved at country-level. Scaling up will require substantial additional resources that have not yet been secured and stronger coordination between different funders.



2.

Improved Land and Tree Tenure and incentives were from the outset identified as fundamental preconditions for sustainability, but at the close of both Phases 1 and 2, they still remain elusive. While the evaluators acknowledge that the ability to bring about Land and Tree Tenure reform lies beyond the mandate of ESP Project alone, the Project Documents of both Phases 1 and 2 explicitly set out to influence policy and establish financing mechanisms that would incentivise sustainable production systems. Until such time as necessary reforms are effectively secured, progress towards environmentally sustainable cocoa production risks being continually undermined. There is little incentive for smallholder farmers to plant and nurture shade and timber trees to maturity, if they have no ownership rights over them.

Progress with more fundamental, systemic land tenure reforms continues to be slow and frustrating. Proposed interim solutions include tree registration of planted trees in cocoa farms to secure the farmers' stake in the long-term value of timber trees planted as a form of incentive. At the request of the Ghanaian Authorities, the ESP developed and field-tested tree registration procedures and software in partnership with the Forest Investment Program (FIP). Forestry Commission requirements for the system were complex, but ESP partners set out to keep any tree registration system as simple as possible, making it more manageable and cost-effective for potential scaling up. After heavy investment of time and effort, the Forestry Commission and ESP contracted software developers experienced a range of difficulties in operationalising the software and GIS database, which remained problematic up to the end of Phase 2.



3.

Mechanisms for monitoring impacts of the programme on key metrics (deforestation, on-farm tree cove and carbon stocks, cocoa yields, farmer incomes, etc), which should have been put in place under Phase 1, are still non-existent or too weak to support any quantitative analysis.

While the broader Mondelez International Cocoa Life Program may have monitoring data on these metrics / Key Performance Indicators, these are not all made public and the Evaluation Team did not have access to them for analysis. Further, these are done on the basis of farmer recall during interviews and some farm visits, rather than direct measurement due to methodological challenges (see Section 5.4).



4.

The presentation of financial information in quarterly reports against activities without any summary of cumulative expenditure per output and outcome did not facilitate analysis of expenditure per outcome our output by the Evaluation Team, or assessment of value for money.. Observed weaknesses in monitoring and reporting must be addressed in any future phase.



5.

Funding for forest conservation activities under both Phase 1 and Phase 2 was very limited. The project's strategy was to influence landscape management through the establishment, capacity building and operationalisation of multi-stakeholder governance structures of Community Resource Management Areas (CREMAs). One CREMA was established during Phase 1 and an additional two were established during phase 2. A certificate of devolution to give full authority to the CREMA to operate was finally issued on February 6, 2020 after some delays. Stakeholders gave a positive assessment of the CREMA concept as a strategy towards restoration and conservation of cocoa landscapes. All the CREMA bodies now have byelaws and constitutions that govern their activities, have bank accounts that facilitate their governance system and also aid financial transactions. In addition, CREMAs have established fire volunteer groups to prevent bushfires and also promote responsible charcoal production using the landscape approach. Some buffer zones have been created by planting economic trees along water courses. Whilst there was some awareness raising on why it is important to conserve animals, there is no objective evidence regarding wildlife trends. The National CREMA Review Report (Oct 2020) looked at other CREMAs and found there was only anecdotal evidence to support analysis of trends.

However, challenges remain to render CREMAs financially sustainable with no other stakeholders yet willing to contribute to operational costs despite ESP efforts to fundraise for the CREMA from the private sector, and donors.



6.

Progress on developing incentive-based mechanisms for farmers to plant and retain trees in cocoa farms, and the development of additional income sources for the CREMAs (such as through the gathering and/or cultivation of non-timber forest products) has been limited (while noting that community development and promotion of additional livelihood interventions, gender, women and youth empowerment were supported under a different pillar of Cocoa Life, championed by the WVI - and were not part of the current evaluation).

Preliminary feasibility analyses for developing a pilot voluntary carbon project concluded there was limited potential for direct payments to farmers due to the estimated high administrative costs and low carbon revenues for individual farms. Efforts have instead focused on collaborating with the Forestry Commission's Climate Change Unit to align ESP with the Ghana Cocoa Forest REDD+ Programme (GCFRP) in the hope that in the medium term it can generate carbon revenues from which benefits and services will trickle down to farmer groups. But roll out of the GCFRP has also been slow.



7.

The National Cocoa Platform that was to be put in place by ESP Under Outcome 6 of Phase 1 was shifted to a separate program, managed by COCOBOD upon request from its senior management, with its own Project Document. A platform was established and was reportedly well-managed and popular with stakeholders, but after a promising start with much interest, foundered due to a decline of political will in circa 2017 under new Cocobod leadership. This is not a criticism of ESP – but the weakness of the national dialogue resulting from failure of the Cocoa Platform has made it more difficult to progress on important reform processes. UNDP is currently exploring the viability of reviving a national cocoa platform, with full political support, in collaboration with the Swiss State Secretariat of Economic Affairs (SECO). Given the wide range of actors in the cocoa sector, each pursuing their own programmes with separate funding, a revived national cocoa platform will be essential to ensure dialogue and coordination across the sector, in particular to advocate for key systemic reforms, and improve the efficiency and effectiveness of ESP and similar initiatives. Recommendations are made below on alignment of national and subnational coordination mechanisms.



Recommendations
1

Credible independent monitoring and transparent reporting on key social and environmental commitments: ESP Project M&E framework is based on inputs and outputs, in accordance with UNDP norms - higher level outcomes being reported at country level. Given that the ESP output-level reporting is underpinning claims of sustainability of the Cocoa Life Program, a more robust Monitoring, Evaluation and Learning (MEL) framework needs to be in place for all interventions in priority districts and landscapes. Such a framework will need to go beyond ESP, and indeed the broader Cocoa Life Program and monitor key performance indicators objectively for all actors in the landscape. This will improve both efficiency and effectiveness of all actors and ensure improved transparency, accountability and inclusivity within the cocoa sector that can measure progress towards relevant targets on poverty, child labour policies and cocoa buying prices, as well as the slowing/reversal of deforestation trends. Such a monitoring system would support advocacy work aimed at linking fair price for cocoa to sustainable land use practices and due diligence by private sector re compliance to forest and labour laws. Reporting and indicators must be sufficiently disaggregated in order to ensure that the project has a clear grasp on how different socio-economic groups (women, migrant farmers, people with disabilities) benefit from project activities and outcomes, given that they have limited land tenure security and access to finance. The M&E system should not only be aligned with the existing Global Cocoa Life Key Performance Indicators (KPIs), but also harmonized with KPIs of other stakeholders, and include the ability to demonstrate the impacts of programme interventions in target groups as compared with non-targeted 'control' groups.

2

Advocacy: Further phases require stronger advocacy component to ensure improved transparency, accountability (particularly for the private sector) and inclusivity within the cocoa sector and progress on relevant deforestation reduction targets, poverty, child labour policies, cocoa buying prices, and perhaps most importantly working towards linking fair price for cocoa and sustainable land use practices and ensuring private sector compliance to forest and labour laws and due diligence.

3

Financial sustainability: There is need for more open discussion and transparency over how government funds (such as those accessed by COCOBOD), those generated by REDD+ programmes, such as GCFRP, as well as private sector contributions should be mainstreamed and shared in the long run to support sustainable cocoa production and forest management. This does not mean that UNDP must lead the discussion / process, but should make a concerted effort to initiate it. Some stakeholders estimate that some more years of external funding will be required before the CREMAs can sustain themselves, and even then, only if sufficient powers are devolved to them to generate revenues from a range of activities.

4

Land and tree tenure reform: The TE Team recommends continued concerted collaboration between interested parties and programs in supporting communities and civil society to collectively engage with the different agencies of the Government of Ghana, and traditional landowners and other vested interests, and advocate for a paradigm shift towards the necessary land and tree tenure reforms, thereby creating a critical mass for change. Any new phase must envisage addressing this issue at a national scale in a single, coherent and sustained process, led by a government mandated task force that engages all stakeholders, supported by facilitation of a neutral party (potentially UNDP), with blended funding and support from multiple sources and avoiding a fragmented approach by different stakeholders and initiatives. The Evaluators recommend a concerted revival of past efforts to amend the Trees and Timber Act by building coherent civil society, public and private sector support and advocacy for appropriate reforms. While such reforms are absent in Ghana's legal framework, any attempt for individual projects to change the tenure arrangement will struggle. Some valuable work was done in the context of the VPA to draft amendment to the Trees and Timber Act by Client Earth and Taylor Crabbe Ghana. The hope was that it would be the starting point for vesting trees off-reserve in the landowner/farmers with an accompanying benefit sharing formula, but the Forestry Commission was not in favour of it since it would have deprived them of the benefits of managing the off-reserve timber resource. The evaluators recommend that this work be revisited with a view to building a stronger coalition of support and advocacy for the necessary reforms. This will need to be a collective effort of multiple agencies and programmes including partners of the Cocoa & Forests Initiative and the Voluntary Partnership Agreement (VPA-FLEGT) process.

5

Landscape approach: The new initiative in the Asunafo North Hotspot Intervention Area (HIA), led by the Ghana Cocoa Forest REDD+ Program (GCFRP) sets out to bring together all the necessary factors to underpin sustainable landscape management into a coherent approach supported by all stakeholders including the Mondelez Cocoa Life and ESP partners. The Evaluators fully support further engagement by the Project Implementing agencies with this landscape approach, which builds on the CREMA concept. Reaching an early consensus on how to secure long-term sustainable financing of landscape wide initiatives and their governance institutions is key to ensuring that this approach can succeed at scale, beyond one or two pilot landscapes.

6

Coordination of Technical and Financial partner interventions: Coordination of finance at the national and landscape / HIA levels is essential, but difficult, given the multiple sources of funding and insistence on control of own funds by donors (Govt, International, Private). Prior to any future ESP Phase 3, all actors will need to agree on mechanism to better align and coordinate diverse initiatives. This puts additional emphasis on the need to re-establish and strengthen a National Cocoa Platform, led by the appropriate mix of Government Institutions and facilitated by a trusted, neutral body. It is also important that prior to an ESP Phase 3, key institutions, such as the Forestry Commission, Lands Commission and COCOBOD, need to agree to collaborate and coordinate their work much more closely and recognise the common issues, including deforestation and forest degradation, and pathways to solutions, such as securing land and tree tenure that need to be addressed and financially supported to ensure sustainable cocoa production and sustainable forest management in the long run. Any revived or revamped National Cocoa platform would need to be carefully aligned, or better integrated, with the existing structures and stakeholder platforms in place including:

The Cocoa Forest Initiative (that aims to achieve similar goals as ESP).
The Ghana Civil-society Cocoa Platform (GCCP); and
The Swiss Platform for Sustainable Cocoa (SPSC).

A revamped national platform should include representatives of all the relevant Government Ministries and Agencies that have a bearing on the cocoa sector, and chaired by a representative of a Government structure mandated to assure inter-ministerial coordination to ensure national ownership by the institutions that have power to resolve pending challenges – in particular land and tree tenure. UNDP should consider what role that it can, and should play, respectively, in facilitating national and landscape level interventions and multi-stakeholder dialogue. To be seen as neutral and to have sufficient funds to operate, any coordination mechanism(s) would need to access non-partisan funding beyond the Mondelez International Cocoa Life Program – if need be with pooled funds from multiple sources.

7

Planting material production and distribution: There is a need to review mechanisms for production and distribution of planting materials to farmers - inefficiencies resulting in late delivery and low survival of distributed materials. The ESP partners are encouraged to continue exploring both private sector and community nursery options to achieve the quantity, quality, and speed of delivery of planting material required for a national level program. Going forward, it is important that the production and distribution of planting materials is aligned as much as possible with changing seasonal rain patterns in order to increase tree survival rates. Consistent monitoring of tree seedling survival rates and growth for several years after planting is essential to inform the seedling supply chain, and to support claims regarding increased carbon storage on cocoa farms and to underpin any future payments for environmental services.

8

Creating incentives to conserve forests and plant trees: Rollout of PES schemes was intended to be the mechanism by which farmers would be incentivized to plant trees both on their own farms and in degraded forest reserves. Under Component 5 of ESP Phase 1 to explore potential Voluntary Carbon Market financing options, the ESP team and UNDP's Green Commodities Programme (GCP) conducted a feasibility study of carbon-based payments, and concluded that individual payments to farmers are not realistic, for several reasons: individual carbon storage (or avoided deforestation) per farm is very small (at prevailing carbon prices at the time) and would result in small carbon payments. The transaction costs of registering and monitoring thousands of small cocoa farms would exceed the modest payments at realistic carbon prices at the time. Instead the GCP Team concluded that carbon payments would be more realistic at an aggregated level and payments could be spent on e.g. farmer support systems or other services that would help a large number of farmers. This solution will largely depend on the effectiveness of the REDD+ program, and payments would only be generated in the longer term once the program is able to document reduction in deforestation and/or reforestation. UNDP continues to be a partner in this effort. However, REDD+ progress remains slow, and while the ESP partners have a formal collaboration with the GCFRP, and a benefit-sharing mechanism has been developed, which includes farmers, as yet, no results-based payments have been made. Much, therefore, depends on farmers' confidence in the tree registration mechanism to guarantee that in the long term they may benefit from trees planted on farms. Further, the evaluators note that performance-based payments to jurisdictional authorities at the landscape level rather than to individual farmers does raise additional questions. If carbon payments finance farmer support systems across the landscape, it does not solve the problem of how to provide incentives to individual farmers, even if there are 'collective benefits'. 'Free-riders' will be happy with the public services but may not plant trees.

9

Tree Registration: While some trees have been mapped and registered, until the challenges with the rollout and long-term financing and governance of the scheme and tree and land tenure policy issues are resolved, these are likely to undermine long-term confidence of farmers that they stand to gain from their individual conservation efforts. The evaluators suggest that tree registration may not be a long term financially or technically sustainable answer to side-step the impasse for more fundamental land and tree tenure reform. While it may serve as a temporary measure it may distract attention from the bigger goal of tree tenure reform. The Evaluation Team therefore recommends undertaking a thorough review of the costs, benefits and long-term practical and logistical feasibility of scaling up land and tree registration across the country, using existing technologies (including others trialled by ESP with RMSD, Agro-Eco and Meridia and any others), and explore options for long term financing of such an initiative. The evaluation team recommends that whatever the outcome of such a review, more concerted effort should be made to advocate for more fundamental land and tree tenure reforms, as outlined above, that would render individual tree registration unnecessary.

10

Climate change & related adaptation and mitigation strategies: ESP has provided significant contributions to a more climate resilient cocoa production model, including introduction of climate-smart agronomical practices and the re-introduction of shade trees on cocoa farms. ESP - and UNDP in general - collaborate extensively with the Forestry Commission's Climate Change unit. The Evaluation Team recommends continued focus on climate change & related adaptation and mitigation strategies for cocoa production and forest management. Future support should focus on the adoption of more innovative and nuanced climate smart practices that are adapted to projected specific climate change impacts and in sub-regions of Ghana and other challenges, such as poor pollination. For example, based on research carried out by Bunn et al. (2019) site-specific cocoa production adaptation strategies can help to match the degree of climate change impacts to each agro-ecological zone. Better preparation for change can help cocoa farming communities reduce risks of losing their livelihoods and vulnerability to the impacts of drought, heat and erratic rainfall. Frimpong-Anin et al., (2015) have provided some suggestions on practices that help conserve cocoa pollinators which could also be encouraged. Further, the older over-grown agroforests should NOT be rehabilitated, but instead the landowners / tenants encouraged to maintain the high accumulated carbon stocks and biodiversity found in such old farms. National ownership, and coordination with other climate change initiatives will be essential to achieve meaningful progress and impact on this.

11

Steering Committee Composition: While ensuring that the structure respects UNDP's Programme and Operations Policies and Procedures, the evaluators recommend adding the voice of an independent scientific advisor, mandated to provide inputs from research on sustainability of increased yields, long-term soil fertility, etc.

12

Modified Taungya System (MTS). The MTS as a mechanism for restoring degraded forest reserves faces a number of significant challenges according to independent reports and published research papers. The Evaluation team has provided a review of these challenges that UNDP / Cocobod / Mondelez International Cocoa Life Program will need to address in any future phase, if they intend to promote MTS as a solution for forest restoration at scale. While the technical feasibility of the MTS, and the immediate benefits are evident, the medium to long-term benefits are more elusive, and the success of the "modified" system depends heavily on the transparent and respectful sharing of power and benefits by powerful state institutions with poor rural farming communities, with long-term legally enforceable agreements. The ESP partners have reported frequent concerns about the ambition to enact meaningful and timely reforms by these same state institutions during Phases 1 and 2. Full political commitment to address key challenges around implementing Taungya at scale must be secured from the relevant authorities as a prerequisite for any future investment. In view of available scientific and socio-economic evidence on MTS systems, the evaluators recommend that, before Mondelez International Cocoa Life and UNDP continue the roll out MTS, a thorough review of the pros and cons of the MTS system is carried out, including a long-term Cost Benefit Analysis, in order to identify the key criteria required that are essential to have in place for it to succeed and to assess whether these criteria are in place.

13

Use of Agrochemicals: There is need for continued caution about potential harmful effects of excess herbicides, particularly glyphosates and pesticides that are used in cocoa production. For instance, promotion of more active and direct measures to minimise the use of agrochemicals and to encourage best practices as used in organic cocoa production from around the world should be encouraged to minimize the use of herbicides among farmers. Such approaches should be encouraged wherever possible, given the links with the decline in cocoa pollinators. Further research is required to determine the impacts of different options.

14

Use of a Human Rights Based Approach: in future phases the Project should focus more on using a human rights based approach, i.e. that all forms of discrimination in the realisation of rights must be prohibited, prevented and eliminated. It also requires the prioritisation of those in the most marginalised situations who face the biggest barriers to realising their rights. In the context of the ESP project, we recommend that in the next phase of the project, there is a much stronger drive to raise cocoa farming communities' awareness of their basic human rights, in relation, for example, to access to clean water, children's education and fair cocoa prices for their cocoa; and the importance of their role to advocate for these issues. In short, to provide support that contributes to the development of the capacities of 'duty-bearers' to meet their obligations and/or of 'rights-holders' (i.e. cocoa farmers and their communities) to claim their rights.