Terminal evaluation of Growing Green Business project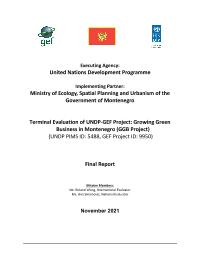 Evaluation Plan:

Evaluation Type:

Final Project

Planned End Date:

11/2021

Completion Date:

11/2021

Status:

Completed

Management Response:

Yes

Evaluation Budget(US $):

20,000
Title
Terminal evaluation of Growing Green Business project
Atlas Project Number:

00087518

Evaluation Plan:
2017-2022, Montenegro
Evaluation Type:
Final Project
Status:
Completed
Completion Date:
11/2021
Planned End Date:

11/2021

Management Response:
Yes

Focus Area

:
Corporate Outcome and Output (UNDP Strategic Plan 2018-2021)

1. Output 1.1.2 Marginalised groups, particularly the poor, women, people with disabilities and displaced are empowered to gain universal access to basic services and financial and non-financial assets to build productive capacities and benefit from sustainable livelihoods and jobs
2. Output 2.1.1 Low emission and climate resilient objectives addressed in national, sub-national and sectoral development plans and policies to promote economic diversification and green growth

SDG Goal

Goal 1. End poverty in all its forms everywhere
Goal 4. Ensure inclusive and equitable quality education and promote lifelong learning opportunities for all

SDG Target

1.4 By 2030, ensure that all men and women, in particular the poor and the vulnerable, have equal rights to economic resources, as well as access to basic services, ownership and control over land and other forms of property, inheritance, natural resources, appropriate new technology and financial services, including microfinance
4.4 By 2030, substantially increase the number of youth and adults who have relevant skills, including technical and vocational skills, for employment, decent jobs and entrepreneurship

Evaluation Budget(US $):

20,000

Source of Funding:
GEF
Evaluation Expenditure(US $):

30,000

Joint Programme:
No
Joint Evaluation:

No

Evaluation Team members:

| Name | Title | Nationality |
| --- | --- | --- |
| Mr. Roland Wong | International Evaluator | |
| Ana Simonovic | National Evaluator | |

GEF Evaluation:

Yes

| | |
| --- | --- |
| GEF Project Title: | Growing Green Business in Montenegro |
| Evaluation Type: | Terminal Evaluation |
| Focal Area: | Climate Change |
| Project Type: | MSP |
| GEF Phase: | GEF-6 |
| GEF Project ID: | 9950 |
| PIMS Number: | 5488 |

Key Stakeholders:
Ministries, local self governments, financial institutions, NGOs, business community representatives
Countries:

MONTENEGRO
Lessons
1.

Lesson #1: If there is willingness of government stakeholders to have frequent interaction with project staff, the project will be more able to deliver outcomes regarding institutional and regulatory reform. This Project has fostered such a relationship and has generated benefits of efficient delivery of the studies (in implementing steps under the EU green recovery programme). Quick adoption of these studies, and accompanying rules and regulations were developed to help the Government, specifically the Eco-Fund and IDF design or reform economic instruments related to environmentally harmful projects and to provide incentives for both reducing pollution and introducing greener products. By comparison, there are countries where relevant government officials were not available to often meet (or meet at all) with project staff causing delays, and in some cases, non-delivery of outcomes involving institutional and regulatory reform work.



2.

Lesson #2: A project that focuses on a single sector will more likely succeed in its objectives of market transformation. In the case of GGB, GEF resources were mainly focused on the development of one renewable energy source, solar photovoltaic installations. Once momentum was achieved on the solar photovoltaic installations, the focus has been on electric vehicles and charging infrastructure. Once momentum has been achieved on electric vehicles and charging infrastructure, focus can be applied elsewhere to address other renewable energies such as biomass, wind or geothermal, and energy efficiency initiatives.



3.

Lesson #3: More time should be allocated to a project with intentions of legislative and financial reform. The 3-year implementation period of GGB was too short. If the GGB Project had 4 years to complete all of its intended works, it would have reached targeted GHG emission reductions.



Findings
1.

The GGB Project has managed to promote private sector investments in low carbon and green businesses in Montenegro. It has done so by:
• produced studies referred in Para 64 that have contributed to changes in the legislation of Montenegro, particularly regarding the installation and use of the solar panels within the Energy Efficiency Law, resulting in €30 million of financial support offered by the Electric Power Industry of Montenegro;
• successful awareness raising of low carbon and green business opportunities amongst potential and actual green business stakeholders;
• training and assisting existing and potential 247+ entrepreneurs through the Green Business Incubator (green business services delivered);
• working with donors such as the EIB, ADF and the Slovak Government to create credit lines for private investment into photo-voltaic installations, other forms of renewable energy, and electric vehicles;
• working with the GoM to provide subsidies from the Eco-Fund and favourable credit lines with a "grant" component to be provided by the IDF. This included Public Calls for solar PV installations, e-vehicles and e-vehicle charging infrastructure with affordable loans and grants considered a precondition and a highly motivating factor for the private sector to invest in the green transition and technologies (maximum envisaged amount of subsidies or grants would be up to €25,000 per project, covering up to 40% of eligible costs);
• the IDF and the Eco Fund cooperating to ensure synergies in actions taken by both institutions towards implementing the Programme to Support Green Business in Montenegro, specifically photovoltaic panels for industry and agriculture;
• facilitating Public Calls for low carbon proposals.



2.

This work was being done despite the change in government and the COVID-19 pandemic (with its social restrictions), causing the Project to fall behind. Regardless, the momentum carried by the Project was sufficient to get these credit lines into place with decent responses to the Calls. The EU's Green Deal helped to determine a new low-carbon development framework and the way Montenegro's financing institutions were able to access funding. As a result, the IDF and Eco-Fund had initiated discussions to obtain funding for low-carbon development with the IDF negotiating with the EIB and AFD and the Eco-Fund negotiating with the Slovenian Government's Climate Fund, and these funds being operational in early 2021.



Recommendations
1

Recommendation 1 (to the Government of Montenegro and UNDP): Include as a part of awareness raising activities, additional presentations on the studies "Policy and incentive options for green businesses in Montenegro in agricultural, tourism and energy sectors" and "Improvement of legislative and regulatory framework for the concept of 'prosumers' in Montenegro".

2

Recommendation 2 (to the Government of Montenegro and UNDP): Monitor post-project GHG emission reductions from projects supported by the Solar 3000+ project, IDF funds, Eco-Fund and other financing initiatives.

3

Recommendation 3 (to UNDP and the Government of Montenegro): Green initiatives and climate actions must be continued with a special focus on improving their competitiveness within the business sector.

4

Recommendation 4 (to UNDP and the Government of Montenegro): In E-vehicle program operated by the Eco-Fund, there should be more focus on vehicle owners who frequently use their vehicles.

5

Recommendation 5 (to the Government of Montenegro and UNDP): Continually update the framework for energy efficiency and renewable energy sources.
Management Response Documents