Independent Country Programme Review: Botswana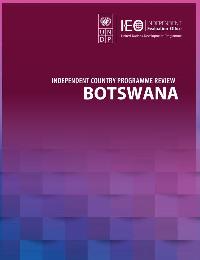 Evaluation Plan:

Evaluation Type:

ICPE/ADR

Planned End Date:

12/2020

Completion Date:

12/2020

Status:

Completed

Management Response:

Yes

Evaluation Budget(US $):

20,000
Title
Independent Country Programme Review: Botswana
Atlas Project Number:
Evaluation Plan:
2018-2021, Independent Evaluation Office
Evaluation Type:
ICPE/ADR
Status:
Completed
Completion Date:
12/2020
Planned End Date:

12/2020

Management Response:
Yes

Focus Area

:

1. Governance
2. Resilience
3. Sustainable
4. Others

Corporate Outcome and Output (UNDP Strategic Plan 2018-2021)

1. Output 1.2.3 Institutions and systems enabled to address awareness, prevention and enforcement of anti-corruption measures to maximize availability of resources for poverty eradication
2. Output 1.4.1 Solutions scaled up for sustainable management of natural resources, including sustainable commodities and green and inclusive value chains
3. Output 2.2.1 Use of digital technologies and big data enabled for improved public services and other government functions
4. Output 2.2.3 Capacities, functions and financing of rule of law and national human rights institutions and systems strengthened to expand access to justice and combat discrimination, with a focus on women and other marginalised groups
5. Output 3.3.1 Evidence-based assessment and planning tools and mechanisms applied to enable implementation of gender-sensitive and risk-informed prevention and preparedness to limit the impact of natural hazards and pandemics and promote peaceful, just and inclusive societies

Evaluation Budget(US $):

20,000

Source of Funding:
Evaluation Expenditure(US $):

20,000

Joint Programme:
No
Joint Evaluation:

No

Evaluation Team members:

| Name | Title | Nationality |
| --- | --- | --- |
| Daniel Alonso | Lead Evaluator | |
| Gilbert Adjimoti | Research Associate | |
| Eduardo Gomez Rivero | Research Associate | |

GEF Evaluation:

No

Key Stakeholders:
Countries:

BOTSWANA
Lessons
Findings
1.

2. Progress Towards Outputs and Contributions to Outcomes

The CPD results framework is organized around three strategic priorities, set in the UNSDCF 2017-2021: • Policy development - strengthening capacities for the development of policy and programmes for economic development, environmental protection and greater democratic governance. • Implementation of policies and programmes - identifying bottlenecks for the effective implementation of existing policies, programmes and legislation at national and district levels. • Data for planning, monitoring and evaluation - collection of comprehensive data to identify, prioritize and track progress of the most vulnerable and disadvantaged groups.

The country programme consists of three portfolio programmes: Economic Diversification and Inclusive Growth (EDIG); Environment and Climate Change (ECC); and Governance, Human Rights, Access to Justice, Women and Youth (GHR). For implementation purposes a programme approach has been adopted for the EDIG and GHR portfolios, while a project approach has been used for the ECC portfolio which mainly comprises Global Environment Facility (GEF) projects. The overall CPD programme budget for 2017-2021 is $35.6 million. An overview of progress and ratings for UNDP outputs and contribution to outcomes is presented for each of the three outcome areas. This overview is complemented by a set of findings on strategic priorities and practice areas (see detailed table in Annex 1). Findings in each section can refer to multiple outcomes.




Tag: Effectiveness Relevance Local Governance Public administration reform Health Crises HIV / AIDS Pandemic Partnership Policies & Procedures Country Government Inclusive economic growth Poverty Reduction Policy Advisory Technical Support

2.

2. Progress Towards Outputs and Contributions to Outcomes (continuation)

Finding 1 – UNDP direct engagement in advocacy, facilitation of technical advisors, provision of training and financing of key background studies have shaped the development of policies in a wide range of areas. Nevertheless, several policies are still pending approval and their implementation has been lagging

UNDP Botswana has played a relevant role in supporting the development of policies and strategies in a wide range of sectors. UNDP led the policy and programme development pillar of the United Nations Sustainable Development Cooperation Framework (UNSDCF), and interviewees recognized its positive contribution. Additionally, UNDP advocated strongly with other United Nations agencies for the inclusion of relevant sustainable development goal (SDG) indicators in polices being developed. UNDP has played an instrumental role in enhancing national capacities to develop a comprehensive strategy for addressing multidimensional poverty. With UNDP support, Botswana has for the first time added the MPI to the mix of indices used to measure poverty for the Botswana Poverty Eradication Policy and Strategy (BPEPS). UNDP also co-organized a well-publicized international conference on "Leave No One behind - The fight against Poverty, Exclusion and Inequality" in March 2018, the first in Africa.




Tag: Effectiveness Efficiency Relevance Partnership Policies & Procedures Project and Programme management Country Government Institutional Strengthening Operational Services Technical Support Leaving no one behind SDG Integration

3.

Finding 2 – UNDP has quickly responded to the COVID-19 crisis and positioned itself as a key interlocutor to support the Government of Botswana in its recovery efforts.

The recent global COVID-19 pandemic has shifted government priorities and impacted the UNDP country programme and delivery, including the postponement and cancellation of some planned activities and repurposing of some programme funds to the urgent COVID-19 responseThe Government requested UNDP support in a wide range of areas as part of its COVID-19 response, and UNDP has quickly adapted to assist. This included UNDP support for setting up institutional mechanisms for the coordination and supervision of the Government's COVID-19 response. For example, through the use of Rapid Response Facility funding, UNDP provided support to set up the National Emergency Operations Centre and COVID-19 Secretariat workstations. This support comprised the provision of technical support, procurement, installation and operationalization of ICT equipment. UNDP was also approached by the national private sector body, Business Botswana, to support the development of a private sector economic recovery plan. This aimed to provide recommendations to the Government of Botswana regarding support for the private sector in the context of Botswana's planned COVID-19 Economic Stimulus Programme and help build a more diverse and resilient economy. UNDP is also collaborating with Business Botswana on a registration processfor both formal and informal sector small-medium enterprises (SMEs) through the Local Enterprise Authority. The information acquired for the registration process is intended as an input for rapid analysis of the impact of COVID-19 on the informal sector and the development of a response plan.




Tag: Effectiveness Private Sector Financing Gender-Based Violence e-Governance Health Crises Pandemic Partnership Strategic Positioning Resilience Inclusive economic growth Institutional Strengthening Technical Support Data and Statistics

4.

Finding 3 – The UNDP programme doesn't yet have a significant gender profile and lacks a gender responsive strategy to effectively integrate gender in its programme. UNDP is slowly progressing towards improved mainstreaming of gender with more GEN 2 projects, but lacks adequate financial and human resources for a more responsive and transformative contribution to gender equality and women's empowerment in the country.

According to the gender markers, work on gender equality and women's empowerment (GEWE) cuts across all interventions of the UNDP Botswana portfolio. The country office participated in the Gender Seal exercise in 2018, but wasn't awarded the seal. This could have been an opportunity for the country office to adopt a holistic approach toward GEWE. Since then, the proportion of gender-focused projects has increased and annual expenditure figures show an increase in programme resources spent on projects designed to promote gender in a significant way (GEN2) (see figure 11, annex 2). However, the country office does not yet have a dedicated, holistic gender strategy to adequately integrate gender, with the necessary buy-in from staff and partners, and strategies for engaging with relevant stakeholders such as women's associations and civil society organisations (CSOs).




Tag: Effectiveness Gender Equality Gender Mainstreaming Women's Empowerment Human rights Parliament Rule of law Joint UN Programme Policies & Procedures

5.

Finding 3 – The UNDP programme doesn't yet have a significant gender profile and lacks a gender responsive strategy to effectively integrate gender in its programme. UNDP is slowly progressing towards improved mainstreaming of gender with more GEN 2 projects, but lacks adequate financial and human resources for a more responsive and transformative contribution to gender equality and women's empowerment in the country. (continuation)

Local gender mainstreaming strategies and action plans were approved in 2018 for the 'Cubango-Okavango River Basin' project, and in 2019 for the 'Kgalagadi and Ghanzi Drylands Ecosystems' project. Other examples of UNDP progress in integrating gender include its involvement in capacity development and public awareness. 35 local chiefs and 25 members of the tribal administration and civil society in the Chobe District received training on GBV response and prevention. 20 women were trained in tourism-related activities along the trail between Gcwihaba and the Tsodilo Hills World Heritage Site. With UNDP support, ten women from the Matute-A-Mongongo women's group were supported to manufacture cooking oil from Mongongo fruits.




Tag: Effectiveness Gender Equality Gender Mainstreaming Gender Parity Gender-Based Violence Women's Empowerment Local Governance Joint UN Programme Policies & Procedures

6.

Outcome 2 - Implementation of policies and programmes

Overview of outcome 2 progress and ratings – UNDP met most of the output indicators for the implementation of policies and programmes. Indicators for outputs 2.1 and 2.2 were mostly achieved. This includes the development of an advocacy and implementation platform for the SDGs and the preparation of a draft implementation plan for BPEPS. The unverified status of indicators for output 3 on improving capacity to deepen democracy outcomes and strengthening governance institutions resulted in an "off-track" rating. However, UNDP has been redefining its governance portfolio during the period under review, having advanced on its human rights efforts. As with outcome 1, the overreaching nature of indicatorsselected for outcome 2 (including the HDI and MPI) does not allow an assessment of the contribution of UNDP programming. The level of UNDP influence was rated as having "insufficient evidence," although numerous activities delivered are considered promising.

Finding 4 – UNDP has responded to Botswana's need for economic diversification and inclusive growth in various ways. While they have generated some output-level results, tangible changes to the economy are yet to be observed at the outcome level.




Tag: Efficiency Private Sector Financing Policies & Procedures Project and Programme management Results-Based Management Inclusive economic growth Jobs and Livelihoods Poverty Reduction Institutional Strengthening National Institutions

7.

Outcome 2 - Implementation of policies and programmes

Finding 5 – UNDP has played a pivotal role in advancing the human rights agenda in Botswana during the period under review, amid a challenging operational environment. However, a human rights lens needs to be fully adopted across the country office programme areas.

The CPD human rights approach was narrowly defined and focused mainly on setting up the National Human Rights Institution (NHRI). However, during the period under review, UNDP Botswana revisited its programme approach on human rights to broaden engagement. UNDP provided assistance to the Office of the President to convene a national symposium, to generate consensus on the model to be adopted regarding human rights. The event was broadcast live on Botswana TV and the Government's Facebook page to increase awareness of the Government's intention. UNDP hasn't yet achieved its target for the creation of the NHRI within the Office of the Ombudsman. However, it was successful in supporting the establishment of a Human Rights Unit within the Office of the President in August 2019, to provide strategic guidance for the promotion and protection of human rights in Botswana. UNDP has been working with the Unit to establish a tripartite Human Rights Consultative Committee, to guide the preparation of the upcoming Human Rights Strategy and Action Plan. UNDP also supported the creation of a human rights recommendations tracking database, to facilitate recording, tracking and reporting on the implementation of human rights recommendations at national level.




Tag: Challenges Effectiveness Sustainability Government Cost-sharing Human rights Justice system Public administration reform Communication Implementation Modality Integration Knowledge management Country Government UN Country Team Policy Advisory Technical Support Data and Statistics

8.

Outcome 2 - Implementation of policies and programmes

Finding 6. UNDP has contributed to climate change adaptation and natural resource management, offering a mix of upstream and downstream support. It also relied on community support to mainstream sustainable land management, achieving results in relation to fire management and farmer revenues.

Environment and Climate Change is the largest practice area for UNDP Botswana in terms of the number of interventions and level of expenditure. UNDP provided support to strengthen national policies, for the preparation of essential ECC knowledge products, to reinforce the governance and capacity of key institutions in this area, as well as implementing community-based projects in rural areas. UNDP assisted the Permanent Okavango River Basin Water Commission to strengthen the joint management and cooperative decision-making capacity of the Cubango-Okavango river basin States. This region is facing several threats and competing demands on the use of the basin's resources. UNDP supported preparative analysis to structure the depth and scope of revisions to the 1994 agreement among the three States. UNDP also supported the establishment of the Cubango-Okavango River Basin Endowment Fund to finance livelihoods and ecosystem interventions in the area. A good example of coordinated upstream and downstream support is the UNDP intervention in the production and utilisation of biomethane from agro-waste. UNDP supported the preparation of the Integrated Waste Management Policy, which creates the legal obligation to manage agro-waste in a specific manner. UNDP was also engaged downstream with the training of 40 masons (60 percent male, 40 percent female) on the construction, operation and maintenance of small-scale biogas digesters. This led to the construction of 30 demonstration sites, an interesting result given that Botswana did not have a single working biogas digester before this intervention. Those biodigesters generate 40 percent savings on household liquefied petroleum gas expenses.




Tag: Agriculture Rural development Climate Change Adaptation Climate change governance Biodiversity Natural Resouce management Effectiveness Knowledge management

9.

Outcome 3 - Data for planning, monitoring and evaluation

Overview of outcome 3 progress – Based on the evidence gathered, UNDP has achieved all output indicators under the data for planning, monitoring and evaluation outcome. This includes the approval of the monitoring and evaluation (M&E) policy and systems, and the preparation of key knowledge products such as the Third National Communication Report to the United Nations Convention on Climate Change. According to the outcome indicators, evidence of UNDP outcome-level influence was 'insufficient.' However, UNDP has made a significant contribution in bringing the SDGs to the centre of the national agenda.

Finding 7– UNDP has played a pivotal role in the nationalization and mainstreaming of the SDG agenda, including development of the national architecture for its implementation. National institutions are now better equipped to integrate the SDGs, though further work is required to effectively develop integrated strategies for their achievement, including to ensure the access, use and availability of data

UNDP provided technical support to the Ministry of Finance and Economic Development (MFED) to strengthen its role as the focal point for the coordination, mainstreaming and implementation of the SDGs at country level. A full-time project manager at MFED provided technical and facilitation support on SDG integration. UNDP support was instrumental in development of the Botswana SDGs Roadmap and National SDGs Communication Strategy and Action Plan. Through the SDG project, steps were taken to ensure the mainstreaming of the SDGs through: • Setting up the institutional mechanisms to effectively coordinate implementation of the SDGs, namely the SDG National Steering Committee, technical task force and SDG National Secretariat. • Development of the SDG coordination and implementation guidelines in 2019, to unpack the complexities of SDG coordination and facilitate MFED to carry out its coordination role effectively. • Preparation of planning guidelines for integrating SDGs, targets and indicators into national/ sectoral plans and programmes, with a structured five-stage planning process. • Providing capacity building support to relevant governmental institutions for mainstreaming, monitoring and reporting on the SDGs in sector plans and planning frameworks, including a workshop on mainstreaming SDG targets and indicators into the National Development Plan (NDP) 11 Performance Framework. • Undertaking awareness and communication activities such as the sensitization of media practitioners on the SDG agenda, briefing of the Parliamentary Select Committee on the SDGs, and dialogue sessions with civil society and academic institutions.




Tag: Effectiveness Private Sector Financing Communication Policies & Procedures Country Government Institutional Strengthening South-South Cooperation Data and Statistics SDG Integration SDG monitoring and reporting Voluntary National Review National Institutions

10.

3. Programme Strategy and Management

Finding 8 – UNDP has leveraged its existing knowledge and research results available internally and externally to design its CPD. However, the use of lessons learned during operationalization of each of the programme areas was limited. The country office has yet to adopt a theory of change approach to its programming, missing an opportunity to strengthen the CPD design and results framework and reinforce synergies between interventions.

There is evidence that the UNCT conducted country-specific analysis to identify key challenges faced by the country, which guided development of the UNDP CPD. The CPD also drew on preceding UNDP work, government documents and analyses by other external partners. This includes lessons learned from final evaluations of the 2015 United Nations Development Assistance programme and the previous CPD. The UNSDCF also reports the utilization of lessons learned on strategic approaches with middle-income countries in crafting the document. At project level, all project documents systematically identify core issues and define subsequent approaches for solutions. However, there is significant variation between projects in the depth and comprehensiveness of the situation analysis. Most importantly, few projects have been built on lessons learned drawn from existing literature or past projects in the same field. The 'Managing the Human Wildlife Interface in the Kgalagadi and Ghanzi Drylands' project is one of few exceptions, as it has made extensive use of lessons learned from similar projects in other countries.




Tag: Efficiency Knowledge management Programme/Project Design Project and Programme management Results-Based Management Theory of Change Country Government

11.

3. Programme Strategy and Management

Finding 10 – The results framework contained in the current CPD does not adequately capture or support measurement of success and UNDP performance in its areas of intervention.

The UNDP outcome-level goals, which directly stem from UNSDCF 2017-2021, are atypical in that they are not oriented thematically but sequentially, covering three areas of institutional challenge faced by the country: i) development of policy and programme design; ii) implementation of policies and programmes; and iii) data for planning, monitoring and evaluation, and decision-making. The CPD results framework defines specific contribution areas for UNDP for each outcome, and performance indicators at the level of both outcome and output, and identifies major national and international partners. However, there are several weaknesses in the results framework, which prevent UNDP from capturing and measuring the extent of its programme delivery and the results in relation to people's lives and the SDGs.

This framework may also have hindered the conceptualization of interventions' results frameworks. These weaknesses include: • The results framework was not based on a theory of change; • Almost all outcome indicators are chosen at a very high level and not appropriate to measure the singular contribution and programmatic performance of UNDP (e.g. use of the HDI for outcomes 1 and 2); • Weaknesses in baseline data to support M&E (no baseline, insufficient frequency or scope of the baseline); • The results framework does not present any midterm targets to monitor progress and identify lessons for timely adaptation of the programme; • A large number of output indicators70 are linked to the enactment of new or revised legislation, creating dependencies outside of direct UNDP influence; • Some output indicators do not adequately capture UNDP achievements; • Several indicators under outputs 1.3 and 2.3 became irrelevant due to the discontinuation of the Health and HIV/AIDS Development (HDD) project; 71 • Some output indicators can't be measured as no data were compiled (e.g. 2.1 I-1 and 2.3 I-2); • ECC is the largest portfolio, but presently there is only one ECC-specific indicator (2.1 I2); • Data sources identified are sometimes inadequate or incomplete. For example, indicator 1.1 I-1 identifies only the Ministry of Environment, Natural Resources Conservation and Tourism;




Tag: Effectiveness Efficiency Sustainability Operational Efficiency Project and Programme management Quality Assurance Results-Based Management Risk Management Theory of Change

12.

3. Programme Strategy and Management

Finding 11 – The monitoring system exhibits shortcomings in terms of the quality, frequency and accuracy of results and reporting. UNDP has yet to take full advantage of its evaluation mechanism in its results-based management.

While all project documents contained an M&E plan, the evaluation team did not find evidence of a strong and reliable monitoring system. This was confirmed during interviews and led some programmes to develop parallel ad hoc reporting systems. The evaluation team obtained limited results documentation such as implementation progress reports, annual reports, supervision reports or evaluations (midterm or final). There is significant variability in the quality and comprehensiveness of results reporting across projects. GEF projects have stronger reporting. Implementation progress reports from GEF projects provide a good example of a solid and consistent reporting structure (for example, the 'Managing the Human-Wildlife Interface' project). In some cases, there are discrepancies in outputs and indicators between the results frameworks and the reporting of results (for example, the 'Project to Support Governance and Human Rights'). Most importantly, the M&E system mostly focuses on capturing outputs rather than higher-level results.




Tag: Efficiency Knowledge management Monitoring and Evaluation Operational Efficiency Project and Programme management Results-Based Management Strategic Positioning Theory of Change Data and Statistics

13.

3. Programme Strategy and Management

Finding 13 – The sustainability of results is a key objective of UNDP Botswana. The country office has adopted specific approaches to ensure sustainability, sometimes at the expense of implementation. There is however insufficient focus on sustainability at the intervention design phase

The sustainability of results is a key objective mentioned across the UNSDCF, the CPD and several evaluations.The country office is addressing sustainability in several ways: • By using NIM: Almost 60 percent of the UNDP Botswana portfolio is implemented under this modality. Interventions implemented under NIM can help to increase national ownership and the sustainability of results. The downside of this approach is that it can reduce efficiency, impeding smooth portfolio implementation and compromising results. This is mainly due to the low capacity of some implementing partners or dependency on bureaucratic government processes or approval. The lower implementation ratio (58 percent) can be partially explained by a comparatively high use of NIM. • By addressing sustainability at project design stage: 45 percent of project formulation documentation addressed sustainability. However, the majority does not include a clear sustainability or exit strategy. This is particularly important for pilot demonstration projects, where it is expected for stakeholders to be empowered through the delivery of activities. For example, communities and community trusts have been critical for project delivery in many GEF projects. However, those partners present weaknesses and vulnerabilities (e.g. remoteness, lack of technical or management skills). These realities make the groundlevel layer of the project a weak link regarding sustainability and scale-up.




Tag: Sustainability Programme/Project Design Project and Programme management Results-Based Management

14.

3. Programme Strategy and Management

Finding 14 – UNDP Botswana has been a trusted and valued partner of the Government but has made limited advances in partnerships with non-state partners. There is scope for UNDP to forge relevant long-term, more systematic partnerships in its programmes

UNDP Botswana enjoys a strong relationship with the Government and a range of national entities. According to partnership surveys in 2012, 2015 and 2017, UNDP is found to be a valuable partner (75 percent in 2015 and 100 percent in 2017, above the UNDP regional and global average of 85 percent in 2017), and aligned to national priorities (100 percent over the three surveys). UNDP engages with the UNCT, and in the UNSDCF shares a common strategic framework, and there is regular exchange of information between United Nations agencies and other development actors, including the participation of the World Bank in UNCT meetings. While these have created a unified view of Botswana's needs and challenges, not many partnerships or joint programmes are forged with other United Nations agencies or development partners. UNDP has no partnerships with multilateral development banks and there are few other development actors in the country due to its upper-middle income status. UNDP is nonetheless ideally positioned within the United Nations system, and there is a substantive opportunity to engage more with other development actors engaged in similar strategic areas, such as the European Union, African Development Bank and the World Bank. The COVID-19 situation is opening up new avenues for collaboration.




Tag: Effectiveness Efficiency Private Sector Financing Partnership Project and Programme management Bilateral partners Country Government International Financial Institutions UN Agencies Civil Societies and NGOs

15.

3. Programme Strategy and Management

Finding 15 – Innovation is a key value proposition for UNDP in Botswana, but the existing projects have not yet fully incorporated it in their design or knowledge management systems.

Innovation is central to what UNDP does in Botswana. 85 percent of its interventions in the 2017-2020 portfolio were tagged by the country office as innovative and/or pilot projects. Nevertheless, the partnership surveys show that UNDP Botswana is perceived to be less innovative now (30 percent in 2017) than before (50 percent in 2012). Innovation is evident at design stage and delivery in some projects (for example engagement with the private sector in the SDP96 and Biodigester projects). The country office also supported the Ministry of Youth to conduct virtual dialogues that were simultaneously broadcast to several different locations in the country. Despite this positive feature of the portfolio, only 50 percent of project documents addressed scale-up or replication approaches for innovative projects, and many through a generic paragraph on replication and upscaling with an unclear strategy after the pilot phase. Those projects don't identify and quantify the financial requirements for scaling, the potential bottlenecks or supportive ecosystem needs for replication, or the data requirements for decision-making on replication. For some projects, replication and scale-up were integrated as part of the results framework. As a result, there are few examples where the Government adopts, and replicates interventions introduced as an innovation with UNDP technical and financial support.




Tag: Efficiency Sustainability Innovation Knowledge management Programme/Project Design Project and Programme management South-South Cooperation Technical Support

16.

Finding 12 – The mobilization of resources is a significant challenge for UNDP, with a declining forecast. Diminishing aid flows to Botswana imply that UNDP needs vigorous resource mobilization efforts from the country office.

According to the CPD resource framework, an estimated $35.62 million in budgetary resources would be required over the cycle. Of this, $0.79 million were expected from regular UNDP resources and the rest from other sources. The country office relies on two main sources of income, government contributions (37 percent) and vertical trust funds, namely GEF (53 percent). GEF has been the only steadily growing source of funding, from $1.4 million in 2013 to $3.15 million in 2020. The Government used to provide around 60 percent of funding for UNDP programmatic interventions, in an "unsigned" agreement. However, over the past few years, the government contribution remained capped at $2.5 million, mainly due to budgetary constraints. The current COVID-19 situation will have a significant budgetary implication for the Government, and consequently for the country office.




Tag: Efficiency Private Sector Financing Resource mobilization Operational Efficiency Policies & Procedures Country Government

17.

Finding 9 – UNDP made significant efforts to align its programme with the country's needs and national priorities. UNDP is strategically positioned, and there is scope to further strengthen its programme delivery by fully exploring its comparative strengths in the country and opportunities for operating in an integrated manner

UNDP is strategically positioned to demonstrate the highest degree of relevance and responsiveness to Botswana's development priorities and needs. The CPD is aligned with national needs and priorities as defined in the Botswana National Vision 2036 and NDP 11. UNDP Botswana is currently active in three practice areas which cover a wide range of development needs, and are considered relevant to address prevailing barriers to development in Botswana.




Tag: Coherence Efficiency Relevance Resource mobilization Donor relations Operational Efficiency Project and Programme management Strategic Positioning
Recommendations
1

For the next programme cycle, UNDP should reinforce its strategic focus on overcoming barriers; on capacity development for policy implementation; and on data for planning and monitoring. Innovation and leveraging UNDP knowledge and expertise should be at the centre of its value proposition. UNDP should also conduct specific analysis in key areas of intervention to strengthen its targeted response, such as relaunching the cancelled evaluation on UNDP contribution to data for planning, monitoring and evaluation. It should ensure an integrated programme approach and mainstream gender and human rights in all of its focus areas.

2

In developing the new CPD, extra care should be taken to develop a thorough theory of change for each of the practice areas and ensure their operationalization in project delivery and CPD outcome-level contributions. This exercise should guide the formulation of the programme design and development of the CPD results framework, but also be used as a basis for establishing substantive dialogue with the Government and all relevant partners.

The CPD results framework should be designed to adequately measure UNDP progress, and only include objectives, targets and indicators on which UNDP can realistically have a measurable influence. To this end, UNDP should work with the UNCT to revisit the structure of its current UNSDCF results framework, building on lessons learned from its implementation. To ensure that the results framework remains relevant, UNDP should proactively revisit and update it as required by changes in the operational and programmatic context. Subsequently, the country office should improve its results-based management and practices so that it better captures UNDP contributions to transformative change, while supporting knowledge management, innovation and communication for development. This should include a review of the programme reporting structure, ensuring consistency and compliance of reporting, and strengthening the M&E and research capacity of individual projects, especially for innovative and pilot projects. The country office should also consider balancing its evaluation plan to better reflect its current portfolio composition and strategic priorities, including more non-GEF evaluations.

3

UNDP should ensure (and clearly document) that future project designs systematically build on existing literature, demonstrated lessons learned and good practices from other projects in the same thematic area and/or country. The country office should ensure that initiatives are built on clear results chains to show how they contribute to the achievement of CPD outputs and outcomes. All projects should include a structured and comprehensive stakeholder analysis to determine the interests and influence of different stakeholders, including in advocating for the implementation of new policies. Beyond preempting likely bottlenecks at implementation, it is also an opportunity for each project to identify potential partnerships, better design a buy-in approach, increase the focus on needs assessments and build potential synergies with the work of other development actors.

4

UNDP should develop and implement a clear and comprehensive strategy for multi-stakeholder partnerships to build alliances, mobilize expertise, knowledge and resources, and promote synergies with interventions of all relevant players. The strategy should be rooted in UNDP comparative advantages and positioning in Botswana and highlight the UNDP value proposition as a partner rather than donor.

The strategy should provide key principles of operational partnerships vis-à-vis CSOs, private sector and other development partners in key areas of common interest. For example, UNDP could explore joint programmes with other United Nations agencies, build stronger partnerships with the African Development Bank and the World Bank on EDIG and data and monitoring, or with the European Union on the GHR portfolio, to name a few. With the private sector, the current initiative of linking buyers with SME suppliers has potential to be scaled up and could address development needs in several other sectors.

5

Sustainability should be more clearly emphasized at the heart of programme/ project design, monitoring and adaptive management efforts. All project documents should ensure clearer sustainability/ exit strategies at design stage. This should particularly be the case for projects unlikely to have a second phase, such as projects with communities and community trusts. Concrete steps should also be taken to monitor and ensure sustainability before completing projects and terminating assistance. Finally, the country office should explore new ways to ensure proper involvement of national counterparts and other stakeholders in adopting and replicating good practices, building on lessons learned from previous UNDP Botswana projects.