De-Risking and Scaling-Up Investment in Energy Efficient Building Retrofits in Armenia Interim Evaluation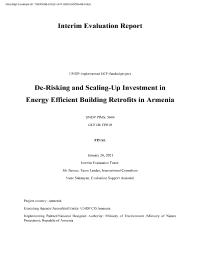 Evaluation Plan:

Evaluation Type:

Mid Term Project

Planned End Date:

03/2021

Completion Date:

03/2021

Status:

Completed

Management Response:

Yes

Evaluation Budget(US $):

30,000
Title
De-Risking and Scaling-Up Investment in Energy Efficient Building Retrofits in Armenia Interim Evaluation
Atlas Project Number:

00098348

Evaluation Plan:
2016-2020, Armenia
Evaluation Type:
Mid Term Project
Status:
Completed
Completion Date:
03/2021
Planned End Date:

03/2021

Management Response:
Yes

Focus Area

:
Corporate Outcome and Output (UNDP Strategic Plan 2018-2021)

1. Output 2.5.1 Solutions developed, financed and applied at scale for energy efficiency and transformation to clean energy and zero-carbon development, for poverty eradication and structural transformation

SDG Goal

Goal 7. Ensure access to affordable, reliable, sustainable and modern energy for all

SDG Target

7.a By 2030, enhance international cooperation to facilitate access to clean energy research and technology, including renewable energy, energy efficiency and advanced and cleaner fossil-fuel technology, and promote investment in energy infrastructure and clean energy technology

Evaluation Budget(US $):

30,000

Source of Funding:
GCF
Evaluation Expenditure(US $):

24,750

Joint Programme:
No
Joint Evaluation:

No

Evaluation Team members:

| Name | Title | Nationality |
| --- | --- | --- |
| Jiri Zeman | Independent Evaluator | CZECH REPUBLIC |
| Nune Sakanyan | Evaluation Support Assistant | ARMENIA |

GEF Evaluation:

No

Key Stakeholders:
GCF, Ministry of Environment
Countries:

ARMENIA
Recommendations
1

Facilitate adoption of amendment to the Law on Multi-Apartment building (MAB) Management without further delays: There is typically a rather lengthy period between approval of a legislation by the Government, subsequent approval by a Parliament, and effective date when new/amended legislation comes into force. The draft amendment of the Law prepared by the Project addresses the main problems housing associations face when financing MAB reconstruction. Without the amendment effectively in force, delivery of energy efficiency retrofit investment in MABs will be at risk. The project can take on a pro-active role and actively support the Committee of Urban Development.

2

Accelerate pending activities/outputs:

a. Publish Measurement, Reporting and Verification/Energy Management Information System (MRV/EMIS) data from retrofitted buildings at the new web platform MRV data from retrofitted buildings are available in the project fact sheets, however, they are not easily accessible at the dedicated project web site. Regularly upload available data to keep the web page updated.

b. Analyze critical path and accelerate all activities on the critical path.

3

Strengthen project-level monitoring:

a.Organize Project Board meetings regularly at least once a year. To avoid any delays due to changes of the Government representation in the Project Board, advocate for and facilitate nomination of their deputies

b. Update logframe targets and specify indicators and targets, where missing Specify project objective indicator and target, and targets for Outputs 1.2, 3.1, and 4.1 which were not specified for all relevant output indicators in the Project Document. Incorporate indicator of Total number of buildings retrofitted and square area in m2 as per GCF recommendations for each building type – public, MAB, SFH. Revise the logframe 1 Status of Implementation: Completed, Partially Completed, Pending. DocuSign Envelope ID: 5310CC39-43AB-4571-AAF7-4CC668A4A045 3 and have it approved by the Project Board. Consider necessity of using the SDG indicator of "Energy intensity measured in terms of primary energy and GDP" and the indicator "M5.0 Strengthened institutional and regulatory systems", or avoid them.

c. Align activity targets achievements in Annual Performance Reports and Quarterly Progress Reports In some cases, there is a difference in achievement rating in APRs (cumulative achievement of project activities) and Quarterly Progress Reports (achievement as per AWP activities) and achievement of relevant outcome and output target as per logframe. See for example APR 2019 rating for activities within Output 1.1 and 1.2 – cumulative rating 20-70%, and rating in quarterly report Q4 2019, where outputs 1.1 and 1.2 are rated as "completed" – but this refers to activities planned as per AWP 2019, rather than for logframe output level targets.

4

Use required criterion of women share as a priority for selection of investment level projects/buildings This GCF gender criterion is intended rather for the whole program or portfolio of individual investment-level projects (energy efficiency retrofits of individual buildings). If applied for each individual building, investment level projects/buildings where women do not dominate would be excluded from reconstruction. Instead, use this criterion as a preference for selection of an individual building for retrofit, and for evaluation of the whole portfolio of subprojects.

5

Evaluate the feasibility of meeting the planned end-of-project targets in three years: Evaluate capacity of construction companies to deliver all planned energy efficiency building retrofits, and estimate achievable time-bound targets. If necessary, consider request for appropriate extension. However, this should not hamper timely implementation of all other activities.