Final Evaluation of Project "Responding to Protection Needs and Supporting Resilience in Places of Detentions in Yemen"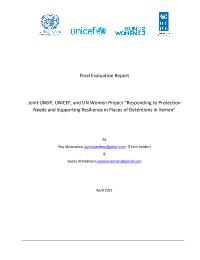 Evaluation Plan:

Evaluation Type:

Final Project

Planned End Date:

07/2021

Completion Date:

07/2021

Status:

Completed

Management Response:

Yes

Evaluation Budget(US $):

90,000
Title
Final Evaluation of Project "Responding to Protection Needs and Supporting Resilience in Places of Detentions in Yemen"
Atlas Project Number:

00105048

Evaluation Plan:
2019-2022, Yemen
Evaluation Type:
Final Project
Status:
Completed
Completion Date:
07/2021
Planned End Date:

07/2021

Management Response:
Yes

Focus Area

:
Corporate Outcome and Output (UNDP Strategic Plan 2018-2021)

1. Output 2.2.3 Capacities, functions and financing of rule of law and national human rights institutions and systems strengthened to expand access to justice and combat discrimination, with a focus on women and other marginalised groups
2. Output 3.2.1 National capacities strengthened for reintegration, reconciliation, peaceful management of conflict and prevention of violent extremism in response to national policies and priorities
3. Output 3.2.2 National and local systems enabled and communities empowered to ensure the restoration of justice institutions, redress mechanisms and community security

SDG Goal

Goal 16. Promote peaceful and inclusive societies for sustainable development, provide access to justice for all and build effective, accountable and inclusive institutions at all levels

SDG Target

16.3 Promote the rule of law at the national and international levels and ensure equal access to justice for all
16.6 Develop effective, accountable and transparent institutions at all levels

Evaluation Budget(US $):

90,000

Source of Funding:
Peacebuilding Support Office
Evaluation Expenditure(US $):

55,300

Joint Programme:
Yes
Joint Evaluation:

Yes

Joint with UN Agencies
Joint with

UNICEF, UNWOMEN

Evaluation Team members:

| Name | Title | Email | Nationality |
| --- | --- | --- | --- |
| Roy Mutandwa | Mr | roymutandwa@gmail.com | |
| Sadek Al Nabhani | Mr | sadekalnabhani@gmail.com | YEMEN |

GEF Evaluation:

No

Key Stakeholders:
Countries:

YEMEN
Lessons
1.

There is value addition in working with local CSOs and other national partners whose capacity is strong in the subject area and have local political acceptance. The local CSOs were able to reach and work in sensitive areas where security restrictions would not have allowed UNDP, UN Women and UNICEF staff to reach.



2.

Application and sustainability of vocational skills is guaranteed by seed capital injection. This gives the graduands a business "kickstart" and incentivize uptake of similar trainings by fellow inmates, and hence contribute towards a critical mass of trained inmates that can either self-employ or be absorbed by the Labour market upon release, and thus contribute towards reducing recidivism.



3.

Support towards capacity building of prison facilities is important as it contributes towards creation of a humane environment in places of detention, with respect of human rights protocols. Feedback from the evaluation indicates that it also contributes to building citizens' trust in government institutions and systems



4.

Implementing a project in a volatile security context calls for flexibility in approaches by adapting work programmes and conflict analysis utilization to cope with changing needs and implementation realities. For example, the use of TPM agencies to monitor progress of project implementation in prisons by the UN Women



Findings
1.

Relevance

The project and all its components remained highly relevant throughout the implementation period. The project responded to the existing context of political instability, institutional incapacitation, and deteriorating rule of law and security situation by creating mechanisms, establishing processes, and implementing interventions appropriate for responding to protection needs, improving basic humanitarian conditions and strengthening the resilience of detainees in places of detention. These were done through having women and children detainees benefiting from reintegration support, assistance with accessing legal aid services, provision of PSS, life-skills vocational training to children whilst in detention, rehabilitation of WASH facilities in some detention centres amongst other interventions. It was through these interventions that the project responded and assisted with building knowledge of corrections and law enforcement staff on treatment of prisoners in accordance with human rights principles, improving basic humanitarian and physical conditions in prisons and to prepare inmates for eventual reintegration in society and reduce recidivism, the project imparted vocational skills and psychosocial support.



Recommendations
1

There is a need to conduct more targeted and in-depth gender awareness- raising and sensitization on the positive roles that could be played by women and the youth in peacebuilding. More capacity building in peace and dialogue issues should be delivered to women, as well as paying more focus on strengthening women's inclusion in decision-making processes to encourage their participation in peace building issues.

2

The project has demonstrated that it is possible to achieve transformative results working in places of detention in volatile contexts. The project interventions should be continued and scaled-up to cover additional governorates, taking note of lessons learned in the current phase.

3

Coordination among rule of law and peacebuilding actors was critical for success. The project should strengthen platforms that bring together and enable information sharing among the attorney general's office, prosecution offices, courts, central corrections/prisons, and other places of detention.

4

The project should strengthen the role of the Ministry of Endowments to invest in child justice complexes and places of safe shelters, including supporting infrastructures for juvenile justice complexes and the development of a child referral mechanism for services.