Independent Country Programme Review: Saudi Arabia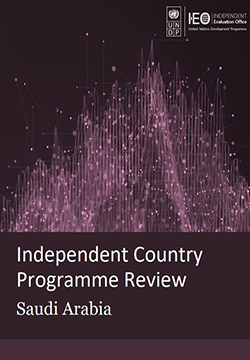 Evaluation Plan:

Evaluation Type:

ICPE/ADR

Planned End Date:

12/2020

Completion Date:

12/2020

Status:

Completed

Management Response:

Yes

Evaluation Budget(US $):

12,000
Title
Independent Country Programme Review: Saudi Arabia
Atlas Project Number:
Evaluation Plan:
2018-2021, Independent Evaluation Office
Evaluation Type:
ICPE/ADR
Status:
Completed
Completion Date:
12/2020
Planned End Date:

12/2020

Management Response:
Yes

Focus Area

:
Corporate Outcome and Output (UNDP Strategic Plan 2018-2021)

1. Output 2.1.2 Capacities developed for progressive expansion of inclusive social protection systems
2. Output 2.3.1 Data and risk-informed development policies, plans, systems and financing incorporate integrated and gender-responsive solutions to reduce disaster risks, enable climate change adaptation and mitigation, and prevent risk of conflict

Evaluation Budget(US $):

12,000

Source of Funding:
Evaluation Expenditure(US $):

12,000

Joint Programme:
No
Joint Evaluation:

No

Evaluation Team members:

| Name | Title | Nationality |
| --- | --- | --- |
| David Slattery | Evaluation Advisor | |
| Harvey Garcia | Lead Evaluator | |
| Gilbert Adjimoti | Research Consultant | |
| Landry Fanou | Research Consultant | |

GEF Evaluation:

No

Key Stakeholders:
Countries:

SAUDI ARABIA
Recommendations
1

Recommendation 1 [Linked to findings 1-4]- UNDP should continue to work in areas where it has established long-term partnerships through umbrella programmes and multi-phased projects, especially in building institutional capacity. UNDP should ensure that the core of its business model in Saudi Arabia is being met by providing its implementing partners with high calibre technical experts. UNDP should continuously build on its results in the areas of economic diversification, transport, tourism, food and drugs, energy, and water. UNDP should document lessons it has learned in implementing long-term programmes/projects and use these as a model for the design of future projects.

2

Recommendation 2 [Linked to finding 6-7, 12 and 14] - In designing and implementing the new CPD, UNDP should strengthen the integration of SDGs in the programme. UNDP should use its comparative advantage as a trusted partner and integrator to respond to emerging political and social developments in sensitive areas of its mandate. UNDP has a long history of positive collaboration with the Kingdom of Saudi Arabia. It has gained enough gravitas to be able to have an honest discussion on issues that are within UNDP's mandate but are deemed sensitive in Saudi Arabia. UNDP should improve mainstreaming of gender and social inclusion (i.e. youth and disability) in a manner and in areas that are contextually appropriate and supportive of Saudi reforms. Substantive revisions of umbrella programmes and multi-phased projects are opportunities to integrate gender and social inclusion where they were not taken into consideration at the design phase.

3

Recommendation 3 [Linked to findings 8-11] - UNDP should pay close attention to the governance of its projects. Clear roles, responsibilities, reporting lines and oversight should be agreed at the start and should be periodically reviewed with the Government. In the same vein, UNDP should improve its monitoring and evaluation practices as a basis for decision-making, and knowledge management. With a long history of working with the Government, UNDP should collect lessons from various experiences in project governance. Because of the nature of its business model, UNDP should be flexible to meet the needs of its government counterpart, keeping in mind that clear lines of reporting, responsibilities, and accountabilities need to be established and reviewed periodically. Mutual accountability of UNDP and the government for monitoring and evaluation needs to be clarified. UNDP should improve Annual Progress Reporting as a management, communication, and oversight tool. UNDP should use a combination of reporting systems to improve adaptive management (i.e. Quarterly Progress Report, MidAnnual Report, Midterm Evaluation, Annual Evaluation, Technical Report, Project Board Meeting, etc.). In the design of the new CPD, UNDP should use outcome and output indicators that are within its influence and it should adjust its results framework to adapt to changes in the country context. In addition, UNDP could enhance the reporting of its achievements by improving the tagging of project results to CPD outcomes/outputs/indicators. To boost connectedness and synergy across projects and ministries, UNDP should organize knowledge generation and sharing activities, particularly among Chief Technical Advisers and National Projects Coordinators. Lesson-sharing events could include projects by other UN agencies to nurture synergies and collaborations and help in delivering results as one UN.

4

Recommendation 4 [Linked to finding 13] - UNDP should fast track the development of its Human Resources Plan. To enhance programme management, UNDP could consider adding new expertise to its pool by analysing potential sectors, issues, and the positioning of the Country Office. If possible, this should be complementary to the UN Country Team. UNDP should allow for ample time for transitions to be made with the incoming and outgoing programme officers.
Management Response Documents