Independent Country Programme Evaluation: Barbados and Eastern Caribbean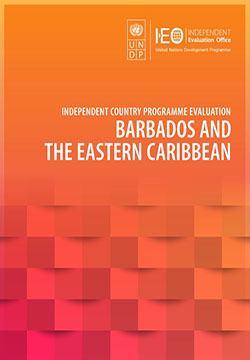 Evaluation Plan:

Evaluation Type:

ICPE/ADR

Planned End Date:

12/2020

Completion Date:

12/2020

Status:

Completed

Management Response:

No

Evaluation Budget(US $):

15,000
Title
Independent Country Programme Evaluation: Barbados and Eastern Caribbean
Atlas Project Number:

82952,106466,99190,89334,88003,76273,89256,79908

Evaluation Plan:
2018-2021, Independent Evaluation Office
Evaluation Type:
ICPE/ADR
Status:
Completed
Completion Date:
12/2020
Planned End Date:

12/2020

Management Response:
Yes

Focus Area

:
Corporate Outcome and Output (UNDP Strategic Plan 2018-2021)

1. Output 1.5.1 Solutions adopted to achieve universal access to clean, affordable and sustainable energy
2. Output 2.1.1 Low emission and climate resilient objectives addressed in national, sub-national and sectoral development plans and policies to promote economic diversification and green growth
3. Output 2.4.1 Gender-responsive legal and regulatory frameworks, policies and institutions strengthened, and solutions adopted, to address conservation, sustainable use and equitable benefit sharing of natural resources, in line with international conventions and national legislation
4. Output 3.3.1 Evidence-based assessment and planning tools and mechanisms applied to enable implementation of gender-sensitive and risk-informed prevention and preparedness to limit the impact of natural hazards and pandemics and promote peaceful, just and inclusive societies

Evaluation Budget(US $):

15,000

Source of Funding:
Evaluation Expenditure(US $):

15,000

Joint Programme:
No
Joint Evaluation:

No

Evaluation Team members:

| Name | Title | Nationality |
| --- | --- | --- |
| Anna Guerraggio | Lead Evaluator | |
| Jin Zhang | Associate Lead Evaluator | |
| Eduardo Gomez Rivero | Research Assistant | |
| Claudia Villanueva | Research Assistant | |
| Carlos Tito Santos | Evaluation Consultant | |

GEF Evaluation:

No

Key Stakeholders:
Countries:

BARBADOS
Recommendations
1

UNDP should maintain its strategic engagement in the Eastern Caribbean islands focused on mitigation of the countries' economic, social and environmental vulnerabilities, and with a stronger focus on inequality reduction and sustainable employment. The impact of extreme weather events has traditionally signalled the importance of continuing support to the islands' resilience, and the outbreak of the COVID-19 pandemic has further exposed the magnitude of their economic vulnerability. UNDP should continue to support Barbados and other OECS countries in their conservation efforts, to protect the marine and coastal resources which remain an important asset to their development. At the same time, UNDP should reinforce its portfolio on the reduction of poverty and socioeconomic vulnerability, given the impact of COVID-19 on jobs and livelihoods. UNDP should also take a more deliberate stance in targeting marginalized and at-risk communities throughout its portfolios. In this respect, the MCO should develop a gender equality and women's empowerment policy and standard operating procedures, with a specific focus on mainstreaming gender in DRR/ CCA and natural resource management projects.

2

UNDP should seek ways to improve the delivery of its projects, by strengthening its operational support and ensuring better integration of procurement in project planning and management. UNDP should increase its operational support to projects, particularly for higher-budget programmatic offers, to avoid delays and promote efficient delivery. Procurement officers should be kept systematically appraised of operational support needs and involved in key project management meetings. To ensure more efficient support to future recovery and reconstruction projects, working with the Crisis Bureau and the Regional Hub, UNDP should map out existing support capacities and prepare a roster of construction companies and suppliers of goods and services in the region. The opportunity to enter into long-term agreements (LTAs) with some of them should be considered.

3

UNDP should enhance the design and management of its projects, to better account for local context and with activities tailored to promote outcome-level change. Adequate resources should be allocated to provide quality assurance, support delivery, and promote sustained institutional strengthening, particularly in the case of NIM projects. UNDP interventions should be based on clear and realistic theories of change, with sustainability strategies informing the results pathways. In the case of multi-country projects, UNDP should promote targeted activities and outputs for each country, adapting to and building on existing institutional structures and capacities. Results frameworks should be improved, to ensure that outcomes reflect the behavioural and institutional change that UNDP aims to contribute to, rather than focusing on the number of countries in which outputs will be achieved.

4

UNDP should further leverage its partnerships with United Nations agencies, regional organizations and non-state actors. The opportunity for UNDP to partner with non-resident agencies in areas of shared interest should continue to be explored. Ahead of the next SPD, and in light of the implementation of the MCO review recommendations, UNDP should engage with the Office of the Resident Coordinator to define how best to configure its support to the Eastern Caribbean countries outside of Barbados. In this context, and in partnership with other United Nations agencies, UNDP should hold country-level consultations to identify opportunities for joint/ coordinated interventions to meet the countries' unmet needs, in line with the SDGs. In consultation with the regional bureau, UNDP should consider ways to strengthen its partnership with OECS, not only through direct support but taking advantage of the Organization's convening power to share knowledge and good practices. UNDP should be more innovative and promote further partnerships with the private sector and civil society, building on the example set by the Accelerator Lab.

5

UNDP should take measures to ensure the financial sustainability of its office in the Eastern Caribbean, which is supporting the needs of ten vulnerable countries. UNDP should formulate a resource mobilization strategy for the next SPD, encompassing bilateral and vertical funds (such as GEF, the Green Climate Fund and the Adaptation Fund) as well as further exploring the opportunities for government contributions. At the same time, given the limitations and unpredictability of donor funding, the MCO should engage in a discussion with headquarters on the opportunity to receive extra core resources to mitigate the countries' vulnerabilities to environmental and socioeconomic shocks, in line with the recommendation of the evaluation of UNDP cooperation in middle-income countries.