Independent Country Programme Review: Tanzania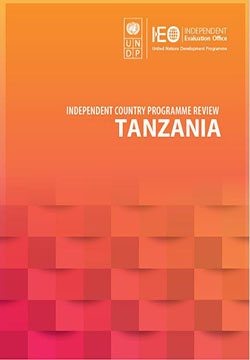 Evaluation Plan:

Evaluation Type:

ICPE/ADR

Planned End Date:

12/2020

Completion Date:

12/2020

Status:

Completed

Management Response:

No

Evaluation Budget(US $):

20,300
Title
Independent Country Programme Review: Tanzania
Atlas Project Number:

92478,92475,95419,87082,61971,94384,95421,61743,68935,61911,61988,61944,68928,61947,60996,85002,103503,86631,102787,83123

Evaluation Plan:
2018-2021, Independent Evaluation Office
Evaluation Type:
ICPE/ADR
Status:
Completed
Completion Date:
12/2020
Planned End Date:

12/2020

Management Response:
Yes

Focus Area

:

1. Poverty
2. Governance
3. Sustainable
4. Energy
5. Others

Corporate Outcome and Output (UNDP Strategic Plan 2018-2021)

1. Output 1.1.1 Capacities developed across the whole of government to integrate the 2030 Agenda, the Paris Agreement and other international agreements in development plans and budgets, and to analyse progress towards the SDGs, using innovative and data-driven solutions
2. Output 1.1.2 Marginalised groups, particularly the poor, women, people with disabilities and displaced are empowered to gain universal access to basic services and financial and non-financial assets to build productive capacities and benefit from sustainable livelihoods and jobs
3. Output 1.2.1 Capacities at national and sub-national levels strengthened to promote inclusive local economic development and deliver basic services including HIV and related services
4. Output 1.2.2 Enabling environment strengthened to expand public and private financing for the achievement of the SDGs
5. Output 1.2.3 Institutions and systems enabled to address awareness, prevention and enforcement of anti-corruption measures to maximize availability of resources for poverty eradication
6. Output 1.5.1 Solutions adopted to achieve universal access to clean, affordable and sustainable energy
7. Output 2.1.2 Capacities developed for progressive expansion of inclusive social protection systems
8. Output 2.2.2 Constitution-making, electoral and parliamentary processes and institutions strengthened to promote inclusion, transparency and accountability
9. Output 2.2.3 Capacities, functions and financing of rule of law and national human rights institutions and systems strengthened to expand access to justice and combat discrimination, with a focus on women and other marginalised groups
10. Output 2.4.1 Gender-responsive legal and regulatory frameworks, policies and institutions strengthened, and solutions adopted, to address conservation, sustainable use and equitable benefit sharing of natural resources, in line with international conventions and national legislation
11. Output 3.2.1 National capacities strengthened for reintegration, reconciliation, peaceful management of conflict and prevention of violent extremism in response to national policies and priorities

SDG Target

1.2 By 2030, reduce at least by half the proportion of men, women and children of all ages living in poverty in all its dimensions according to national definitions
1.3 Implement nationally appropriate social protection systems and measures for all, including floors, and by 2030 achieve substantial coverage of the poor and the vulnerable
1.4 By 2030, ensure that all men and women, in particular the poor and the vulnerable, have equal rights to economic resources, as well as access to basic services, ownership and control over land and other forms of property, inheritance, natural resources, appropriate new technology and financial services, including microfinance
1.a Ensure significant mobilization of resources from a variety of sources, including through enhanced development cooperation, in order to provide adequate and predictable means for developing countries, in particular least developed countries, to implement programmes and policies to end poverty in all its dimensions
13.1 Strengthen resilience and adaptive capacity to climate-related hazards and natural disasters in all countries
13.2 Integrate climate change measures into national policies, strategies and planning
13.b Promote mechanisms for raising capacity for effective climate change-related planning and management in least developed countries and small island developing States, including focusing on women, youth and local and marginalized communities
15.2 By 2020, promote the implementation of sustainable management of all types of forests, halt deforestation, restore degraded forests and substantially increase afforestation and reforestation globally
16.1 Significantly reduce all forms of violence and related death rates everywhere
16.3 Promote the rule of law at the national and international levels and ensure equal access to justice for all
16.5 Substantially reduce corruption and bribery in all their forms
16.6 Develop effective, accountable and transparent institutions at all levels
7.1 By 2030, ensure universal access to affordable, reliable and modern energy services
7.2 By 2030, increase substantially the share of renewable energy in the global energy mix
7.3 By 2030, double the global rate of improvement in energy efficiency

Evaluation Budget(US $):

20,300

Source of Funding:
Evaluation Expenditure(US $):

20,300

Joint Programme:
No
Joint Evaluation:

No

Evaluation Team members:

| Name | Title | Nationality |
| --- | --- | --- |
| David Slattery | Lead Evaluator | |
| Nicki Mokhtari | Associate Lead Evaluator | |
| Landry Fanou | Associate Lead Evaluator | |

GEF Evaluation:

No

Key Stakeholders:
Countries:

TANZANIA (UNITED REPUBLIC OF )
Recommendations
1

[Linked to findings 1, 2, 6, 7, 8, 10, 11 and 12] UNDP should sharpen its focus on strategic yet realistic objectives for policy and systems change, grounded in an understanding of the political economy and UNDP comparative advantages. While targeted local initiatives provide valuable tangible results, the key test of UNDP value as a development partner relates to its capacity to positively influence policy and systems at scale. Towards this objective, UNDP should look for opportunities for a more coordinated and collaborative approach to addressing key development challenges, working with other United Nations agencies, including through the Resident Coordinator's office where appropriate, and development partners and international financial institutions, where grants can be a powerful tool for influence in support of loans. Such partnerships are crucial for UNDP to exert influence on a larger scale, scaling up pilot initiatives and sustainability of results. To facilitate this, UNDP will need to improve its communication with development partners and take a more prominent role in convening key stakeholders, acting as a neutral interlocuter and bridge between development partners and the Government. This was identified as an area of weakness in both this evaluation and the 2015 IEO evaluation. Given trends in the policy environment since the 2015 election, the space for UNDP to operate within the governance sphere will continue to be constrained. The challenge will be to identify areas of work that are closely aligned with government objectives and the interests and resources of other development partners. Private sector engagement, anti-corruption efforts and environmental management are areas that provide good prospects for expansion. To inform UNDP positioning and provide a basis for policy dialogue in focus areas, UNDP should establish a tracking system to monitor government commitments to results in areas where UNDP is working (gender equality, poverty and environment).

2

[Linked to findings 1, 3, 9, 11, 12 and 15] The country office should address fragmentation in its portfolio by: minimizing the number of small projects that rely mostly or exclusively on core funding; reducing the number of projects overall; and developing larger, more integrated and more flexible programmes. In doing so, UNDP will need to actively manage the risk that flexibility leads to a loss of coherence and strategic clarity. To mitigate this risk, UNDP must ensure that such programmes are supported by robust governance arrangements, transparent decision-making criteria for allocating resources to funded activities, clear project and staff performance expectations and assumptions, realistic budgeting and strong engagement and monitoring by staff. Because of their political and managerial complexities, management of flexible programme mechanisms needs to be led by staff with the highest level of development and management expertise available. UNDP should avoid engaging in small scale pilots that do not provide a plausible pathway for policy influence and engagement.

3

[Linked to findings 1, 4, 13 and 14] To ensure that the programme remains relevant and effectively contributes to outcome level results, the country office should annually review and update country level results frameworks, including consideration of: (a) removal of outputs that would not adversely affect the achievement of agreed outcomes; (b) adding new outputs as necessary to achieve a given agreed outcome; and c) changing outcome or output indicators to adequately measure the programme contribution. The results framework should be designed to adequately measure UNDP progress, and only include objectives, targets and indicators on which UNDP can realistically have a measurable influence. To this end, UNDP should work with the United Nations country team to revisit the structure of its current UNDAP results framework, building on lessons learned from its implementation. The country office should improve its results-based management practices to better support adaptive management, innovation, knowledge management, communication and accountability. This should focus on improving the quality and compliance of reporting, as well as strengthen the M&E and research capacity of individual projects, especially for innovative and pilot projects. Particular attention should be paid to ensuring clarity of intended outcomes in the case of initiatives approved with large funding gaps, given that these gaps will necessarily require reduced scope or ambition, or both. A theory of change approach should be used to ensure that there are plausible linkages between programme activities and intended outcomes, with a view to avoiding the implementation of activities that do not meet this test.

4

[Linked to findings 1, 6 and 10] To increase the scale of the impacts in gender equality, UNDP must move beyond a focus on participation and engagement, or small-scale interventions, to changes that have the potential to provide transformational benefits.

Although UNDP has integrated gender mainstreaming across its programming during this CPD cycle, and achieved a silver gender seal status, UNDP should build on its awareness raising and capacity building work to support programming that provides tangible benefits for women and marginalized populations, ensuring that no one is left behind. UNDP can increase the impact of its gender mainstreaming work by focusing on poor and marginalized women, for example through access to justice work, and scaling up interventions that economically empower women, for example through agriculture value chains. The issue of the sustainability of gender equality results is important, particularly for the gender mainstreaming in parliamentary work. However, the effort to institutionalize gender mainstreaming through this intervention, for example through guidelines, induction training for new members of parliament and gender responsive budget analysis, is a good practice that should be replicated across other governance interventions in order to ensure sustainability. The country office should also continue with gender mainstreaming efforts and aim to upgrade to their gender seal status from silver to gold in the next CPD period.