Independent Country Programme Review: Mongolia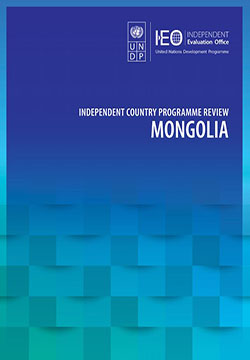 Evaluation Plan:

Evaluation Type:

ICPE/ADR

Planned End Date:

12/2020

Completion Date:

12/2020

Status:

Completed

Management Response:

Yes

Evaluation Budget(US $):

42,700
Title
Independent Country Programme Review: Mongolia
Atlas Project Number:

104078,62394,110325,99307,73029,96426,65831,95244,74554,110242,80572,86244,87440,86253

Evaluation Plan:
2018-2021, Independent Evaluation Office
Evaluation Type:
ICPE/ADR
Status:
Completed
Completion Date:
12/2020
Planned End Date:

12/2020

Management Response:
Yes

Focus Area

:

1. Poverty
2. Governance
3. Sustainable
4. Energy
5. Gender
6. Others

Corporate Outcome and Output (UNDP Strategic Plan 2018-2021)

1. Output 1.1.1 Capacities developed across the whole of government to integrate the 2030 Agenda, the Paris Agreement and other international agreements in development plans and budgets, and to analyse progress towards the SDGs, using innovative and data-driven solutions
2. Output 1.1.2 Marginalised groups, particularly the poor, women, people with disabilities and displaced are empowered to gain universal access to basic services and financial and non-financial assets to build productive capacities and benefit from sustainable livelihoods and jobs
3. Output 1.2.1 Capacities at national and sub-national levels strengthened to promote inclusive local economic development and deliver basic services including HIV and related services
4. Output 1.4.1 Solutions scaled up for sustainable management of natural resources, including sustainable commodities and green and inclusive value chains
5. Output 1.5.1 Solutions adopted to achieve universal access to clean, affordable and sustainable energy
6. Output 2.4.1 Gender-responsive legal and regulatory frameworks, policies and institutions strengthened, and solutions adopted, to address conservation, sustainable use and equitable benefit sharing of natural resources, in line with international conventions and national legislation
7. Output 2.6.1 Capacities strengthened to raise awareness on and undertake legal, policy and institutional reforms to fight structural barriers to women's empowerment

SDG Target

1.1 By 2030, eradicate extreme poverty for all people everywhere, currently measured as people living on less than $1.25 a day
13.2 Integrate climate change measures into national policies, strategies and planning
15.1 By 2020, ensure the conservation, restoration and sustainable use of terrestrial and inland freshwater ecosystems and their services, in particular forests, wetlands, mountains and drylands, in line with obligations under international agreements
15.2 By 2020, promote the implementation of sustainable management of all types of forests, halt deforestation, restore degraded forests and substantially increase afforestation and reforestation globally
15.3 By 2030, combat desertification, restore degraded land and soil, including land affected by desertification, drought and floods, and strive to achieve a land degradation-neutral world
15.4 By 2030, ensure the conservation of mountain ecosystems, including their biodiversity, in order to enhance their capacity to provide benefits that are essential for sustainable development
15.6 Promote fair and equitable sharing of the benefits arising from the utilization of genetic resources and promote appropriate access to such resources, as internationally agreed
15.9 By 2020, integrate ecosystem and biodiversity values into national and local planning, development processes, poverty reduction strategies and accounts
16.6 Develop effective, accountable and transparent institutions at all levels
16.7 Ensure responsive, inclusive, participatory and representative decision-making at all levels
17.14 Enhance policy coherence for sustainable development
17.16 Enhance the Global Partnership for Sustainable Development, complemented by multi-stakeholder partnerships that mobilize and share knowledge, expertise, technology and financial resources, to support the achievement of the Sustainable Development Goals in all countries, in particular developing countries
17.19 By 2030, build on existing initiatives to develop measurements of progress on sustainable development that complement gross domestic product, and support statistical capacity-building in developing countries
17.9 Enhance international support for implementing effective and targeted capacity-building in developing countries to support national plans to implement all the Sustainable Development Goals, including through North-South, South-South and triangular cooperation
5.5 Ensure women's full and effective participation and equal opportunities for leadership at all levels of decision-making in political, economic and public life
6.6 By 2020, protect and restore water-related ecosystems, including mountains, forests, wetlands, rivers, aquifers and lakes
7.3 By 2030, double the global rate of improvement in energy efficiency

Evaluation Budget(US $):

42,700

Source of Funding:
Evaluation Expenditure(US $):

42,700

Joint Programme:
No
Joint Evaluation:

No

Evaluation Team members:

| Name | Title | Nationality |
| --- | --- | --- |
| Tina Tordjman-Nebe | Lead Evaluator | |
| Genta Konci | Associate Lead Evaluator | |
| Landry Fanou | Associate Lead Evaluator | |
| Landry Fanou | Research Assistant | |
| Erdenechimeg Ulziisuren | Evaluation Consultant | |
| Dr. Gereltuya Altankhuyag | Evaluation Consultant | |
| Dr. Narantuya Tungalag | Evaluation Consultant | |
| Dr. Narantuya Danzan | Evaluation Consultant | |
| Dustin Barter | Evaluation Consultant | |
| Elberel Tumenjargal | Evaluation Consultant | |

GEF Evaluation:

No

Key Stakeholders:
Countries:

MONGOLIA
Recommendations
1

[Linked to findings 7-9 and crosscutting review questions on COVID-19 and positioning] – UNDP Mongolia should further refine and communicate its business case for 2021/2022 by further clarifying its offer and specifying how it intends to contribute to UNDAF objectives as well as the COVID-19 response and recovery in the immediate future. UNDP should intensify its efforts to help the Government mitigate the socioeconomic impact of COVID-19, specifically on groups severely affected by the pandemic. This may involve institutional strengthening of the Cabinet Secretariat's Office as the main influencer during the crisis, as well as the provision of country-specific analyses and solutions, focusing on the most sensitive governance and economic issues only a trusted partner like UNDP can tackle. To clarify its offer for 2021/2022, the country office should produce a concise theory of change diagram visualizing in an attractive format who UNDP Mongolia is and how it makes a difference. A short accompanying narrative should identify new intervention areas, synergies and coherence across portfolios, linkages with other actors, opportunities for innovation and new partnerships, as well as the main underlying assumptions and risks. Such a document can serve as a UNDP business case, positioning the office as a key partner with a distinct profile in Mongolia's dwindling donor landscape. It can also guide the country office in identifying activities with sustainability potential, and serve as a communication tool to clarify the UNDP role vis-a-vis the United Nations Resident Coordinator's Office, which has been a source of confusion.

2

[Linked to findings 3, 4, 10 and 12, review question 2 and crosscutting review questions on COVID-19 and positioning] - UNDP Mongolia should immediately review its staffing structure and tweak its results framework to ensure it is realigned with recent adjustments and fit for purpose. Staffing for programme delivery needs to be reviewed as soon as possible. The office may require additional personnel to implement pipeline projects starting in 2021, which is challenging given a relatively high existing management efficiency ratio. In addition, programme leads need more space to engage in innovation, strategic and thought leadership work, including on the UNDP normative position to be conveyed through advocacy and policy advisory (see recommendations 3 and 5). As a preliminary step to act on recommendation 1, the results chain for the vast existing outcome 1 must be reviewed, to ascertain that the country office can prove its contribution. To ensure that progress can be fully demonstrated by the end of the programme cycle, adjustments to the measurement of results (e.g. tweaking indicators, revising targets, including disaggregation where possible) should be made as soon as possible and in line with the updated theory of change. New programmes (GCF, Korea International Cooperation Agency, EU) will also need to be reflected adequately in both outcome areas and should not be made to fit under existing headings where contribution lies elsewhere. This will help demonstrate the full extent of the country office results, and position UNDP as the partner of choice on a wide range of issues for the 2023-2027 period.

3

[Linked to findings 1-9 and 11, and review question 1] – In the next programme cycle, UNDP Mongolia should further enhance its focus on knowledge brokering, analysis and technical leadership, specifically in the realm of socioeconomic analysis. An emphasis on 'upstream' work is expected from UNDP in middle-income countries. Delinking from the United Nations coordination role has freed space for UNDP Mongolia to focus on its key strengths and take on a more substantive leadership role, as demonstrated in the socioeconomic response to COVID-19. In its 2023-2027 CPD, UNDP needs to position itself clearly as a thought leader, and promote its added value in policy advice and knowledge brokering across the United Nations system and beyond. UNDP has the necessary clout to lead transformative, green and gender-responsive change in Mongolia, and must now take decisive steps to model a whole-of-society approach engaging broadly beyond the Government. Programme area leads need to adapt and operationalize the latest corporate guidance for the context of Mongolia, build on recently initiated socio-economic and poverty analysis, and invest in demonstration projects to ensure proof of concept by collaborating with the upcoming A-Lab. The office is well positioned for analytical work in some of the programmatic areas that were left aside in 2017-2022 such as skills/ employment and youth, and could consider re-engaging more strongly, if a consolidated portfolio allows. International and national partners are available to collaborate, including the National Statistical Office, ILO, UNFPA and various civil society platforms (see recommendation 5).

4

[Linked to findings 1-6 and 11, and review question 1] – Programmatically, UNDP Mongolia should add depth to its governance programme and consolidate its portfolio on the environmentpoverty nexus. There are significant opportunities to push for a "green recovery" from COVID-19, from which UNDP could capitalize. UNDP Mongolia must make some tough choices regarding its highly fragmented portfolio on sustainable development, streamlining it and perhaps emphasizing some new areas going forward (see recommendation 3). A particularly promising area into which to bundle some existing work and partnerships is "green recovery" from COVID-19, where significant national and donor interest is noted. Such a focus would need to be operationalized further but could build on various assets in the office (history of engagement around climate and environmental issues, incoming GCF funding etc.). The UNDP governance portfolio could be more ambitious and normatively based, to include a strong focus on anti-corruption, gender and human rights. Emphasis on citizen voice needs to be reinstated as a core area of what UNDP does, believes in and stands for. Development financing is an additional growth area where UNDP expertise is sought and valued. The Mongolia country office is beginning to make a name for itself as a lab for experimentation in this area. This should be continued and knowledge, including of failed pilots and experiments, should be documented and shared widely across the region and globally.

5

[Linked to findings 5-7 and 9, review question 2 and crosscutting review questions on positioning] – UNDP Mongolia should branch out its partnerships, with particular focus on civil society. Being a thought leader and knowledge broker includes broad engagement and consultation, moving beyond servicing the Government of Mongolia, and promoting multidisciplinary solutions. Conducting a comprehensive landscape analysis of development partners and resources to 'build forward better' could provide entry points. Such a piece could build on the work of this review and its by-products such as the 'formative analysis'. Partnership with civil society, or indeed strengthening civil society in its role to hold government accountable and accelerate the achievement of the SDGs, should be a key focus of UNDP work in Mongolia. This implies support beyond grant management to include areas such as the improvement of legal frameworks for civil society engagement, capacity development in the realms of advocacy, policy analysis and international fundraising, as well as facilitating direct engagement with government authorities at different levels. Partnerships with other non-state actors, such as foundations or the private sector, should also be examined and pursued where strategic, ethical and feasible.