Independent Country Programme Evaluation: Vietnam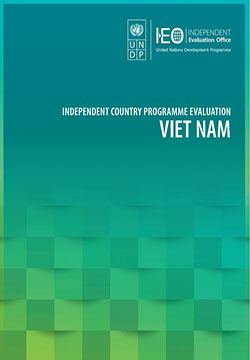 Evaluation Plan:

Evaluation Type:

ICPE/ADR

Planned End Date:

12/2020

Completion Date:

12/2020

Status:

Completed

Management Response:

Yes

Evaluation Budget(US $):

60,900
Title
Independent Country Programme Evaluation: Vietnam
Atlas Project Number:
Evaluation Plan:
2018-2021, Independent Evaluation Office
Evaluation Type:
ICPE/ADR
Status:
Completed
Completion Date:
12/2020
Planned End Date:

12/2020

Management Response:
Yes

Focus Area

:
Corporate Outcome and Output (UNDP Strategic Plan 2018-2021)

1. Output 1.1.1 Capacities developed across the whole of government to integrate the 2030 Agenda, the Paris Agreement and other international agreements in development plans and budgets, and to analyse progress towards the SDGs, using innovative and data-driven solutions
2. Output 1.1.2 Marginalised groups, particularly the poor, women, people with disabilities and displaced are empowered to gain universal access to basic services and financial and non-financial assets to build productive capacities and benefit from sustainable livelihoods and jobs
3. Output 1.2.1 Capacities at national and sub-national levels strengthened to promote inclusive local economic development and deliver basic services including HIV and related services
4. Output 1.2.2 Enabling environment strengthened to expand public and private financing for the achievement of the SDGs
5. Output 1.2.3 Institutions and systems enabled to address awareness, prevention and enforcement of anti-corruption measures to maximize availability of resources for poverty eradication
6. Output 1.3.1 National capacities and evidence-based assessment and planning tools enable gender-responsive and risk-informed development investments, including for response to and recovery from crisis
7. Output 1.4.1 Solutions scaled up for sustainable management of natural resources, including sustainable commodities and green and inclusive value chains
8. Output 1.5.1 Solutions adopted to achieve universal access to clean, affordable and sustainable energy
9. Output 1.6.1 Country-led measures accelerated to advance gender equality and women's empowerment
10. Output 1.6.2 Measures in place and implemented across sectors to prevent and respond to Sexual and Gender Based Violence (SGBV)
11. Output 2.1.1 Low emission and climate resilient objectives addressed in national, sub-national and sectoral development plans and policies to promote economic diversification and green growth
12. Output 2.1.2 Capacities developed for progressive expansion of inclusive social protection systems
13. Output 2.2.1 Use of digital technologies and big data enabled for improved public services and other government functions
14. Output 2.2.2 Constitution-making, electoral and parliamentary processes and institutions strengthened to promote inclusion, transparency and accountability
15. Output 2.2.3 Capacities, functions and financing of rule of law and national human rights institutions and systems strengthened to expand access to justice and combat discrimination, with a focus on women and other marginalised groups
16. Output 2.3.1 Data and risk-informed development policies, plans, systems and financing incorporate integrated and gender-responsive solutions to reduce disaster risks, enable climate change adaptation and mitigation, and prevent risk of conflict
17. Output 2.4.1 Gender-responsive legal and regulatory frameworks, policies and institutions strengthened, and solutions adopted, to address conservation, sustainable use and equitable benefit sharing of natural resources, in line with international conventions and national legislation
18. Output 2.5.1 Solutions developed, financed and applied at scale for energy efficiency and transformation to clean energy and zero-carbon development, for poverty eradication and structural transformation
19. Output 2.6.1 Capacities strengthened to raise awareness on and undertake legal, policy and institutional reforms to fight structural barriers to women's empowerment
20. Output 3.1.1 Core government functions and inclusive basic services4 restored post-crisis for stabilisation, durable solutions to displacement and return to sustainable development pathways within the framework of national policies and priorities
21. Output 3.2.1 National capacities strengthened for reintegration, reconciliation, peaceful management of conflict and prevention of violent extremism in response to national policies and priorities
22. Output 3.2.2 National and local systems enabled and communities empowered to ensure the restoration of justice institutions, redress mechanisms and community security
23. Output 3.3.1 Evidence-based assessment and planning tools and mechanisms applied to enable implementation of gender-sensitive and risk-informed prevention and preparedness to limit the impact of natural hazards and pandemics and promote peaceful, just and inclusive societies
24. Output 3.3.2 Gender-responsive and risk-informed mechanisms supported to build consensus, improve social dialogue and promote peaceful, just and inclusive societies
25. Output 3.4.1 Innovative nature-based and gender-responsive solutions developed, financed and applied for sustainable recovery
26. Output 3.5.1 Energy access re-established for crisis-affected populations, with a focus on gender-sensitive, risk-informed and sustainable recovery
27. Output 3.6.1 Energy access re-established for crisis-affected populations, with a focus on gender-sensitive, risk-informed and sustainable recovery
28. Organisational Output 1.1 Evidence based performance analysis and decision making at all levels
29. Organisational Output 1.2 Cross-cutting approaches fully integrated into UNDP programmes and projects
30. Organisational Output 1.3 High quality audits and evaluations producing implementable solutions
31. Organisational Output 2.1 UNDP recognized as a development partner of choice
32. Organisational Output 2.2 Cost-sharing agreements and projects ensure full cost recovery
33. Organisational Output 2.3 Quality and efficient management services to support programme delivery
34. Organisational Output 2.4 Efficient, professional and transparent procurement and value for money
35. Organisational Output 2.5 UNDP equipped with talented and diverse workforce
36. Organisational Output 3.1 Common UN approaches facilitate efficient and accelerated joint delivery against sustainable development objectives
37. Organisational Output 3.2 UNDP support to integrated SDG delivery
38. Organisational Output 3.3 UNDP contributes fully to the Resident Coordinator function

Evaluation Budget(US $):

60,900

Source of Funding:
Evaluation Expenditure(US $):

60,900

Joint Programme:
No
Joint Evaluation:

No

Evaluation Team members:

| Name | Title | Nationality |
| --- | --- | --- |
| Yogesh Kumar Bhatt | Lead Evaluator | |
| Genta Konci | Associate Lead Evaluator | |
| John Carter | Evaluation Consultant | |
| Thaveeporn Vasavaku | Evaluation Consultant | |
| Yen Hoang Tran | Evaluation Consultant | |

GEF Evaluation:

No

Key Stakeholders:
Countries:

VIET NAM
Recommendations
1

UNDP should develop a detailed theory of change, that identifies a clear intervention logic with intermediate results and a pathway to change, including a detailed assessment of risks and assumptions. This ToC should guide the integration of upstream and downstream interventions as well as promote synergy across and within projects, outputs and outcomes, especially if used as a living document that is consulted and adjusted on a regular basis throughout the programme cycle.

A clearer and more detailed ToC should serve as the basis for the development of the new UNDP country programme and all subsequent projects and programmes (including regional programmes) that directly contribute to the key results and CPD outcomes. This will mean investing more time and resources in the design stages to understand (and design for) the drivers of change, clarify the intervention logic and impact pathways, and conduct thorough mapping and analysis of stakeholders to clarify roles, assumptions, unintended outcomes and future expectations. It will also help to identify and promote linkages between projects, build synergy and ensure coherence. A detailed ToC with short- and medium-term changes will help to map sequences of interventions and design appropriate and realistic indicators to capture intermediate changes that lead to results and CPD outcomes. This should be complemented by institutional mechanisms that allow for periodic critical self-reflection based on project and programme monitoring and evaluation tools and after-action reviews, using the ToC as a dynamic and living tool for learning and decision-making. The ToC needs to be updated, revised and adjusted to reflect any changes during the programme cycle. A solid ToC should guide the CPD in identifying activities with sustainable potential. This means that UNDP should avoid focusing on small-scale activities, or individual campaigns and conferences. The current programme cycle has innovatively introduced the concept of AAA governance. One way forward is to map out how this may be developed and applied to policy processes with involvement from CSOs and the private sector to ensure their sustainability. Pilot activities need to build on areas of comparative strength, past experience and demand from Government, and be grouped or designed so as to contribute collectively to results.

2

The M&E system needs to focus on outcome-level results, with more frequent project monitoring and evaluation throughout the programme cycle, to capture system-level and real change on the ground, including transformative changes in gender equality and women's empowerment and leaving no one behind. Findings from M&E should be consistently reflected upon and used for learning and management decision-making to allow for necessary course corrections in a timely manner.

Currently, UNDP reporting mostly collects reports from national partners (ministries in the NIM modality). These reports generally focus on activities, numbers of participants, policies etc., as well as assumptions about implicit benefits deriving from geographical coverage. They do not provide much evidence or analysis of changes in the quality of life of beneficiary households or improved opportunities for small businesses in a way that can be related back to policy change. More appropriate performance indicators to which different projects will contribute, and frequent independent performance monitoring, would clarify what exactly has changed and help to develop business cases showing net benefits that would, in turn, support the replication and scale-up of new initiatives. The identification of appropriate performance indicators, based on the needs and expectations of stakeholders, will also help to track changes in the behaviours, lives, livelihoods and quality of life of communities, which can be measured during the life of the project rather than relying on national-level statistics that cannot easily be tracked back to specific initiatives. This will help to shift the focus from a strictly regulatory approach to adaptive management, and shape future policy direction for meaningful impact.

In a similar vein, UNDP needs to better leverage the gains it has made in mainstreaming and promoting gender equality and women's empowerment initiatives, to go beyond reporting numbers towards identifying improvements in normative behaviour and changes in the lives and livelihoods of vulnerable communities. Together with the review of gender markers, a report on the implementation of the country office Gender Strategy could help to inform gender analysis and provide an accurate picture of the level of focus needed for transformative results in leaving no one behind.

3

UNDP needs to systematically reflect on how to properly design and measure the impact of the capacity building and awareness raising that it supports.

UNDP needs a more comprehensive approach to capacity development, delineating the pathway to change and knowledge management processes that ensure the integration of learning and innovation into the capacity development process. UNDP needs to reflect more systematically on how to support the capacity building of its implementing partners across the country programme portfolio, including those at subnational levels, to promote innovation and achieve the objective of 'leave no one behind' outlined in the National Target programme on Sustainable Poverty Reduction, the Master Plan for Social Assistance, and the upcoming National Target programme on Social Economic Development in Ethnic Minority Areas.

UNDP has supported Viet Nam to develop comprehensive policy frameworks with innovative components. Implementation success largely depends on the capacities of responsible agencies. UNDP and national partners should discuss and agree which aspects of their capacities will be required to implement multidimensional poverty reduction programmes, social assistance frameworks and climate change and adaptation programmes. Emphasis should be given to both institutional capacity and the capacities of individual actors involved in implementation. The former may include areas such as coordination with public and private institutions and technological infrastructure, while the latter may include technical capacities in areas of planning and monitoring. For national stakeholders in the public sector, and for capacity development results to be sustainable, UNDP should advocate for the expected capacities to be integrated into job descriptions, performance management and promotion in the civil service system.

4

UNDP should support the Government of Viet Nam to undertake an evidence-based full life cycle analysis of some of its procurement programmes and key state industries, that will help to monetize the benefits of 'green' actions, to inform the Government, private sector and civil society and promote their scale-up and sustainability.

To address the lack of understanding behind 'green' concepts like 'green growth', 'green chemistry' and 'circular economy', and their limited replication, uptake and buy-in across various stakeholder groups including government ministries, private sector and civil society, UNDP should advocate for, and (resources permitting) support the Government in undertaking, economic valuations in some important sectors, to monetize the long-term benefits of green actions.

The energy, transport and food production sectors are three examples where there is significant government control and intervention that could be changed to allow a 'greener' approach. A full life cycle comparative analysis of actions in these three areas, based on the previous ten years and projected ten years into the future, should include and examine all inputs, actions and outputs for energy consumption, waste production and inefficiencies. These should then be monetized in terms of GHG emissions and environmental quality, so that the benefits of investments in "greening" these sectors are clearer and understood by all stakeholders: the Government, private sector, civil society, and citizens. This would help to ensure better buy-in, promoting the uptake of green concepts and their sustainability.

5

UNDP needs to develop a balanced portfolio to ensure its leading role in governance. Support to accountability institutions and mechanisms with an aim to buttress government integrity and performance should be considered as key components of UNDP efforts.

UNDP needs to draw lessons learned from its past support to strengthening accountability institution mechanisms, in order to identify entry points for future interventions to promote government integrity and performance. These should contribute to the Government's priorities for 2021-2030, especially the transition to IR 4.0 in the context of COVID-19 recovery and the digital transformation of Government administrative service delivery. The focus on accountability institutions and mechanisms should also contribute to the socioeconomic and associated rights of marginalized groups (people with disabilities, women, ethnic minorities, MSMEs). A ToC that includes a component of accountability institutions and mechanisms should also link how these changes may expedite SDG implementation in general, and national development plans in particular.