Independent Country Programme Evaluation: Chad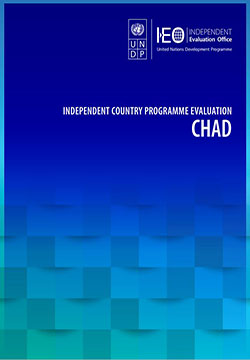 Evaluation Plan:

Evaluation Type:

ICPE/ADR

Planned End Date:

12/2020

Completion Date:

12/2020

Status:

Completed

Management Response:

No

Evaluation Budget(US $):

41,600
Title
Independent Country Programme Evaluation: Chad
Atlas Project Number:

108259,92674,102740,108400,92733,42574,75006,65658,34276,97175,81417,96110,94760,102739,102936,78852,82488,110187,60561,72718,102737,82591,105936,11777

Evaluation Plan:
2018-2021, Independent Evaluation Office
Evaluation Type:
ICPE/ADR
Status:
Completed
Completion Date:
12/2020
Planned End Date:

12/2020

Management Response:
No

Focus Area

:

1. Poverty
2. Governance
3. Sustainable
4. Others

Corporate Outcome and Output (UNDP Strategic Plan 2018-2021)

1. Output 1.1.2 Marginalised groups, particularly the poor, women, people with disabilities and displaced are empowered to gain universal access to basic services and financial and non-financial assets to build productive capacities and benefit from sustainable livelihoods and jobs
2. Output 1.2.1 Capacities at national and sub-national levels strengthened to promote inclusive local economic development and deliver basic services including HIV and related services
3. Output 1.4.1 Solutions scaled up for sustainable management of natural resources, including sustainable commodities and green and inclusive value chains
4. Output 2.1.2 Capacities developed for progressive expansion of inclusive social protection systems
5. Output 2.2.3 Capacities, functions and financing of rule of law and national human rights institutions and systems strengthened to expand access to justice and combat discrimination, with a focus on women and other marginalised groups
6. Output 3.2.1 National capacities strengthened for reintegration, reconciliation, peaceful management of conflict and prevention of violent extremism in response to national policies and priorities

SDG Target

1.2 By 2030, reduce at least by half the proportion of men, women and children of all ages living in poverty in all its dimensions according to national definitions
1.3 Implement nationally appropriate social protection systems and measures for all, including floors, and by 2030 achieve substantial coverage of the poor and the vulnerable
1.4 By 2030, ensure that all men and women, in particular the poor and the vulnerable, have equal rights to economic resources, as well as access to basic services, ownership and control over land and other forms of property, inheritance, natural resources, appropriate new technology and financial services, including microfinance
1.5 By 2030, build the resilience of the poor and those in vulnerable situations and reduce their exposure and vulnerability to climate-related extreme events and other economic, social and environmental shocks and disasters
1.a Ensure significant mobilization of resources from a variety of sources, including through enhanced development cooperation, in order to provide adequate and predictable means for developing countries, in particular least developed countries, to implement programmes and policies to end poverty in all its dimensions
10.1 By 2030, progressively achieve and sustain income growth of the bottom 40 per cent of the population at a rate higher than the national average
10.2 By 2030, empower and promote the social, economic and political inclusion of all, irrespective of age, sex, disability, race, ethnicity, origin, religion or economic or other status
13.1 Strengthen resilience and adaptive capacity to climate-related hazards and natural disasters in all countries
13.2 Integrate climate change measures into national policies, strategies and planning
15.1 By 2020, ensure the conservation, restoration and sustainable use of terrestrial and inland freshwater ecosystems and their services, in particular forests, wetlands, mountains and drylands, in line with obligations under international agreements
16.3 Promote the rule of law at the national and international levels and ensure equal access to justice for all
16.6 Develop effective, accountable and transparent institutions at all levels
16.7 Ensure responsive, inclusive, participatory and representative decision-making at all levels
3.3 By 2030, end the epidemics of AIDS, tuberculosis, malaria and neglected tropical diseases and combat hepatitis, water-borne diseases and other communicable diseases
5.2 Eliminate all forms of violence against all women and girls in the public and private spheres, including trafficking and sexual and other types of exploitation
5.5 Ensure women's full and effective participation and equal opportunities for leadership at all levels of decision-making in political, economic and public life
9.4 By 2030, upgrade infrastructure and retrofit industries to make them sustainable, with increased resource-use efficiency and greater adoption of clean and environmentally sound technologies and industrial processes, with all countries taking action in accordance with their respective capabilities

Evaluation Budget(US $):

41,600

Source of Funding:
Evaluation Expenditure(US $):

41,600

Joint Programme:
No
Joint Evaluation:

No

Evaluation Team members:

| Name | Title | Nationality |
| --- | --- | --- |
| Amanuel Zerihoun | Lead Evaluator | |
| Anna Guerraggio | Associate Lead Evaluator | |
| Gedeon Djissa | Associate Lead Evaluator | |

GEF Evaluation:

No

Key Stakeholders:
Countries:

CHAD
Recommendations
1

UNDP should seek to bring conceptual clarity to key areas of its programming offer and strengthen differentiation between them, to formalize concrete intervention models that reflect regional differences in context, conflict dynamics and economic opportunities. There is little evidence of a differentiated intervention model in community engagement and livelihood activities promoted by UNDP over time across interventions and geographical areas. Clarifying the conceptual underpinning of interventions by anchoring them in long-term objectives and specific theories of change and monitoring could help clarify further the UNDP approach and support its resource mobilization efforts.

2

UNDP should continue to strengthen synergies across the different interventions of its portfolio and seek to consolidate its various programme interventions through an area-based and integrated programming approach. The next country programme results framework should reflect area-based programming emerging in the Lake Chad areas, building on the current field presence and stabilization programmes, which are expected to shift from immediate response to resilience building. Given the resource constraints, UNDP should avoid spreading its limited resources across geographical areas, in particular where it does not have field presence, to ensure the consolidation and oversight of programme results and continuity of support for local development and governance. In this regard, the country office should seek to identify efficient and effective modalities for its field presence.

3

UNDP should seek to expand its strategic partnerships and programme collaboration with other development actors across all areas of its portfolio to optimize the potential of its technical assistance, advocacy and community-level interventions for sustainable development results. UNDP in Chad is engaged in several partnerships with other United Nations and bilateral agencies, but these have been uneven across its portfolio, in particular in the area of environment and climate change, and inclusive growth. The country office should seek opportunities to establish and further anchor its interventions and implementation strategy with those of other development partners.

4

The country office should strengthen its conflict-sensitive programming in the design, implementation and follow-up of its interventions, to ensure that they effectively contribute to sustainable peace objectives and support learning and adaptation for future interventions. Conflict in Chad is multidimensional and localized, and investment is required to understand the effect of interventions, including unintended positive and negative outcomes. There has been limited evidence or attention to measure the medium- and long-term effects of programme interventions over time, reflecting gaps in conflict-sensitive programming. There is a need to increase and sustain the production of rigorous and insightful situational analysis and action research programming, to complement robust programme M&E activities, which are not likely to be enough given the fluid and complex context.

5

The country office should consider integrating data as a cross-cutting dimension of its next country programme, and leveraging its project implementation and field presence to invest in knowledge production with a view to strengthening the technical underpinning of its interventions, advocacy and resource mobilization efforts. UNDP project strategies have included knowledge generation considerations, but this did not materialize due to lack of funding and prioritization. UNDP should seek to prioritize the use of its core resources for a credible and robust learning and research agenda to leverage and accompany its programme interventions. There is scope for UNDP to leverage its positioning to spearhead partnerships for rigorous data-driven initiatives, in line with its global mandate as a United Nations custodian for reporting on selected target indicators of SDG 16. This could help strengthen UNDP country-level thought leadership and positioning.

6

UNDP should update and prioritize the implementation of its office-wide gender strategy, with a view to expanding its support from gender-targeting towards more gender-responsive and transformative interventions. During this country programme period, UNDP has made progress in including women as target beneficiaries of its interventions when compared with the previous country programme period. At the exception of its emerging engagement in GBV and citizen participation, gender mainstreaming has remained limited to the targeting of women beneficiaries. UNDP should prioritize the effective implementation of its office-wide gender strategy and commitment to the UNDP corporate seal exercise as a way to continue enhancing its contribution to GEWE across its programmes.

7

UNDP Headquarters and the Regional Bureau for Africa should continue their support to the country office and consider deploying expertise to reduce reliance on project funding and enable the country office to internalize specialist expertise to support strategy development and its positioning. The interventions and funding opportunities of the Regional Bureau have been useful to enable the country office programmatic response in areas such as PVE, electoral assistance and others. Project expertise depends in large part on project funding, which has been limited during this country programme period. Considerations should be given to supporting the deployment of interim expertise to fill recurrent gaps in the availability of project leadership and support overall UNDP positioning and resource mobilization. This could prioritize gender, climate change adaptation and DRR. The deployment of expertise could also help to address uncertainty over the predictability of project funding, to support the gradual scaling of project support.