Independent Country Programme Evaluation: Peru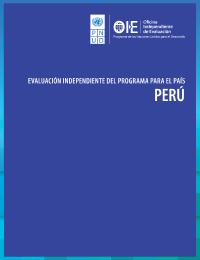 Evaluation Plan:

Evaluation Type:

ICPE/ADR

Planned End Date:

12/2021

Completion Date:

12/2021

Status:

Completed

Management Response:

No

Evaluation Budget(US $):

25,000
Title
Independent Country Programme Evaluation: Peru
Atlas Project Number:
Evaluation Plan:
2018-2021, Independent Evaluation Office
Evaluation Type:
ICPE/ADR
Status:
Completed
Completion Date:
12/2021
Planned End Date:

12/2021

Management Response:
No

Focus Area

:

1. Poverty
2. Governance
3. Resilience
4. Sustainable
5. Others

Corporate Outcome and Output (UNDP Strategic Plan 2018-2021)

1. Output 1.1.1 Capacities developed across the whole of government to integrate the 2030 Agenda, the Paris Agreement and other international agreements in development plans and budgets, and to analyse progress towards the SDGs, using innovative and data-driven solutions
2. Output 1.1.2 Marginalised groups, particularly the poor, women, people with disabilities and displaced are empowered to gain universal access to basic services and financial and non-financial assets to build productive capacities and benefit from sustainable livelihoods and jobs
3. Output 1.2.3 Institutions and systems enabled to address awareness, prevention and enforcement of anti-corruption measures to maximize availability of resources for poverty eradication
4. Output 2.1.2 Capacities developed for progressive expansion of inclusive social protection systems
5. Output 2.2.3 Capacities, functions and financing of rule of law and national human rights institutions and systems strengthened to expand access to justice and combat discrimination, with a focus on women and other marginalised groups
6. Output 2.3.1 Data and risk-informed development policies, plans, systems and financing incorporate integrated and gender-responsive solutions to reduce disaster risks, enable climate change adaptation and mitigation, and prevent risk of conflict
7. Output 2.4.1 Gender-responsive legal and regulatory frameworks, policies and institutions strengthened, and solutions adopted, to address conservation, sustainable use and equitable benefit sharing of natural resources, in line with international conventions and national legislation

Evaluation Budget(US $):

25,000

Source of Funding:
Evaluation Expenditure(US $):

25,000

Joint Programme:
No
Joint Evaluation:

No

Evaluation Team members:

| Name | Title | Nationality |
| --- | --- | --- |
| Daniel Alonso Valckx | Lead Evaluator | |
| Juan David Gonzales | Associate Lead Evaluator | |
| Claudia Villanueva | Research Associate | |
| Alex Pires Carneiro | Evaluation Consultant | |
| Elisa Gomez | Evaluation Consultant | |
| Claudia Villanueva | Evaluation Consultant | |
| Daniel Alonso Valckx | Lead Evaluator | |
| Juan David Gonz les (coautor) | Associate Evaluator | |
| Claudia Villanueva | Research Associate | |
| Alex Pires Carneiro | Evaluation Consultant | |
| Elisa G mez | Evaluation Consultant | |
| Claudia Villanueva | Evaluation Consultant | |

GEF Evaluation:

No

Key Stakeholders:
Countries:

PERU
Recommendations
1

Theory of change and M&E: In developing the new CPD, extra care should be taken to develop a thorough ToC for the new programme, and ideally for each of its outcomes. This exercise should guide the formulation of the CPD and its results framework, and be used as a basis for establishing substantive dialogue with the Government and all relevant partners. The development of a ToC should build on the momentum and gains made during this programme cycle on portfolio integration, by establishing additional cross-sector and cross-portfolio interventions in which UNDP has found a niche (i.e. economic development underpinning sustainable environment protection) or potential niche (i.e. support to COVID-19 recovery through decentralized authorities and green recovery). This should also be an opportunity to explore further scale-up of the UNDP territorial approach to other areas. The CPD results framework should be designed to adequately measure UNDP progress and only include objectives, targets and indicators on which UNDP can realistically have a measurable influence. Results frameworks should reflect the behavioural and institutional change that UNDP is pursuing. This should support the ongoing efforts of the country office to strengthen its RBM and practices to better capture UNDP contributions to transformative change. To facilitate systematic measurement, UNDP Peru should develop metadata to summarize and track the progress achieved on each established indicator. To ensure the results framework remains relevant, UNDP should proactively revisit and update it when required by changes in the operational and programmatic context. Finally, to promote a results-oriented M&E culture within the country office, M&E and reporting training should be regularly conducted for M&E focal points, programme staff and national counterparts that participate in a project. M&E should be considered by all staff and partners as an opportunity to promote adaptive management, learning and improvement, rather than a compliance requirement

2

Programmatic focus: In framing the next country programme, UNDP should consider increasing its focus on government digitalization, youth engagement and empowerment, while also pursuing efforts to refine and scale-up its regional approach. Actions promoting post-pandemic socioeconomic recovery should be mainstreamed across all outcome areas, with particular emphasis on economic reactivation strategies that leave no one behind. The COVID-19 pandemic has shown how essential technology has become for governments to ensure the continuity of public services, access up-to-date data to adapt interventions to a rapidly evolving context and disseminate reliable information. This demonstrated the pivotal role of technology in an effective, inclusive and accountable government. Hence, in the area of governance, UNDP should give continuity to Executive GORE Digital and capitalize on the experience acquired in other regions, including the Anticorruption Accelerator Labs initiative, to increase digitalization and the application of technology in governance including public service delivery, public portals and feedback systems, among others. New technologies provide opportunities for the Government to become more transparent and accountable and will help comply with Peru's commitment to Open Government. This requires fostering digital literacy for civil servants and the general population. As COVID-19 pushes millions of people into poverty, young people have been disproportionately hit by the pandemic which is not only destroying their jobs and employment prospects, but also disrupting their education and training and having a serious impact on their mental health. The evaluation concludes that more attention could have been given to youth engagement and empowerment, and the following programmatic cycle is an opportunity for UNDP to deepen its collaboration with key partners working on employability and youth to tackle and anticipate the challenges young formal and informal workers will face. At subnational level, UNDP could capitalize on work initiated with RDAs to tackle economic development issues across the country, while ensuring dedicated attention to youth and inclusive and sustainable growth. UNDP should further promote and scale-up the territorial approach it has been implementing in Peru for nearly 10 years, by supporting its partners to adapt the model in regions where social conflict between extractive industries and communities could benefit from EbA and CbA approaches to local development.

3

Partnership, communication and mobilization: UNDP should further leverage its partnerships with United Nations agencies, development banks and non-state actors. Under the guidance of the Resident Coordinator and in partnership with other United Nations agencies, including non-resident agencies, UNDP should actively seek opportunities and identify joint/ coordinated interventions to meet the country's needs, and jointly raise resources. Consultations should be held with key regional organizations, in particular IFIs, in areas of shared interest. Undertaking these new forms of partnerships would require UNDP Peru to learn from the experience of other country offices with existing IFI partnerships. UNDP should also build on its improved positioning and encouraging progress to further promote partnerships with the private sector, civil society and academia. This could be an opportunity for the country office to establish alternative lines of work for sustainability and thus partially mitigate the significant challenge of high turnover in government officials during this programme cycle. The country office should resume and finalize the development of its knowledge management strategy to encourage the collection of good practices, lessons learned and defining processes to facilitate information for external key stakeholders and across the organization. This should promote UNDP accountability but also contribute to advocacy with external partners, including potential new partners. When developing its new decentralized evaluations and selecting areas to be evaluated, beyond ensuring that they are balanced and representative of the new CPD programme structure, the office should consider its advocacy/ positioning efforts. Additionally, the country office should consider developing parallel or even merged partnership, mobilization and communication strategies. This would allow the office to build synergies and complementarities and ultimately leverage partnerships and positioning.

4

Gender and Leaving No One Behind: UNDP should maintain its efforts to strengthen the gender dimension of its programme, building on results and lessons from the implementation of its gender strategy 2017-2021 and initiatives in support of GEWE to fully integrate GEWE into its portfolio. Cross-sector and cross-portfolio synergies with transformative potential for women should be developed and integrated in support of the Government's gender needs. UNDP should capitalize on the results achieved in GEWE and the experience gained through implementation of its gender strategy thus far, by ensuring that the new CPD is strongly rooted in GEWE and leave no one behind principles. The country office should revisit its gender strategy internally, with the support of the RBLAC gender expert. The new gender strategy should include measurable and quantifiable objectives. Realistic indicators and timeframe should be included to track and measure progress towards results. The development of the new gender strategy should be a stepping-stone for the country office ambition to achieve gender seal certification.

The development of the new gender strategy should be an opportunity to strengthen the institutional structure supporting the achievement of gender objectives. For this purpose, the country office should consider recruiting a full-time gender specialist at P4. This would allow it to better integrate GEWE into programme design, deepen interconnectivity between portfolios and ultimately achieve more gender transformative results. It could also be an opportunity for UNDP to engage more systematically the expertise and resources of other United Nations agencies to expand outreach in this area. The development of the new gender strategy should be an opportunity to further engage with the Government to identify areas of collaboration and design/ deliver effective interventions with transformative GEWE potential. UNDP should continue to advocate for the participation of women in governance and indigenous women's rights, and strengthen collaboration with civil society partners, especially CSOs. It must also intensify its efforts to support the economic empowerment of women. UNDP gender efforts and initiatives should target the root causes of gender inequality and contribute to changes in gender norms, women's rights and cultural values that attain transformational changes in the country.