MID-TERM EVALUATION OF THE UNITED NATIONS – ACTION FOR COOPERATION AGAINST TRAFFICKING IN PERSONS (UN-ACT) PROJECT (2014-2018)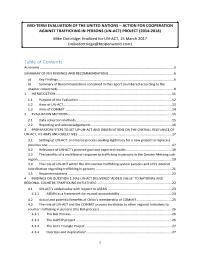 Evaluation Plan:

Evaluation Type:

Mid Term Project

Planned End Date:

03/2017

Completion Date:

03/2017

Status:

Completed

Management Response:

No

Evaluation Budget(US $):

20,000
Title
MID-TERM EVALUATION OF THE UNITED NATIONS – ACTION FOR COOPERATION AGAINST TRAFFICKING IN PERSONS (UN-ACT) PROJECT (2014-2018)
Atlas Project Number:
Evaluation Plan:
2014-2017, RBAP
Evaluation Type:
Mid Term Project
Status:
Completed
Completion Date:
03/2017
Planned End Date:

03/2017

Management Response:
Yes

Focus Area

:
Corporate Outcome and Output (UNDP Strategic Plan 2018-2021)

1. Output 2.3 Capacities of human rights institutions strengthened

Evaluation Budget(US $):

20,000

Source of Funding:
Donor funding
Evaluation Expenditure(US $):

20,000

Joint Programme:
No
Joint Evaluation:

No

Evaluation Team members:

| Name | Title | Nationality |
| --- | --- | --- |
| Mike Dottridge | Mr | |

GEF Evaluation:

No

Key Stakeholders:
New Zealand Embassy, Human Rights Watch, EU
Countries:

THAILAND
Recommendations
1

1. RECOMMENDATION 3.1: Donors should continue supporting UN-ACT with its structure of a regional office and national staff who are well placed to gain the confidence of counter-trafficking actors at national level.

2

UN-ACT should urge COMMIT States to make the two COMMIT Capacity Assessment reports (Report I: A Capacity Assessment of the COMMIT Process: Six Country Profiles; Report II: Capacity Development Strategies for the COMMIT Process) available to donors and other counter-trafficking actors in South East Asia, or to publish them.

3

Donors should continue supporting UN-ACT as long as there is evidence that it delivers 'added value' in comparison to other counter-trafficking initiatives in Southeast Asia and that it involves (and has some impact in) China.

4

UN-ACT should recommend to the six governments participating in the COMMIT Process that they consider developing the responsibilities of the rotating chair (of COMMIT meetings occurring in the year when a State exercises the chairmanship)

5

UN-ACT national staff should continue to provide detailed advice to government officials in the country in which they are based about possible provisions in MoUs and would benefit from (1) further technical training on the implementation mechanisms mentioned by Carl De Faria [COMMIT capacity assessment consultant] (e.g., on the Standard Operating Procedures developed in other countries to guide assisted voluntary returns), so that they can recommend the inclusion of these to the government officials they work with, and (2) being able to make a visit themselves to the country with which an MoU is about to be signed or reviewed in order to be briefed on the specific predicament of trafficking victims which needed addressing and which a bilateral MoU should address.

6

UN-ACT should arrange a discussion about the benefits (and disadvantages) of research in general and monitoring and evaluation (M&E) in particular with relevant COMMIT State officials (e.g., in a forum such as the Project Management Board or a Regional COMMIT Task Force meeting), in order to promote better understanding among officials of the purposes of both research and M&E and how and when their results should be made public. While UN-ACT should refer to the importance of research and the systematic collection of data about human trafficking, the emphasis should be on collecting data about counter-trafficking responses by government agencies and on data that demonstrates whether States are meeting commitments made in SPA IV or other COMMIT decisions.

7

UN-ACT should take advantage of the Common Guidelines for the Greater Mekong Sub-region on victim identification and referral mechanisms to explain (again) the benefits of M&E and of accountability among the six States and develop M&E methods specifically to monitor the implementation of the Common Guidelines.

8

UN-ACT should continue to take advantage of any opportunities for strengthening ties between COMMIT States and Malaysia, and seek the advice of the UN Resident Coordinator in Malaysia on ways of doing so.

9

UN-ACT should provide information to Filipino government officials about the COMMIT Process, so that cooperation and exchanges of expertise can be organized when the COMMIT agenda includes topics on which Filipino government officials are known to have substantial expertise or experience (such as the protection of migrant workers).

10

UN-ACT should invite the Chinese authorities to monitor the extent to which new methods for protecting and assisting Cambodian women in China are applied and support them in doing so during the coming year. Once UN-ACT is satisfied that lessons about the effectiveness of particular methods have been learnt, it should consider proposing its services for further research in China and neighbouring States concerning marriage migration and possible trafficking involving women from other countries.

11

UN-ACT should develop a communications strategy in early 2017 and use an opportunity in 2017 to relaunch the UN-ACT 'brand'.

12

UN-ACT should share the COMMIT agenda in advance with CSOs that express an interest in influencing the anti-trafficking policies or activities of the COMMIT Process or States participating in the process, or which have supported child or youth representatives in attending COMMIT meetings in the past. Such CSOs and NGOs should be urged to give priority to consulting children, young adults or other adults who have personal experience that is relevant to upcoming COMMIT decisions and using appropriate methods to present the views of such people during COMMIT meetings. While it is not essential to consult children on every issue, special efforts should be made to consult adolescents or young adults who have relevant experience (e.g., of being trafficked or exploited while they were children) whenever COMMIT considers questions affecting children.

13

As part of a wider revised communications strategy, UN-ACT should provide relevant CSOs with more ample information about both the specific agenda of upcoming COMMIT meetings and the longer-term agenda of what issues are under discussion by COMMIT, along with the various opportunities to influence decisions on these issues, both at national level and at COMMIT national and regional meetings.

14

If UN-ACT has sufficient income to make small grants available to CSOs again in the future, both the availability of income to CSOs from other sources and the impact a grant from the United Nations has on the CSO's ability to cooperate with government or law enforcement agencies or officials in the country where it is based should be added to the criteria for allocating grants.

15

If consideration is given to prolonging UN-ACT beyond 2018 (as it should be), UN-ACT's Project Management Board and the UNDP itself should consider whether the UNDP is the most suitable organization within the UN system to host UN-ACT or any other UN structure would provide a more appropriate alternative. However, following the major changes in 2013/2014, the evaluator notes that it would be preferable for UN-ACT to remain attached to UNDP. In the meantime, UN-ACT should seek more pro-active support from UN Resident Coordinators, for example in China and Thailand, in promoting its profile and in negotiating access for COMMIT in neighbouring States such as Malaysia. Similarly, if the project is prolonged beyond 2018, a project advisory structure should be established to give UN-ACT advice in between annual PMB meetings.

16

UN-ACT's Regional Project Manager should seek a higher profile in 2017 and 2018, both within the region and at international level.

17

UN-ACT should explore the possibility of playing a more substantial coordination role within the UN and international system if and when Alliance 8.7 is developed to coordinate international efforts to achieve Sustainable Development Target 8.7.

18

UN-ACT needs a higher public profile (in particular by developing and implementing a communications strategy) to convince existing and potential donors of its usefulness. In itself, this requires a new investment or diverting existing income from its intended purpose, which means convincing UN-ACT's existing donors of the need to make this investment.

19

UN-ACT should contact the Japan International Cooperation Agency (JICA), Canada and Switzerland to request financial support and to provide them with information about its activities and the results of this evaluation. UN-ACT should consider approaching such donors with proposals for limited funding for specific activities.

20

UN-ACT should advise its existing donors and potential new international donors that it is considered ill-advisable to try and make the COMMIT Process and the UN-ACT financially self-sufficient, on the grounds that this would be divisive (among the six COMMIT States) and almost certainly result in less cooperation among the six. In contrast, external finance (from donors outside the six COMMIT States) is vital to facilitate inter-state cooperation, precisely because the finance is perceived to be neutral.

21

RECOMMENDATION 10.4: UN-ACT must develop a new communications strategy to convince existing and potential donors that the UN-ACT plays a useful role and does not exist simply to support a bureaucratic process. Both a communications strategy and a fund-raising strategy should emphasis UN-ACT's value added and the activities it organizes.

22

UN-ACT must also develop a new fund-raising strategy which puts more emphasis on pro-active approaches to state-run donor agencies (rather than waiting for them to decide on their priorities and to issue a call for applications), emphasizing the benefits of multilateral responses to human trafficking (and approaching donors who are known to be committed to supporting multilateral counter-trafficking initiatives, rather than purely bilateral or non-governmental ones). UN-ACT should continue to urge COMMIT States to finance as large a proportion of the activities they are committed to organizing under SPA IV as possible, while bearing in minds the risks of asking any of the COMMIT States to finance a much larger proportion of UN-ACT's budget.

23

UN-ACT should promote further research about trafficking for forced marriage (and about forced and early marriage in general) in all the COMMIT States, with UN-ACT itself giving special attention to cases involving women or girls who are victims of transnational trafficking or otherwise subjected to forced marriage in a country other than their own.

24

In the context of reviewing how the COMMIT Guidelines on victim identification and referral mechanisms are implemented, UN-ACT should provide COMMIT States with information about both their existing legal obligations concerning the protection of children who have been trafficked and about good practice developed by UNICEF and others concerning the protection of trafficked children and the assistance they require.