Final Evaluation for Participatory Strategic Planning for Balanced Spatial Development (SPAD)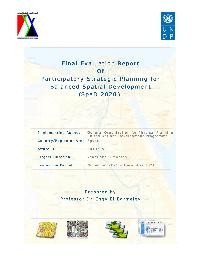 Evaluation Plan:

Evaluation Type:

Project

Planned End Date:

03/2022

Completion Date:

02/2022

Status:

Completed

Management Response:

No

Evaluation Budget(US $):

10,000
Title
Final Evaluation for Participatory Strategic Planning for Balanced Spatial Development (SPAD)
Atlas Project Number:

00107093

Evaluation Plan:
2018-2022, Egypt
Evaluation Type:
Project
Status:
Completed
Completion Date:
02/2022
Planned End Date:

03/2022

Management Response:
Yes

Focus Area

:
Corporate Outcome and Output (UNDP Strategic Plan 2018-2021)

1. Output 2.1.2 Capacities developed for progressive expansion of inclusive social protection systems

SDG Goal

Goal 1. End poverty in all its forms everywhere

SDG Target

1.3 Implement nationally appropriate social protection systems and measures for all, including floors, and by 2030 achieve substantial coverage of the poor and the vulnerable

Evaluation Budget(US $):

10,000

Source of Funding:
Evaluation Expenditure(US $):

2,000

Joint Programme:
No
Joint Evaluation:

No

Evaluation Team members:

| Name | Title | Nationality |
| --- | --- | --- |
| Engy El Barmelgy | Evaluator | EGYPT |

GEF Evaluation:

No

Key Stakeholders:
Countries:

EGYPT
Recommendations
1

Recommendation 1: It is recommended to ensure that all outputs produced by the project are to be published and handed to governmental agencies, ministries, and governorates, as well as discussed on the Governor Level.

2

Recommendation 2: It is recommended to organize a conference in the Supreme council for planning that is focused on the NSLUP produced, the proposed gateway for development, priority regions, and tourism

3

Recommendation 3: It is recommended to organize a final workshop focusing on the project's achievements and the way forward for Geospatial planning tools and data established supporting urban planning and decision-making mechanisms.

4

Recommendation 4: It is recommended to produce roadmap detailing the way forward in GIS Platform updating. (One-day Orientation for every GOPP project team for the GIS delivery glossary and scheme).

5

Recommendation 5: It is recommended for the GOPP Regional Center to sustain their human resources and sustain the GIS team needed to adopt a policy in which each trainee should train two of his/her RC collogue.

6

Recommendation 6: It is recommended for good planning practice to consider "Quality Control" in the process of forming geo-database for any project. The GOPP would achieve this by publishing GIS scheme and quality control program to be used for planning deliverables on different levels.

7

Recommendation 7: It is recommended to adopt a control policy to secure the servers of the GIS enterprise to introduce it to main stakeholders' use.

8

Recommendation 8: It is recommended to integrate environmental impact and climate change aspects on the update of the national development plan.