Independent Country Programme Evaluation: Montenegro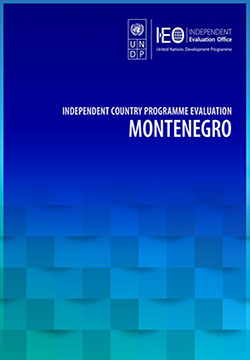 Evaluation Plan:

Evaluation Type:

ICPE/ADR

Planned End Date:

12/2020

Completion Date:

12/2020

Status:

Completed

Management Response:

Yes

Evaluation Budget(US $):

34,300
Title
Independent Country Programme Evaluation: Montenegro
Atlas Project Number:
Evaluation Plan:
2018-2021, Independent Evaluation Office
Evaluation Type:
ICPE/ADR
Status:
Completed
Completion Date:
12/2020
Planned End Date:

12/2020

Management Response:
Yes

Focus Area

:

1. Poverty
2. Governance
3. Resilience
4. Sustainable
5. Gender
6. Others

Corporate Outcome and Output (UNDP Strategic Plan 2018-2021)

1. Output 1.1.2 Marginalised groups, particularly the poor, women, people with disabilities and displaced are empowered to gain universal access to basic services and financial and non-financial assets to build productive capacities and benefit from sustainable livelihoods and jobs
2. Output 1.2.1 Capacities at national and sub-national levels strengthened to promote inclusive local economic development and deliver basic services including HIV and related services
3. Output 1.2.2 Enabling environment strengthened to expand public and private financing for the achievement of the SDGs
4. Output 1.4.1 Solutions scaled up for sustainable management of natural resources, including sustainable commodities and green and inclusive value chains
5. Output 1.6.1 Country-led measures accelerated to advance gender equality and women's empowerment
6. Output 2.1.1 Low emission and climate resilient objectives addressed in national, sub-national and sectoral development plans and policies to promote economic diversification and green growth
7. Output 2.1.2 Capacities developed for progressive expansion of inclusive social protection systems
8. Output 2.2.1 Use of digital technologies and big data enabled for improved public services and other government functions
9. Output 2.3.1 Data and risk-informed development policies, plans, systems and financing incorporate integrated and gender-responsive solutions to reduce disaster risks, enable climate change adaptation and mitigation, and prevent risk of conflict
10. Output 3.3.2 Gender-responsive and risk-informed mechanisms supported to build consensus, improve social dialogue and promote peaceful, just and inclusive societies

Evaluation Budget(US $):

34,300

Source of Funding:
Evaluation Expenditure(US $):

34,300

Joint Programme:
No
Joint Evaluation:

No

Evaluation Team members:

| Name | Title | Nationality |
| --- | --- | --- |
| Yogesh Kumar Bhatt | Lead Evaluator | |
| Zehra Kacapor-Dzihic | Evaluation Consultant | |
| Gedeon Djissa | Research Associate | |

GEF Evaluation:

No

Key Stakeholders:
Countries:

MONTENEGRO
Recommendations
1

In line with Montenegrin EU accession aspirations, UNDP's next country programme strategy should build on the established intersection of themes in which UNDP has found a strong niche, i.e. support to good governance across the public sector as well as economic development underpinning sustainable environment protection.

Within the implementation of the current country programme, UNDP has invested efforts in synergies among different portfolios and cross-fertilization of successful models and system solutions across different sectors and institutional set-ups. Good examples are found in IT and e-governance interoperability solutions or investment in green jobs and sustainable tourism and businesses, etc.

The next CPD cycle should use this momentum and build on gains achieved through coherent cross-sector and cross-portfolio interventions to further consolidate the programme. It is advised that the next cycle of the UNDP country programme focus its portfolio under three cross-sectoral outcomes, which may reflect this synergetic potential. Specifically, UNDP should consider consolidating investment in the environment and economic development under one outcome area. This will help gain full understanding of the catalytic potential of UNDP's investment in green jobs, sustainable tourism, business and innovation

2

UNDP should consolidate and expand its support to local self-government units to embrace and implement reforms, principles and standards initiated by the central government. Particular attention should be placed on the institutional capacity development of local authorities to promote and benefit from reforms in line with the EU accession aspiration of Montenegro.

UNDP's efforts to assist local governments in understanding and implementing public administration and finance management as well as social welfare reforms should be consolidated and replicated across Montenegro. This support would ensure coherent and more uniform approaches and practices with the potential to create more equal chances for development across the local level in the country. This is particularly important in light of the country's aspiration and preparation for EU membership, which requires a well capacitated and successful local-level government as one at the central level.

To facilitate this process, the CO may consider elaborating jointly with the Government a concept for reforms needed at the local level within the framework of existing and upcoming central government strategies in given sectors based on the new cycle of the PAR and PFM strategies, as well as policy framework for social welfare sector and collaboration with civil society. The CO and the Government should also assess opportunities for more effective engagement of local governments and other local actors in its support activities as a way to strengthen the sustainability of structures promoted at the local level.

3

UNDP should consider merging economic development and segments of its support to the environment, green growth and reduction of carbon footprint under one umbrella programme to ensure consolidation of its green economy portfolio. Lessons from implemented models with potential for scaling up and promotion of a systematic approach to circular economy and innovation should be generated to inform the Government's efforts to diversify the economy.

Large parts of UNDP's environment protection and economic development portfolios have been increasingly evolving as a more holistic approach to enhancing green growth and green economy, with focus on reduction of carbon footprint and climate change. Such cross-portfolio interventions indicate the potential of a full-fledged structured portfolio of interventions with a larger scope and outreach, with interventions tackling different areas of circular economy and climate change, moving up from scattered individual interventions to larger policy-level support. Hence, it is worth considering bringing these two portfolios under one umbrella. This will allow for more in-depth and operational synergies around green growth and climate change.

Within these efforts, UNDP should further consolidate its approach based on lessons from already piloted models to inform efforts in creation of government measures to recover from the economic downturn resulting from COVID-19 pandemic but also assisting the country to diversify its economic offer. UNDP should pay greater attention to the practical results that may materialize from the innovation initiatives it supports by tracking more closely what happens to the supported innovations over time, what changes they generate at the practical level and how their impact can be sustained in the long term. Besides, UNDP should invest in analytical efforts on the use of innovative technology in particular across sectors towards diversification of economy and ensuring Montenegro's competitiveness in international economic sphere.

4

UNDP should build on results and lessons from the implementation of initiatives in support of women's empowerment and gender equality as the basis for the CO strategy to fully integrate GEWE in its portfolio. Cross-sector and cross-portfolio synergies with transformative potential for women should be developed and integrated into support of the Government's gender requirements as part of the EU acquis. Stronger efforts should be made by UNDP to promote the gender dimension in its environment and climate change portfolio.

UNDP should capitalize on the gains achieved thus far in terms of gender equality and women's empowerment by ensuring that the new CPD is strongly rooted on GEWE principles in support to government efforts to attain gender requirements within the wider EU accession framework. Based on these principles, UNDP should define a gender strategy in collaboration with the Government and the EU, outlining how to work with national project implementation actors and other project/programme stakeholders to design/ deliver effective interventions with transformative GEWE potential.

Specific efforts should be made to enable and deepen interconnectivity between the social inclusion, democratic governance and economic development pillars considering the multidimensional nature of gender issues and their impact potential. Given the very limited integration of gender dimension in programmes on environment and climate change thus far, these perspectives should be actively integrated and promoted further, seeking synergies with investments across all sectors.