Mid-Term Evaluation AdaptarC Project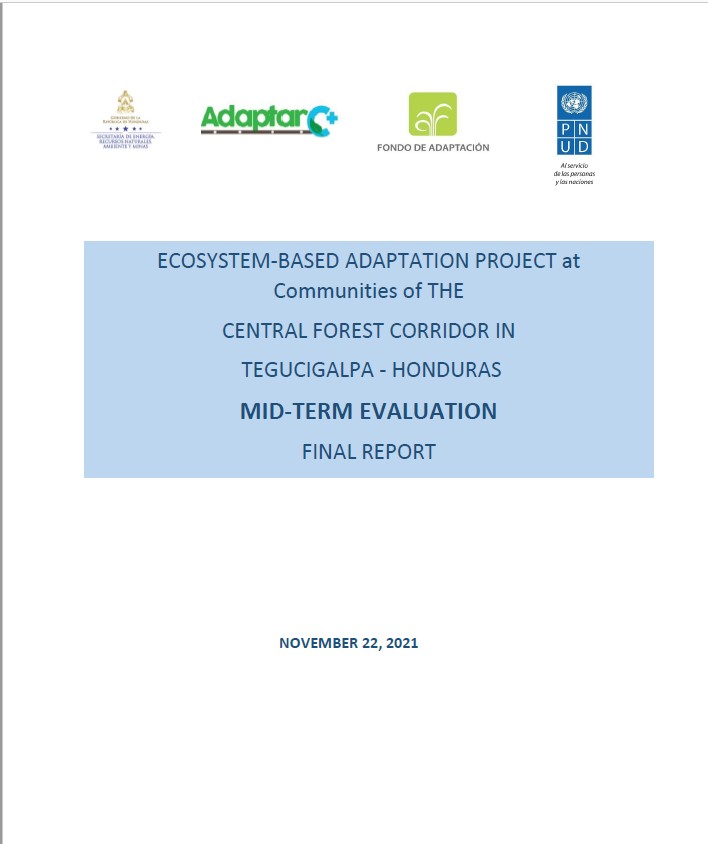 Evaluation Plan:

Evaluation Type:

Mid Term Project

Planned End Date:

02/2022

Completion Date:

12/2021

Status:

Completed

Management Response:

Yes

Evaluation Budget(US $):

25,000
Title
Mid-Term Evaluation AdaptarC Project
Atlas Project Number:

00094142

Evaluation Plan:
2017-2021, Honduras
Evaluation Type:
Mid Term Project
Status:
Completed
Completion Date:
12/2021
Planned End Date:

02/2022

Management Response:
Yes

Focus Area

:
Corporate Outcome and Output (UNDP Strategic Plan 2018-2021)

1. Output 1.3.1 National capacities and evidence-based assessment and planning tools enable gender-responsive and risk-informed development investments, including for response to and recovery from crisis

SDG Goal

Goal 1. End poverty in all its forms everywhere
Goal 13. Take urgent action to combat climate change and its impacts

SDG Target

1.5 By 2030, build the resilience of the poor and those in vulnerable situations and reduce their exposure and vulnerability to climate-related extreme events and other economic, social and environmental shocks and disasters
13.1 Strengthen resilience and adaptive capacity to climate-related hazards and natural disasters in all countries

Evaluation Budget(US $):

25,000

Source of Funding:
Evaluation Expenditure(US $):

16,500

Joint Programme:
No
Joint Evaluation:

No

Evaluation Team members:

| Name | Title | Email | Nationality |
| --- | --- | --- | --- |
| Marietta Fonseca | | marietta.fonseca@gmail.com | PANAMA |

GEF Evaluation:

No

Key Stakeholders:
MiAmbiente, SRECI, ICF
Countries:

HONDURAS
Recommendations
1

Streamline management mechanisms to improve performance of the Project. It would be advisable to establish a "connecting" process between the Administration that ends its term and the new upcoming one and their work team, in order to avoid fractionations in the management processes and undesirable impacts on the project

2

Continuation of ICF is suggested, beyond the [currently] established Amendment

3

It is recommended to assess that the UNAH can assume the execution of product 3.4, referring to the elaboration: "Communication Strategy"

4

Include the resources (i.e. specialist) and time needed to design and implement a monitoring plan

5

It is suggested to consider the functioning of a governance figure, such as the "Basin Councils", as instances of coordination at the basin level

6

For the implementation of the "Microcapitals", develop a "Strategy" that contains the guidelines and their operating mechanisms, the procedures for proper administration and management instruments

7

Focus efforts on defining, a specific work plan for CBC and gender issues, where stakeholders participate CBC, due to the concrete lack, of a strategy that defines the roadmap to approach the objective, along with the integration of a gender plan.

8

Promote the return to the National, Regional counterparts of the substantive progress generated by the project, under mechanisms that are not exclusively the reports of activities to the donor, through dialogues or similar instances at the national level, which also serve to identify areas, specific sectors of real application of the mechanisms, strategies developed by AdaptarC

9

It is necessary that the knowledge management activities transcend, in order to ensure better complementarity and synergies, for example with other projects, even at the regional level.

10

Have an exit strategy or transfer of project actions, desirable; prepared in advance.

11

Allocate resources to strengthen the administrative and financial capacity of the implementing unit.

12

It is recommended to give priority to resolving the situation with the ONCCDS, and to analyze some alternatives that could contribute to its strengthening from the ADAPTAR-C project.

13

The formation of a Technical Advisory Committee to support the implementation of the project

14

Given the circumstances of the pandemic, it is important that the project considers providing support, to improve communications and participation, which may include basic computer equipment especially, to partner organizations to maintain communication and strengthen capacities. As well as supplies to continue with the strict and complete biosecurity protocol to avoid COVID19.