Evaluation of the UNV Strategic Framework 2018-2021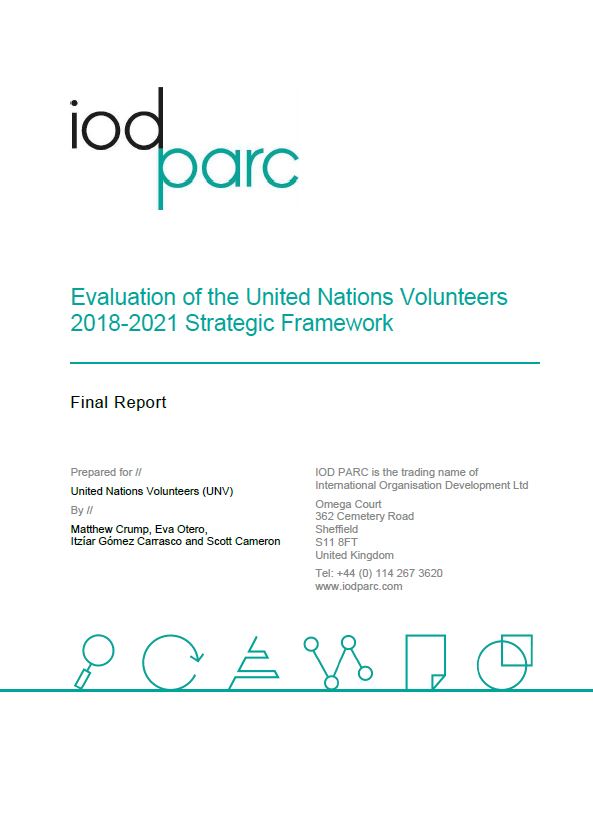 Evaluation Plan:

Evaluation Type:

Thematic

Planned End Date:

06/2021

Completion Date:

06/2021

Status:

Completed

Management Response:

Yes

Evaluation Budget(US $):

100,000
Title
Evaluation of the UNV Strategic Framework 2018-2021
Atlas Project Number:
Evaluation Plan:
2018-2021, UNV
Evaluation Type:
Thematic
Status:
Completed
Completion Date:
06/2021
Planned End Date:

06/2021

Management Response:
Yes

Focus Area

:
Corporate Outcome and Output (UNDP Strategic Plan 2018-2021)

1. Organisational Output 1.3 High quality audits and evaluations producing implementable solutions

Evaluation Budget(US $):

100,000

Source of Funding:
Evaluation Expenditure(US $):

100,000

Joint Programme:
No
Joint Evaluation:

No

Evaluation Team members:

| Name | Title | Nationality |
| --- | --- | --- |
| Matthew Crump | | |

GEF Evaluation:

No

Key Stakeholders:
Countries:

GLOBAL
Recommendations
1

Strategy (Relevance and Coherence)

UNV should rebalance its strategic focus by strengthening actions on promoting volunteerism developing appropriate mechanisms, either programmatically or otherwise, that promote volunteerism role in the 2030 Agenda, ensuring continued organisational relevance and deploying its comparative advantage in the delivery of the 2030 Agenda whilst continuing to respond to UN partner needs.
UNV should ensure the inter-relatedness and complementarity of promoting volunteerism and volunteer mobilisation is comprehensively articulated and embraced to reduce the risk of a split in strategic focus and operational siloing as well as to provide consistency in strategic messaging externally.

2

Results Measurement (Relevance and Coherence)

UNV should develop a comprehensive results framework with gender sensitive, composite indicators to strengthen outcome-level reporting and ensure the full range of outputs and outcomes are accurately captured, monitored and reported. UNV should include social inclusion indicators (for example People Living with Disabilities and marginalized groups).
UNV should develop more comprehensive measures of results beyond the current limited basket of indicators, across a broader range of indicators for management information and accountability purposes. Measurement mechanisms need to remain consistent for the duration of the SF and where any review of indicators is undertaken, clearly documenting the approval.

3

Organisational structure, Capacity and Capability (Efficiency)

UNV should review the balance of financial and human resource distribution to the delivery of strategic outcome results; ensuring the current structure is fit for purpose and geared towards implement the next SF through a gradual re-alignment and adjustment of its operating model and structure geared to strategic requirements. UNV should continue to enhance decentralisation by strengthening its field presence to meet current and future demand, in alignment with the QCPR (2020).
UNV should seek to identify opportunities to foster further collaborative working practices to ensure the full value of the inter-linkages between promoting volunteerism and volunteer mobilisation are harnessed, both horizontally between the organisation's sections and vertically through the global structure. This may include increasing opportunities for multi-disciplinary working on key strategic and operational issues and strengthening internal organisational learning mechanisms.
UNV should ensure UNV's operating structure is fit for purpose and geared towards implementing the next SF by conducting a periodic needs assessment of required skills to meet the next SF period and accompanying skills audit. UNV should ensure tailored learning and development opportunities to meet future need are available and taken up, with impact assessed. Where additional skills are not present and cannot be developed internally, UNV should proportionately invest in securing those skills externally to meet future need.
UNV should ensure that all staff can clearly articulate the different elements of its work across all strategic outcome areas in a consistent and coherent manner.

4

Engagement with UN Volunteers (Effectiveness)

UNV should strengthen the engagement with UN Volunteers throughout their placement and beyond, with the aim of further improving the UN Volunteers' experience matched to their expectations through the ongoing review and revision process of the Conditions of Service in order to leveraging the network of UN Volunteers to contribute to UNV's strategic objectives.
On the 'UN Volunteer experience', UNV should improve the coordination between the host entities and UNV field units in order to ensure the duty of care is discharged appropriately to ensure the wellbeing and career development of UN Volunteers. UNV should ensure consultations with host entities balance the needs of UN Volunteers with the demands of the UN entities, as defined by UNV and its partners, to hold UN Volunteers and host entities to account.
UNV should utilise the untapped resource of former and current UN Volunteers developing opportunities to further engage the network of UN Volunteers as a route to i) increase opportunities for learning; ii) exert influence; and iii) access the networks of its constituency of UN Volunteers. This serves dual purposes - awareness raising on the value of volunteerism and in the promotion of the UNV brand.

5

5A: Partnerships (Effectiveness)

UNV should develop strong value-propositions that allow for consistent communication of its comparative advantage; demonstrate the uniqueness of partnering with UNV and articulate its added value to partners' medium- and longer-term strategic and people objectives.
UNV should ensure flexibility in its approach to customization by balancing standardised and tailored products and services with recruitment measures that ensure a commitment to volunteerism in order to maintain and protect UNV's reputational brand.
UNV should strengthen outreach and awareness raising on the importance of the UN Volunteers in the host entities, increase the visibility of the UNV brand through its UN Volunteers; communicate the advantages of UNV and informing host entities about the role of UN Volunteers.
UNV should maximise its unique convening power to connect partners and expand and deepen its partnership strategy for the promotion of volunteerism to support longer-terms forms of collaboration.
UNV should make efforts to diversify and broaden its work with other UN entities, while maintaining the efficacy of its partnerships with core UN partners. UNV should ensure its partnership engagement is both strategic and tactical in nature (HQ, regional and field level engagements), by aligning UNV propositions with UN entities' global strategic planning processes and people strategies. This should include continued efforts to identify opportunities to strengthen and jointly capitalise on the relationship with UNDP.

5B: Resource Mobilization (Effectiveness)

UNV should diversify its financing partnerships and review its tools and mechanisms for resource mobilisation, and associated conditions, to facilitate increased contributions to UNV focus areas (for example, COVID-19, digital transformation, policy work).
UNV should adopt a two-pronged approach on SVF both to increase SVF contributions and further diversify SVF partners. In pursuit of diversification, UNV should pursue (soft) earmarking of contributions to attract new partners. UNV should explore further diversification strategies to increase the number of Member States contributing to Fully-Funded or providing other sources of funds to UNV.

6

Knowledge development, management and organisational learning (Sustainability)

UNV should strengthen the links between knowledge development, knowledge management and organisational learning, allowing UNV to maximise the use and uptake of data in a more systematic and strategic manner. This will help UNV to bridge the advocacy/ policy-making gap; ensure that volunteering policy is informed by high quality research; and strengthen the inter-linkage between promoting volunteerism and mobilisation of UN Volunteers.
UNV should seek to play a stronger knowledge brokering role in the volunteer sector by building on its recognised convening and leadership role in the sector, by strengthening relevant research, evidence and knowledge generating capacities in the organisation.
UNV should develop a dissemination, outreach and usage strategy for knowledge production in order to maximise efforts and achieve greater impact. This would involve adequately measuring outreach and uptake of knowledge products through appropriate monitoring efforts and indicators.

7

Gender, inclusion and South-South cooperation (Cross-cutting issues)

UNV should conduct more granular analysis of issues affecting gender discrimination and social inclusion as part of the SF development process, to improve UNV's understanding of how discrimination dynamics work and to inform future strategies not to perpetuate them.

UNV should maintain efforts to ensure gender parity at a global and regional level; providing concerted efforts to address current regional disparities and disparities across different volunteer modalities that may be contributing to perpetuate discriminatory dynamics.

8

Enabling Environment for future SF (Cross-cutting issues)

UNV should be ambitious in the next SF. The current positive environment for volunteerism, extending from COVID-19 and aligned with the 2030 Agenda, coupled with the renewed recognition on the part of Member States on the value of volunteerism, are generating valuable evidence on the importance of volunteer action for bringing about transformative change, in responding to and recovering from crisis and for the achievement of the SDGs.
UNV, and its key constituencies, should take advantage of this context to further promote volunteerism and the role of UN Volunteers in crisis responses; strengthening and expanding the use of the Online Volunteer modality, where global travel restrictions remain in place, as this modality is highly relevant in responding to the evolving situation with COVID-19 and aligns well to the UN future of work agenda UNV should identify further opportunities to respond through innovative practice and special initiatives. Given the improved financial and organisational health, and increasing relevance of volunteerism, UNV is in a strong position to respond to this call.