Final Project Evaluation: UNDP-GEF Elimination of Persistent Organic Pollutants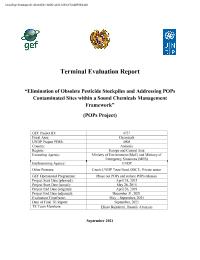 Evaluation Plan:

Evaluation Type:

Final Project

Planned End Date:

12/2021

Completion Date:

12/2021

Status:

Completed

Management Response:

Yes

Evaluation Budget(US $):

20,000
Title
Final Project Evaluation: UNDP-GEF Elimination of Persistent Organic Pollutants
Atlas Project Number:

00081909

Evaluation Plan:
2021-2025, Armenia
Evaluation Type:
Final Project
Status:
Completed
Completion Date:
12/2021
Planned End Date:

12/2021

Management Response:
Yes

Focus Area

:
Corporate Outcome and Output (UNDP Strategic Plan 2018-2021)

1. Output 1.4.1 Solutions scaled up for sustainable management of natural resources, including sustainable commodities and green and inclusive value chains

SDG Goal

Goal 12. Ensure sustainable consumption and production patterns

SDG Target

12.4 By 2020, achieve the environmentally sound management of chemicals and all wastes throughout their life cycle, in accordance with agreed international frameworks, and significantly reduce their release to air, water and soil in order to minimize their adverse impacts on human health and the environment

Evaluation Budget(US $):

20,000

Source of Funding:
Evaluation Expenditure(US $):

19,000

Joint Programme:
No
Joint Evaluation:

No

Evaluation Team members:

| Name | Title | Nationality |
| --- | --- | --- |
| Elinor Bajraktari | Independent Evaluator | |

GEF Evaluation:

Yes

| | |
| --- | --- |
| GEF Project Title: | Elimination of Obsolete Pesticide Stockpiles and Addressing POPs Contaminated Sites within a Sound Chemicals Management Framework |
| Evaluation Type: | Terminal Evaluation |
| Focal Area: | Persistent Organic Pollutants |
| Project Type: | FSP |
| GEF Phase: | GEF-5 |
| GEF Project ID: | 4737 |
| PIMS Number: | 4905 |

Key Stakeholders:
Countries:

ARMENIA
Recommendations
1

Handover of Responsibilities and Knowledge

The first task and priority the project team should focus on is to organize a proper and smooth handover of responsibilities, materials and knowledge to respective government entities. This will require a few steps and actions to be undertaken by the Project Team with the support of project stakeholders:
- First, the project team should document the whole process and assemble all the knowledge products that have been generated in the course of the project (this includes studies, assessments, project notes, briefs and materials, presentations, tender documents, terms of reference, project correspondence, board meeting notes, etc.). All activities that were undertaken by the project should be carefully documented in order to preserve the institutional memory.
- As a second step, the project should identify the respective government entities to which it will hand over the process and documentation – including MoE, as the leading institution in this area, but also MES, MoA, DPMO, etc.

2

Charting the Path Ahead

Before the project ceases to exist, it will be crucial for the stakeholders to get together and take stock of the status quo and try to chart the way forward in this area. This evaluation recommends the organization of a closing workshop which should engage all relevant partners both within the government and in the civil society (including affected communities). This event should be used as an opportunity to maintain the momentum created by the project and as a way of creating a roadmap for the way ahead.
The project team and the PMB will have to do some preparatory work and based on consultations with all relevant government departments develop a clear vision for the process going forward based on the experience of the project. The project team is already preparing an exit strategy to this end. At the end of the closing event (workshop), the parties could ideally be able to adopt a unified vision on the way forward and a roadmap for how to achieve that vision. To be workable, this roadmap should be specific, concrete and with well-defined milestones. More importantly, such a roadmap should also identify the key decisions that will need to be made to push this process forward. If such a roadmap will be developed with the endorsement of all parties, it will also be important for the project team to work out a financial plan that specifies the financial envelope that will be needed and with potential sources of funding.

3

Strengthening Institutional Arrangements and Inter-Agency Coordination

Although the scope of the project was primarily environmental in nature, there were major components that were focused on foreign affairs, agriculture, justice, health, emergency responses, infrastructure, finance, and municipal affairs. Indeed, the components of the project determining success or failure where in the spheres of foreign affairs and finance. In this context, for projects that require significant coordination across several Ministries, as well as require large financial commitments from the government – it would be beneficial for central institutions such as the Deputy Prime Minister's Office or Prime Minister's Office to play a greater role.
This complexity of institutional mandates underlines the importance of having a functioning Inter-Agency Committee on implementation of Stockholm Convention (SC) which would facilitate stakeholder engagement and coordination, achieving collective decision making on key issues, as well as resolving key issues related to regulatory jurisdiction and authority. This Committee is a key government body responsible for overseeing the management of chemicals under the SC obligations. This body represents a great platform for facilitating institutional stakeholder engagement and coordination at a high government level but also to increase the visibility of the project.
Going forward, this area will benefit from stronger leadership and more effective coordination.
- First, Inter-Agency Committee needs to be strengthened and given the necessary resources and authority to exercise its mandate. The Committee should be given strong secretarial support and its work should be underpinned by a clear work plan – this function could be played by the roadmap mentioned above.
- Second, the government could designate a high-level official who has the authority to convene all relevant parties and make crucial decisions in cooperation with colleagues in all relevant areas (environment, safety, health, finance, etc.). This official could chair the Inter-Agency Committee and could be held accountable for progress in this area.
- Third, if a clear vision is developed on this process – as mentioned in the recommendation above – and if the necessary decisions to be issued by the government are identified clearly, the high-level official (champion of this matter) could exercise his/her authority to ensure that all the required decisions are taken in a timely manner.

4

Continued Role for UNDP

UNDP has become a key stakeholder in this area in Armenia and it is recommended that, given its positioning, it should continue its support on this important matter. Going forward, UNDP should focus on two key matters.
- UNDP should start exploring funding opportunities for further support in this area. Communications with GEF should be maintained on this matter, as GEF now has a vested interest in this area given its long-standing engagement. Also, UNDP could find interest in IFIs, the EU or emerging donors for engagement in this area.
- UNDP should continue its engagement in this area by trying to keep the momentum alive through engagement and advocacy work with the main stakeholders within the Government. UNDP should lobby for strong leadership in this area, for continued action based on the foundations that have been created thus far and for financial commitments by the Government for this important area.

5

Continued Stakeholder Consultations

This project supported stakeholder consultations, which were important given the nature of the project – with potentially negative impacts on human health and the environment. Given that the disposal has not been addressed definitely yet, it will be important to maintain stakeholder engagement. This work should be grounded on a clear plan and strategy, whose development can be supported by the Project Team before the closure of the project. Furthermore, UNDP has a lot of experience with information and awareness-raising campaigns, so it can provide substantive support in this area.