Final Evaluation - Promoting a Fair Business Environment in ASEAN (FairBiz)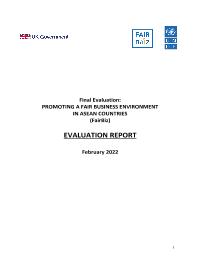 Evaluation Plan:

Evaluation Type:

Final Project

Planned End Date:

03/2022

Completion Date:

02/2022

Status:

Completed

Management Response:

Yes

Evaluation Budget(US $):

20,000
Title
Final Evaluation - Promoting a Fair Business Environment in ASEAN (FairBiz)
Atlas Project Number:

00126335

Evaluation Plan:
2018-2021, RBAP
Evaluation Type:
Final Project
Status:
Completed
Completion Date:
02/2022
Planned End Date:

03/2022

Management Response:
Yes

Focus Area

:
Corporate Outcome and Output (UNDP Strategic Plan 2018-2021)

1. Output 1.2.3 Institutions and systems enabled to address awareness, prevention and enforcement of anti-corruption measures to maximize availability of resources for poverty eradication

SDG Goal

Goal 17. Strengthen the means of implementation and revitalize the Global Partnership for Sustainable Development

SDG Target

17.16 Enhance the Global Partnership for Sustainable Development, complemented by multi-stakeholder partnerships that mobilize and share knowledge, expertise, technology and financial resources, to support the achievement of the Sustainable Development Goals in all countries, in particular developing countries

Evaluation Budget(US $):

20,000

Source of Funding:
Donor Funding
Evaluation Expenditure(US $):

20,000

Joint Programme:
No
Joint Evaluation:

No

Evaluation Team members:

| Name | Title | Nationality |
| --- | --- | --- |
| Kevin Deveaux | Evaluator | |

GEF Evaluation:

No

Key Stakeholders:
UK FCDO
Countries:

PHILIPPINES

THAILAND

VIET NAM

MALAYSIA

MYANMAR

INDONESIA
Recommendations
1

FairBiz should continue as a regional project as its work in this innovative field of governance needs a long-term commitment.

Given that FairBiz is working in an area of governance that is relatively new, especially for UNDP, it has taken some time for the project team and BRH to build capacity and establish partnerships that are only now, as the project draws to a close, starting to show results. UNDP, through FairBiz, has ploughed the ground and planted the seeds of results, so it now needs to reap the results. This will require another three-four year project.

2

The next phase of FairBiz must reflect the priorities of the new UNDP Strategic Plan, Regional Plan and the principles of regionality

The new UNDP Strategic Plan (2022-25) has identified governance as one of six "signature solutions" that will form the core of its work. The Plan speaks to the need to build new partnerships with the private sector (something already initiated by FairBiz) and the need for a "Triple A" approach to programming – programming that is anticipatory, agile and adaptive. This will require the next phase of FairBiz to be designed with a level of flexibility that will enable the project to open to opportunities and to be forward-thinking in how and where it delivers support to national and regional partners. It will also require more robust monitoring, evaluation and learning to capture and respond to changes in context and to identify and act upon new entry points for the promotion of business integrity. Given the principles of regionality, the project must continue to "lead from behind" and support COs in building trusted relationships with national partners. But this will still leave an important role for the project in sharing knowledge across the ASEAN region, building and maintaining networks for such sharing and the promotion of South-South and peer-to-peer capacity development. Also, given that business integrity is still a new area of work (in general and for UNDP specifically), working regionally offers space for national partners to maintain a dialogue and to raise awareness of how the issue(s) can be addressed in the context of ASEAN countries.

3

FairBiz must focus in the future on replicating and scaling up the good results observed at the national level in select countries.

In its first years the project has done a very good job at seeding innovative approaches and building networks at the national level in several ASEAN countries. Some of these interventions have seen more results, but the work of scaling up regionally or replicating in other ASEAN countries has been slow. This should be a priority for the next phase of the project.

4

Capacity development and knowledge sharing needs to move beyond training and seminars.

The project has relied on a significant amount of trainings to transfer knowledge to beneficiaries. While this is not a bad approach in the early stages of its work, especially on a topic for which many do not have a deep knowledge, there is a need for the project to pivot to other modalities for capacity development, including coaching and mentoring. This would be particularly effective for women and youth business leaders and entrepreneurs.

5

FairBiz needs to enhance its capacity for knowledge brokering.

The project, to date, has been building its knowledge and capacity with regard to business integrity and has utilized partnerships and networks effectively to do so. But in the next phase of its work it needs to anticipate the "tipping point" where the project is no longer obtaining knowledge but will become a knowledge broker, leveraging its partnerships and networks to support peer-to-peer and south-south knowledge exchanges.

6

Continue to design targeted activities with women to expand the momentum on gender responsive work and assess the differentiated impact on women

The project's work in support of women business leaders has shown some results and women are starting to receive the knowledge they require to fully engage in business integrity. This work must continue and be expanded, both in breadth (more countries in the region) and depth (more substantive and result-oriented engagement). The use of national and regional mentoring, for example, may be a logical next step in the evolution of the project's work in this area.

7

Expand engagement of business leaders from minority and marginalised groups

The project's work with youth has shown some promising results. Lessons learned from this has shown the value in building partnerships and co-ownership of the activities and results. The project should try to replicate this model for work with other groups, such as people with disabilities and others from marginalised groups.

8

Maintain staff continuity

The turnover in staff for the project in the early stages of its work was a challenge to the delivery of activities. More recently, the project has benefited from a more stable staffing situation. Going forward, the project must have systems and supports to maintain this continuity. Programmes produce better results with a stable staff team, and again, this would be a consideration for any upcoming projects and programmes.

9

Indicators for the results framework must reflect SMART principles

The design of the next phase of the project must include a strong emphasis on the identification of indicators, as part of the results framework, that are specific, measurable, achievable, relevant and time-bound (SMART). The lack of such indicators in the current phase of the project caused challenges with regard to a necessary focus on outcome-level results. Indicators should be a snapshot of what is possible when a planned result is achieved. It may take some extra effort in the design phase of the next project, but, when done correctly, it will have a profound impact on the ability of the project to deliver results.

Additionally, investments in measurement of output indicators while ensuring that there is a clear link to the outcome indicators is critical to establish the effectiveness of the project based on data and evidence. This is especially important when we wish to understand how results and impacts are defined and how they will be measured to define success.

10

FairBiz needs to capture its knowledge with regard to working with the private sector and UNDP needs to share this knowledge with other regions to build these new partnerships globally.

Within UNDP, FairBiz has developed a unique set of skills and knowledge with regard to engaging the private sector and the new approaches that work for these new partners. Such knowledge is highly valuable to UNDP as it works towards achieving the SDGs and the need to leverage all actors, including the private sector, in this goal.