Eval. Final ARG 16G54: "Promoviendo la aplicación del Protocolo de Nagoya"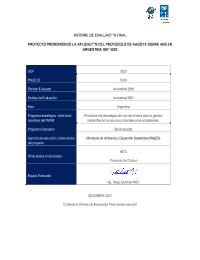 Evaluation Plan:

Evaluation Type:

Final Project

Planned End Date:

04/2022

Completion Date:

04/2022

Status:

Completed

Management Response:

No

Evaluation Budget(US $):

15,000
Title
Eval. Final ARG 16G54: "Promoviendo la aplicación del Protocolo de Nagoya"
Atlas Project Number:

00095752

Evaluation Plan:
2021-2025, Argentina
Evaluation Type:
Final Project
Status:
Completed
Completion Date:
04/2022
Planned End Date:

04/2022

Management Response:
No

Focus Area

:
Corporate Outcome and Output (UNDP Strategic Plan 2018-2021)

1. Output 1.4.1 Solutions scaled up for sustainable management of natural resources, including sustainable commodities and green and inclusive value chains

SDG Goal

Goal 15. Protect, restore and promote sustainable use of terrestrial ecosystems, sustainably manage forests, combat desertification, and halt and reverse land degradation and halt biodiversity loss

SDG Target

15.1 By 2020, ensure the conservation, restoration and sustainable use of terrestrial and inland freshwater ecosystems and their services, in particular forests, wetlands, mountains and drylands, in line with obligations under international agreements
15.2 By 2020, promote the implementation of sustainable management of all types of forests, halt deforestation, restore degraded forests and substantially increase afforestation and reforestation globally
15.3 By 2030, combat desertification, restore degraded land and soil, including land affected by desertification, drought and floods, and strive to achieve a land degradation-neutral world

Evaluation Budget(US $):

15,000

Source of Funding:
Project
Evaluation Expenditure(US $):

15,000

Joint Programme:
No
Joint Evaluation:

No

Evaluation Team members:

| Name | Title | Nationality |
| --- | --- | --- |
| Diego Quishpe | Msc | ECUADOR |

GEF Evaluation:

Yes

| | |
| --- | --- |
| GEF Project Title: | Promoviendo la aplicación del Protocolo de Nagoya sobre ABS en Argentina |
| Evaluation Type: | Terminal Evaluation |
| Focal Area: | Biodiversity |
| Project Type: | EA |
| GEF Phase: | GEF-6 |
| GEF Project ID: | |
| PIMS Number: | 5339 |

Key Stakeholders:
Ministerio de Ambiente, GEF, Provincias
Countries:

ARGENTINA
Lessons
1.

Territorio federal con autonomía jurisdiccional, política y administrativa para la gestión de recursos naturales (excepto parques nacionales) con diferentes contextos económicos y de rotación política en provincias y nación. Resalta la pertinencia de mecanismos de gobernanza consolidados y constantes (MAyDS, Cancillería, INTA, PNUD) para la resiliencia y adaptación al cambio.



2.

Resistencia del sector académico y sectores de la sociedad civil a normativas regulatorias sobre la especie focal Guanaco. En el país, desde el año 2006 se han generado normativas vinculadas a la conservación y manejo de la población de guanacos, también en el año 2019 se promulgaron nuevos lineamientos sobre la especie, cuya implementación ha sido demorada por el contexto descrito.



3.

Complejidad de los procesos de investigación científica vinculada a los recursos genéticos y uso de estos, con resultados de laboratorio, fases clínicas y terapéuticas, que en si tienen grados de incertidumbre desarrollados convencionalmente en el mediano y de largo plazo.



Findings
1.

Liderazgo institucional (nacional) con el soporte operativo de PNUD y apoyo al grupo núcleo (UEP) que se basa en la comunicación, reuniones, informes, intercambios de experiencias y uso de plataforma directas, han mitigado el impacto del contexto.



View report for recommendation