Mid-Term Evaluation of the Local Government Initiative on Cliate Change (LoGIC)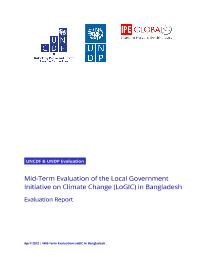 Evaluation Plan:

Evaluation Type:

Project

Planned End Date:

03/2022

Completion Date:

04/2022

Status:

Completed

Management Response:

Yes

Evaluation Budget(US $):

100,000
Title
Mid-Term Evaluation of the Local Government Initiative on Cliate Change (LoGIC)
Atlas Project Number:
Evaluation Plan:
2018-2021, UNCDF
Evaluation Type:
Project
Status:
Completed
Completion Date:
04/2022
Planned End Date:

03/2022

Management Response:
Yes
Corporate Outcome and Output (UNDP Strategic Plan 2018-2021)
Evaluation Budget(US $):

100,000

Source of Funding:
Evaluation Expenditure(US $):

97,975

Joint Programme:
Yes
Joint Evaluation:

Yes

Joint with UN Agencies
Joint with

UNDP

Evaluation Team members:

| Name | Title | Nationality |
| --- | --- | --- |
| Richard Slater | Team Leader | |
| Shantanu Das | Evaluation & Public Finance expert | INDIA |
| Sriparna Sanyal Iyer | Local Government Capacity Building Expert | INDIA |
| Fahmida Khatun | Gender and National Policy Expert | INDIA |

GEF Evaluation:

No

Key Stakeholders:
Countries:

BANGLADESH
Lessons
1.

Political Ownership: One of the major learnings from LoGIC is that incentive-based systems such as the minimum conditions-performance measures of the PBCRG to improve efficiency and effectiveness would be more effective if there is political ownership at both the national and local levels of and the systems/structure facilitates the political economy context. Failing this, there is a high risk that efficiency and effectiveness gains in the project lifetime will dissipate if the program is being majorly driven by the project staff.

Policy Influence and Agenda Steering: It is also important to note that having a National Project Director with a 50%-time commitment and a governing board with different government stakeholders does not necessarily lead to policy influence and embedding in government systems unless the Secretariat takes a more proactive approach to engage and steer the governing board for strategic decision-making.

Convergence with Larger Sectoral Programs: Another key learning emerging from LoGIC is that the selected schemes or interventions should consciously seek synergies and complementarities with large sectoral programs and projects for improved and cascading impacts. For instance, our discussions highlighted that though drainage systems were developed to facilitate sunflower cultivation, the absence of local embankments or dykes in the area led to large-scale flooding which ultimately exposes the LoGIC PBCRG solution to risk.

Efficiency: To ensure lower overheads, it is important to build/mainstream LoGIC within the existing fiscal transfer mechanism of local governments. Otherwise, it creates complexity and silos along with duplication of efforts required for maintaining separate accounts and reporting formats. Alignment with the existing fiscal transfer mechanisms helps strengthen the existing system and also enhances sustainability within the government system.



Findings
1.

Given the pandemic and relatively short implementation period (considering that field-level physical interactions were curtailed because of pandemic-induced lockdowns), LoGIC has initiated and delivered results in many areas. It has introduced risk-informed LDP planning for UPs as well as helped to integrate CAA-DRR into the 5-year annual plans of LGIs. It has also piloted a model for decentralized performance-based fiscal transfers to 72 UPs for climate-resilient infrastructure and livelihoods, with strong fiduciary risk measurement to reduce leakages and nepotism. However, LoGIC (both PBCRG and CRF) is yet to be properly institutionalized at the national and local levels and needs to build strong multi-sector partnerships.

One of the main challenges reflected during the evaluation interactions with LoGIC stakeholders relates to the confusion around its dichotomy of purpose in terms of the demands related to maximizing delivery coverage and creating an impact at the local level on the one hand and, the specific requirements related to building a robust model of devolved planning and financing of local climate adaptation for mainstreaming and scale-up through government systems. This is important to clarify and agree upon since it has ramifications on the project delivery structure, approach, and results framework.

If LoGIC considers that it is a demonstration model or that it is developing a pathway as its key objective, scaling-up and institutionalization indicators should be defined in the results framework at the outcome level with sufficient attention and focus. If LoGIC is viewed through a systems transformation lens rather than a project delivery lens, the delivery approach needs to change with more emphasis on technical assistance support for the facilitation of delivery rather than pure project delivery.

Going forward, continued technical support, especially on building capacity at the local level, embedding LoGIC in LGD, and support in scaling up across UPs will all remain relevant and important. Although Bangladesh has several policies and programs on climate change and adaptation, these are mainly driven by the line departments with low cascading effect and low involvement of the Local Government Institutions and communities. Although there are some successes due to LoGIC in intervening with UPs to ensure adequate opportunities for continued participation of and contribution of marginalized and vulnerable populations in climate adaptation dialogue and interventions remain and require strengthening. In future, LoGIC needs to focus more on transferring skills and knowledge to local institutions and building local ownership. For this, it is also equally important to strengthen engagement with NGOs and CSOs to develop their capacities on climate adaptation, social audit and amplifying the voice and demand of the communities, and ensuring accountability at local levels.

In summary, (close to the end of its implementation period and despite the challenges linked to COVID), LoGIC has successfully piloted a systematic mechanism to transfer climate finance at the local level with strong fiduciary standards, but it has not been able to address yet the challenge of limited public finance options to promote climate change adaptation at scale, especially related to access to international climate finance for local climate adaptation. This is challenging and as yet, a relatively uncharted territory, but it is essential to focus on how to go about leveraging alternate funding sources to ensure longer-term sustainability.



Recommendations
1

LoGIC's success is primarily due to the intensity and active engagement of the project staff in planning, delivery, and monitoring. However, to ensure sustainability and scaling up, the focus going forward will need to be on mainstreaming the project within the government system. Although the project is being implemented under the National Implementation Mode, there is a need to embed it successfully within the parent LGD department. This can be done by:

Deepening the level of awareness of LoGIC amongst the senior officials of LGD and issuing directives to the district and Upazila officials to monitor, facilitate, and mainstream climate adaptation within the existing LGD programs and schemes implemented at the local level.
Using the Climate Risk Atlas as a tool to embed climate adaptation in planning LGSP works at UP, Upazila, and district levels. The LGD/LGI should encourage and support UP chairpersons and elected representatives to adopt the Atlas for planning both LGSP the ADP. LoGIC can provide structured support for this in the remaining time to strengthen the embedding process.
Streamlining and simplifying LoGIC processes for sustained use and training on the institutionalization of these processes at the UP level.
Supporting LGD to leverage additional resources from the Finance Ministry during the budget preparation process for local climate-adaptive projects and schemes, which would complement or supplement LoGIC funding and help scale up.

2

LoGIC should also focus on building strong and formalized linkages and engagement with other relevant line departments at the national and local levels, which hitherto has been limited and ad-hoc. These include LGED, and the Ministries of Environment and Water Resources, Agriculture, Livestock and Fisheries. Apart from the national level, the project also needs to focus on improving the local level capacity.

Also, building the capacity of the local CSOs (which has not been a major focus to date) would help in mobilizing and amplifying the voice of the most climate-vulnerable in planning and decision making. At the beneficiary level, it is equally important to facilitate market linkages, access to low-cost capital, and build portable skills for sustaining and scaling up their individual or groups' livelihood options.

3

Given that LoGIC is being conceived and developed as a proof of concept for local climate adaptation, it needs to generate and share learnings of both process and implementation across other UPs for scaling up. This aspect has been largely missing. Here, learnings and experiences could be shared among the pilot UPs, which might help them adopt best practices and avoid the pitfalls.

4

Evaluation Recommendation or Issue 4:

The other important area for the project to invest in over the remaining period is policy advocacy. Along with deepening the engagement with the Government for policy advocacy, it is also essential that the project develops a policy influencing strategy that could lay out the issues, approaches, mode, and responsibilities. Policy advocacy work needs to go beyond workshops. Here, LoGIC could explore other approaches such as developing policy briefs, hosting talk shows, engaging with the media, and reaching out to key influencers or advisors in government. Also, broadening the policy dialogue platform to incorporate and create more space for donors to engage on relevant policy issues might be helpful since they also have other funding and strategic political leverage that could help in taking forward the agenda.