Final Evaluation of the Digital Financial Services in Sierra Leone Project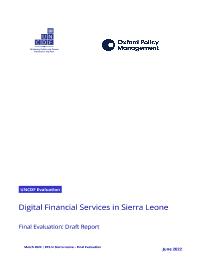 Evaluation Plan:

Evaluation Type:

Project

Planned End Date:

03/2022

Completion Date:

06/2022

Status:

Completed

Management Response:

No

Evaluation Budget(US $):

50,000
Title
Final Evaluation of the Digital Financial Services in Sierra Leone Project
Atlas Project Number:
Evaluation Plan:
2018-2021, UNCDF
Evaluation Type:
Project
Status:
Completed
Completion Date:
06/2022
Planned End Date:

03/2022

Management Response:
No
Corporate Outcome and Output (UNDP Strategic Plan 2018-2021)
Evaluation Budget(US $):

50,000

Source of Funding:
Evaluation Expenditure(US $):

55,110

Joint Programme:
No
Joint Evaluation:

No

Evaluation Team members:

| Name | Title | Nationality |
| --- | --- | --- |
| William Smith | Team Leader & Financial Inclusion Specialist | |
| Momudu Sesay | National Financial Inclusion Specialist | |

GEF Evaluation:

No

Key Stakeholders:
Countries:

SIERRA LEONE
Lessons
Findings
1.

Between 2019 and 2022 there has been a significant increase in use of digital financial services and of financial inclusion in Sierra Leone. It is not possible to accurately quantify this increase as there has not been a demand side survey conducted in the country since 2017. However, the two main mobile money operators report a rapid increase in accounts and, more recently, active accounts. The 2021 Annual Supplier Survey records an increase from 1.4 million 90 day active accounts in December 2019 to 2.2 million in December 2020. Clearly, targets for the project's outcome and impact objectives in terms of increased financial inclusion have been reached, though the disaggregated increase in financial inclusion of women and youth is not clear.

-However, it seem unlikely that this increase has been achieved largely as a result of improved regulation or of fintech innovation. The two large mobile money companies identify a number of potential factors behind this growth. These include: i) the impact of COVID19 and the increased necessity of digital transactions; ii) the spread of mobile phones and mobile signal throughout the country is an important factor with an estimated 90% of the population able to access a mobile phone30; iii) the low levels of outreach by commercial banks; iv) the continued use of mobile money channels by development agencies to make bulk social payments31; v) requirements to make certain payments by mobile money32.

-Other important factors include the willingness of the two firms to make significant investments in building agent networks and the infrastructure to support them, as well as carrying out major marketing campaigns.

The companies also mentioned that a relatively light and flexible regulatory regime has also facilitated the growth of mobile money. However, it was not an unblocking of regulatory obstacles that spurred this growth, as is implied in the DFS Sierra Leone's Theory of Change. An improved regulatory framework, including the types of tiered KYC and agent network guidelines supported by the project, should enable more stable and balanced growth in the sector. Indeed, these guidelines have been seen as a means of strengthening the position of banks to compete with mobile money. For the mobile money companies, however, the new guidelines are viewed as creating challenges for future growth.

The DFS Sierra Leone project has shown diligence, flexibility and responsiveness in its highly valued support to the Bank of Sierra Leone. It has enabled UNCDF to develop a trusted relationship with BSL which has also been leveraged to help other development partners communicate and work more effectively with the regulator.

Supporting the Bank of Sierra Leone to draft regulations is a necessary but insufficient means to strengthen regulatory capacity. While technical assistance to develop Tiered KYC, Agent Network and Consumer Protection guidelines has been highly relevant to the Bank ofSierra Leone's needs, there is a potential that guidelines may remain limited in impact due to insufficient resources and manpower within the Bank of Sierra Leone to disseminate, monitor and enforce them, as well as regulators' natural caution in regulating new sectors due to limited knowledge of risks. Innovation SL had been waiting 18 months for a license to enter the fintech regulatory sandbox. Mobile money firms also commented on delays in licensing decisions by the Bank of Sierra Leone. The model of providing technical assistance to an institutions with insufficient capacity to absorb and use it fully carries risks in terms of longer term sustainability of impact.

Fintech remains a small and young sub-sector within the financial services industry and has not yet been able to contribute significantly to increasing financial inclusion in Sierra Leone. The DFS Sierra Leone project has provided invaluable support to the small number of local fintech organisations through providing technical information, networking and funding through the two Fintech challenges. These competitions have demonstrated that there is a relatively small pool of fintech innovators and entrepreneurs in the country. Support provided to the winners of the Fintech Challenges has provided temporary help but the fintech companies have experienced a range of other challenges which constrain development in the sector. Despite establishment of the regulatory sandbox, regulatory constraints remain, including delays in accessing the sandbox and difficulties in accessing USSD codes. In general, the Bank of Sierra Leone still demonstrates reluctance in regulating financial institutions that are not registered as banks, MFIs or mobile money operators. Fintechs have also faced challenges in working with the two main mobile money operator which remain sceptical about the viability and capacity of local fintech firms. As a result, only one fintech product – the Mosabi financial education app – has been developed from Minimum Viable Product stage.

In terms of disseminating knowledge, lessons learned and best practice, the DFS Sierra Leone project has played an important role in generating basic sector level data through the Annual Supplier Survey. This has been valued by financial service providers and helped to fill an important gap in the absence of more comprehensive and updated demand side data. Ideally, this is a role that should be played by the Bank of Sierra Leone rather than UNCDF but capacity issues have also been a constraint. The project has played less of a role in disseminating best practice in DFS within Sierra Leone or of disseminating lessons from the project more widely in the region or with other 'Southern' countries. The project's Theory of Change, therefore, is valid but incomplete. A conducive regulatory framework, fintech innovation and dissemination of lessons and best practice can contribute to widening financial inclusion but have not proved to be decisive factors in what appears to have been a spectacular growth in DFS and financial inclusion over the period of project implementation. That does not mean that the wrong choices were made in project design: the relevance of the project to the sector and to partner organisations has remained clear. Rather, it demonstrates that the real drivers of DFS growth were already in place: relative political stability, high mobile phone usage, limited banking sector outreach, some strong use cases for mobile money and, latterly, the drive created by COVID-19 restrictions.



View report for recommendation