MID TERM EVALUATION OF THE STRENGTHENING CLIMATE RESILIENCE OF AGRICULTURAL LIVELIHOODS IN AGRO-ECOLOGICAL REGION I & II IN ZAMBI PROJECT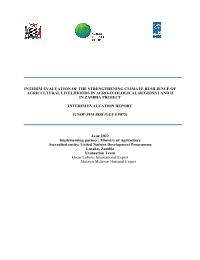 Evaluation Plan:

Evaluation Type:

Mid Term Project

Planned End Date:

09/2022

Completion Date:

10/2022

Status:

Completed

Management Response:

No

Evaluation Budget(US $):

60,000
Title
MID TERM EVALUATION OF THE STRENGTHENING CLIMATE RESILIENCE OF AGRICULTURAL LIVELIHOODS IN AGRO-ECOLOGICAL REGION I & II IN ZAMBI PROJECT
Atlas Project Number:

00095469

Evaluation Plan:
2016-2022, Zambia
Evaluation Type:
Mid Term Project
Status:
Completed
Completion Date:
10/2022
Planned End Date:

09/2022

Management Response:
Yes

Focus Area

:
Corporate Outcome and Output (UNDP Strategic Plan 2018-2021)

1. Output 2.1.1 Low emission and climate resilient objectives addressed in national, sub-national and sectoral development plans and policies to promote economic diversification and green growth

SDG Goal

Goal 13. Take urgent action to combat climate change and its impacts

SDG Target

13.2 Integrate climate change measures into national policies, strategies and planning

Evaluation Budget(US $):

60,000

Source of Funding:
Green Climate Fund
Evaluation Expenditure(US $):

50,000

Joint Programme:
No
Joint Evaluation:

No

Evaluation Team members:

| Name | Title | Nationality |
| --- | --- | --- |
| Oscar Lobela | International Consultant | |
| Mulawa Mulawa | National Consultant | |

GEF Evaluation:

No

Key Stakeholders:
United Nations Development Programme (UNDP) Food Organization Agency (FAO), World Food Programme(WFP), Water Resource Management Authority (WARMA) and Zambia Methodological Department(ZMD) and Ministry of Agriculture
Countries:

ZAMBIA
Recommendations
1

Recommendation1: The untimely disbursement of funds to the RPs, and delayed procurement.
The ET recommends streamlining the processes and procedures in approval of disbursements to RPs by UNDP, prioritizing project procurements by attaching dedicated staff to handle project procurements Therefore, the project needs to come up with an acceleration plan that would lead to fast tracked.

2

Evaluation Recommendation 2 Enhanced tracking of the M&E and travel plans to ensure adherence to the plans, it is recommended that these missions should involve all the RPs and where possible done jointly.

3

Evaluation Recommendation 3: Enhanced communication of results is the UNDP communications unit and the MoA communication unit should follow come up with a joint strategy to enhance communication of the project results that have been achieved.

4

Evaluation Recommendation 4: The ET team therefore recommends that the Project Manager is either confirmed or some substantive officer occupies the role to ensure security of tenure.:

5

Evaluation Recommendation 5: A key shortcoming for this project related to gender equality is about the non- documentation of the best practices and lessons learned for women The ET recommends identifying documenting Women's Empowerment best practices and lessons learned in SCRALA's project and disseminate these among partners and other stakehoIders

6

Evaluation Recommendation 6: The ET recommends a methodical approach to dissemination of lessons learnt is adopted, outlined and used as feedback tool for district and provincial stakeholders. This should be clearly detailed in the Project M&E Plan

7

Evaluation Recommendation 7: Revise the Project M&E plan to include Indicator reference Sheet that clearly defines indicators to be monitored and evaluated.

8

Evaluation Recommendation 8: Non-fully functional Grievance Review Mechanism system; some grievances are not adequately captured and reported with regular updates.

Conduct a Needs Assessment of the current GRM System and develop a detailed action plan and budget to fully operationalise the system

9

Evaluation Recommendation 9: Budget of co-financing is not broken down and it is not easy to track.

ET recommends GRZ provides a budget breakdown to facilitate its tracking

10

Evaluation Recommendation 10: Project didn't support the farmer with honey process equipment. ET recommends project to provide farmers with honey process equipment to add value to the harvested honey.