Final Evaluation Global Project Reducing Deforestation from Commodity Production - Panama Regional Hub and Paraguay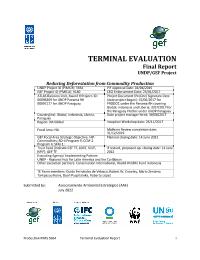 Evaluation Plan:

Evaluation Type:

Final Project

Planned End Date:

04/2022

Completion Date:

07/2022

Status:

Completed

Management Response:

No

Evaluation Budget(US $):

75,000
Title
Final Evaluation Global Project Reducing Deforestation from Commodity Production - Panama Regional Hub and Paraguay
Atlas Project Number:
Evaluation Plan:
2022-2025, RBLAC
Evaluation Type:
Final Project
Status:
Completed
Completion Date:
07/2022
Planned End Date:

04/2022

Management Response:
Yes
Corporate Outcome and Output (UNDP Strategic Plan 2022-2025)

1. Output 4.1 Natural resources protected and managed to enhance sustainable productivity and livelihoods

Evaluation Budget(US $):

75,000

Source of Funding:
GEF funds (Global Environment Facility Trust Fund)
Evaluation Expenditure(US $):

61,763

Joint Programme:
No
Joint Evaluation:

No

Evaluation Team members:

| Name | Title | Nationality |
| --- | --- | --- |
| Guido Fernández de Velasco, | Evaluation Team Lead | |

GEF Evaluation:

Yes

| | |
| --- | --- |
| GEF Project Title: | Reducing Deforestation from Commodity Production |
| Evaluation Type: | Terminal Evaluation |
| Focal Area: | Biodiversity |
| Project Type: | FSP |
| GEF Phase: | GEF-6 |
| GEF Project ID: | 9180 |
| PIMS Number: | 5664 |

Key Stakeholders:
Conservation International, World Wildlife Fund Indonesia, UNDP Paraguay, UNDP Liberia, UNDP Indonesia, UNDP GCP team; Government counterparts
Recommendations
1

A. Project strategy and design. Terminal Evaluation recommendation A1:

When designing a Production project, especially a "Pilot," the PIF and PPG phases should identify and provide sufficient resources to analyze the variables appropriate for the specific commodities and components (policy, science, regulation, capacity, etc.) for all of the results expected of the investments and effort made. This would include a blend of appropriate indicators that are oriented to expected results. If the project invests in techniques to increase yields in palm oil, then the indicator of the result would be a time-bound yield measurement at x months following training and a process indicator might be how the farmers feel about it on a scale of 1 to 5, etc. The same recommendation goes for policies and structures. A pilot project needs to know (a) if the policies are in-force and (b) are they providing the intended result. The former is applied in this project and the latter is absent. The PPG phase should also define the means of verification and the cost, effort and/or the partnerships required. It is common that this process extends beyond the life of the project. If these tasks are deferred to the project implementation phase, then the time to develop the baseline must be factored into the expectations and costs of the project keeping in mind that it could take several crop cycles or multiple measurements over an extended period of time. (Addressed to the GEF).

2

A. Project strategy and design. Terminal Evaluation recommendation A2.

When considering policy actions as part of project design, successful policy gains have certain core elements of success: (i) a policy proposal with a win-win proposition developed through a participative process effectively leveraging or responding to demand for the policy; (ii) strategic communications to develop or consolidate demand for the policy; (iii) effective advocacy strategies targeted to different levels; (iv) strategic communications to augment public opinion and to influence decision-makers at critical times in the decision-making juncture to push the policies through the political process and maintain momentum through a generally protracted process; and (v) a highly visible and trustworthy champion to facilitate advocacy. These elements need to be considered for their level of effort, costs and timeframes when designing projects expected to produce approved policies. (Addressed to the GEF).

3

B. Progress towards objectives (catalytic effect). Terminal Evaluation recommendation B1.

Consider producing brief 1 minute video "newscasts" that can be shared via whatsapp, email, or instant messaging to decision-makers. Key decision-makers are more likely to watch a 1-minute video than read a 2-page memo. This type of strategy can contribute to advocacy efforts reinforcing demand for policies – adding value to other communications strategies employed. (Addressed to UNDP Green Commodities Programme).

4

B. Progress towards objectives (catalytic effect). Terminal Evaluation recommendation B2.

Although the project has been completed and this recommendation is not directly actionable by the PMU, it is recommended that in future similar projects, the executing partners seek other interested parties to attempt to document the results of the training and piloting of agricultural intensification efforts in terms of changes in yield, cost and/or efficiencies etc. and compare these to production data from other interventions such as IFC IPOD (Indonesia), Solidarity W.A. (Liberia), corporate agronomic records, etc. The anecdotal yield differences reported indicate that the practices might be "bankable". These situations require a more robust M&E design approach to facilitate monitoring and up-scaling. It is recommended to seek support of private sector partners, universities, research organizations etc. to determine the economics of the results.

The GEF and UNDP could share and seek partners to team with Roundtables to assist in disseminating this type of information. If determined to be "bankable" the practices could be scaled-up through leveraged financing such as through corporate partnerships or agricultural loans, which can then provide a source of incentives for practices, such as integrated Pest management, that could recognize the positive externalities associated. (Addressed to UNDP Green Commodities Programme).

5

C. Sustainability. Terminal Evaluation recommendation C1.

Because the support to the platforms in the short term is partially government and donor driven, it may therefore not be permanent. If not already completed, GGP should translate the Guidance on the Financial Sustainability of Multi-stakeholders Platforms into Spanish and Bahasa for distribution to key partners within the platforms and donor organizations providing short term support to the platforms (FOLUR Country Projects implementing partners, Proforest, SECO, et.al.) with the aim of working with the public and private stakeholders to move towards financial sustainability models appropriate to each. (Addressed to UNDP Green Commodities Programme).

6

C. Sustainability. Terminal Evaluation recommendation C2.

Paraguay: strategy for a common vision on sustainable beef; define "sustainable beef production". Systems approaches are often very valuable for getting collective agreement over defining what sustainable beef production looks like. (Addressed to the UNDP – Paraguay CO).

7

C. Sustainability. Terminal Evaluation recommendation C3.

Liberia: HCV/HCS Planning; Liberia has yet to complete mapping of HCV/HCS values and use that base to indicate Land Use Cover Change in those areas. It is important for the government, UNDP, FOLUR if applicable and others to plan this process, train technicians and field test the use of the maps and dialogue.
With evolving concession agreements, this infrastructure should be in place as soon as possible as a tool for dialogue and conflict resolutions. Discuss with MPOI/MANCO the possibility of donating resources and assure participation of the other commodities companies that might make good use of the tool in their traceability programs. This is a very important piece for NOPPOL to put into place. (Addressed to the UNDP – Liberia CO).

8

C. Sustainability. Terminal Evaluation recommendation C4.

As the concession agreements are coming into line, possibly facilitate a dialogue between MPOI/MANCO and Musim Mas in Indonesia to discuss how their arrangements work with smallholders, the benefits, challenges, etc. UNDP Indonesia and Liberia could coordinate that dialogue. In Liberia, we would recommend a similar in-country dialogue with Maryland and their Oil Palm producers. (Addressed to the UNDP – Indonesia and Liberia COs).

9

C. Sustainability. Recommendation C5.

To enhance the financial sustainability of the Multi-stakeholder Platforms such as NOPPOL, et.al., encourage platform stakeholders to apply the UNDP Guidance on Sustainable Financing of Multi-stakeholder Platforms. (Addressed to the UNDP – Indonesia, Liberia and Paraguay CO).