Evaluation of UNDP contribution to strengthening electoral systems and processes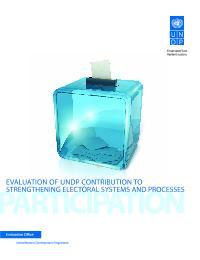 Evaluation Plan:

Evaluation Type:

Thematic

Planned End Date:

01/2012

Completion Date:

08/2012

Status:

Completed

Management Response:

Yes

Evaluation Budget(US $):

250,000
Title
Evaluation of UNDP contribution to strengthening electoral systems and processes
Atlas Project Number:
Evaluation Plan:
2009-2013, Independent Evaluation Office
Evaluation Type:
Thematic
Status:
Completed
Completion Date:
08/2012
Planned End Date:

01/2012

Management Response:
Yes

Focus Area

:
Corporate Outcome and Output (UNDP Strategic Plan 2018-2021)

1. Electoral laws, processes and institutions strengthen inclusive participation and professional electoral administration

Evaluation Budget(US $):

250,000

Source of Funding:
Joint Programme:
No
Joint Evaluation:

No

Evaluation Team members:

| Name | Title | Nationality |
| --- | --- | --- |
| | Team Leader | |

GEF Evaluation:

No

Key Stakeholders:
Lessons
Findings
1.

Chapter 3 Findings

This chapter presents the main findings related to the relevance, effectiveness, efficiency and sustainability of the UNDP contribution to strengthening electoral systems, processes and institutions across the range of contexts and approaches applicable to the organization's work. Strategic positioning, partnerships, national ownership and gender-related issues are integrated throughout the analysis.

3.1 Relevance

The evaluation assesses the relevance of UNDP activities and how it positioned itself vis-à-vis its partners and within the electoral assistance sector. In particular, the evaluation examines UNDP relationships with national and other stakeholders, how they perceive UNDP assistance and the relevance of that assistance to their needs. The evaluation also assesses UNDP strategic positioning at technical and policy levels to identify its added value, strategic niche, organizational understanding of the larger socio-political context in which elections take place, and how all such factors were addressed in UNDP efforts to strengthen electoral systems and processes.

Finding 1.

3.1.1 UNDP is most relevant for its role as an impartial provider of electoral assistance, which supports processes and institutions so that they better reflect democratic values and international obligations.





Tag: Relevance Civic Engagement Election Human and Financial resources Civil Societies and NGOs Country Government Capacity Building

2.

Finding 2.

3.1.2 UNDP is highly relevant and adds value when it takes on a development role to strengthen electoral processes.




Tag: Election Policies & Procedures UN Agencies

3.

Finding 3.

3.1.3 Institutionally, UNDP understands the nature of electoral assistance in different political contexts, but this understanding is not always integrated into programme design or implementation.




Tag: Election Knowledge management Policies & Procedures Programme Synergy Programme/Project Design Project and Programme management UN Country Team Conflict Conflict resolution Post Conflict

4.

Finding 4.

3.1.4 UNDP electoral assistance is relevant to improving human development and responding to national priorities to strengthen electoral processes.




Tag: Relevance Civic Engagement Election Partnership Civil Societies and NGOs Country Government Private Sector Technical Support

5.

3.2 Effectiveness

The evaluation assessed UNDP assistance across a range of different contexts, entry points and other factors that affect performance. Issues examined included building national capacities and ownership, political participation by women and marginalized group, and the extent to which UNDP assistance addressed and mitigated the potential for conflict inherent to electoral events. The evaluation also assessed whether or not UNDP contributed to improving the enabling environment and whether technical assistance opened the door to genuine political change. At the thematic level, it was difficult to attribute results directly to UNDP efforts, due to the number of other actors working to strengthen electoral processes and systems. Nonetheless, the evaluation used some of the indicators of change provided in Chapter 1 to isolate trends and determine alignment with UNDP electoral assistance entry points.

This section presents the results of this analysis. (Please see Annex 6 for additional details.)

Finding 5.

3.2.1 UNDP is generally effective at providing technical assistance that strengthens the work of electoral management bodies and results in the holding of credible electoral events.




Tag: Effectiveness Gender Equality Gender Mainstreaming Women's Empowerment Election Human rights Parliament Public administration reform Rule of law Donor relations Partnership Capacity Building Indigenous people Youth

6.

Finding 6.

3.2.2 UNDP effectiveness at improving the enabling environment for more credible elections and processes does not match the organization's level of success at the technical level.




Tag: Effectiveness Civic Engagement Election Public administration reform Monitoring and Evaluation Capacity Building Advocacy Technical Support

7.

Finding 7.

3.2.3 UNDP support has led to the development of more inclusive electoral processes and increased participation by women and other groups, but further effort is needed in this area.




Tag: Gender Equality Gender Mainstreaming Women's Empowerment Civic Engagement Election Human rights MDGs Capacity Building Disabilities Youth

8.

Finding 8.

3.2.4 UNDP can effectively deliver high-tech solutions for electoral processes in developing countries, but there are growing concerns about the cost and appropriateness of some of these systems in the development context.




Tag: Efficiency e-Governance Election Procurement Capacity Building Technology Technical Support

9.

Finding 9.

3.2.5 UNDP programming has been able to mitigate or prevent some election-related violence. Corporate understanding of the links between elections and violence, and of the possible UNDP mitigating role, is only beginning to be systematized.




Tag: Effectiveness Election Rule of law Business Model Country Support Platform Donor relations UN Agencies UN Country Team Conflict Conflict resolution Peace Building Post Conflict

10.

Finding 10.

3.2.6 The UNDP process-focused (electoral cycle) approach is not systematically applied in practice, as most assistance still centres on events.




Tag: Effectiveness Election Donor relations Multilateral Partners Bilateral partners

11.

3.3 Efficiency

Efficiency within the UNDP context is defined as "maximizing opportunities for individuals and communities with optimal use of human and material and institutional resources". The evaluation was asked to consider the varied approaches used in different contexts to assess UNDP efficiency in terms of its ability to meet the tight deadlines of an electoral calendar and provide durable solutions. Some of the questions asked focused on whether the UNDP business model and working relationships have led to success, how UNDP country offices worked with other donors, and the national and international organizations that work in the sector. UNDP has managed hundreds of electoral support projects since it began to provide such assistance more than two decades ago. Many of these projects involved basket funds, which pool donor funding to improve donor and other partner coordination in the implementation of complex, politically sensitive and highly visible projects. Basket funds can be very large, with some exceeding $100 million and many others valued at $20 million or similar amounts (see Chapter 2). UNDP country offices typically manage both these basket funds and the projects they support, and the initial set-up of an electoral project can make a significant demand on country-office resources—especially on smaller offices. The project has to be designed, negotiated with the government and staffed. Depending on its size, UNDP can set up a Project Management Unit to coordinate project activities and funding and report to the country-office senior management. Such units typically handle day-to-day project management, including using donor funds to support its objectives, which can include hiring technical experts, sub-grants to non-governmental organization for observation or civic education, and the procurement of election materials. In some cases, notably in post-conflict and transitional environments, basket funds may also cover election costs such as poll worker salaries or ballot printing, and can reach hundreds of millions of dollars.

Several issues were identified during the evaluation of UNDP management of projects and basket funds. Chief among these were cumbersome procedures—for approvals, procurement, recruitment and diversions from annual work plans—and the slow speed of recruitment and procurement in particular. These affected not only UNDP efficiency but also its performance, relevance and sustainability.

Finding 11.

3.3.1 Cumbersome procedures and slow recruitment and procurement affect UNDP management of electoral projects.




Tag: Efficiency Election Human and Financial resources Policies & Procedures Procurement UNDP Regional Bureaux

12.

Finding 12.

3.3.2 Uneven quality of reporting on basket funds and project performance does not provide donors with adequate information on the use of their funds.




Tag: Effectiveness Efficiency Donor relations Monitoring and Evaluation Ownership Results-Based Management Post Conflict

13.

Finding 13.

3.3.3 UNDP is generally efficient at donor coordination and mobilization of funds, but donors are increasingly looking for more cost-effective solutions and more efficient project management and delivery.




Tag: Efficiency Aid Coordination Resource mobilization Election Donor relations Multilateral Partners Project and Programme management Country Government

14.

Finding 14.

3.3.4 UNDP is a leader in the field of electoral knowledge, but this knowledge is not systematically applied or shared at the country level, affecting efficiencies and performance.




Tag: Effectiveness Election Human and Financial resources Knowledge management Multilateral Partners Strategic Positioning Technical Support

15.

Finding 15.

3.3.5 UNDP implementation modalities for electoral assistance require balancing the need for impartiality with the efficiency required in electoral contexts.




Tag: Efficiency Sustainability Election Implementation Modality Ownership Policies & Procedures Procurement

16.

3.4 Sustainability

In his 1994 report on electoral assistance, the UN Secretary-General stated, "The ultimate objective of electoral assistance is to create its own obsolescence." As such, the measure of success for United Nations assistance lies in host countries' ability to build the national capacity necessary to conduct periodic and credible elections on their own. The evaluation examined the degree to which UNDP assistance contributed to the establishment of durable democratic electoral processes, systems and national ownership thereof.

Finding 16.

3.4.1 UNDP assistance that incorporates development and capacity-building considerations increases national ownership and contributes to more sustainable results.




Tag: Sustainability Civic Engagement Election Parliament Public administration reform Ownership Capacity Building

17.

Finding 17.

3.4.2 UNDP support to developing sustainable electoral processes requires an increased focus on the appropriateness and costeffectiveness of solutions.




Tag: Efficiency Sustainability Civic Engagement Election Policies & Procedures Country Government Private Sector

18.

Finding 18.

3.4.3 The enabling environment and whether root causes of local electoral problems are addressed directly affect the sustainability of UNDP contributions.

The enabling environment was found to be a critical factor in UNDP performance (see Section 3.2.2), but it was also found to be an indispensable element for sustainability.




Tag: Sustainability Election Rule of law Communication Knowledge management Ownership Capacity Building
Recommendations
1

4.2.1 Institutional and strategic direction setting

Recommendation 1: UNDP should intensify efforts to build the shared sense of purpose among headquarter, country-office and project teams, and to improve their understanding of the UNDP approach and programming options for electoral assistance.

UNDP should ensure that its institutional frameworks, vision for electoral assistance, and how these fit within the broader United Nations electoral assistance framework are more fully understood by staff and key stakeholders working at the country level. This should include training for country office and project staff on how UNDP promotes the normative United Nations values and fulfils an impartial role in the provision of electoral assistance. UNDP should better leverage the considerable amount of its knowledge products and expertise within the Bureau for Development Policy, Bureau for Crisis Prevention and Recovery and some of its more experienced Resident Representatives through more systematic dissemination, networking efforts, and follow-up to its community of practice meetings. This would increase the consistency, effectiveness and relevance of the UNDP contribution.

UNDP should also consider more intensive and comprehensive induction training—on the organization's institutional vision and implementation guidelines on electoral assistance—for new Resident Representatives, Chief Technical Advisers, senior country office management and governance unit staff. This training should takeplace well in advance of the initial needs assessment mission so that a representative of the country office can participate in the mission and more effectively contribute to its findings and recommendations. Networking efforts between country office governance and electoral project staff, and among offices and regions should be expanded.

2

4.2.1 Institutional and strategic direction setting

Recommendation 2: UNDP should assess the way it frames relationships with national authorities for electoral projects, and develop a model that embodies UN impartiality within its long-standing relationship within a country.

UNDP should guard its reputation as an impartial provider of electoral assistance, because this reputation can play a critical role in managing local political dynamics while promoting the broader requirements of electoral integrity. UNDP should ensure that its involvement in an electoral process serves as a mark of legitimacy, providing confidence to electoral management bodies to take the right decisions and dissuading nondemocratic forces from making frivolous claims or disrupting the process. UNDP should ensure that all country offices are aware of the option of providing support based on a request from an electoral management body. UNDP should focus its technical and normative assets on strengthening these independent institutions to enhance their standing in society and reinforce the political role they play as arbiters of the electoral contest.

In cases where a primary counterpart may be within the host government's Executive branch (such as the Ministry of Interior), the country office should distinguish electoral technical assistance from other, non-political forms of technical assistance. The means by which this distinction could be made include hosting of a needs assessment mission, appointing a Chief Technical Adviser with clearly defined authority, establishing a consultative mechanism with representatives of civil society and opposition political parties, and appealing to UNDP and EAD when the executive institution appears to be coming under political pressure from the incumbent administration.

3

4.2.1 Institutional and strategic direction setting

Recommendation 3: UNDP should ensure a more consistent grounding of electoral assistance in the broader democratic governance framework to better incorporate the values of that framework.

UNDP should more firmly ground electoral assistance in its larger democratic governance programme to give more meaning to its support. Specifically, this means working more systematically to build synergies among different democratic governance programmes, some of which may already be assisting women's groups, civil society advocates, media, political parties and members of parliament. This process should start by taking advantage of existing opportunities and becoming more systematized as part of the Country Programme Action Plan process. This requires better diagnosis of governance issues and designing the governance programme, including electoral assistance, around that analysis. In contexts marked by a lack of political will, and where repeated electoral technical assistance has not resulted in the envisioned outcomes, UNDP should ensure that country offices are given full headquarter and regional support through mentoring and backstopping. In cases where there is no political will for competitive multiparty processes, UNDP should carefully assess its support options, as assisting parts of a process under such circumstances is tacit approval of them. Country offices with upcoming electoral events should be prioritized for training on the organization's new political economy-based analysis and on how to integrate this political analysis into soft and hard assistance. Strengthening contextual analyses and integrating early warning systems into electoral assistance programming could help country offices and regional bureaux identify potential triggers for electoral conflict and develop mitigation and prevention responses at the policy and technical levels.

4

4.2.1 Institutional and strategic direction setting

Recommendation 4: Beyond addressing technical needs, UNDP programmes should strategically focus on the areas of critical need for credible, inclusive processes.

UNDP should be strategic in the choice of areas where it offers assistance and not try to address everything requested by national authorities or donors. The agency should also ensure that all of its hard and soft assistance, training and activities directly contribute towards the achievement of a more credible, peaceful and inclusive process. UNDP should concentrate on ensuring that the most essential needs of the process are covered through its mobilization and coordination role, and, in conjunction with national and international partners, determine which partners are best-placed and able to address specific needs. This process should be based on sound analysis of the political and electoral context, prioritization of needs and a clear exit strategy. UNDP should ensure that its own programmes effectively leverage its United Nations status, multinational nature and development mandate, and that such programmes focus directly on strengthening the credibility of the processes assisted. In particular, UNDP should do more to exploit its convening capabilities and its comparative advantage of facilitating national dialogue on needed electoral reforms and reducing the winner-takes-all nature of electoral systems. Strengthening multiparty political systems should be a part of this process. These types of activities are, by their very nature, process issues, and UNDP should allow sufficient time for them to be carried out both before and after the electoral event.

5

4.2.1 Institutional and strategic direction setting

Recommendation 5: UNDP should prioritize efforts to clarify the application of the United Nations electoral assistance policy framework to more effectively fulfil the institutional mandate of development assistance.

UNDP should seek to resolve the differences arising from the application of the United Nations electoral assistance policy framework where it affects UNDP ability to fulfil its development mandate. Senior UNDP managers should engage with the United Nations Focal Point to discuss these issues and seek a synergistic application of the framework so that UNDP, as well as other United Nations organizations, are able to make the best use of their institutional mandates in support of these important national processes. UNDP should continue its efforts through the Inter-Agency Coordinating Mechanism on Electoral Assistance to resolve operational issues.

6

4.2.2 Programmatic Improvements

Recommendation 6: UNDP should strengthen implementation of electoral cycle projects so they are able to retain their process-oriented focus.

UNDP should strengthen its efforts to fully implement electoral cycle projects by focusing on the process alongside the event. UNDP should provide country offices, Chief Technical Advisers and project teams with training on the electoral cycle approach, improve dissemination of implementation guidelines, and promote increased networking and peer-to-peer exchanges among electoral management bodies and civil society organizations in the periods between electoral events. UNDP should also leverage the range of entry points in an electoral cycle approach to reach media, political parties, legislators and others to strengthen the process and promote the independence of electoral management bodies, whether they are formally independent or part of the executive branch. UNDP country offices should also be more proactive in the period between elections to maintain relationships with such bodies and election-oriented civil society organization (such as local observer groups) to promote improvements in electoral processes, electoral dispute resolution mechanisms, electoral management body independence and electoral law. Engagement with donors regarding post-election activities should begin long before the electoral event, in order to avoid losing momentum in the crucial months after an election. A post-election strategy that places due emphasis on sustainability and an exit strategy should be prepared as part of any election assistance project document.

7

4.2.2 Programmatic Improvements

Recommendation 7: More emphasis and effort are needed to reduce the costs of some of the supported processes and ensure they are context-appropriate and sustainable.

UNDP should renew and re-energize its efforts to develop cost-effective, sustainable solutions for electoral processes and institutions, and to build the national ownership needed to manage and maintain these systems. UNDP should facilitate the development of local solutions for local problems and avoid over-reliance on expensive imports, including inappropriately high-tech solutions implemented in low-tech contexts. UNDP should increase focus on strengthening national and, where relevant, subnational capacity and expertise for strategic planning, management, timely procurement and budgeting. Appropriate benchmarking, monitoring and budgetary controls should be considered to help foster costawareness. Elections are big business for some, particularly for vendors, and UNDP should assist electoral management bodies and civil society organizations in developing transparent and accountable procedures that reduce opportunities for economic and political corruption.

8

4.2.2 Programmatic Improvements

Recommendation 8: UNDP should streamline its electoral assistance processes to ensure that they are more efficient in the fast-paced environment of the electoral process they support.

UNDP should review the chain of its electoral support processes from conceptualization to assistance delivery. Some procedural and efficiency issues are internal to UNDP, while others stem from the larger United Nations framework of response and require resolution. In particular, this applies to the relationship between UNDP and the Electoral Assistance Division and the extent of the latter's authority over UNDP programmes. Timelines to review include those pertaining to the receipt and processing of assistance requests, needs assessments and selection of their participants, and project formulation, negotiation and adoption. UNDP should also closely examine and streamline its recruitment and procurement processes. In addition, UNDP should encourage: the development of impact analysis for its work; a standard template to better track, monitor and report on the accomplishments of projects and their costs by intended outcomes; and more systematic efforts to document and share UNDP institutional memory. UNDP regional bureaux and the Bureau for Development Policy should strengthen oversight and monitoring of electoral programmes and improve the capacity of concerned staff, particularly for problematic processes or projects.