UNDP Swaziland Governance Outcome (2011-2015)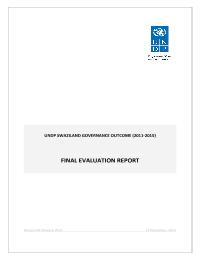 Evaluation Plan:

Evaluation Type:

Final Project

Planned End Date:

12/2014

Completion Date:

12/2014

Status:

Completed

Management Response:

Yes

Evaluation Budget(US $):

22,000
Title
UNDP Swaziland Governance Outcome (2011-2015)
Atlas Project Number:

00077239

Evaluation Plan:
2011-2015, Eswatini
Evaluation Type:
Final Project
Status:
Completed
Completion Date:
12/2014
Planned End Date:

12/2014

Management Response:
Yes

Focus Area

:
Corporate Outcome and Output (UNDP Strategic Plan 2014-2017)

1. Output 2.3 Capacities of human rights institutions strengthened

Evaluation Budget(US $):

22,000

Source of Funding:
Governance Project
Joint Programme:
No
Joint Evaluation:

No

Evaluation Team members:

| Name | Title | Email | Nationality |
| --- | --- | --- | --- |
| Richard M. Chiwara | Dr. | rmchiwara@verizon.net | |

GEF Evaluation:

No

Key Stakeholders:
Parliament, Ministry of Justice and Constitutional Affairs, Human Rights Commission, Anti-Corruption Commission, Civil Society, UNDP and Donors
Countries:

ESWATINI

Comments:
This is an Outcome Evaluation
Recommendations
1
UNDP should focus its governance programme on areas where it has the greatest comparative advantage to achieve the greatest impact. In order to do this, UNDP should develop a programme with strategic focus informed by a comprehensive assessment of the governance issues and challenges in Swaziland, and a thorough audit of its comparative advantages, including mapping the strengths and focus of development partners.
2
UNDP should develop independent programme document for the integrated governance programme. A focused governance programme with multiple interventions spanning across several sectors (public service, justice, human rights, elections, etc.) would require that there should be a dedicated programme document that serves as its specific road map. The programme document should contain a clear articulation of the programme?s theory of change, including critical risks and assumptions for the programme?s success.
3
UNDP should strengthen capacity and practice of results-based management in programme design and implementation. UNDP may also consider engaging an external consultant to review its programme monitoring and evaluation framework, including appropriates and efficacy of its performance indicators.
4
UNDP should adopt the strategic capacity development approach in designing and developing interventions. While UNDP had developed a good practice that included supporting development of strategic plans and policy implementation frameworks, it was apparent that many interventions were not based on a comprehensive capacity needs assessment.
5
UNDP should develop and strengthen strategic partnerships with other actors in the governance sector. At global level, UNDP expects increasing difficulty in accessing funding in the future, thereby making partnerships even more critical.
6
UNDP should develop and implement an exit strategy and sustainability plan for all interventions. Although UNDP?s interventions hade delivered good outputs, including strategic action plans, etc. many of them lacked implementation. UNDP should therefore develop an exit strategy and sustainability plan based on systematic assessment of potential risks and specific risk mitigation strategy that will ensure sustainability of results.