Enhancing Access to Financial Services Project (EAFS)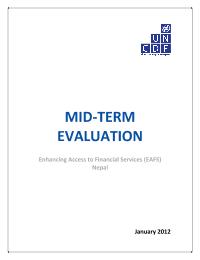 Evaluation Plan:

Evaluation Type:

Mid Term Project

Planned End Date:

03/2012

Completion Date:

01/2012

Status:

Completed

Management Response:

Yes

Evaluation Budget(US $):

50,000
Title
Enhancing Access to Financial Services Project (EAFS)
Atlas Project Number:

00069750

Evaluation Plan:
2011-2011, UNCDF
Evaluation Type:
Mid Term Project
Status:
Completed
Completion Date:
01/2012
Planned End Date:

03/2012

Management Response:
Yes
Focus Area:
Corporate Outcomes (UNDP Strategic Plan 2008-20013)

1. Capacities of national and local institutions enhanced to scale up proven MDG acceleration interventions and to plan, monitor, report and evaluate the MDG progress in the context of related national development priorities
2. Policies, strategies and partnerships established to enhance public-private sector collaboration and private sector and market development that benefit the poor and ensure that low-income households and small enterprises have access to a broad range of financial and legal services

Evaluation Budget(US $):

50,000

Source of Funding:
project
Joint Programme:
No
Mandatory Evaluation:
Yes
Joint Evaluation:

No

Evaluation Team members:

| Name | Title | Email | Nationality |
| --- | --- | --- | --- |
| Joan Hall | Team Leader | | |

GEF Evaluation:

No

Key Stakeholders:
Government, UNDP, Nepal Rastra Bank
Location of Evaluation:

Country Level

Countries:

NEPAL
Recommendations
1
1. Revise M&E framework to better reflect overall project goals and outputs such as outreach to the very poor and outreach to remote areas.
2
2. Reduce the target of linked SCGs from 10,000 to 3,000 for the current project
3
3. For further training activities, ensure to the extent possible and within budget constraints that the entire IF sector benefits from the activities
4
4. The project should involve the meso sector more
1. Recommendation: 1. Revise M&E framework to better reflect overall project goals and outputs such as outreach to the very poor and outreach to remote areas.
Management Response:
The current project ends in 2012, and Performance Based agreements end in July 2012 of the majority of the partners. This suggestion is not executable within the remaining life frame of the project. However, this recommendation can be considered for the project extension
Key Actions:
2. Recommendation: 2. Reduce the target of linked SCGs from 10,000 to 3,000 for the current project
Management Response:
SCG target should be revised to 3,000.
Key Actions:
| Key Action | Responsible | DueDate | Status | Comments | Documents |
| --- | --- | --- | --- | --- | --- |
| Project will flag this issue to the Project Board in June. | EAFS/NRB | 2012/10 | Completed | This was flagged as an issue to the Project Board and it was proposed that while the target will be dropped to 3000, SCG manual will be finalized and training provided, facilitation on linkage | |
3. Recommendation: 3. For further training activities, ensure to the extent possible and within budget constraints that the entire IF sector benefits from the activities
Management Response:
To the extent possible, the project will follow this recommendation.
Key Actions:
| Key Action | Responsible | DueDate | Status | Comments | Documents |
| --- | --- | --- | --- | --- | --- |
| EAFS will widely disseminate its research findings through publications and public events | EAFS/NRB | 2012/11 | Completed | EAFS disseminated its research reports, manuals, and other knowledge products through publications, website, and distribution | |
4. Recommendation: 4. The project should involve the meso sector more
Management Response:
To the extent possible, the project will follow this recommendation
Key Actions:
| Key Action | Responsible | DueDate | Status | Comments | Documents |
| --- | --- | --- | --- | --- | --- |
| The capacity building activities of 2012 will involve meso sector actors to the extent possible | EAFS/NRB | 2012/11 | Completed | Meso level institutions were involved in the TOT in financial literacy, training in client protection, financial analysis and strategic business planning, MIS, etc. | |