Effective management of environment, natural resources, climate change and disaster risk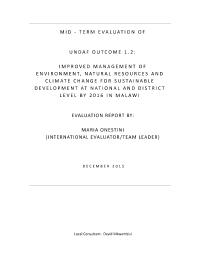 Evaluation Plan:

Evaluation Type:

Outcome

Planned End Date:

06/2015

Completion Date:

09/2015

Status:

Completed

Management Response:

Yes

Evaluation Budget(US $):

50,000
Title
Effective management of environment, natural resources, climate change and disaster risk
Atlas Project Number:
Evaluation Plan:
2012-2018, Malawi
Evaluation Type:
Outcome
Status:
Completed
Completion Date:
09/2015
Planned End Date:

06/2015

Management Response:
Yes

Focus Area

:
Corporate Outcome and Output (UNDP Strategic Plan 2014-2017)

1. Output 1.4. Scaled up action on climate change adaptation and mitigation across sectors which is funded and implemented
2. Output 5.2. Effective institutional, legislative and policy frameworks in place to enhance the implementation of disaster and climate risk management measures at national and sub-national levels
3. Output 5.4. Preparedness systems in place to effectively address the consequences of and response to natural hazards (e.g. geo-physical and climate related) and man-made crisis at all levels of government and community

Evaluation Budget(US $):

50,000

Source of Funding:
TRAC and CS
Joint Programme:
No
Joint Evaluation:

No

Evaluation Team members:

| Name | Title | Email | Nationality |
| --- | --- | --- | --- |
| Maria Onestini | Ms. | rponesti@criba.edu.ar | ARGENTINA |
| David Mkwambisi | Dr. | ddmkwambisi@gmail.com | |

GEF Evaluation:

No

Key Stakeholders:
Ministry of Finance and Development Planning, EAD, DEA, Dept of Met Services and Climate Change
Countries:

MALAWI

Comments:
project number not yet assigned
Recommendations
1
UNDP should accelerate work in order to provide impulses for relevant products obtained through the implementation of Outcome 1.2 to be approved as binding policies and to be implemented in Malawi. This entails being attentive to (and strengthening where it is fit) weak national policy absorption capacity, weak national governance, as well as frail budgeting structures that hinder implementation of policies and hampers improved management of environment, natural resources and climate change for sustainable development at national and district levels. That is, it is imperative that policy frameworks be implemented in a planned and coherent manner within the remaining period of this UNDAF.
2
UNDP's portfolio related to the current Outcome should enhance engagement with and support of non ? state actors, including local communities, the private sector, non ? governmental organizations and civil society. Furthermore, it should also enhance engagement with and support of relevant district ? level institutions. Projects that already contemplate local interventions and specific sites where the projects/programmes will take place should boost these aspects providing increased support and/or being attentive to implementation.
3
UNDP project development should be based on a thorough exhaustive knowledge of the areas where an intervention will take place, not only knowledge of social and economic components but also knowledge of natural resources and environment variables as well as what impacts climate change is having in the particular area where work will take place.
4
UNDP?s downstream and upstream work needs to be linked, with downstream nourishing upstream work with successes, and thus aiding in upscaling and enhancing catalytic effects of local level interventions and avoid continuous ?piloting.?
5
Projects, programs and processes supported by UNDP should contain clear and feasible exit strategies in order to promote implementation of policy, encourage institutional capacity building and promote sustainability. Those UNDP processes, programs and projects that are part of current Outcome 1.2 that do not have such a strategy should quickly determine one and begin implementing.
6
Relevant areas within UNDP as lead agency of the Outcome at hand should also connect and collaborate. Very importantly, Democratic Governance area of UNDP should connect with Environment and Energy area in order to exchange knowledge, best practices and lessons learned regarding governability in Malawi and promoting implementation of ENR, CC, and DRM in the country. The same should occur regarding connections of Capacity Development and Environment and Energy units within UNDP in order to exchange knowledge, best practices and lessons learned regarding capacity building and capacity strengthening in ENR, CC and DRM in the country.
7
Given that UNDP puts a strong emphasis on developing and strengthening institutional capacities, capacity development for Malawi should be enhanced and be made more sustainable then it is now in order to achieve objectives that withstand over time, truly building long ? term institutional capacity through proper approaches. Here as in other areas of work, engagement should not be exclusively with national government, but should entail a broader spectrum of institutions (even with stakeholders which UNDP does not traditionally engage with): district and local level institutions, local stakeholder organizations, private sector, and other relevant organizations beyond national government.