Evaluation of the marking of the tenth anniversary of the international year of volunteers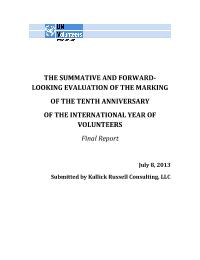 Evaluation Plan:

Evaluation Type:

Project

Planned End Date:

01/2013

Completion Date:

07/2013

Status:

Completed

Management Response:

Yes

Evaluation Budget(US $):

80,000
Title
Evaluation of the marking of the tenth anniversary of the international year of volunteers
Atlas Project Number:
Evaluation Plan:
2011-2014, UNV
Evaluation Type:
Project
Status:
Completed
Completion Date:
07/2013
Planned End Date:

01/2013

Management Response:
Yes

Focus Area

:

1. Poverty and MDG
2. Democratic Governance

Corporate Outcome and Output (UNDP Strategic Plan 2018-2021)

1. Capacities of national and local institutions enhanced to scale up proven MDG acceleration interventions and to plan, monitor, report and evaluate the MDG progress in the context of related national development priorities
2. Civil society, including civil society organizations and voluntary associations, and the private sector contribute to the MDGs in support of national planning strategies and policies

Evaluation Budget(US $):

80,000

Source of Funding:
SVF
Joint Programme:
No
Joint Evaluation:

No

Evaluation Team members:

| Name | Title | Nationality |
| --- | --- | --- |
| Kallick Russell Consulting | | |

GEF Evaluation:

No

Key Stakeholders:
UNV
Comments:
UNV's role as focal point for Global Volunteerism - Linkage to future SW VR evaluation
Recommendations
1
1. Develop a theory of change for each initiative to articulate a clear purpose and goals, implement effectively and efficiently, and continue to build on initiative?s gains after initiative is completed.
2
2. Plan from inception how to capitalize on heightened stature to increase resources and mobilization.
3
3. Strengthen work on promotion and advocacy of volunteerism through capacity building of national volunteer mechanisms.
4
4. Facilitate norm setting, but not strive to be a norm-setting organization.
5
5. Establish a useful and feasible monitoring system that is aligned with initiative and corporate outcomes.
6
6. Continue to build communications capacity throughout the organization.