GEF BRA/09/ G31- Market Transformation for Energy Efficiency in Brazil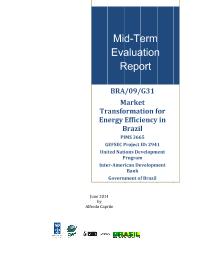 Evaluation Plan:

Evaluation Type:

Mid Term Project

Planned End Date:

01/2014

Completion Date:

06/2014

Status:

Completed

Management Response:

Yes

Evaluation Budget(US $):

16,000
Title
GEF BRA/09/ G31- Market Transformation for Energy Efficiency in Brazil
Atlas Project Number:

00055992

Evaluation Plan:
2012-2016, Brazil
Evaluation Type:
Mid Term Project
Status:
Completed
Completion Date:
06/2014
Planned End Date:

01/2014

Management Response:
Yes

Focus Area

:
Corporate Outcome and Output (UNDP Strategic Plan 2014-2017)

1. Output 1.4. Scaled up action on climate change adaptation and mitigation across sectors which is funded and implemented

Evaluation Budget(US $):

16,000

Source of Funding:
GEF
Joint Programme:
No
Joint Evaluation:

No

Evaluation Team members:

| Name | Title | Email | Nationality |
| --- | --- | --- | --- |
| Alfredo Caprile | | | |

GEF Evaluation:

Yes

| | |
| --- | --- |
| Evaluation Type: | |
| Focal Area: | Climate Change |
| Project Type: | EA |
| GEF Phase: | GEF-4 |
| PIMS Number: | 3665 |

Key Stakeholders:
Ministry of Environment, IBAMA, ICMBIO
Countries:

BRAZIL
Recommendations
1
Due to the undeveloped state of the ESCO market in Brazil, the target of reaching USD93 million of increase in investments in EE for buildings within the public and private sector under a EPC approach should be revised downward. The three guarantees that have been issued under EEGM so far are for a total of USD 1.6 million, leveraging a total investment of USD9.44 million. It is highly unlikely that under the present market conditions the Project will be able to meet the target of USD 93 million of EE investments in the 18 months remaining until Project completion.
2
: If a minimum of 10 FIs and a value of at least USD 123 million of financed EE investments are to be enabled by the Project, the procedures for accessing the EEGM will have to be revised in order to reach a wider market of FIs. The target value of EE investments to be financed through FIs (i.e., at least USD 123 million in total) should be in line with the target value of increase in investment in EE in public and private buildings (i.e., USD 93 million).
3
More importantly, the marketing efforts for identifying potential EE project candidates will have to be increased. Also unless the Project succeeds in designing a PBI mechanism that would be acceptable by the public sector, the amount of financed EE investments will have to be scaled down.
4
The indicator named ?Rate of public and private building owners/operators reported to use ESCOs services to improve their energy consumption (at least 80%)? is unclear and needs to be clarified together with its target.
5
The number of EE projects implemented by the public and private sector using the EEGM mechanism or similar may be a more easily measurable indicator to assess progress in fostering EE investments in public and private buildings. Due to the undeveloped state of the ESCO market, it is difficult to forecast the amount of actual EE investments that could take place between now and the end of Project implementation.
6
A baseline for current average of energy consumption in building spaces expressed in kWh per m2 and a specific target needs to be defined, if this indicator is going to be used. It does not appear feasible to define an overall kWh per m2 reduction target for the public building sector.
7
The grid emission factor that has been used in the PRODOC to estimate CO2 emission reductions needs to be revised and the calculation of estimated GHG emission reductions that would be expected from Project intervention needs to recalculated based on the correct grid emission factor and the revised targets of EE investments. This should be done in close coordination with MMA and taking into consideration the National targets that have been agreed upon as a result of international negotiations on climate change and their impact on domestic climate change policy.
8
The decision to incorporate the development of a Program of Activities (PoA) for EE in buildings for validation and registration under the CDM rules as proposed by the MMA should be confirmed and included in the Project Logical Framework.
9
Most importantly, arrangements for the creation of Technical Advisory Committee should be finalized ASAP.