Assessment of Development Results: Libya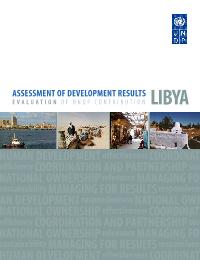 Evaluation Plan:

Evaluation Type:

ICPE/ADR

Planned End Date:

06/2009

Status:

Deleted

Management Response:

No

Evaluation Budget(US $):

150,000
| Title | Assessment of Development Results: Libya |
| --- | --- |
| Atlas Project Number: | |
| Evaluation Plan: | 2008-2009, Independent Evaluation Office |
| Evaluation Type: | ICPE/ADR |
| Status: | Deleted |
| Planned End Date: | 06/2009 |
| Management Response: | No |
| Corporate Outcome and Output (UNDP Strategic Plan 2014-2017) | |
| Evaluation Budget(US $): | 150,000 |
| Source of Funding: | |
| Joint Programme: | No |
| Joint Evaluation: | No |
| GEF Evaluation: | No |
| Key Stakeholders: | |
| Location of Evaluation: | Country Level |
| Countries: | LIBYA |
Recommendations
1
Prepare the CPD in close alignment with the national development plan.
2
Focus development work (as opposed to facilitation) on a small number of areas where UNDP can make a difference and add value for human development.
3
Establish a more effective reporting system that meets the needs of national counterparts and undertake annual programme reviews with national stakeholders.
4
Following the approval of the new CPD by the UNDP Executive Board, prepare a Country Programme Action Plan involving national counterparts and develop a mechanism for holding annual reviews.
5
Develop a strategy for resource mobilization.
6
Prioritize further capacity development both at the UNDP country office and its counterpart national agencies, and intensify ongoing efforts in this respect.
7
Close projects that have been open for a long time with little or no activity.
8
Ensure, to the extent possible, the recruitment of Arabic speakers as experts for local projects to facilitate communication and reach the desired level of agreements.
9
Clearly define and reach mutual acceptance of UNDP management fees.
Management response not available