UNDP Programme of Support to the Government of South Africa in Attaining its Development Objectives – 25 Year Review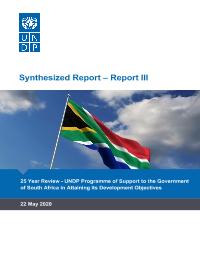 Evaluation Plan:

Evaluation Type:

Thematic

Planned End Date:

03/2020

Completion Date:

06/2020

Status:

Completed

Management Response:

No

Evaluation Budget(US $):

40,000
Title
UNDP Programme of Support to the Government of South Africa in Attaining its Development Objectives – 25 Year Review
Atlas Project Number:

88758,79954,83075,96730,61141,60783,42849,31677

Evaluation Plan:
2013-2020, South Africa
Evaluation Type:
Thematic
Status:
Completed
Completion Date:
06/2020
Planned End Date:

03/2020

Management Response:
No
Corporate Outcome and Output (UNDP Strategic Plan 2018-2021)

1. Output 1.5.1 Solutions adopted to achieve universal access to clean, affordable and sustainable energy
2. Output 2.1.1 Low emission and climate resilient objectives addressed in national, sub-national and sectoral development plans and policies to promote economic diversification and green growth
3. Output 2.5.1 Solutions developed, financed and applied at scale for energy efficiency and transformation to clean energy and zero-carbon development, for poverty eradication and structural transformation
4. Output 3.3.1 Evidence-based assessment and planning tools and mechanisms applied to enable implementation of gender-sensitive and risk-informed prevention and preparedness to limit the impact of natural hazards and pandemics and promote peaceful, just and inclusive societies
5. Output 3.5.1 Energy access re-established for crisis-affected populations, with a focus on gender-sensitive, risk-informed and sustainable recovery

Evaluation Budget(US $):

40,000

Source of Funding:
UNDP
Evaluation Expenditure(US $):

25,204

Joint Programme:
No
Joint Evaluation:

No

Evaluation Team members:

| Name | Title | Email | Nationality |
| --- | --- | --- | --- |
| Caroline Solik | Ms | caroline@pegasys.co.za | |

GEF Evaluation:

No

Key Stakeholders:
Department of Energy, Department of Environmental Affairs, and UNDP
Countries:

SOUTH AFRICA

Comments:

The CPD Evaluation did not provide adequate findings and recommendation to inform the next CPD development, as a results, a decision was taken that the CO conduct an Outcome evaluation of the GEF programme since it is the largest portfolio in the CO to provide sufficient information for the development of the next CPD.
View report for recommendation