Evaluation Report of the UNDP South Africa Country Programme - CPD 2013 - 2017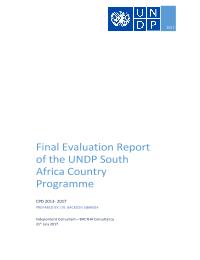 Evaluation Plan:

Evaluation Type:

Country Programme Evaluation

Planned End Date:

08/2017

Completion Date:

09/2017

Status:

Completed

Management Response:

Yes

Evaluation Budget(US $):

40,000
Title
Evaluation Report of the UNDP South Africa Country Programme - CPD 2013 - 2017
Atlas Project Number:
Evaluation Plan:
2013-2020, South Africa
Evaluation Type:
Country Programme Evaluation
Status:
Completed
Completion Date:
09/2017
Planned End Date:

08/2017

Management Response:
Yes

Focus Area

:

1. Poverty and MDG
2. Democratic Governance
3. Environment & Sustainable Development
4. Cross-cutting Development Issue

Corporate Outcome and Output (UNDP Strategic Plan 2014-2017)
Evaluation Budget(US $):

40,000

Source of Funding:
UNDP
Evaluation Expenditure(US $):

35,585

Joint Programme:
No
Joint Evaluation:

Yes

Joint with UN Agencies
Joint with Donors
Joint with

National Treasury, Department of International Relation and Corporation (DIRCO)

Evaluation Team members:

| Name | Title | Email | Nationality |
| --- | --- | --- | --- |
| Backson Sibamda | Dr | backson.sibanda@gmail.com | |

GEF Evaluation:

No

Key Stakeholders:
Government of South Africa, UN, CSOs, Development Partners
Countries:

SOUTH AFRICA

Comments:

The evaluation will be completed in August 2017 together with the evaluation of the UN Strategic Cooperation Framework (UNSCF).
Lessons
1.

Building understanding between UNDP and Government is important for long-term planning and addressing emerging issues and challenges of the partnership programme.



2.

Full alignment of UNDP's CPD priorities to that of the national and lower levels in government will ensure that the basic needs of ordinary people are met.



3.

Translation of global knowledge, expertise and experience plays a critical role in solving and addressing South African needs and priorities at all spheres of government



4.

Improving government coordination in global policy dialogue contributes in addressing the needs of people at all levels. Increase understanding of new tools, languages and concepts are also important for addressing the needs of South Africa as an upper middle income country.



Findings
1.

The disconnect between the NDP priorities and development priorities at the grass root level are because the NDP and the MTSF are not necessarily informed by grassroots people's priority needs. Therefore, UNDP's support in South Africa, which is aligned to these global and continental priorities and agendas, does not necessarily address the basic needs of ordinary people.



2.

UNDP clearly articulates in the CPD and other documents that its comparative advantage is global experience, expertise and global knowledge and the existence of Knowledge Hubs that can be of value to South Africa.



3.

The Department of National Treasury requires clarity about the meaning of "Cost Sharing Agreement" between the government departments and UNDP and to reach consensus on how the relationship should work or be managed and what accountability systems are needed for this relationship to ensure that UNDP's cost sharing agreements with individual departments meet treasury accountability requirements.



4.

South Africa has many priorities, needs and challenges at the national, provincial, municipal and local levels, as such UNDP is thinly spread in trying to do too many things with very limited human and financial resources. While UNDP's up-stream policy support work is commendable it does not necessarily impact the poor in the short term.



5.

ROAR reporting system is viewed by many of the UNDP staff and partners as an over centralised reporting system/template that does not allow for real life or unique CO experiences to be shared but predominantly serves the purpose, interests and needs of UNDP HQ and not the needs of the Country Office or those of partners. The template is too HQ driven and is not informed by the field experiences. Currently, different reports are needed to meet the needs of partners; a situation that creates a burden by requiring a double reporting.



6.

CPD currently does not have an effective monitoring and reporting system that meets the needs of the CO, partners and UNDP HQ. This is because it currently uses the templates designed by HQ. As a result, there is no substantive institutionalised monitoring and reporting system in place to produce reports for the benefit of all stakeholders. The current ROAR cannot be shared with stakeholders or used for CO management and decision making.



Recommendations
1

UNDP and the Government of South Africa must reach an agreement and a common understanding on the definition of a Development Partner and work out the modus operandi of such a partnership when the partner uses financial resources from the government to provide support and services to the people of South Africa. If agreed to then the parties must agree on what kind of an agreement is needed between the government and UNDP.

2

While it is important for UNDP to work upstream at the policy level, UNDP needs to find how it can support the South African government to translate these global and continental agendas and priorities to also respond and meet the needs and priorities of local people.

3

If this global expertise and knowledge is to be of benefit to South Africa, UNDP, working with the partners, needs to create conditions, structures and systems that enable the national, provincial and municipal government to access these international experts, global knowledge hubs and experience that UNDP has.There is a need for UNDP to consider using the South African Local Government Association (SALGA) as a vehicle for reaching these levels.

4

UNDP and National Treasury need to reach consensus on what Cost Sharing arrangements between Government and UNDP mean. This should address the National Treasury requirements in terms of accountability for government funds but also factor UNDP requirements and constraints. This clarity and agreement are necessary to resolve the outstanding issues and bottlenecks that are currently being experienced when UNDP gets into agreements with government departments.

5

UNDP needs to be more strategic and work out what technical expertise is needed by South Africa in areas that UNDP can make an impact, as well as at which levels it must work. UNDP should look at its current successes and use that experience to inform future planning. Secondly, UNDP needs to assess the technical expertise, financial resources and the capacity of staff and tailor make its support to the capacity that it has. Further, UNDP should consider bringing on board critical expertise that is needed in South Africa on a long term or consultancy basis to respond to the challenges and needs of South Africa.

6

There is a need to develop a monitoring and reporting framework based on the Results Framework that can be used for management purposes at the country office level which also produces information that meets the needs of partners. The implementation plan and regular reporting would also meet the needs of other stakeholders/partners like the National Treasury and others.

7

It is recommended that the UNDP CO commissions a study of all the administrative and relationship issues that are highlighted in the evaluation report. The study should do a causes analysis and make concrete suggestions and solutions of how the UNDP CO can minimise these challenges which undermine the CO to deliver efficiently and effectively.