UNDAF Final Evaluation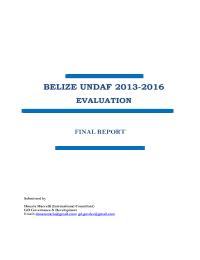 Evaluation Plan:

Evaluation Type:

UNDAF

Planned End Date:

12/2016

Completion Date:

05/2017

Status:

Completed

Management Response:

Yes

Evaluation Budget(US $):

15,000
Title
UNDAF Final Evaluation
Atlas Project Number:

00094654

Evaluation Plan:
2013-2017, Belize
Evaluation Type:
UNDAF
Status:
Completed
Completion Date:
05/2017
Planned End Date:

12/2016

Management Response:
Yes
Focus Area:

1. Poverty and MDG
2. Democratic Governance
3. Crisis Prevention & Recovery
4. Environment & Sustainable Development
5. Cross-cutting Development Issue

Corporate Outcome and Output (UNDP Strategic Plan 2014-2017)
Evaluation Budget(US $):

15,000

Source of Funding:
UNDAF M&E Budget
Evaluation Expenditure(US $):

9,750

Joint Programme:
No
Joint Evaluation:

Yes

Evaluation Team members:

| Name | Title | Email | Nationality |
| --- | --- | --- | --- |
| Donata Maccelli | | donatamaria@gmail.com | |

GEF Evaluation:

No

Key Stakeholders:
Key Line Ministries and NGOs, UN Agencies
Countries:

BELIZE
Lessons
1.

The UNDAF has effectively stimulated and improved policy and strategy streamlining in the various sectors supported by the interventions in terms of institutional strengthening and contribution to policies and strategies, as expected in the programme's objectives.
Although the intervention presents a wide range of themes, issues and activities, these have been well aligned with country's priorities and coherently responded to needs.
The UN is well positioned to effectively respond to the country's needs, and is positively perceived among partners as an organisation able to translate those needs into tangible support.
Projects have been more successful where they were carried out in synchrony with sector reforms and legislative developments.
The UNDAF is mainly focused on cooperation with the Government; though, working on civil society is needed to increase citizens' participation and oversight, especially on sensitive areas.
The area of human rights still presents some constraints and further work needs to be conducted to improve the situation in the country
The programme suffered by uneven and sometimes insufficient management and coordination, thus hampering a proper and objective assessment of benefits and gaps.Also, reporting format is not uniform across agencies, and reports are not regular.
In some projects the combination of weak capacities of IPs and heavy structuring of the action, both in terms of quantity of activities and number of stakeholders involved in the implementation, has impacted on results and has diminished positive effects.
More attention should be paid on M&E and sustainability issues, which are not adequately addressed at design and monitoring level.



Findings
1.

The United Nations Development Assistance Framework (UNDAF) 2013 – 2016, signed between Government of Belize and the United Nations system in April 2011, presents a coherent vision of results the UN system wants to achieve in support of key priorities of the Government's development agenda.
Across the four strategic priorities, work under the UNDAF systematically incorporates UN programming principles on Human Rights including Gender Equality and Women's Empowerment, Environmental Sustainability, Capacity Development.
The United Nations system can tailor its approach to partner with countries in a way that best suits their national needs, realities, priorities and planning modalities, as well as their achievement of the Sustainable Development Goals, other internationally agreed development goals and conventions, and the United Nations development agenda beyond 2015. Belize, adopted Agenda 2030 and the SDGs in 2015; wherein strategic actions and objectives were articulated
Overall, the numerous interventions provided in the framework of UNDAF have surely contributed to enhance national capacities in the targeted institutions, through provision of expertise or funds for policy streamlining, capacity development, introduction of specific mechanisms, strengthening of inter-governmental coordination.

Joint programming has been quite limited in the evaluated period; even when interventions were provided by different agencies in the same area – i.e. juvenile justice – each agency has its own plan, and efforts were only provided to ensure that no duplications of activities took place.

Reports evidence that the UN has invested some efforts to strengthen coordination and partnerships among international community resident and non-resident in Belize, providing information, coordination and analysis, as well opening up joint space for collaboration between the international actors and government. In particular, the international community has been in a position to familiarize itself with the content and process related to the Growth and Sustainable Development Strategy.



Recommendations
1

Increase strategization of actions over a Long Term period

2

Increase programmes directly targeted at cooperation with civil society

3

Continue streamlining cooperation and dialogue on human rights' themes

4

More efforts should be made in improving UNF+DAF coordination

The introduction of a DaO modality should be accompanied by better standardization of procedures and reporting

An M&E Unit should be established preferably at RCO level, but might also be placed at multi-country level

5

More attention is required by IPs to make further use of the knowledge resources

6

Insert a sustainability(exit strategy) section in all projects' templates – including reporting - and in the UNDAF